Situated in the eastern part of the Indian subcontinent, Odisha is a vibrant land with a splendid cultural heritage which is worth exploring. Whether it is the architectural brilliance of the Konark Sun Temple or the interesting zoological parks, Odisha is sure to leave a lasting impact on you. With its rich forms of art, these are the best destinations in Odisha that you must add to your itinerary before planning a vacation to the state.
Here are 7 places you must visit when you're visiting Odisha 
1. Chilika Lake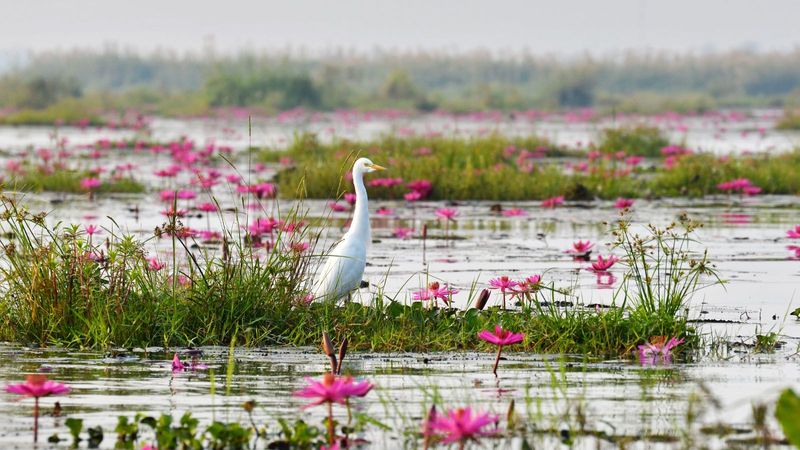 Chilika Lake is the largest brackish water lagoon in Asia. It is a picturesque lagoon, with the largest number of migratory birds found in the entire Indian subcontinent. A major spot of biodiversity, the Chilika Lake also has some rare and endangered species that inhabit the area. The Chilika Lake is an integral part of the heritage of Odisha. Studded with small islands, such as the Honeymoon Island and Breakfast Island, this lagoon is an ecosystem in itself.  Home to the Irrawaddy dolphins, the Chilika Lake attracts a large number of tourists.
Location: The Chilika Lake is located at a distance of 44 km from Puri.
Best time to visit: November- February
AlsoReead0
2. Daringbadi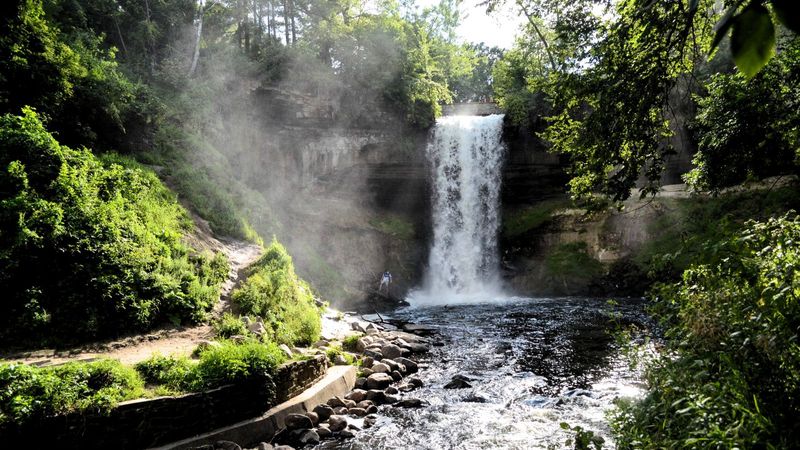 Daringbadi is a hill town in the Kandhmal district of Odisha, also known as the "Kashmir of Odisha ''. Dotted with pine trees and waterfalls, Daringabdi is situated at a height of 915 metres above sea level. This place is a visual treat to the eyes and a popular travel destination in Odisha. The ideal summer resort, you must explore the scenic beauty while taking a road trip to Daringbadi.
Location: Located in Kandhmal district, Daringabdi is at a distance of 119 km from Brahmapur Railway Station.
Best time to visit: September- May
3. Taptapani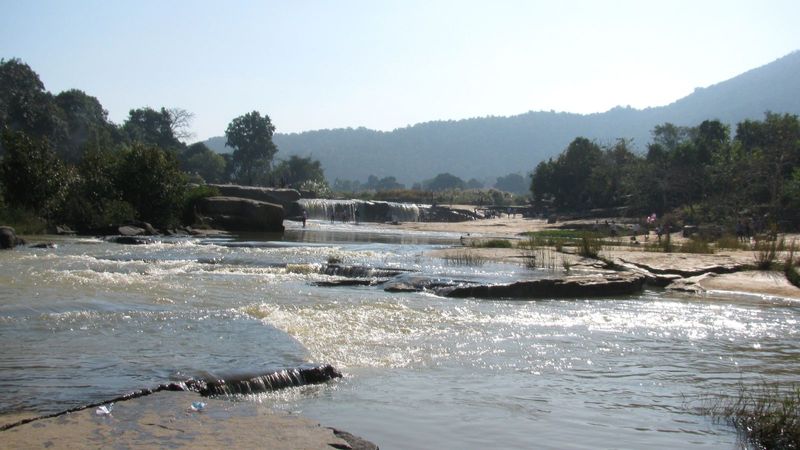 Taptapani is a perennial hot water spring in Odisha, which is considered to have medicinal attributes. This hot water sprint is believed to have been present for more than 300 years. Taptapani is visited by large crowds during the Sankranti, Dussehra and similar festivals. This place is also a well-known picnic spot near Berhampur. If you want to enjoy a serene and calm environment, you should definitely visit Taptapani. The nearby pond is also used for bathing to cure skin problems.
Location: Situated in the Ganjam district, Taptapani is at a distance of 50 km from Berhampur.
Best time to visit: October-March
4. Konark Sun Temple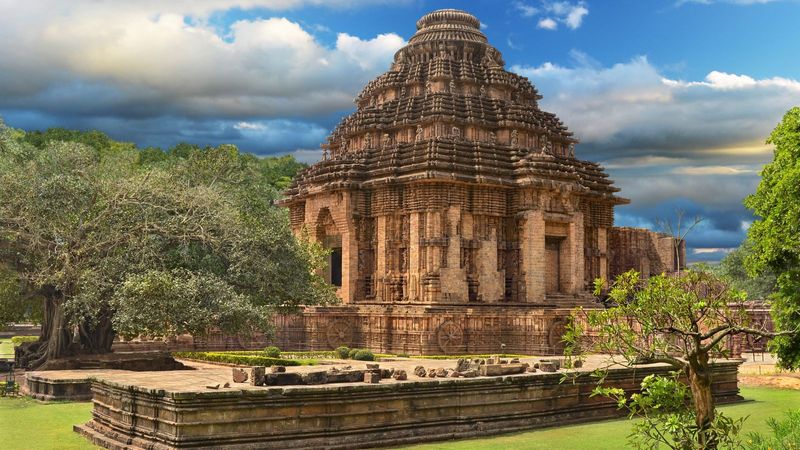 The Konark Sun Temple is a creative masterpiece and one of the best destinations that is a must-visit in Odisha. The temple is a representation of the sun God, Surya's chariot. The 24 wheels of the chariot are depicted through symbolic designs. Built in the 13th century, the Konark Temple is one of the prime architectural features in Odisha. Situated in the northeastern corner of Puri, it is one of the ancient Brahman sculptures of India. Also known as the Black Pagoda, Konark should surely be one of the primary reasons to visit Odisha.
Location: Konark Temple is situated at a distance of 35 km to the northeast of Puri.
Best time to visit: September-March
5. Udayagiri and Khandagiri Caves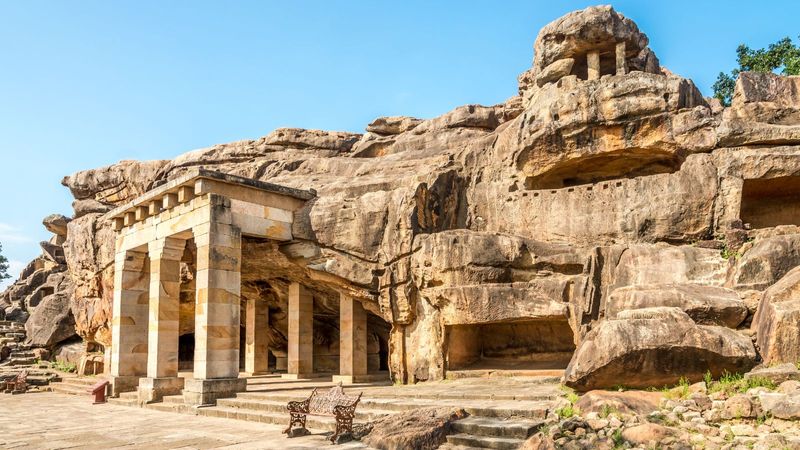 Located on the outskirts of Bhubaneswar, the Udayagiri and Khandagiri Caves were formerly known as Kattaka Caves. These caves are partly natural and partly artificial, holding great historical and archaeological significance for the state of Odisha. These intriguing caves are believed to have been built by Jain monks to provide them with a place for rest and meditation. Initially, there were a total of 117 caves, however, only 33 of them can be seen today. Located in the Kumari Mountain Range, these caves have intricate carvings of the twenty-four Jain Tirthankars.
Location: Located in the Khandagiri Chandaka Road in Khandagiri, these caves are situated at a distance of 9 km from Bhubaneswar Railway station. 
Best time to visit: November-March
6. Simlipal National Park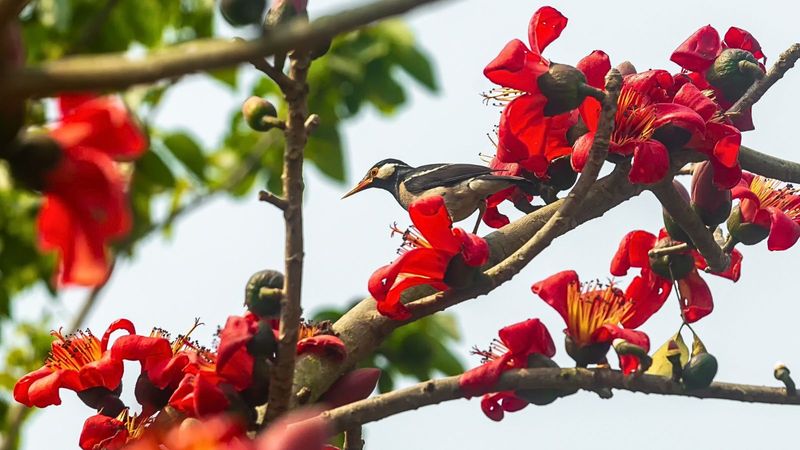 The Simlipal National Park is a tiger reserve and national park, located in the Mayurbhanj district of Odisha. Covering an area of 2750 kilometres, it is the 7th largest national park in India. Home to Bengal Tigers, Asian elephants, Chausingha, Grey Hornbill, Peafowl and a variety of flora and fauna, the Simlipal National Park has been included in the list of UNESCO World Network of Biosphere Reserves since 2009. Surrounded by high peaks and plateaus, the Simlipal National Park also has beautiful waterfalls such as the Joranda and Barehipani. There is also an abundance of red silk cotton trees that grow in the area.
Location: Baripada, Odisha
Best time to visit: October-May
7. Puri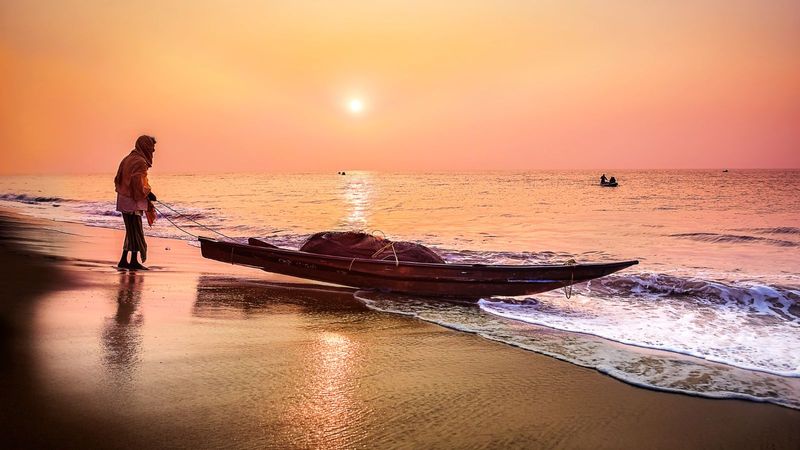 If you are in the mood to spend a relaxing vacation, Puri should be the ideal spot in that case. Amongst the most popular destinations of Odisha, Puri is known for its tranquil beaches, local markets and temples. Known as the holy land of Jagannath, Puri is home to Shree Jagannath Temple and is considered to be among the original Char Dhams in India.
Location: Puri is situated at a distance of 60 km from Bhubaneswar.
Best time to visit: July-March
---
Photo: Shutterstock