India's heritage is spread out in the nooks and crannies of every district. With heritage tourism contributing a significant chunk of tourism revenues and India promoting offbeat destinations with a rich history, there is a lot more to explore now. Many existing palatial homes have been revamped to welcome curious travellers seeking to explore the depths of India. Zee Zest lists heritage hotels from destinations that can be hubs for you to explore heritage sites and soak in culture.
1. Jehan Numa Palace Hotel, Bhopal, Madhya Pradesh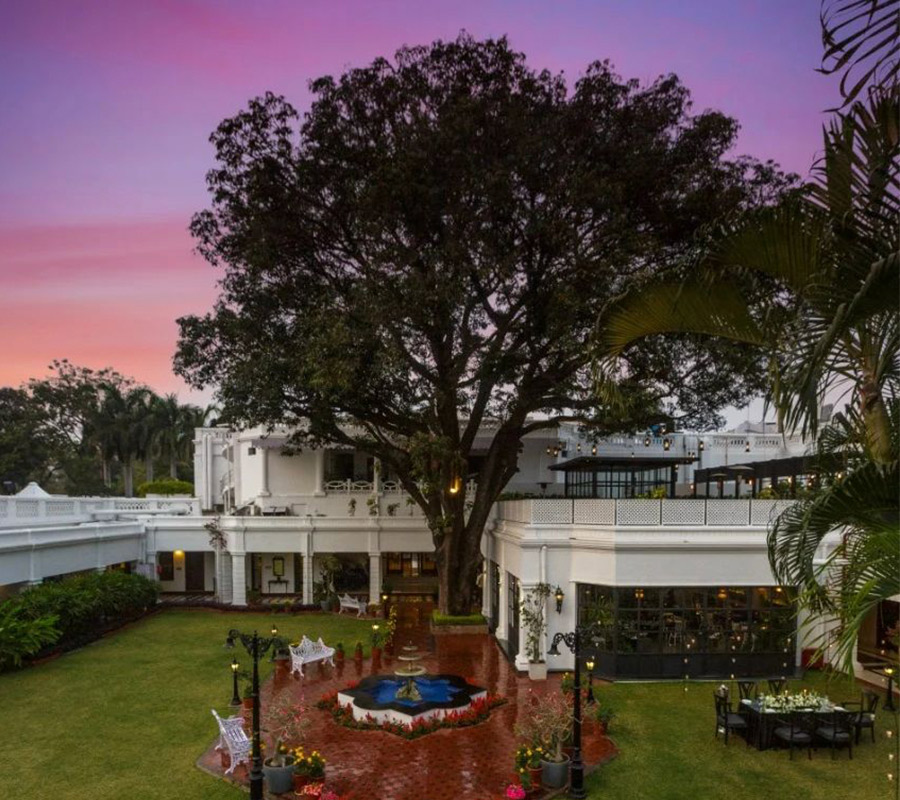 It takes determination and will to restore a palace that belonged to the Nawab of the erstwhile princely state of Bhopal. Descendants of General Obaidullah Khan, the commander of the then army and son of Nawab Jehan Begum have made this incredible task possible through Jehan Numa Palace Hotel. Located in the heart of the city of lakes, it offers a magnificent contemporary stay amidst lush gardens and an in-house museum in the Shyamala Hills area. Inside a wide portico, glamorous portraits of the lineage of Nawab Begums (Bhopal was ruled by women rulers) welcome guests to sprawling courtyards and gardens surrounded by palatial rooms. Stay here and experience luxury by indulging in royal experiences like courtyard dining and horse riding.
Email:  reservation@jnph.in
Phone:  +91/75526-61100 | +91/75542-35100
Price: INR 6,500 onwards
2. Svatma Heritage, Thanjavur, Tamil Nadu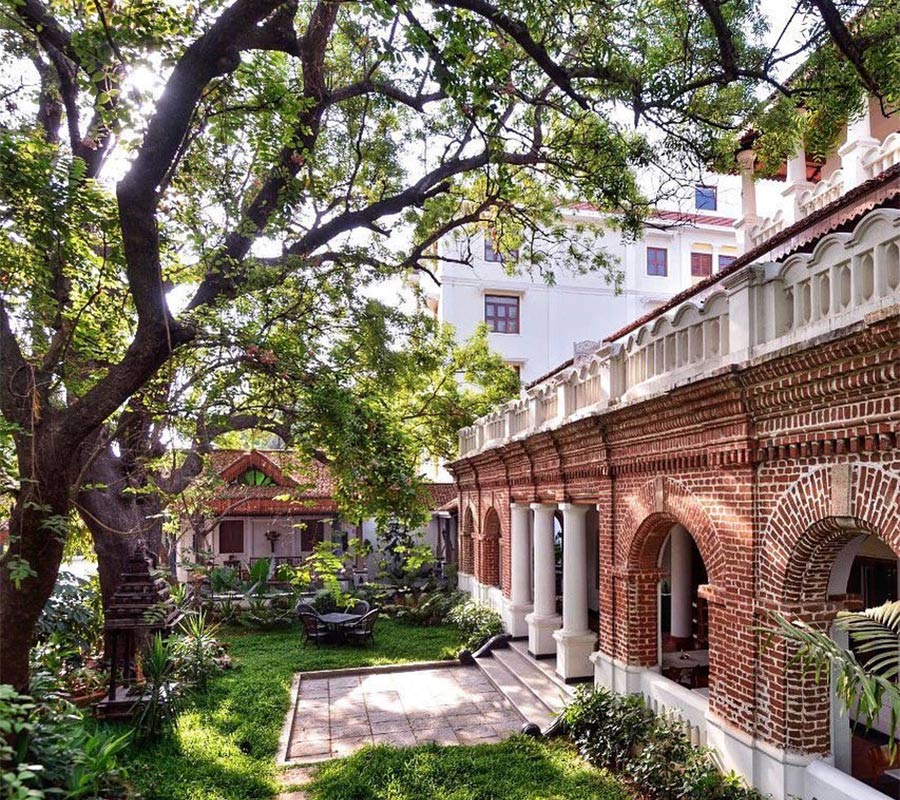 Thanjavur in southern Tamil Nadu is a truly enriching destination for history and temple buffs. From the intricate carvings at the famous temples to the stunning Maratha Palace, Thanjavur offers a taste of rich Chola art and culture. Svatma Heritage, a Relais Chateaux property in the city is an exuberant amalgamation of mystic arts, culture, and the abundant charms of ancient Tamil Nadu. The architecture of the boutique property projects a regal personality, combined with warm hospitality that makes a stay here truly memorable. The property allows guests to indulge in rich culinary heritage and offers exclusive experiences in Carnatic music, Thanjavur painting, bronze sculpting and more in-depth treats curated for the delight and knowledge of long stay guests.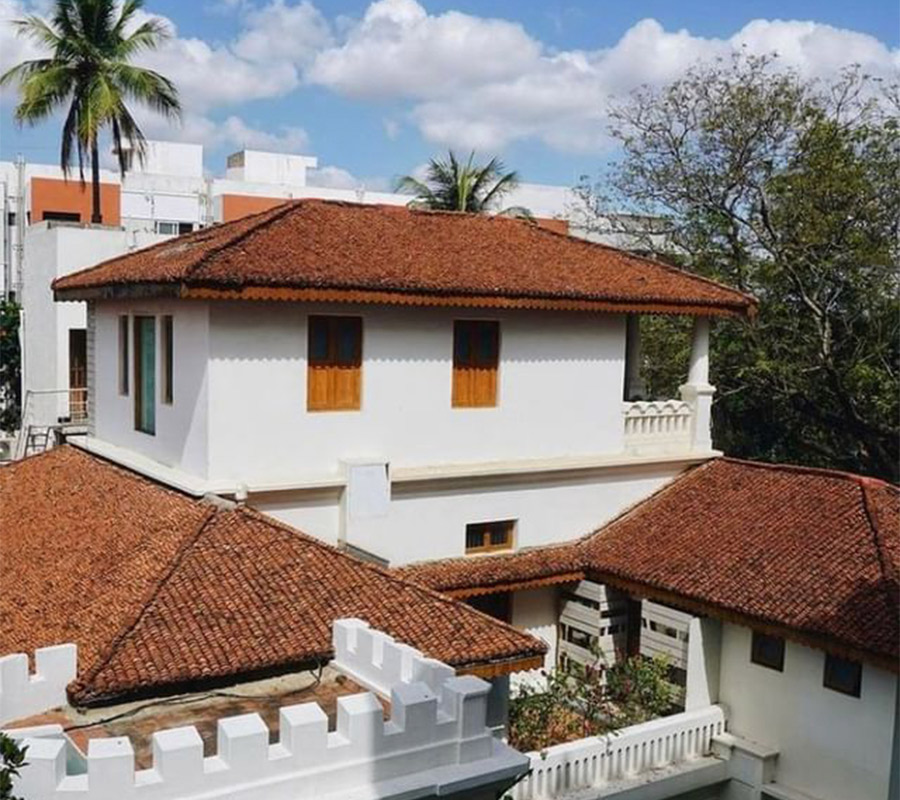 Email: info@rareindia.com
Phone: +91/43622-73222,  +91/76010-04004
Price: INR 5,000 onwards
3. The Bangala, Karaikudi, TamilNadu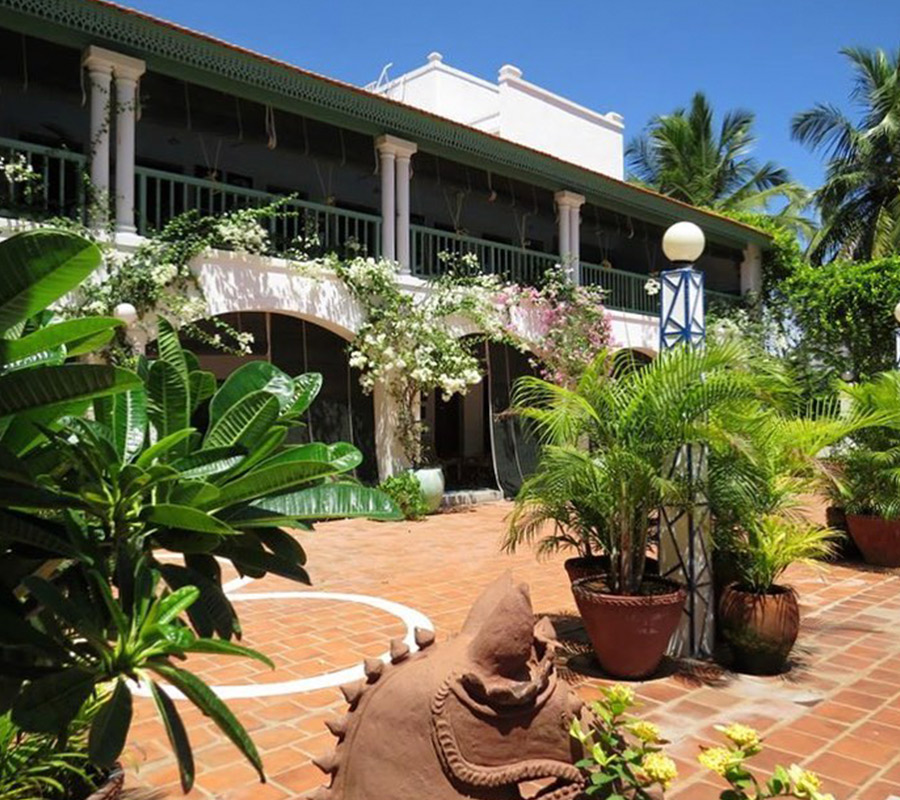 An epitome of Chettiar hospitality and cuisine, The Bangala is easily one of the best places to stay when in Karaikudi. Belonging to the Meyyappan family, the heritage hotel is over 100 years old and retains its old-world charm with Chettinad sculptures and woodwork in its cosy rooms and wide verandahs. MrsMeyyappan, the host, takes pride in showcasing the real delights of Chettinad cuisine by hosting cooking classes for guests at the highly recommended family kitchen at the property. Apart from in-depth culinary riches, at Bangalayou can indulge in the modern comforts of a pool and library and learn about art, architecture, and heritage of Chettinad by exploring with local guides provided by the hotel.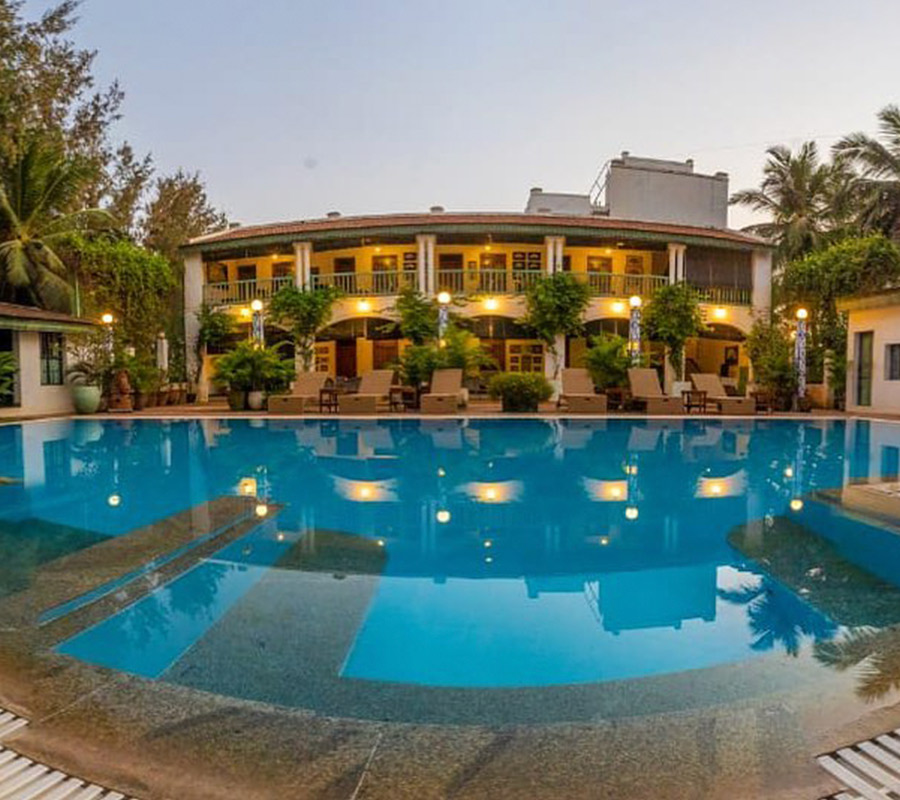 Email: thebangala@gmail.com
Phone: +91/45652-20221
Price: INR 5,500 onwards
4. Hotel Nau Nabh, Rampur Bushahr, Himachal Pradesh
A small town by the River Sutlej, Rampur Bushahr is an important pit stop on the road to Kinnaur. Not just for the fact that it is the last major town on the road before ReckongPeo, but for the lost in time heritage it still cultivates in the Padam Palace. As the name indicates, Rampur Bushahr was the last capital of the once enigmatic Bushahr dynasty, fabled to be descendants of Lord Krishna, who ruled the Kinnaur and Shimla regions for a long time in history. The Nau Nabh Hotel occupies a part of the curious wooden brown and turquoise blue Padam Palace complex. Intricate woodwork and regal furniture highlight the connection to an Anglo-Nepalese history at this heritage hotel. Surrounded by the beauty of Kinnaur Valley and the green hues of the roaring Sutlej, a stay here helps a traveller witness the effects of time on history that deserves preservation.
Email: naunabhheritagehotel@gmail.com
Phone: 01782/234-405,01782/234-406
Price: INR 4,000 onwards
5. Chateau Garli, Pragpur, Himachal Pradesh
Once the home of timber merchants of Pragpur in Himachal Pradesh, Chateau Garli is a vibrant reminder of the luxurious lifestyle of the Suds of Kangra. Built in 1921 by Lala Mela Ram Sud, the property today houses modern amenities and offers a chance to travellers to live in opulence in the quaint village of Pragpur, located just 60 kms from the bustling destination of Dharamshala. The olden days of glory reflects in the artefacts carefully preserved in the heritage section of the hotel, painstakingly restored almost a century later by Yatish Sud and his son, hospitality entrepreneur Amish Sud. The contemporary section has a variety of offerings across 19 rooms for travellers seeking a stay here. The colourful glass panels used all across the property easily transports one to a bright classical era, and the architecture is reminiscent of influences from Mughal, Portuguese, French, Kangri, and Rajasthani styles. Stay in an attic room and open up the windows to feel like Rapunzel with a bird's eye view of the entire village.
Email: contact@chateaugarli.com
Phone: +91/94180-62002
Price: INR 4,000 onwards
6. Chittoor Kottaram, South Chittoor, Kochi, Kerala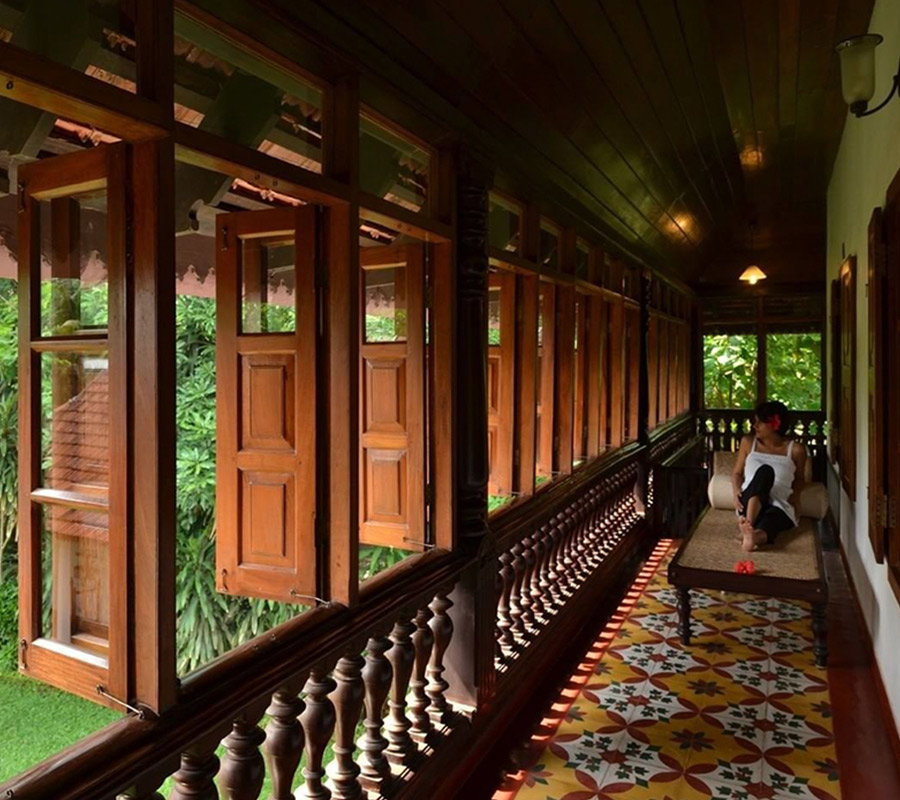 The Rajah of Cochin derived sovereignty in divination and constructed a temple for his family deity in the quiet hamlet of Chittoor near Kochi.  Realizing the need to stay close to this temple, he soon built a manor just fifty yards away. Simple, elegant, and regal—it housed an entourage that would cater to him on his visits. Today, this exquisite manor is known as Chittoor Kottaram, operated by resplendent luxury brand CGH Earth. Operating as a one-key villa, this hotel offers a private experience for visitors, starting with a traditional welcome. Located a few minutes away from the main city of Kochi, the property presents breathtaking architecture, where one may walk across old cement-tiled corridors with floral patterns, once graced by kings and queens, and wake up to the glittering view of the backwaters. Chittoor Kottaram is the personal home of Lady Hamlyn of the Helen Hamlyn Trust who has opened up the legacy of a kingdom to be experienced by travellers.
Email: contact@cghearth.com
Phone: +91/48442-61711 / 712
Price: INR 25,500 onwards 
Photo: Shutterstock; Featured Hotels