For those who don't know monsoon brings out the best in the Western Ghats. Lush and verdant, the region offers some of spellbinding ways to enjoy the monsoon months. No other destination on the ghats do it better than the vacation capital of India, Goa.
While the winter months are considered peak season for the sunny state of Goa, it is a magnificent and emeraldine experience to see monsoon rains wash out the chaotic touristy hubbub with peace and serenity. If you're one of those who choose not to tolerate rowdy revelers in Goa, monsoon is the best time to explore the destination. 
Most hotels, resorts and villas are now geared to tackle the Goan monsoon. Check them out:
1. JW Marriott Goa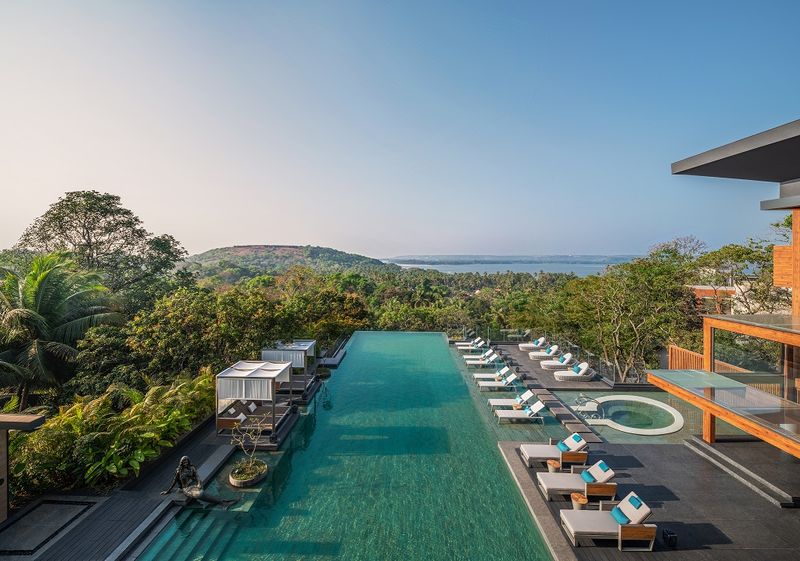 JW Marriott Goa has opened just in time to make the most of the monsoon season in Goa. This new resort offers modern luxury with elegant design, curated dining options, and thoughtful service. The 151-room hotel features inspired Goan design, inviting dining venues, serene spaces for relaxation, a variety of family-friendly activities, and ample event spaces. It promises to be a luxurious getaway empowering guests to feel revitalized in mind, body, and spirit.
Address: Vagator Beach Road, Bardez, Goa
2. SaffronStays Amancio, Bardez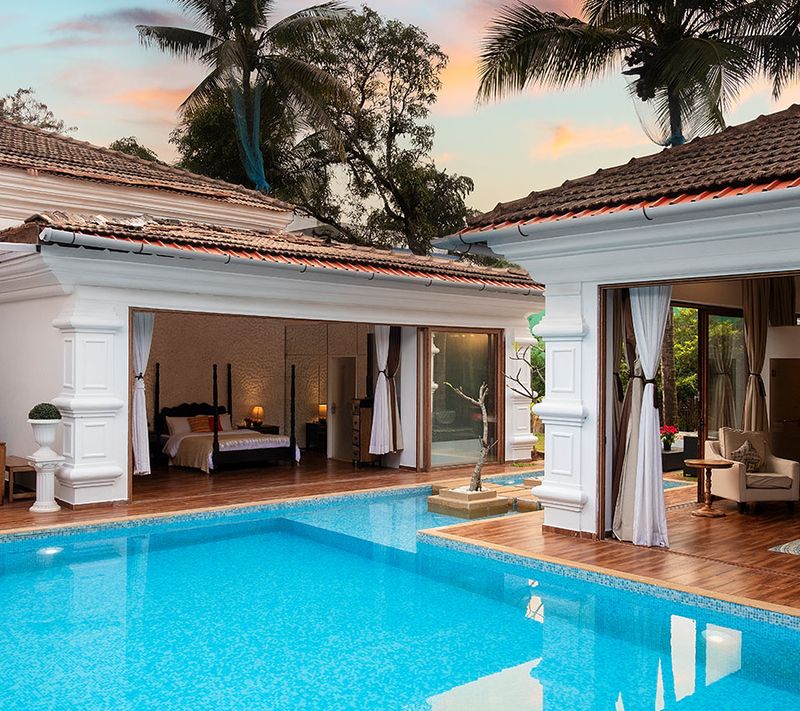 SaffronStays Amancio is a four-bedroom Portuguese-style pool villa in Saligaon, Goa, showcasing the timeless aesthetics found in Goan culture. Located just 36 kilometers from Dabolim International Airport and 26 kilometers from Mopa International Airport, this elderly-friendly and eco-friendly property is surrounded by attractions like Chapora Fort and Thivim Railway Station. The villa offers a perfect blend of modern comforts and old-world charm, with expansive lawn, luxurious swimming pool, and an outside grilling area. The name 'Amancio' pays passionate homage to the villa's profound Portuguese influences.
Address: Near La Confiserie, Candolim, Calangute, Goa
3. Cardozo House, Goa - amã Stays & Trails
Discover Cardozo House, a four-bedroom Portuguese-style villa in Candolim, Goa, meticulously restored by Indian Hotels Company Limited. The spacious rooms, ensuite bathrooms, living room, 10-seater dining room, and well-appointed kitchen offer modern comfort with Indo-Portuguese charm. Admire the rustic floor tiles, rosewood furniture, decorative pelmets, and wooden rafter ceilings as you enjoy the swimming pool and garden.
Address: Villa Candolim, Candolim, Goa
4. Storii by ITC Hotels Shanti Morada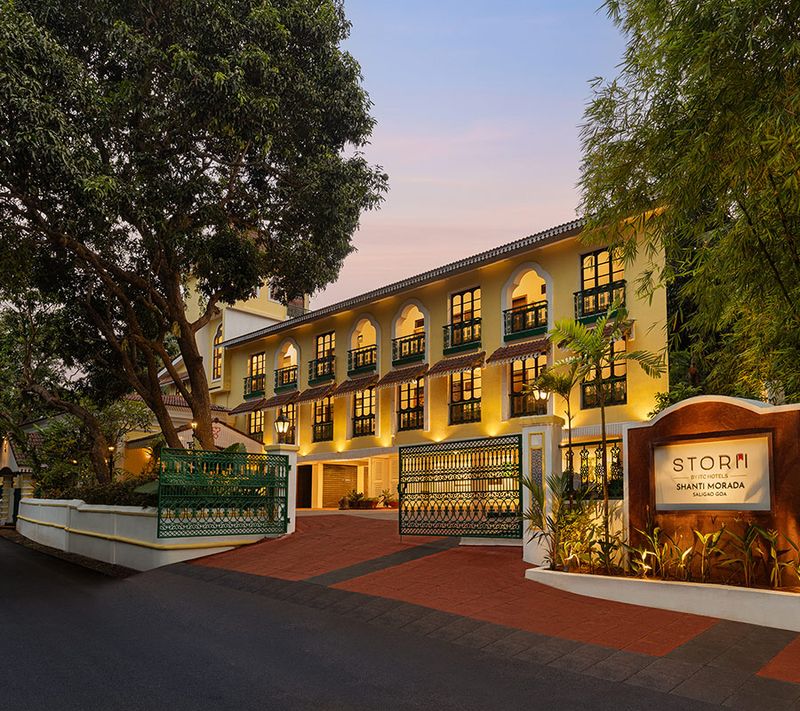 Storii By ITC Hotels Shanti Morada, a premium 15-villa property in Moira Village, Goa, offers a haven for boutique travelers seeking idyllic romance and tranquility. With charming villas, private dip-pools, and two dining destinations, guests can savor local delicacies and explore Goa's beauty. The resort features unique experiences like temple visits, artisan workshops, and storytelling sessions. Immerse in the confluence of Portuguese and Indian culture while experiencing the warmth of this century-old property. Enjoy the outdoor pool, Jacuzzi pool bar, and guided sightseeing, making it an exceptional stay in North Goa.
Address: Tin Manas Bambordem, Moira, Bardez, Goa
5. St Regis Goa
In the pristine South Goa, stands St Regis Goa which offers exceptional family getaway. The renowned resort embraces nature with its palm-fringed beaches, Portuguese-era architecture, and unique culture. Lush green spaces, coconut trees, a golf course, and diverse wildlife testify to its nurturing ethos. Guests enjoy lagoon views and a magical emerald-green estuary where the Sal River meets the sea. The hotel, apart from all-inclusive amenities such as spa treatments, complimentary cocktails and more, offers multigenerational activities such as exploring South Goa with a curated city tour and revel in the personalized St. Regis Butler Service. This family package will be available till October 31, 2023, with room prices starting at Rs 29,999 plus taxes.
Address: The St. Regis Goa Resort, Mobor, Cavelossim, Salcette, Goa 
6. SaffronStays De La Mer, Reis Magos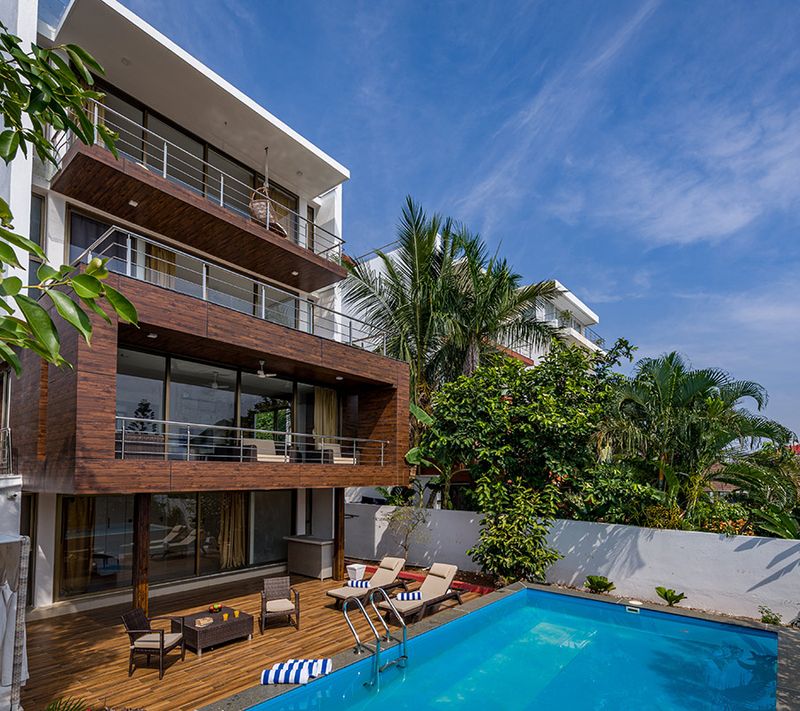 SaffronStays De La Mer is perched on a high hill, with an uninterrupted sea view and is situated near the Reis Magos Fort and Nerul Church in Goa. This four-bedroom pool villa provides a private hideaway, only an hour away from Mopa and Dabolim International Airports. Coco Beach is just 10 minutes away, allowing guests to enjoy scenic views of the Mandovi River flowing past the picturesque village. With a private pool and balconies boasting scenic vistas, along with various luxury amenities, the villa exudes grandeur.
Address: Villa F3, Three Kings Resort, Reis Magos, Nerul, Goa
7. DoubleTree by Hilton, Goa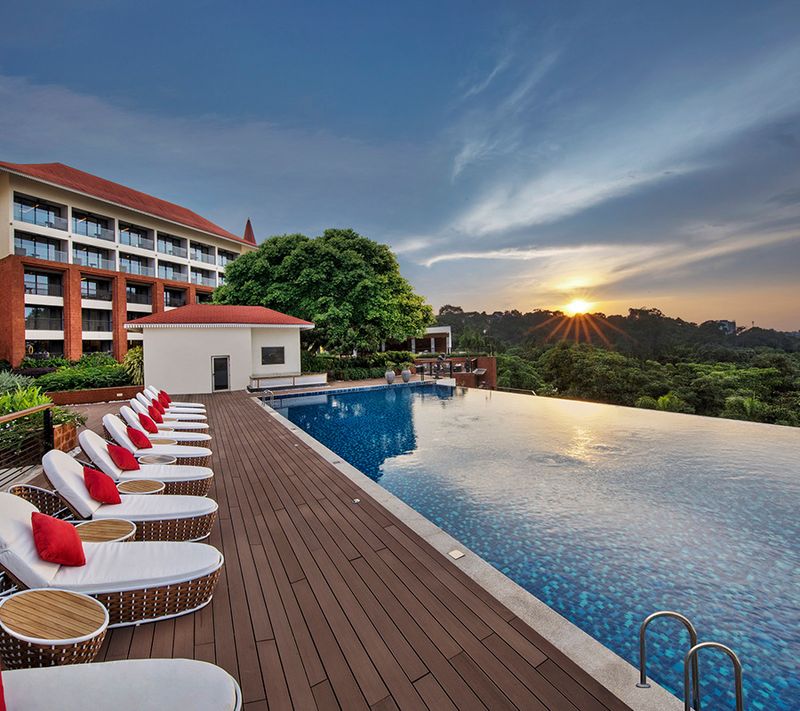 Nestled atop a picturesque hill, DoubleTree by Hilton, Goa has stunning views of the Mandovi River and lush landscapes. The resort is offering a special monsoon package for monsoon, #RainbowMonthsStaycation, with seven remarkable inclusions like meals, complimentary mini bar, airport transfers, early check-in, late check-out, and discounts on food, beverage, and laundry. Explore the hinterlands for hidden waterfalls, local cuisine, feni tasting on Divar Island, or birdwatching on Chorao Island. The package starts at Rs 10,000 plus taxes.
Address: Ximer Arpora Bardez, Arpora, Goa
8. Kaia Goa
Bollywood star Bhumi Pednekar has partnered with Mumbai-based Chrome Asia Hospitality to invest in their debut boutique hotel in Goa. Kaia Goa is a mix of 10-room boutique hotel, a four-bedroom villa, an all-day dining bar, and a one-of-a-kind spa overlooking the ocean that has opened doors very recently.   Bhumi's investment in KAIA reflects her belief in responsible hospitality and slow living, aiming to create a haven that combines luxury, comfort, and cultural immersion. 
Address: Ashwem Beach Road, opposite Holy Cross Chapel, Ashwem Beach, Ashwem, Morjim, Goa
9. Mademoiselle Boutique Hotel & Café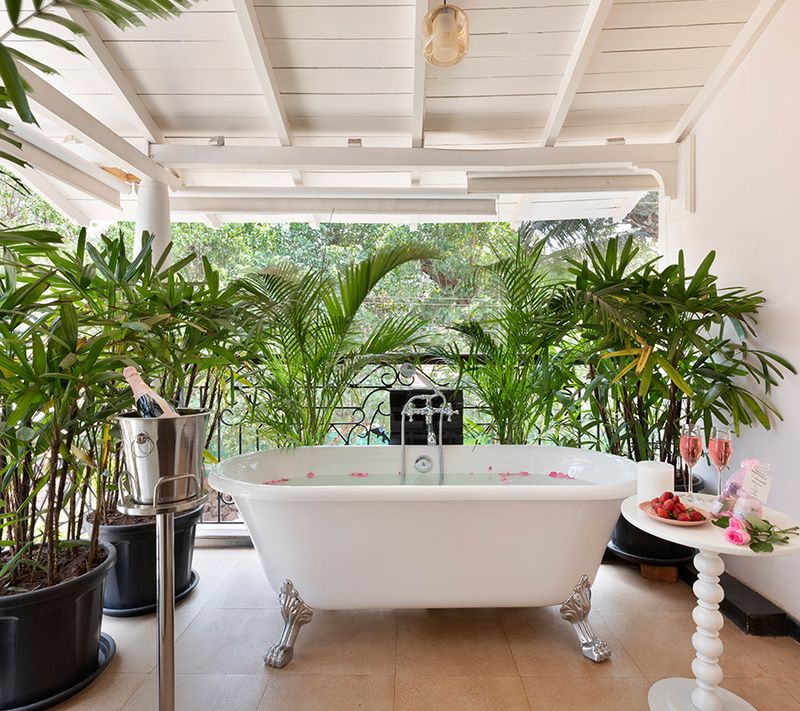 Restaurateur Ashish Dev Kapur, known for Antares Goa, The Wine Company and Whisky Samba, recently launched Mademoiselle Boutique Hotel and Café to Goa. The space offers luxurious aesthetics and functionality, aiming to stand out among other venues. The hotel boasts 12 elegant suites, each with a balcony bar and unique themes like French Rose, Lavender, and Champagne. The boutique showcases fashion, jewelry, and skincare, and Mademoiselle's Experiences Curator promises exciting activities like yoga, cooking workshops, and wine by the pool. With Executive Chef Megha Kohli leading a team of women, Mademoiselle caters to all, offering gourmet food at Rosé and French delights at Mademoiselle Café. 
Address: Survey No 90/3, Branch Post Office, Assagao, near Village Panchayat, Goa
10. Novotel Goa Candolim
Novotel Goa Candolim, minutes away from Candolim Beach, offers a perfect blend of fun, family spirit, and relaxation. With 149 beautiful rooms and suites, access to pools, a sports zone, gym, and kids club, the hotel ensures an enjoyable stay. Indulge in spa treatments and Ayurveda at Elle Spa, while kids enjoy playrooms and gaming consoles. Explore our exciting offers and make cherished memories with your family and kids at Novotel.
Address: Anna Waddo Main Candolim Road, Candolim, Bardez, Goa 
---
Photo: Storii by ITC Hotels