It's always wedding season in India. From summer to monsoon and winter, there's never a dull moment. Come rain or shine, there invariably will be a function that needs to be attended. As we usher in 2023's spring wedding season, here are the top wedding fashion trends that are worth making a note of.
Best of both worlds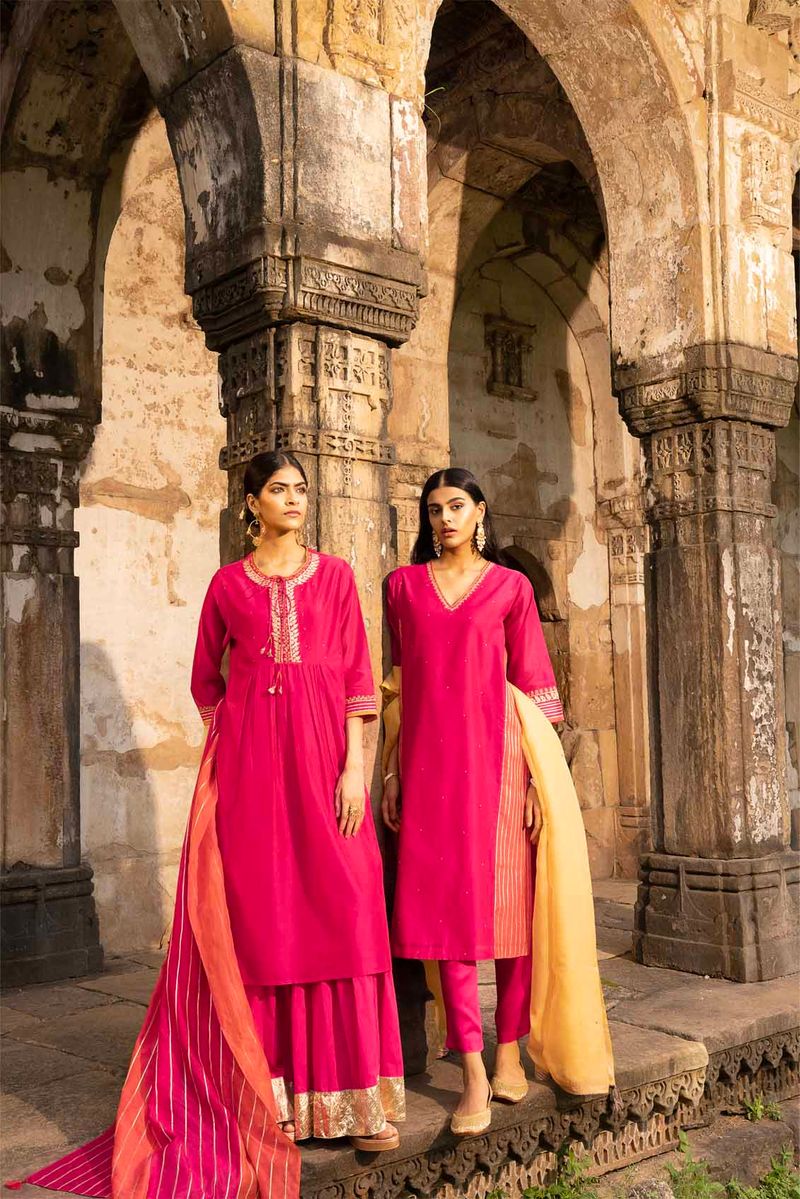 When it comes to silhouettes, it's all about striking that balance between the old and the new. A focus on modern silhouettes rooted in tradition seems to be the way to go. "The wedding trends we forecast for this year are a blend of traditional Indian designs gilded with contemporary styles, cuts, and embroidery," notes Rashmi Shukla, Business Head, JAYPORE, ABFRL, ABG. She points out that we can expect to see interesting silhouettes like loose-fitting kaftans and flowy dresses—relaxed and comfortable silhouettes that were earlier touted as loungewear. These are given a traditional twist via rich embroidery and craftsmanship and work perfectly for functions like mehendis, brunches and sundowners.
Saris, the eternal favourite will continue to be a mainstay—and will be experimented with in terms of drapes and unique blouse styles. "Designers and brides are favouring embellished wedding blouse designs that feature jewels, diamonds, crystals and all-over beading after several seasons of minimalist and pared-back styles," says designer Ankita Lath. These are also extremely versatile. Invest in a metallic, embellished blouse and the options to style are endless!
A floral rhapsody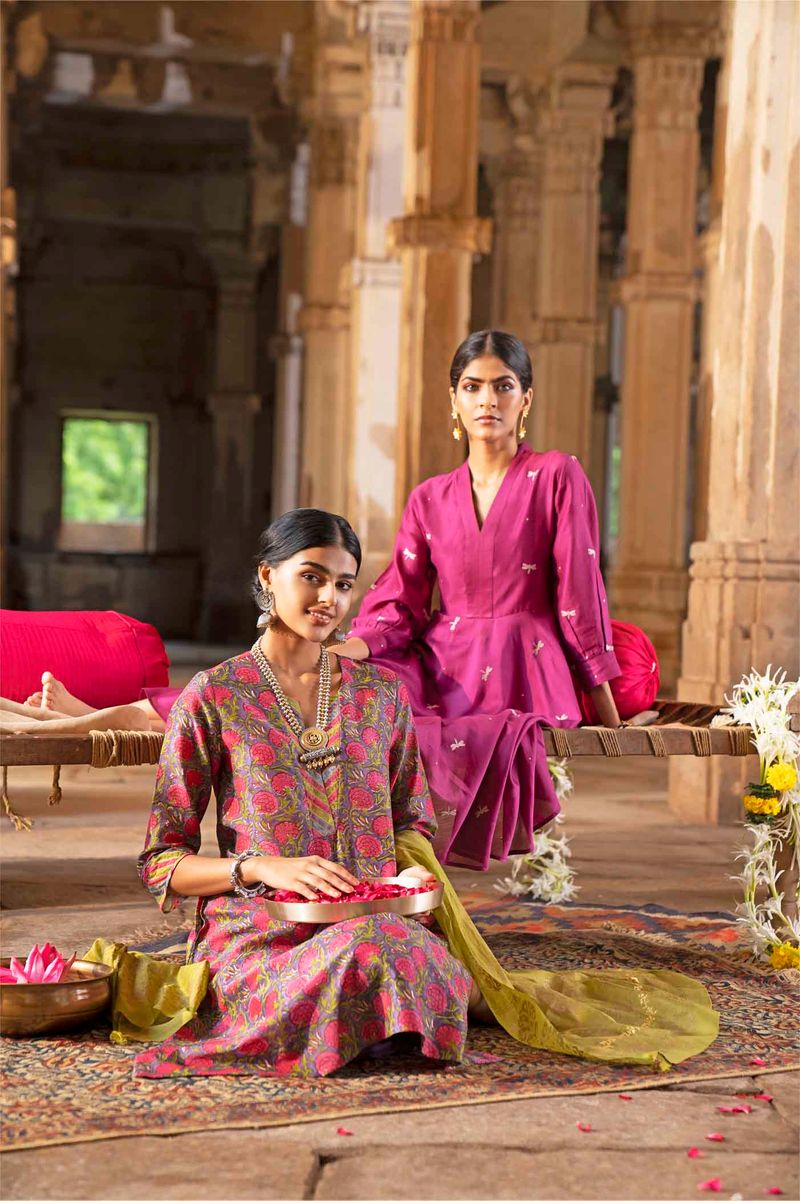 This season, designers are turning to the biggest inspiration board of all—nature. From cheery pastel hues to delicate florals, there's a burst of freshness underlining the trends. "Pastels will continue to rule this season. Pastel-hued delicate outfits also help women highlight their jewellery," says Lath. 
Shukla, on the other hand, believes that tropical hues will also be big—think floral prints and fresh colours inspired from berries and nature at large. "These hues have a magical potential to add playfulness and a soft feminine touch to any outfit. Delicate colours such as pastels and muted shades take precedence this summer. They add a sense of lightness and elegance to collections."
Case in point—actor Athiya Shetty, who recently tied the knot with cricketer K L Rahul, was seen in a pastel Anamika Khanna that was hand-embroidered with floral motifs. Similarly, the latest bride on the block, Masaba Gupta was seen in a playful 'barfi' pink lehenga set from House of Masaba that also featured floral motifs. Apart from these, darker hues like reds and maroons are forever classics for bridal wear and will be preferred for slightly more traditional looks.  
Focus on craftsmanship and personalisation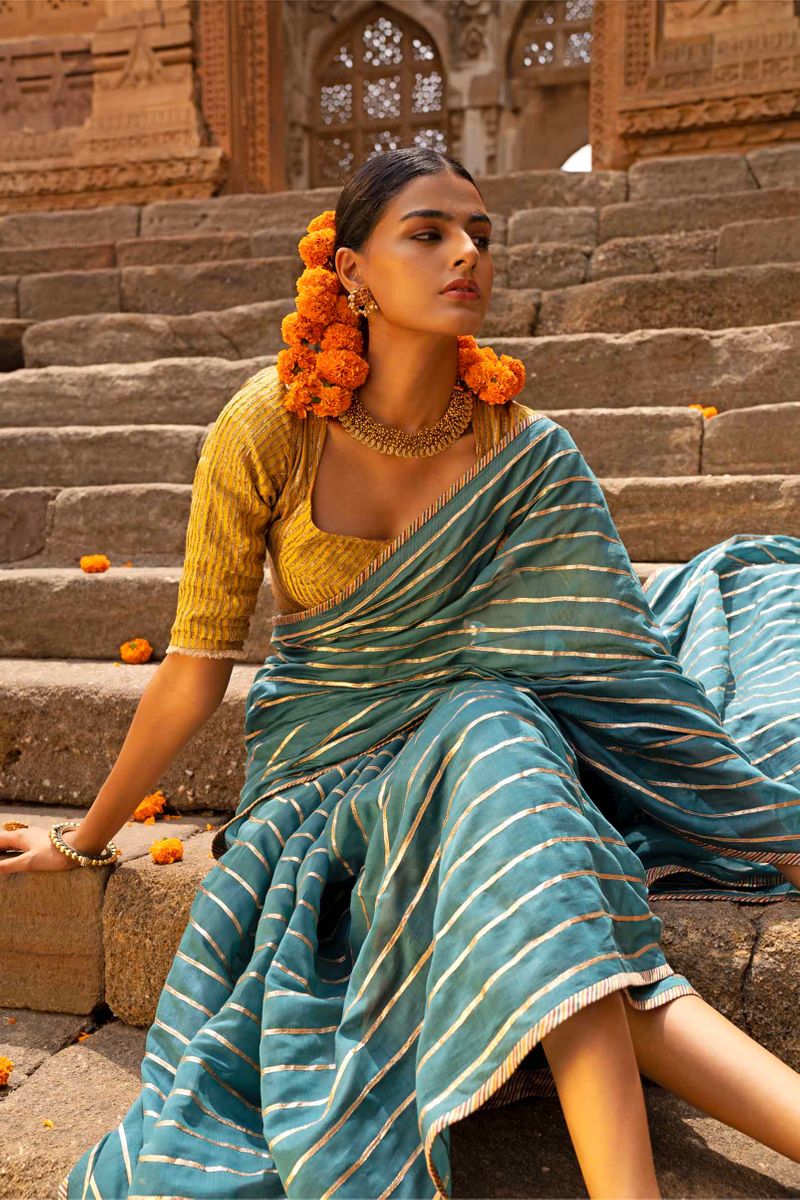 With India's rich heritage of craftsmanship, it comes as no surprise that the spotlight is once again on age-old textile traditions like embroideries and weaves. There's a newfound appreciation for art forms like Benarasis, Chanderis and other weaves even amongst Gen Z.
"With the onset of the 'Make in India' wave, people have become more conscious of their wardrobe choices. There is an amplified interest in authentic Indian crafts, which are now finding their way into everything from traditional wedding ensembles to contemporary fusion silhouettes. Our upcoming collections will feature heritage crafts like chikankari, ajrakh, phool-patti embroidery, kantha, ikat and more," says Shukla.
We're also seeing personalisation—with people repurposing their heirloom pieces or adding a personalised touch to their ensembles through customised colours and designs.  
How to style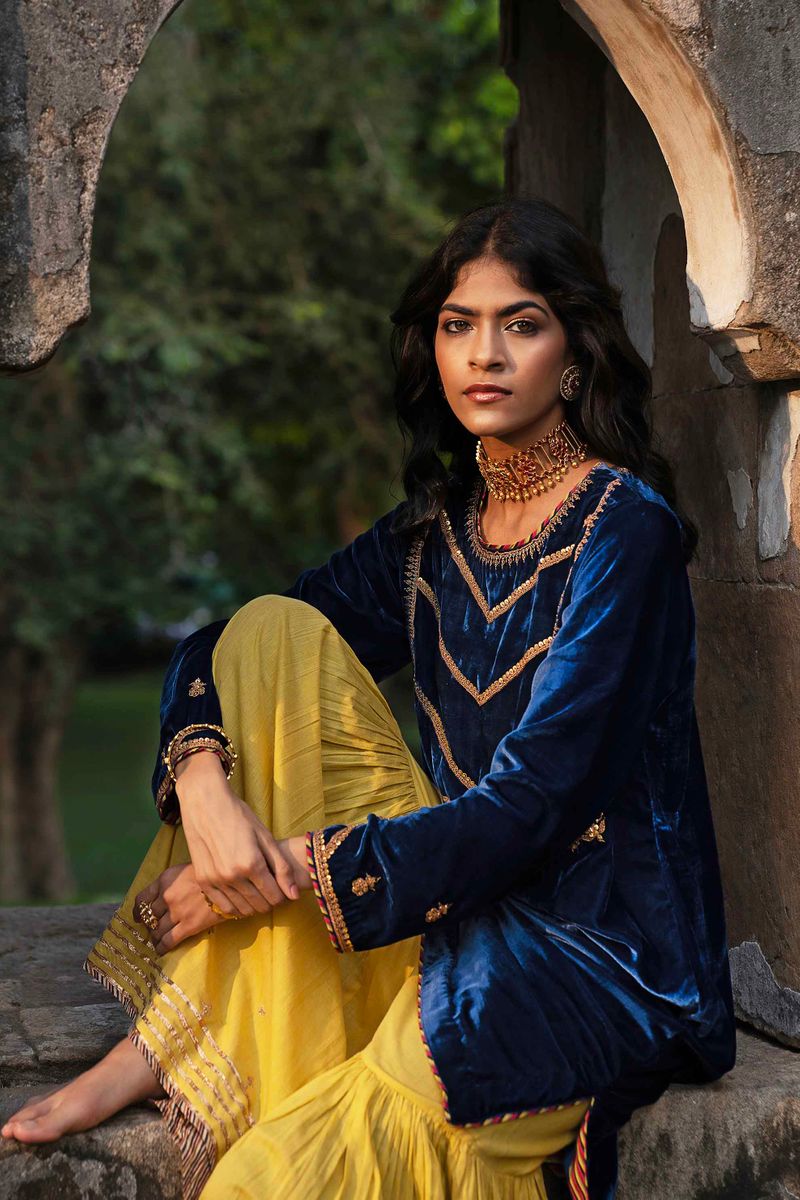 In keeping with the trend towards customisation, don't hold back when it comes to your styling choices. Matchy-much is passe; instead try mixing up pieces you own for an interesting look. For instance, you could throw on a rich, contrasting silk dupatta over a sharara set or even over a sari. Blazers or jackets over a sari are another classic—and are also functional in cooler weather.
Further, you could also experiment with interesting drape styles like dual dupattas and dual saris. Lath adds that bold footwear and dressy bags will be quite the rage along with statement pieces that not only add an edge to an outfit but also help create that perfect, signature style. 
---
Photo: Jaypore