Many of us might have put on some extra pounds during this pandemic. Work from home, slacking off the exercise schedule, binge eating, stress, and anxiety could be a few of the reasons to be blamed. Though all body types are perfect, rather one should embrace the curves at any size, but there is no harm in trying some style hacks to look fitter and fabulous. Here are some hassle-free fashion tricks to give you that glamorous look and feel.
1. How to look slim in a lehenga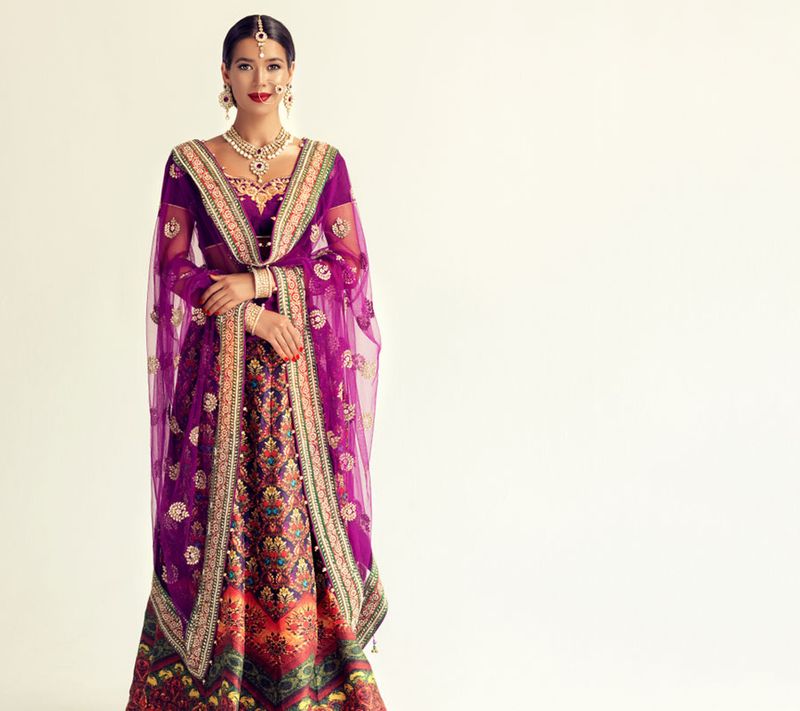 Fabric selection
Every woman is a die-hard fan of silk, but it only makes you look bulky as it is body-hugging. Lightweight fabrics like crepe, georgette and medium weight fabrics like raw silk are better as they make you look thinner.    
Dupatta drape
Correctly draping your dupatta is very important for a slimmer look. Draping in a saree style, covers significant areas like the paunch and lower back and makes you look more attractive.
Monochrome magic
Selecting solid tones like green, blue, maroon or any neutral colours like black, grey, brown tend to create an illusion of a sleeker body appearance as they accentuate the height of the wearer. Thus, monochromatic colour harmony makes you look slimmer unlike a mixture of variant colours.
Say NO to high neck choli
The high neck designs usually highlight your upper area. And the outfit from the upper body area looks odd, therefore it is advisable to go for other necklines like key hole, plunge, sweetheart, etc.
2. How to look slim in a saree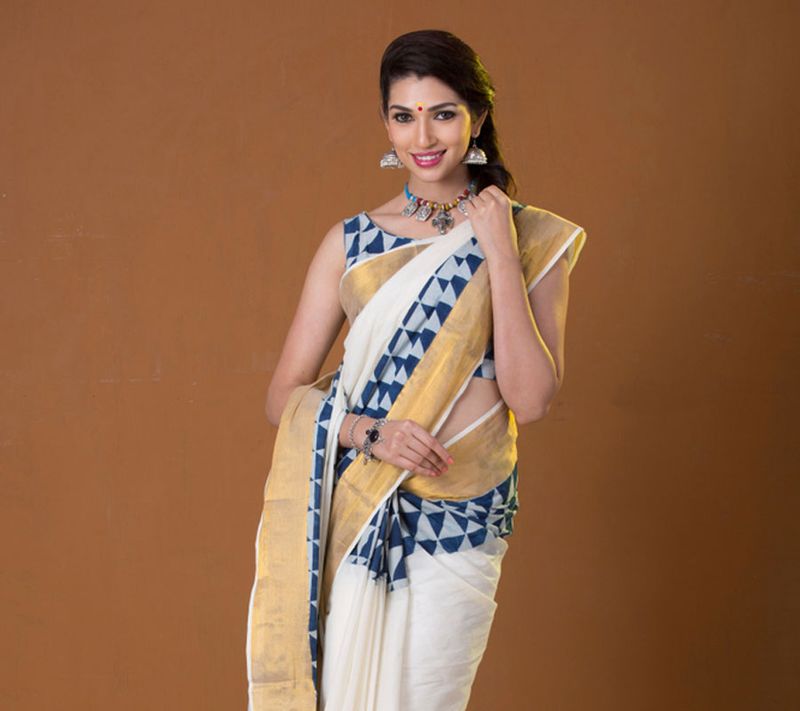 Pinning your saree right
Pinning the saree at the right places is very important to hide those extra flabs. Pin the pleats and pallu neatly. Pinning the saree right adds class and comfort at the same time. 
Dark sarees and light fabrics
Dark colours always make you look slim because they absorb the light falling on the body and do not reflect it back. Secondly, as mentioned earlier, avoid wearing silks or kanjeevarams, such fabrics make you look bulky. Try georgette that flows with the body shape without adding extra bulk or go for a tussar fabric.
Shaped petticoats
Generally, women wear A-line petticoats with sarees. But, for a slimmer look, ditch the A-lines and opt for fish-style petticoats or shapewear petticoats. They help you look slimmer by hiding that unwanted flab.
Long-sleeved blouses
A full-sleeved blouse is the best way to make those flabby arms look slim. You can also play safe and subtle with ¾ sleeve length as they give the illusion of long sleeves. Experiment with some dainty laces or borders at the sleeve hem for the added style quotient. Avoid heavy embroideries on the sleeves as it can make them look even fuller.
3. How to look slim in a kurti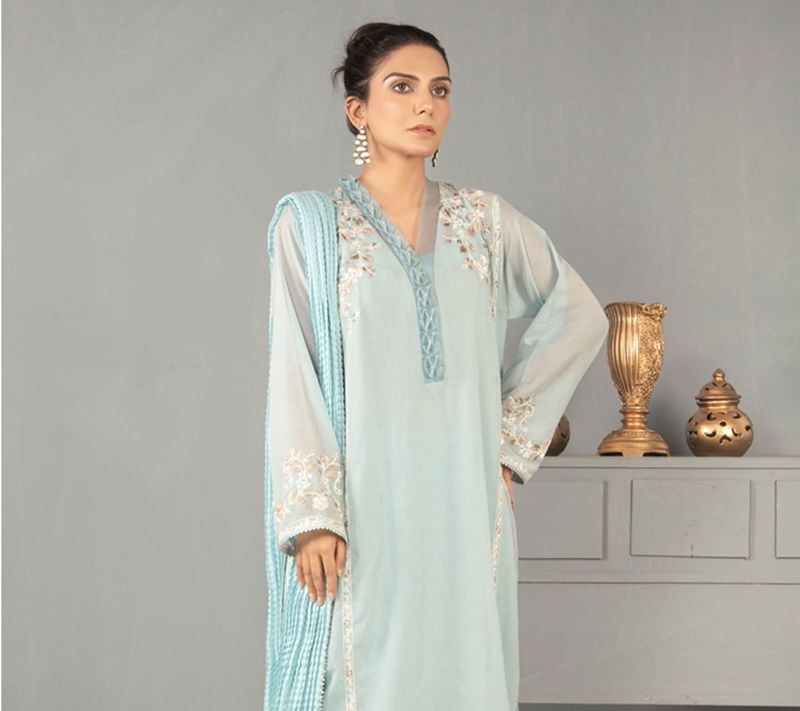 Long length
Longer the length, the slimmer the look! Pair it with straight palazzos and you are all set to go.
Small design and patterns 
Small patterns like small flowers, paisleys etc. make you look thinner, while bigger prints will make you appear larger, accentuating your body. Avoid pairing printed kurta with printed palazzo and limit your prints to one part of the ensemble. You can also try a kurta with vertical stripes to add height. Apart from that, cool colours and soft fabrics also play an important role in making you look, thinner. 
Right accessories
Overdoing with jewellery can spoil the entire look. Wrong accessories might emphasize certain areas like your neck, hands and more. Wearing tight necklaces like chokers will make you look shorter and broader in appearance. Instead, opt for a long necklace, for a softer look.
4. How to look slim in crop tops: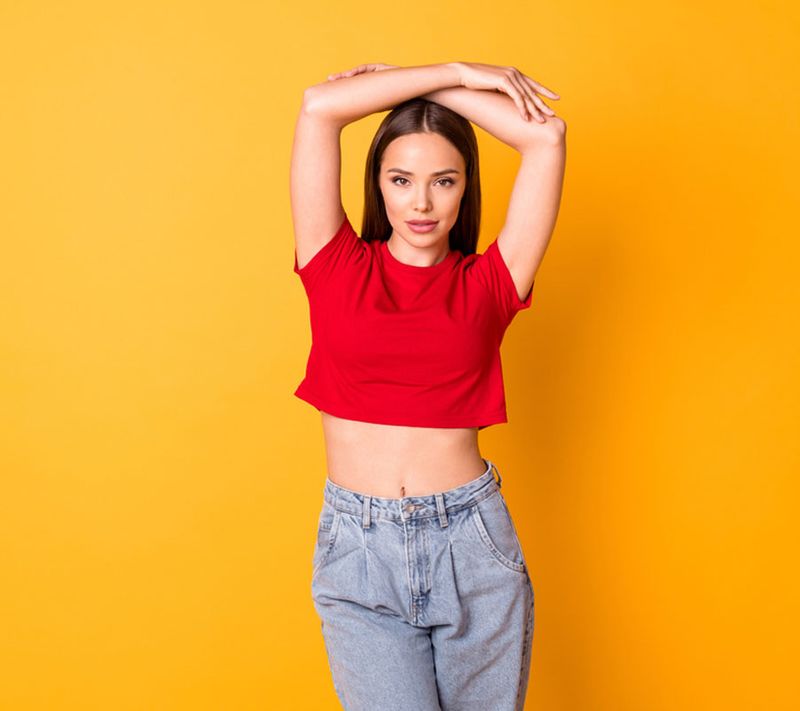 Pair with high-waist jeans 
If you want to hide that paunch then opt for high waist jeans. Pair them with your crop top and you are ready to step out!
Baggy crop tops 
An oversized or baggy crop top creates the illusion of a smaller torso and thus takes all the attention away from the abdomen area. 
Cover up with a camisole
For an elegant look, it is advisable to wear a fitted camisole under the crop top. It makes the stomach look smooth and toned.
Add a shrug
Adding a long shrug or jacket adds length to your body making you look slimmer. This is one of the best ways to hide your belly as they draw attention to outerwear.
5. How to look slim in jeans: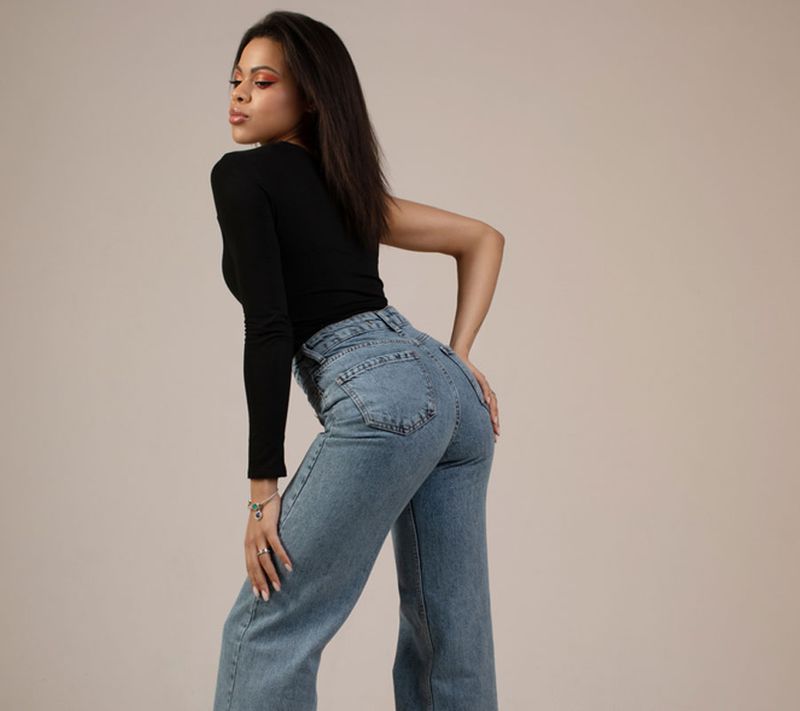 Dark wash jeans 
Hide your thighs with dark wash jeans. They camouflage your thigh areas as they don't reflect much light. And once again say yes to high waist jeans for toned and alluring looks. 
Length of jeans
Choose an appropriate length for your jeans preferably below the ankles. They give an elongated look to the body. Pair them with pointed toe shoes or heels for sharper looks.
Avoid embellished jeans
Adding details or embellishments to the jeans will catch extra attention to the thighs making them look broader. 
---
Photo: Shutterstock