It's hard to deny the need for good rain gear considering how fickle Mumbai weather can be. A post-work downpour can ruin a great outfit and day both. Though rain jackets, shoes, and umbrellas are primarily practical pieces, you don't have to skimp on style while wearing them.
Add splashes of cool to an otherwise wet season with this curated selection of trendy rain gear. Wet weather? Bring it on.
1. Sarah & Sandeep trench coats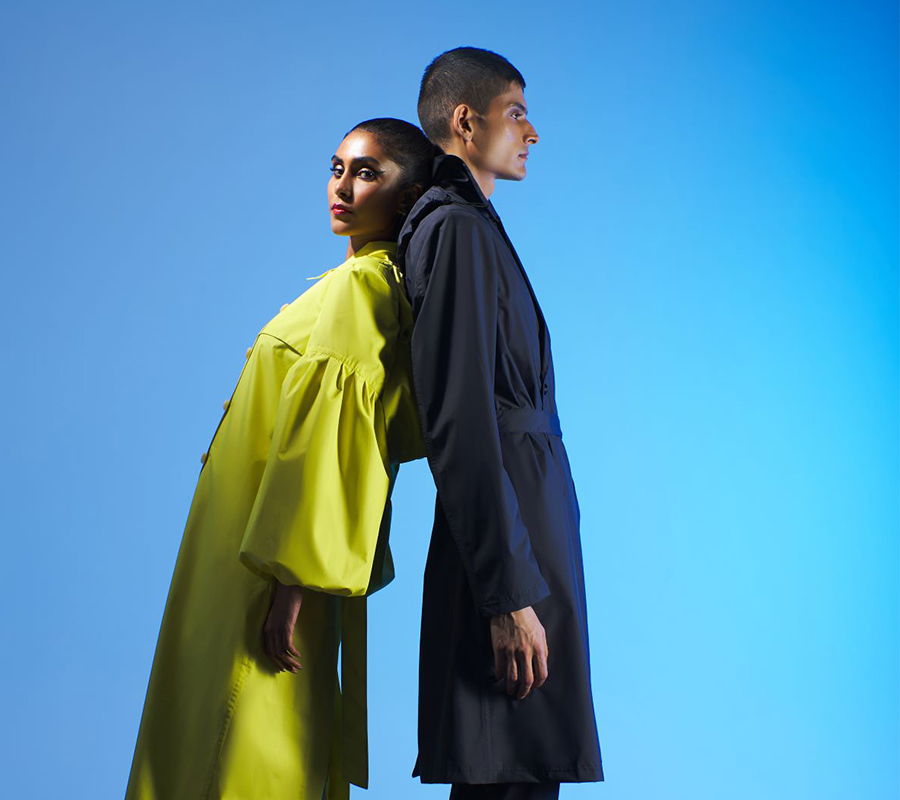 Mumbai-based designer label Sarah & Sandeep (previously SS HOMME) has unleashed a line of trenches that are not just rainproof but also multi-functional. Each tailored trench coat comes with signature belts, hidden functional pockets and Sarah & Sandeep's unique cross-back detailing. There's also a unique detachable hoodie for complete protection. The trenches are lightweight enough to ensure portability. "We wanted to conceptualise the idea of merging rainproof coats with contemporary art and make it functional too. This tailored collection is an amicable choice for those who prefer travelling and attending meetings in style," say the designers. The bright and monochromatic waterproof collection features a 100% recycled plastic safari jacket, a neon take on the balloon trench, and a run of Sarah & Sandeep's signature structures through contemporary takes on formal wear. Being bespoke the handmade trenches can be tailored to individual sizes with initials, dates and other details.  
Price: Rs 65,000 - 1,00,000
Available at: Sarah & Sandeep, Sura Mansion, S. V. Road, Khar (West), Mumbai.
2. Bandit bags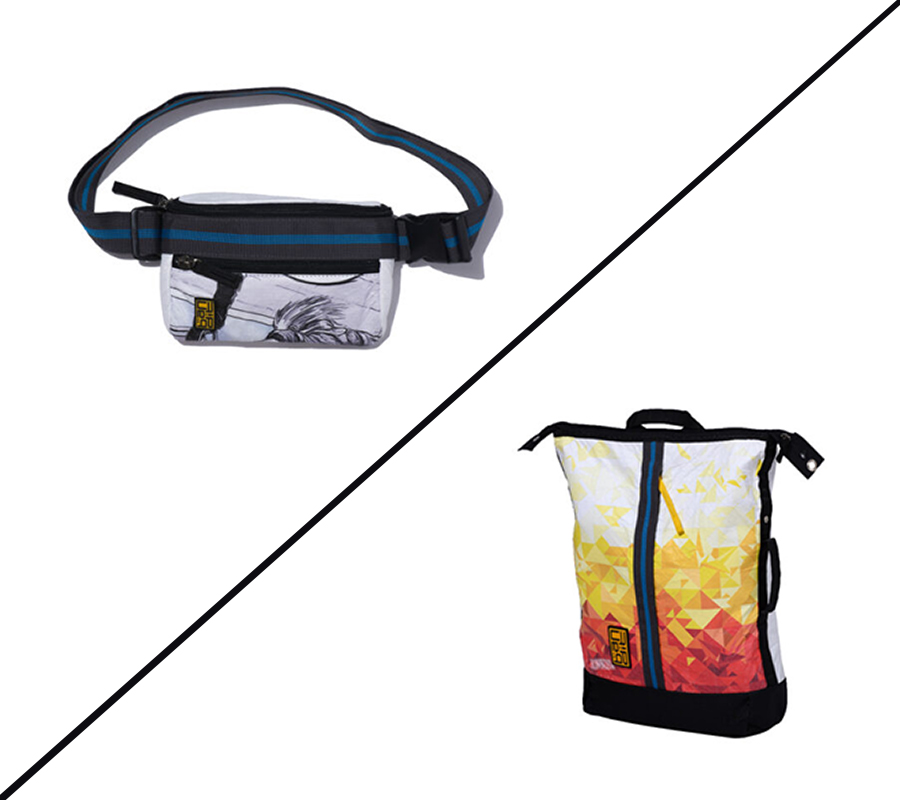 Looking for stylish rainproof bags that are sustainable too? Go for Bandit, a Goa-based brand, that makes bags from flex and tarpaulin. The range includes backpacks, sling bags and fanny packs designed in collaboration with artists and musicians. Some of the hot sellers include the Shibori dyed bags and the gravity print ones. The newest addition includes yoga mat bags made using tarpaulin. Carefully designed, it has a pocket to keep your phone, keys and a small towel. The products are extremely lightweight and can be returned once they have reached the end of their lifecycle. They are then redesigned into wallets and smaller accessories, thus completing the circle of a new design economy.
Price: Rs 1500 onwards
Available at: www.therealbandit.com
3. India Circus Umbrellas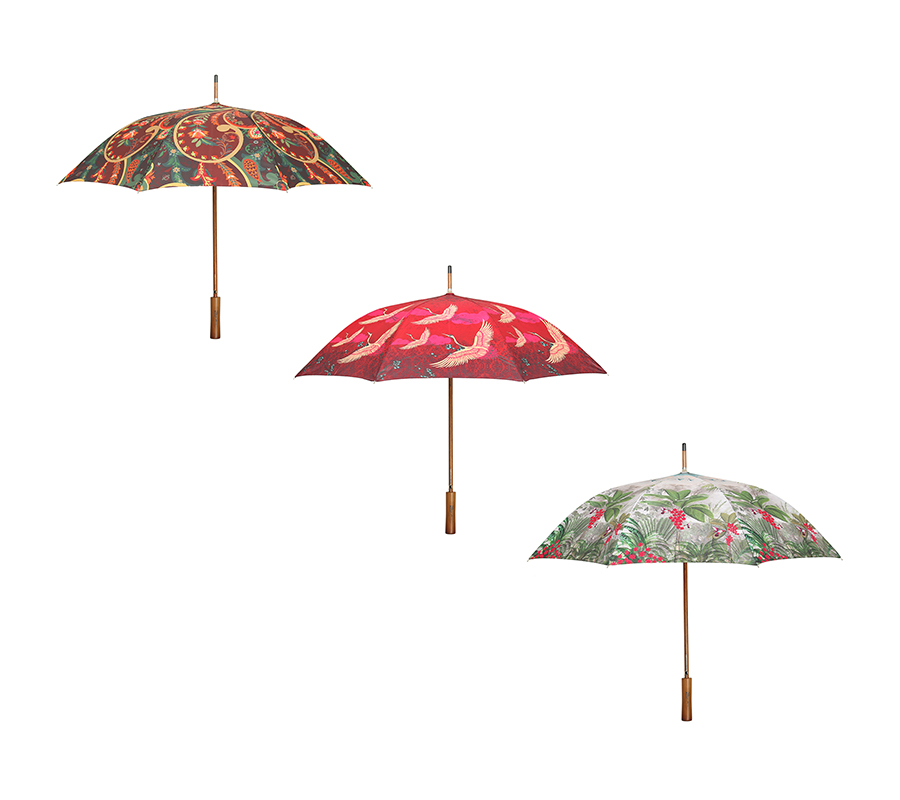 An umbrella is a non-negotiable accessory in the monsoon. 
The stylish umbrellas by India Circus make for pretty pieces of fashion accessories. Inspired by a variety of Indian motifs these windproof and funky umbrellas come in numerous prints that range from Mughal era, rose garden, assorted geometry, waves of chevron, bird land, etc. They open at the push of a button which is great if you're juggling your phone and a coffee in a downpour. The wooden handle is comfortable to hold while making more of a fashion statement. These full-length walking umbrellas are not just more elegant they are sturdy too and don't immediately blow inside out when the wind picks up. 
Price: Rs 1999
Available at: any India Circus store or www.indiacircus.com
4. Zeel raincoats and jackets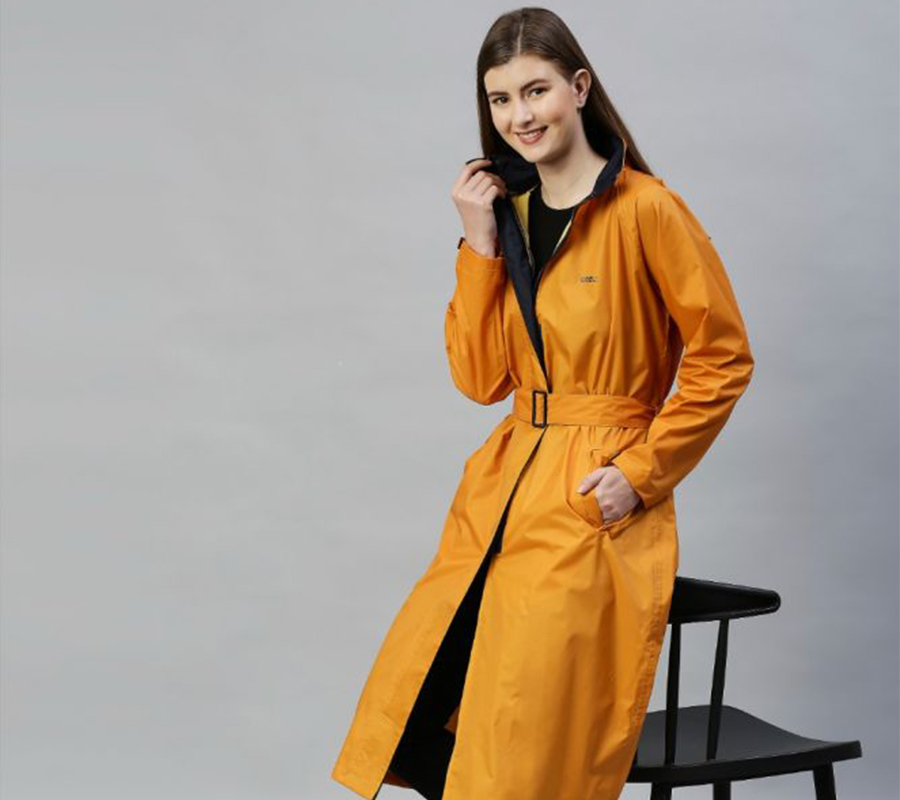 Stand out in a sea of black and boring raincoats with these stylish trenches from Zeel. These breathable rain sets are waterproof and come with overlap panels that prevent water from seeping through. The front pockets are handy to store things and the high neck provides ample protection. The colours range from a vibrant red to pretty pink and formal navy blue. Some of the pieces are also reversible. The styling is very understated. The belt adds a retro twist, while the lightweight design makes it perfect for layering as the weather changes. It comes with a removable hood so you can change your look based on the weather and it wipes clean, so you won't have to worry about getting it dirty. They have some neat jackets for men too. Whether it's windy, pouring, or drizzling out, these will never let you down.
Price: Rs 1,199 onwards
Available at: www.zeelretail.com
5. Bosky umbrellas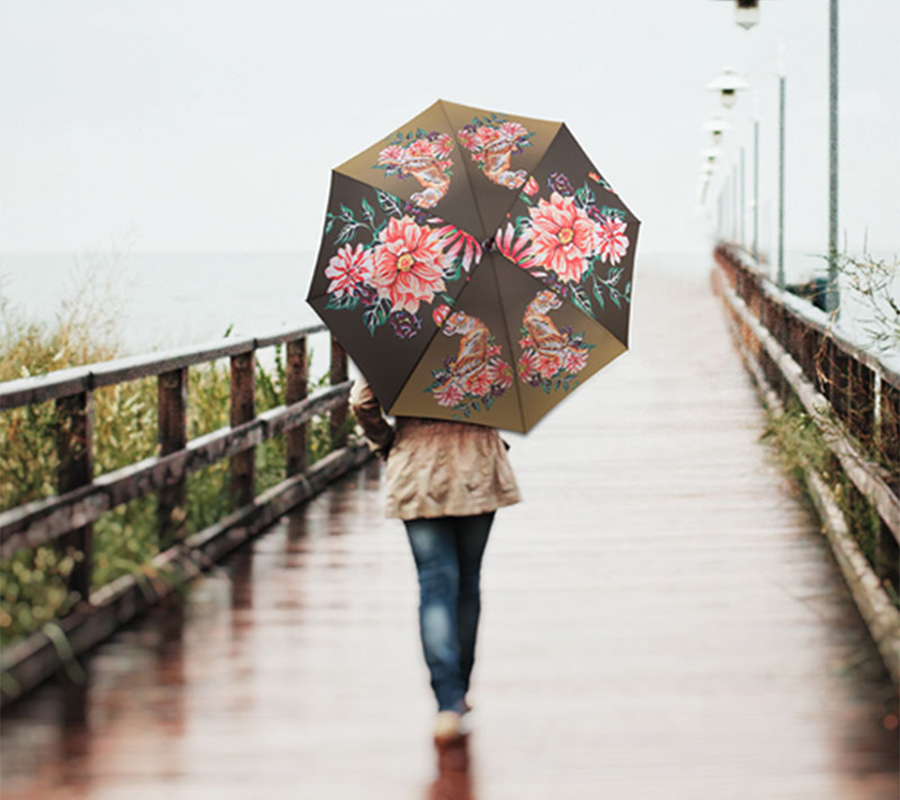 Having a good umbrella can make all the difference on a rainy commute or walk with your dog. But finding one that lets you stand strong against the whipping wind and also look cute while doing so is tough. Enter Bosky Umbrellas! These stunningly designed pieces will make you want to sing in the rain. The prints range from ponies to tulips, teacups and peacocks. My favourite part is that they fold, so it's compact enough to carry around when walking and yet big enough to keep you completely dry. The three-fold Tulip Tribe umbrella is one of the most popular. The wooden finish curved handle, black powder coated U flute ribs and the same print cloth case makes it quite irresistible.  Another umbrella titled Moontriping with a black and walnut wood finish handle is equally worth splurging on.
Price: Rs 1,600 - 2,200
Available at: www.bybosky.com
6. 7-10 sneakers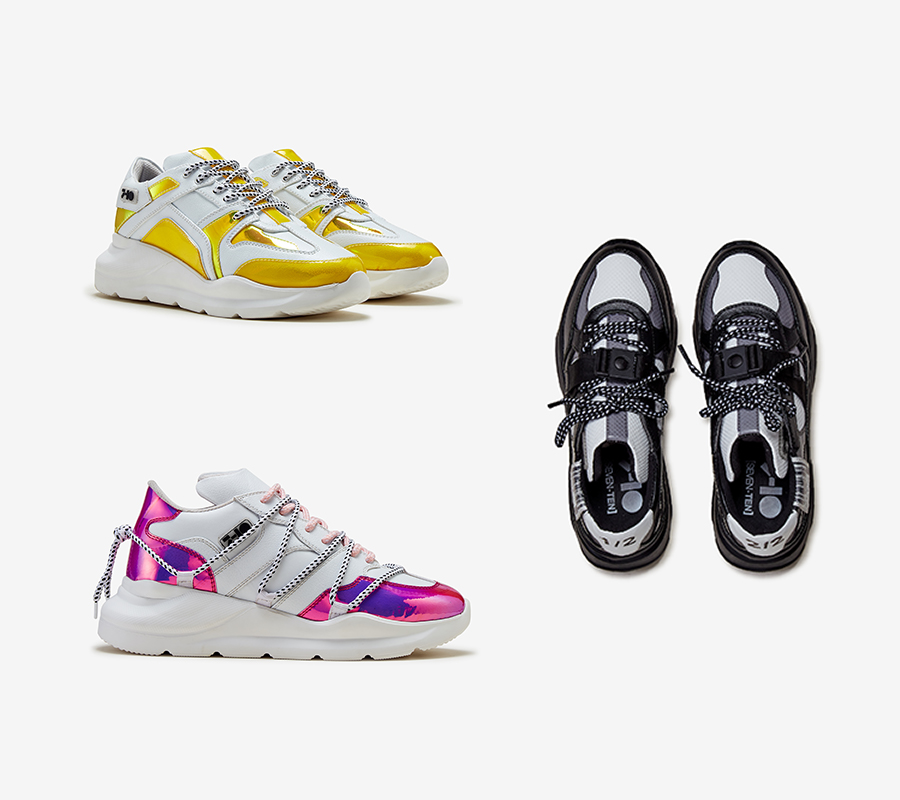 This season, don't dig out your clunky rain boots or ruin your regular footwear in the rain. 7-10 (Seven-Ten), the sneaker design house has a range of high fashion footwear that marries functionality with design and comfort. These are PVC sneakers that are not just waterproof, but also stylish. Men can choose from graffiti-inspired white transparent sneakers, black and red sneakers with hardware details and a tech-wear-inspired ones. Sneakers for women include florals and holographic details. 
Price: Rs 3500 - 6000
Available at: www.7-10.in
7. Spread Home umbrellas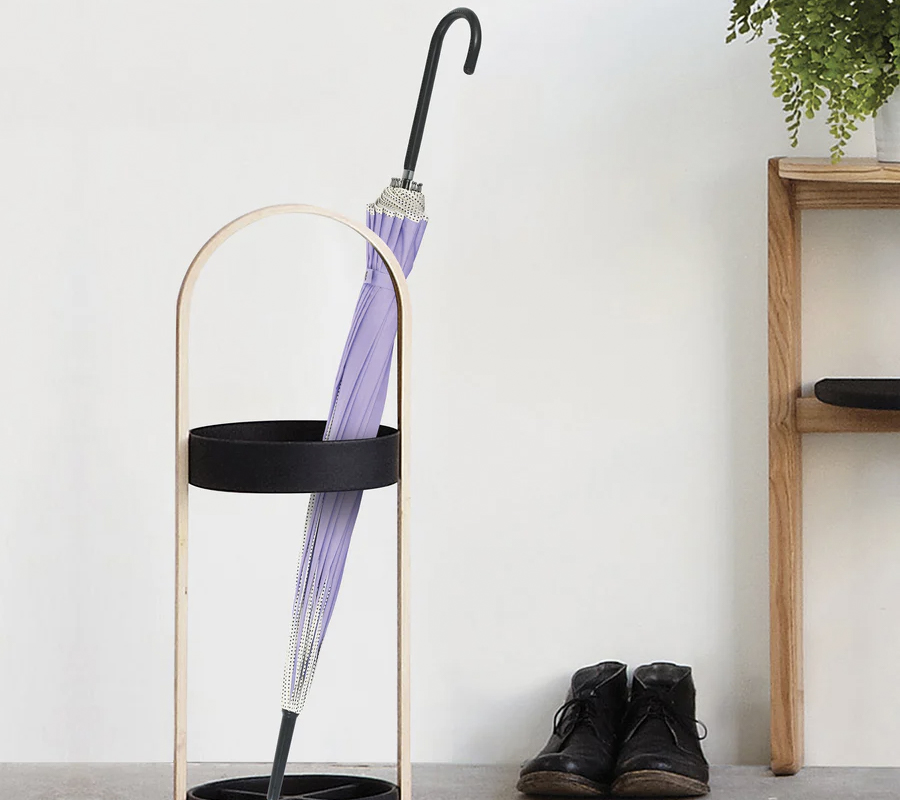 Are you a vintage lover? Spread Home has some unique pagoda-shaped umbrellas that you'll fall in love with. They come in a variety of colours and are sturdy enough to protect you from downpour as well as the UV rays. They are also extremely lightweight and come with an easy-to-hold hooked handle for a comfortable grip. 
Price: Rs 1975
Available at: www.spreadhome.com
8. Zara rain boots and wellies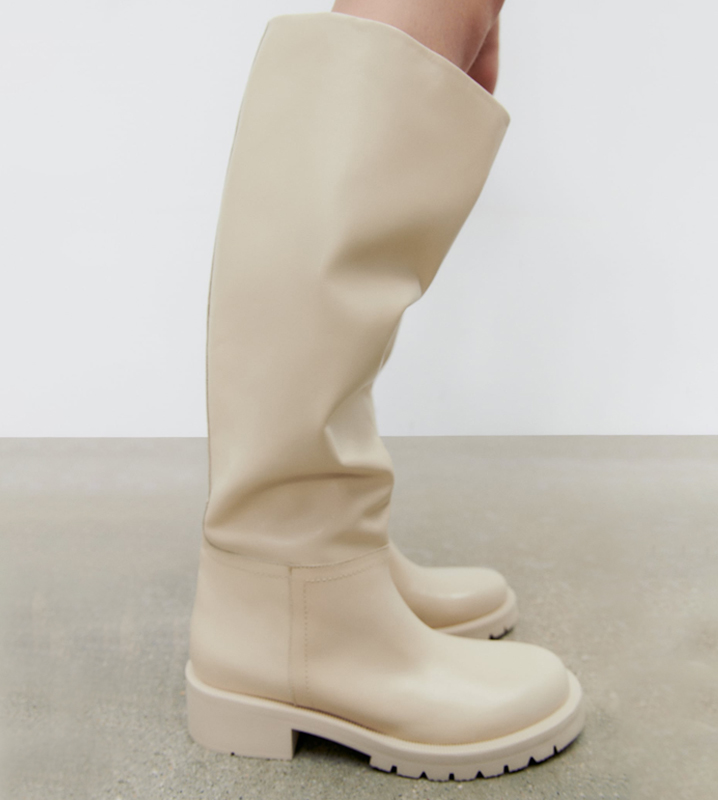 A pair of fully waterproof shoes can be liberating. They let you move through the world unhindered, without any consideration for the mess around your feet. These practical and fuss free rain boots and willies from Zara will let you do exactly that. They arrive in multiple iterations, including ankle boots and knee-high willies. The boots are extremely comfortable, light weight waterproof and truly beautiful to look at.  
Price: Rs 6990 for boots, Rs 5590 for wellies
Available at: All Zara stores and online
9. Accessorize Boots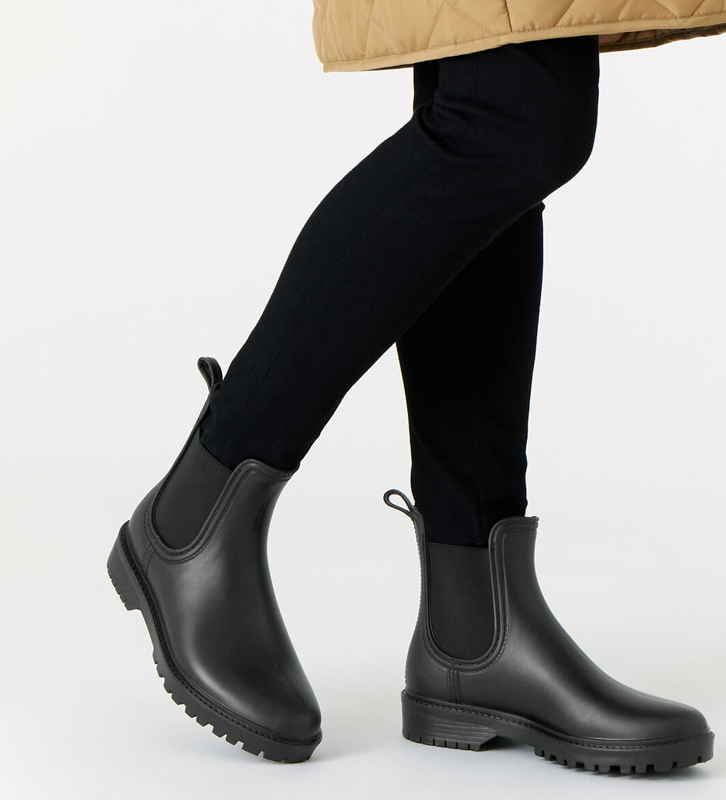 Unpretentious, and fully waterproof these Chelsea boots from Accessorize are fit for rainy days and woodland walks. Designed in rain-appropriate material they are easy to slip on and off. The elasticated side panels add layers of comfort while the ankle length keep things stylish. They come in black and khaki and pair beautifully with jeans and dresses. 
Price: Rs 4400
Available at: www.accessorize.com
10. Charles & Keith see-through footwear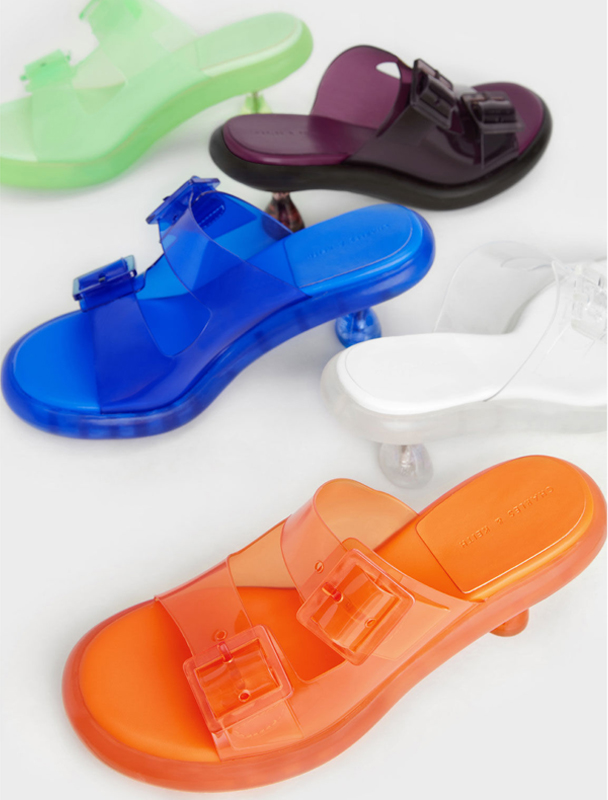 Infuse a whole lot of fun and style to your otherwise muted rain gear with these exuberant and see-through mules and sandals from Charles & Keith. The Madison range of footwear comes in a variety of styles including slides, strappy sandals and caged shoes. The 7cm block heels offer an instant boost in style and stature. The colours range from juicy orange to midnight blue and a funky purple. There's a white too for those looking to keep things understated. 
Price: Rs 6899 onwards 
Available at: All Charles & Keith Stores and online
11. Colombia Trench
A trench coat is a timeless addition to any rain wardrobe. This one from Columbia is both fashionable and functional. The material is treated to resist rain-and-stains and comes with an adjustable hood, cuff tabs and a belt to tighten the coverage and add a sleek look. An excellent back-vented design promotes airflow to keep you cool. Two zippered side pockets add to the versatility of this trench coat. Oh! And did we mention this jacket is machine washable! 
Price: Rs 3250
Available at: www. columbiasportswear.co.in
12. Hamster London bags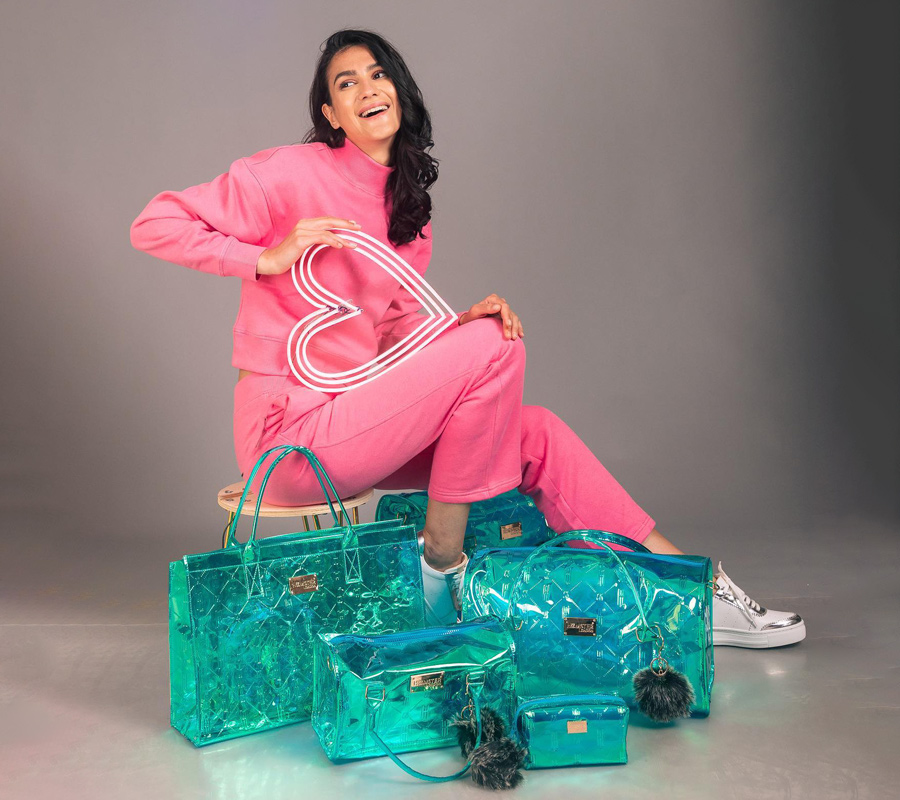 Looking for bags that don't dampen your fashion quotient? Go for the new collection of 'It' bags from Hamster London.  From hands-free crossbody bags to errand-running totes, practical backpacks and cute fanny packs…  they have them all. The shiny PU material keeps things jazzy and also waterproof. These bags will see you through a myriad of occasions, offering enough size and space to stash your world without overwhelming your ensemble. What else can you ask for?
Price: Rs 1599-6999
Available at: All Hamster London stores across India and online.
Photo: Shutterstock; Featured brands