Fashion and art, over time and generations, have gone hand in hand, each inspiring the other and creating history together. At the Paris Fashion Week, held in March earlier this year, fashion houses such as Stella McCartney and Louis Vuitton, not only showcased stellar designs but also threw the limelight on some of the city's art museums, pairing fashion with art in the most coordinated fashion. In fact, globally, it is a tradition for museums to host fashion exhibitions and design retrospectives around the world. Closer to home, art met fashion not too long ago at the Kiran Nadar Museum of Arts (KNMA) as couturier Rimzim Dadu celebrated her fifteenth year in the fashion industry. 
It's not just Dadu's wearable art that she only enhances over time by pushing her boundaries, but also the fact that textile innovation has been at the core of the brand's identity that makes her so unique. 
She has been known for her use of unconventional materials such as steel, leather and cord to create textiles for sarees, lehengas, and gowns, the most famous being her liquid-look sculpted metal saree, showcased to the world by Sonam Kapoor Ahuja at Cannes '16. Her off-beat ensembles have also gained popularity on the circuit and have won the favours of the likes of Aishwarya Rai Bachchan, Priyanka Chopra, Karisma Kapoor, Neha Dhupia and new-age actors like Sanjana Sanghi.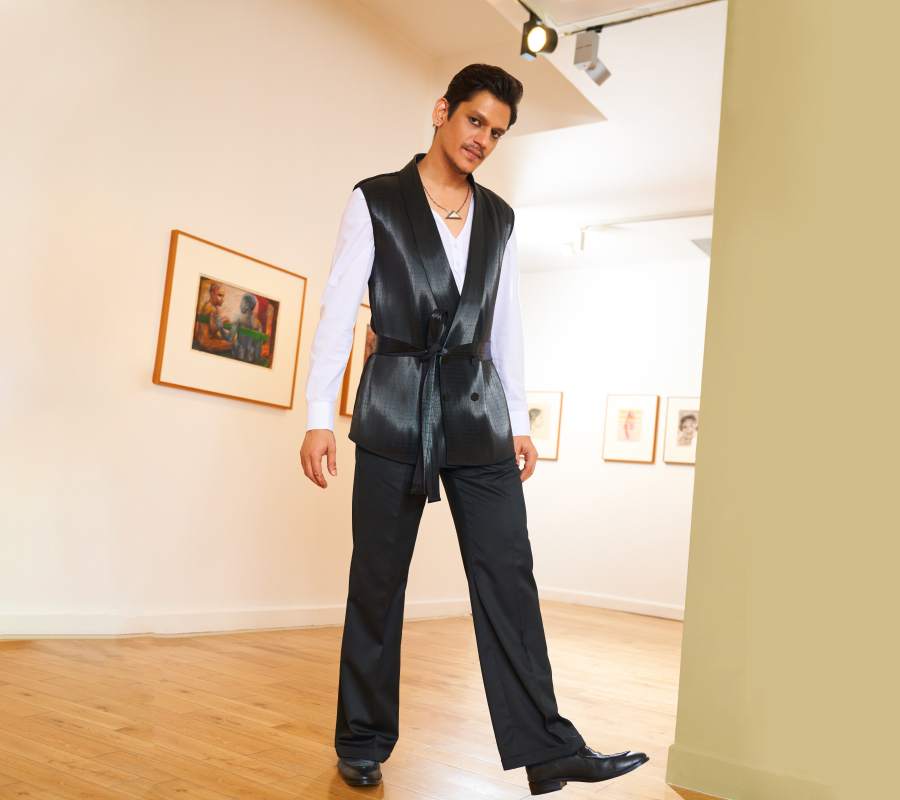 Carving a niche space for herself, Dadu decided to celebrate 15 years of her textile-focused fashion house by presenting a special Art X Fashion showcase at KNMA. Held on August 28, the show was a guaranteed crowd-pleaser that gave the guests a closer look at her craft. Actor Vijay Verma opened the show, dressed in an overlay jacket with signature hair-thin metal wires styled with a V-neck shirt, and wide-legged pants, while actor Tara Sutaria drew the curtains in a signature ensemble comprising a lehenga embellished with leaves made from cord and a halter-neck blouse with further cord detailing.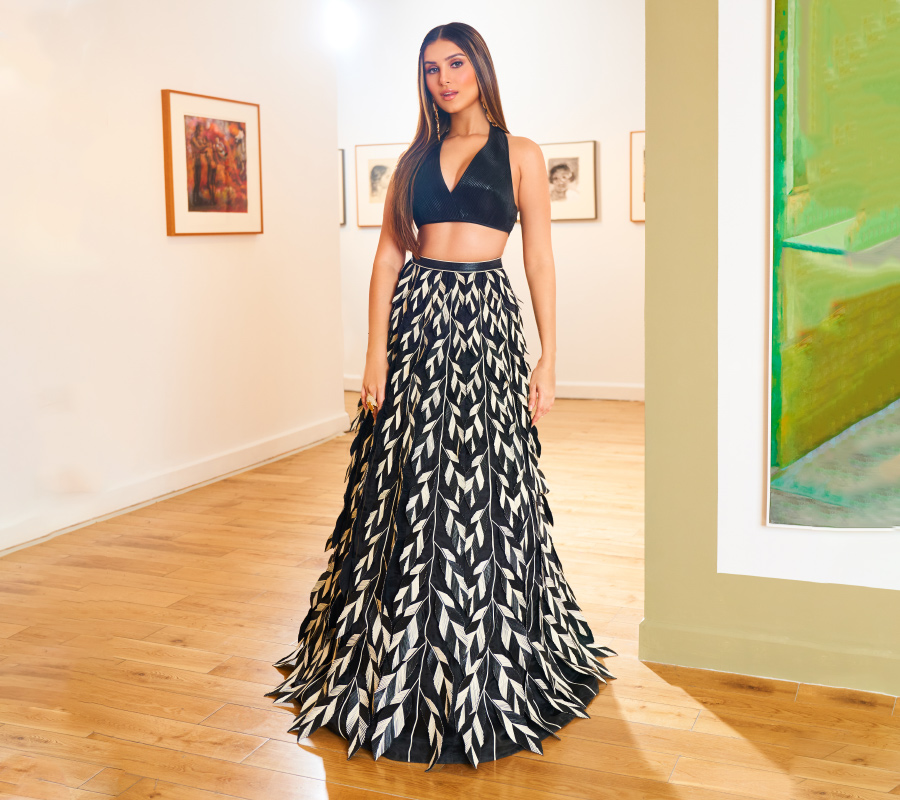 The presentation began with the preview of a textile exhibition where the audience got a glimpse of the detailing and artistry that go into the making of Rimzim Dadu clothes as artisans displayed some of their techniques, including how steel gets transformed into hair-thin wires and then into wearable clothes.
The 15th celebratory collection was built from reimagining and reengineering materials in unexpected and unconventional ways.  For this year's showcase, each look was inspired by the designer's rich repository of textile innovations, with added focus on cord.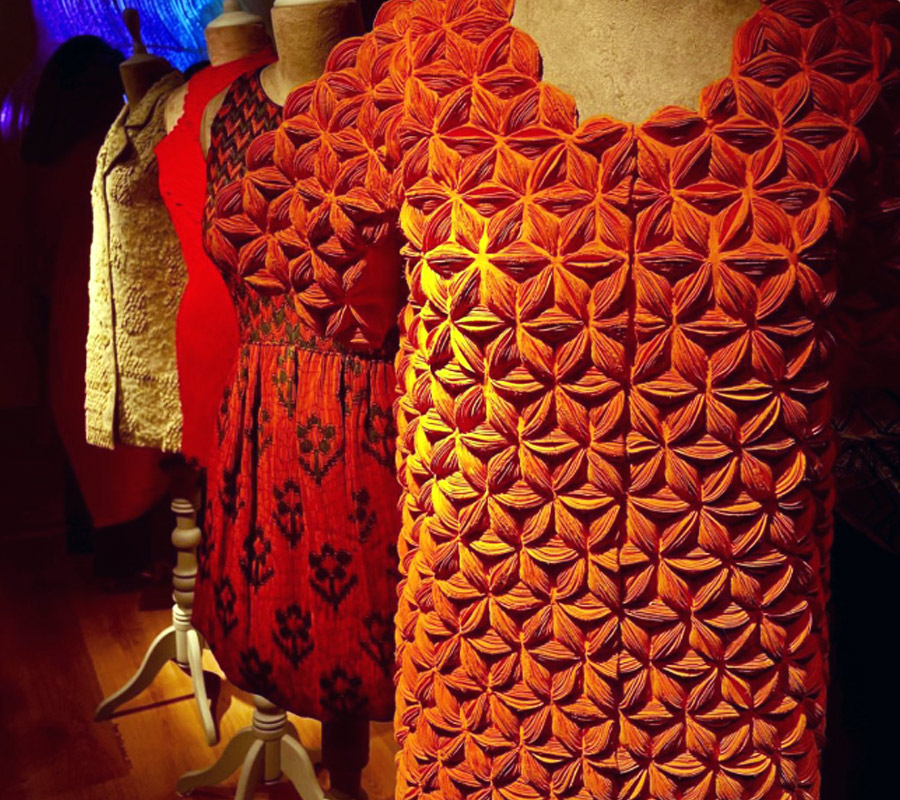 Dadu brought out her iconic, best-selling steel sarees in vivid colours. Her iconic craft of cord was brought out in gowns, sarees, dresses, lehengas, jackets, pantsuits and even, swimsuits. The men too walked the ramp in sculptural shirts, bandhgalas and blazers. The couturier's signature surface texturing designs, featuring foliage in metallic blues and emeralds combined with sparkly silvers and pristine whites, remained in focus.
The fashion showcase was an overall work of art where clean lines were melded with new-age craftsmanship. Using her signature cord technique in re-engineered material, the fluid yet structured dressing options are a treat to the eyes and the global wearer looking for avant-garde, daring and edgy couture ready to push traditional boundaries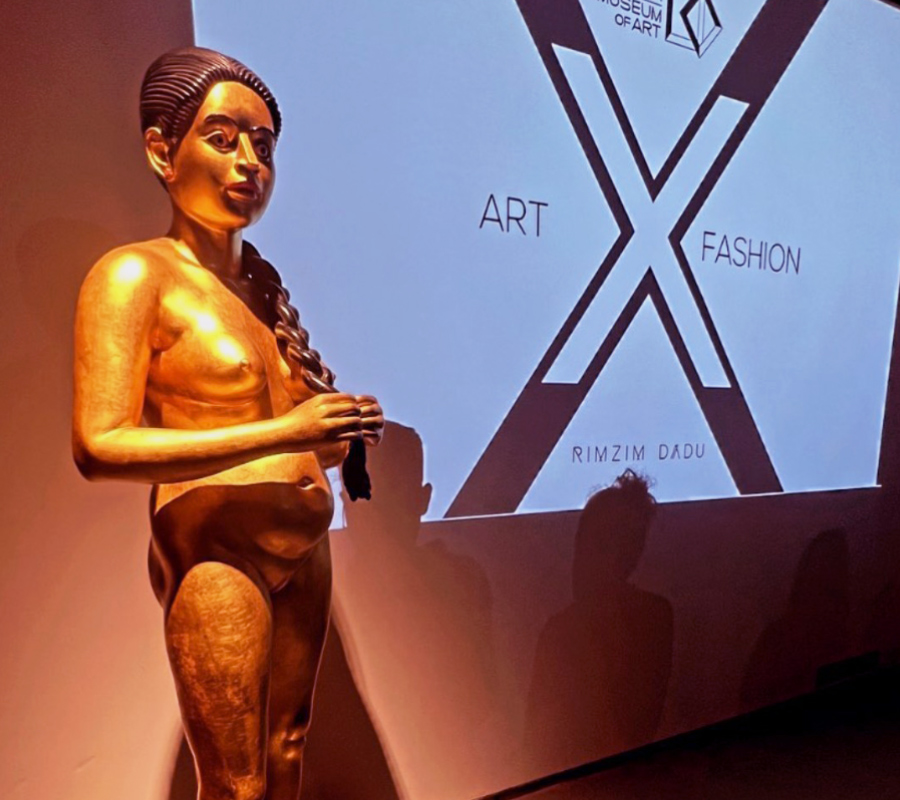 The designer is also having an exhibition that will run till September 4 where fashion lovers can take a closer look at the label's unique and unexpected designs and re-interpretations of classic Indian textile heritage, sparking compelling discussions about art, culture and design at KNMA Saket. What makes this exhibition striking is how the visitors can get a real-life experience of the unique techniques that go into the production of her garments and how she gives Indian craft a contemporary makeover, for instance, the leather patola, her weaving experiments with paper, silicon, steel chiffon, and zari in their raw form. An area called 'The Lab' has also been set up to allow viewers to check out Dadu's artisans in action.
What: Textile Exhibition by Rimzim Dadu
When: On till September 4, 2022
Where: Kiran Nadar Museum of Art, DLF South Point Mall, Saket, New Delhi
Photo: Rimzim Dadu; Tejashee Kashyap