When it comes to sisters who are utterly devoted to the realms of fashion and beauty, finding the perfect gift is an art form. Their keen eye for trends, appreciation of exquisite craftsmanship, and love for self-expression through style make them truly unique individuals. This curated list of gift ideas is a testament to the admiration you have for their passion.  
Whether it's the latest makeup essentials, chic footwear, the timeless grace of handloom sarees, or the allure of evening occasion wear, we've gathered a collection of gifts that will not only resonate with their sophisticated tastes but also show them just how much you cherish their individuality.  
Join us on this journey to discover presents that mirror the glamour and allure of your fashion and beauty loving sisters.  
Beauty and wellness gift ideas for sister 
The Lip Balm Company - Luxury Lip Care Package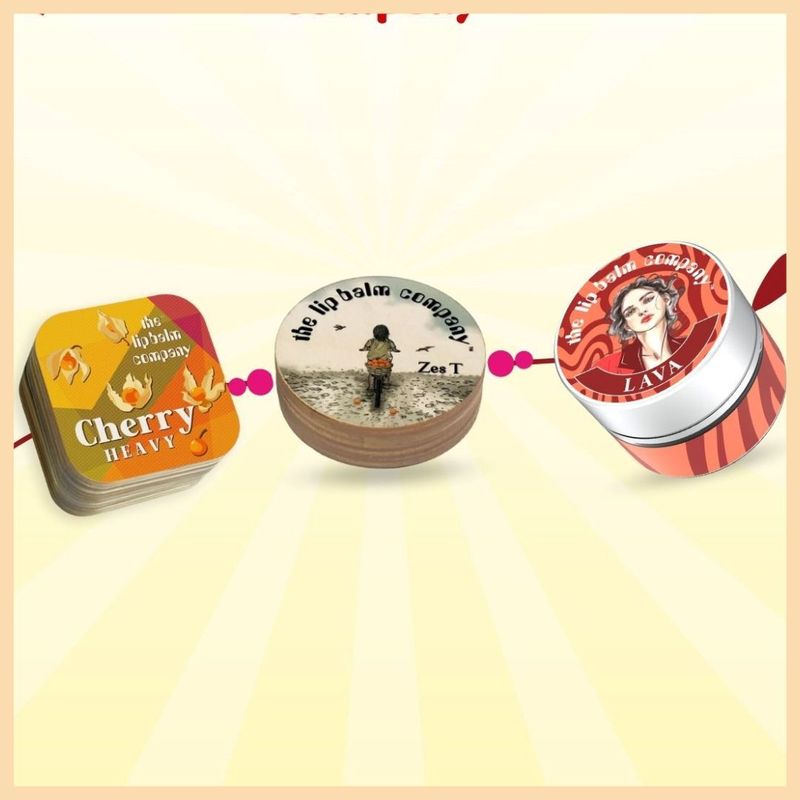 This Raksha Bandhan, put the spotlight on selfcare and treat your sister to a luxurious gift from The Lip Balm Company. Watch her rejoice as she explores the assortment of lip balms infused with prime ingredients such as ashwagandha and tea extracts.   
Price: Rs 1740 
SkinQ - Rakhi Gifting Hamper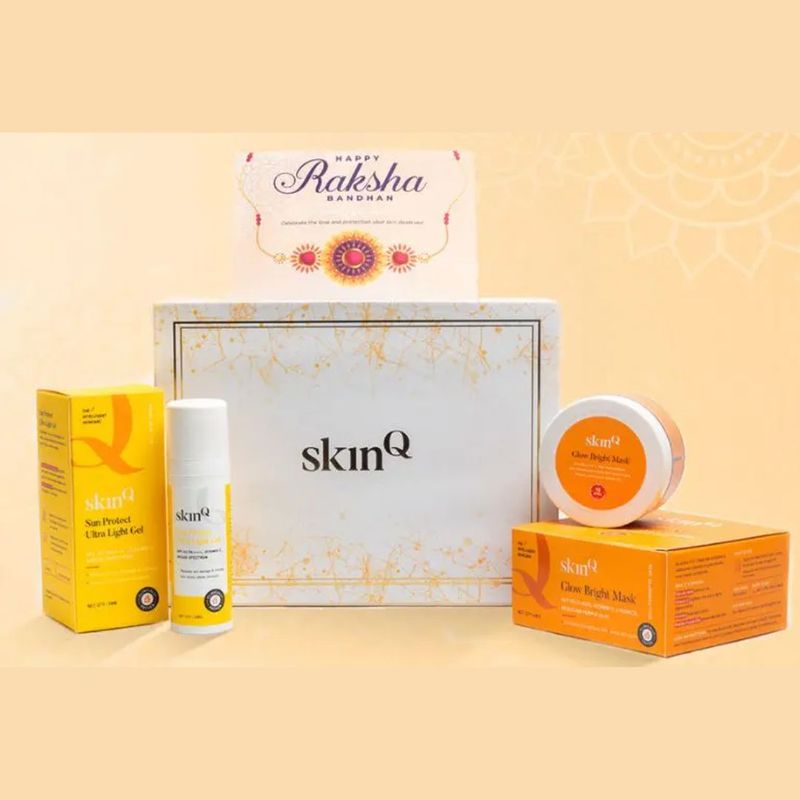 Elevate your Raksha Bandhan gifting game with SkinQ's Festive Radiance Gift Box, starring SPF 40 Sun Protect Ultra Light Gel and 15-minute Glow Bright Mask, clinically proven for Indian skin. A promise of love and protection, this box is the ultimate sibling gift for skin care and glow. 
Price: Rs 999  
Juicy Chemistry X Paul & Mike - Juicy Indulgence Box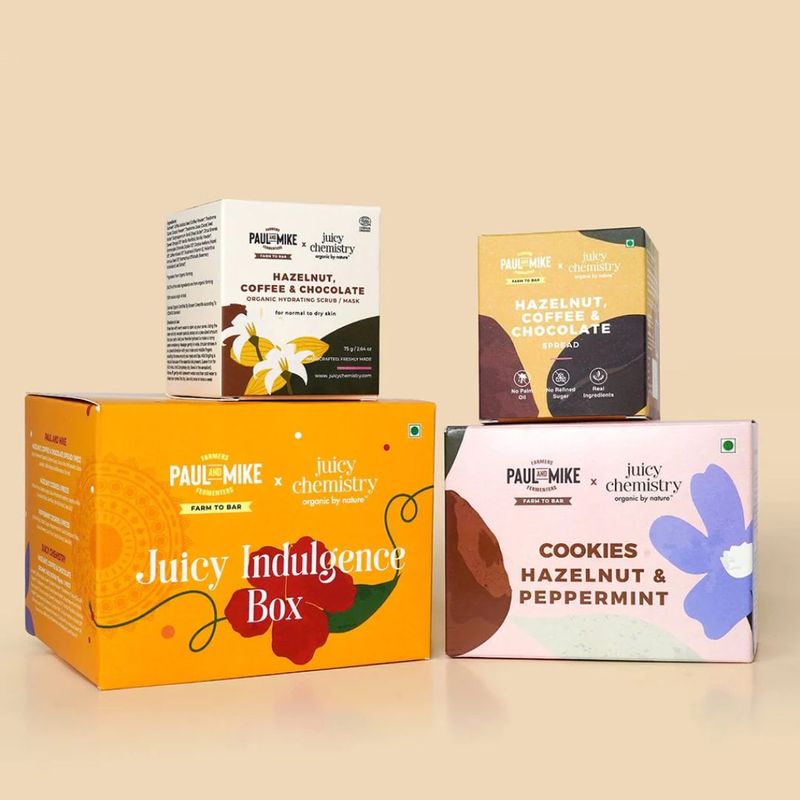 Fusing beauty and taste, this gift box offers the best of both worlds for your sister this Rakhi. From Juicy Chemistry's luxurious coffee scrub to Paul & Mike's delectable hazelnut & peppermint treats, and their irresistible hazelnut, coffee & chocolate spread, it's a delightful blend of pampering and indulgence.  
Price: Rs 1225 
SUGAR Cosmetics - Raksha Bandhan Kit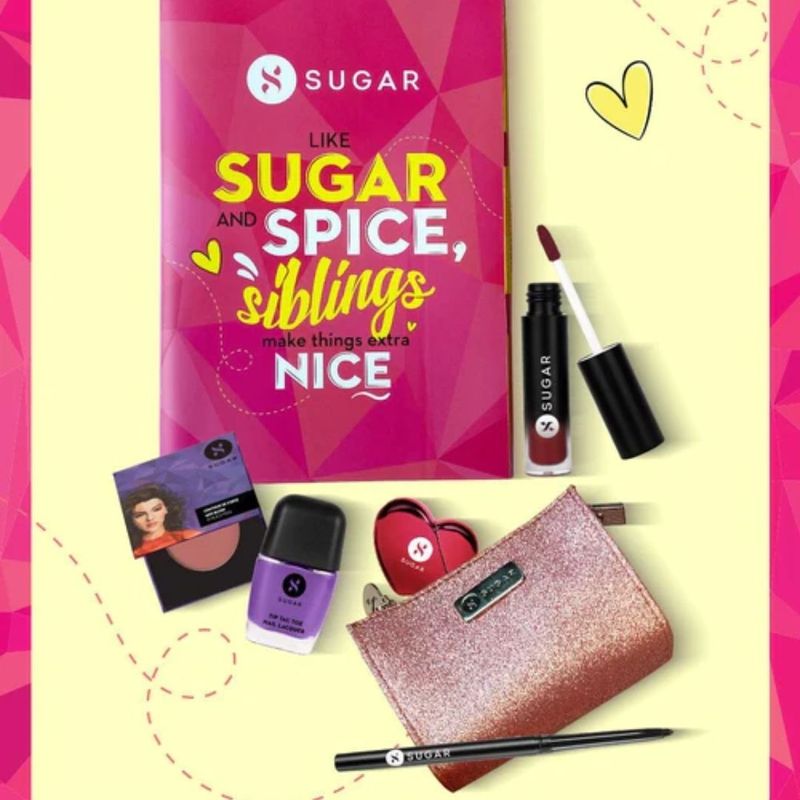 Treat your sister to a collection of SUGAR's bestsellers, including a heart-shaped 18HR liquid lipstick, vivid kajal, mini blush, smudge-proof mousse lipstick, and elegant nail lacquer, complete with a chic pink pouch. Also, ask her to keep an eye out for an extra special surprise tucked inside! 
Price: Rs 1599 
Salt - Regimen Revival Bundle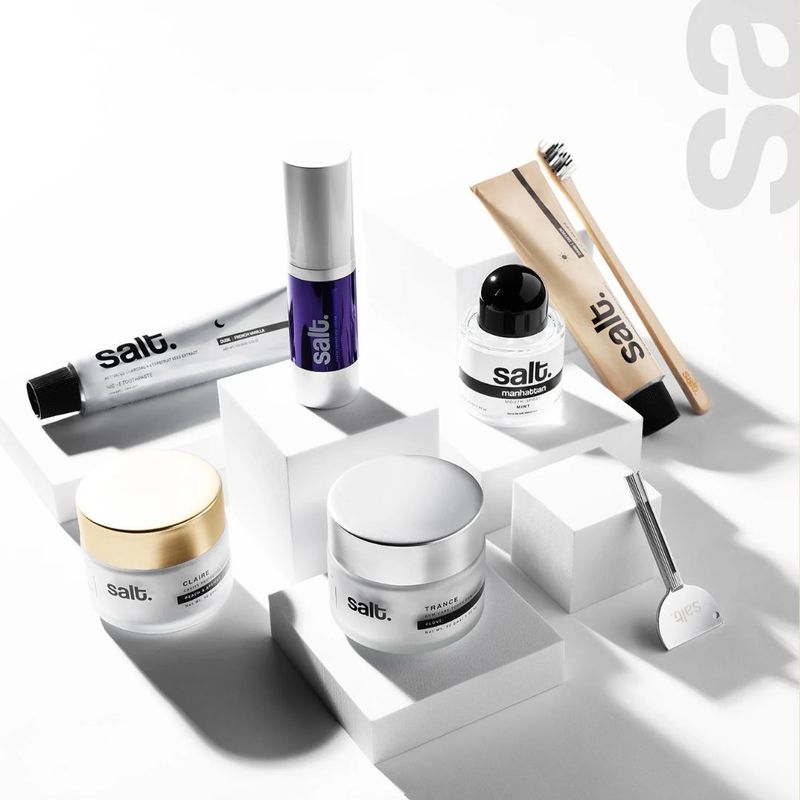 Give your sister the gift of radiant smiles with an oral care self-care package, ensuring her confidence and well-being shine through. This contains two packs of toothpaste, tooth powder, a colour corrector serum, a mouth spray, and a toothpaste squeezer key. 
Price: INR 3950 
Blossom Kochhar Aroma Magic - Hand & Foot Care Combo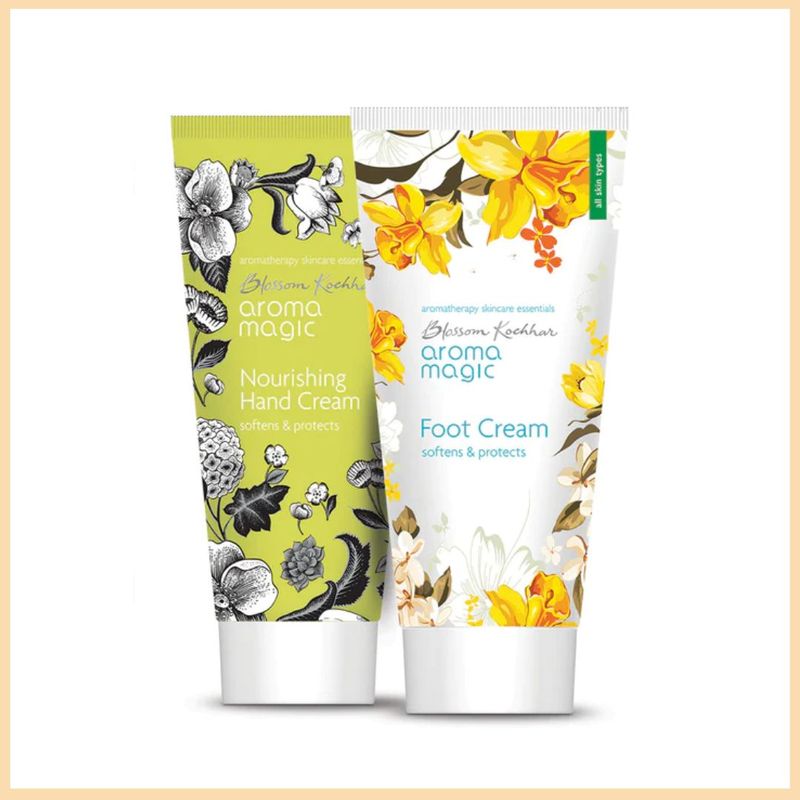 Help elevate your sister's self-care game this Raksha Bandhan with the Blossom Kochhar Aroma Magic hand and foot care combo. She can pamper her hands and feet with their miracle regime, featuring moisturising hand and foot cream, along with a mineral glow scrub that unveils youthful, radiant skin by gently exfoliating dryness and dead cells. 
Price: Rs 675  
Bath & Body Works - Create Your Own Gift Set  
Surprise her with the Bath & Body Works Create Your Own Gift Set, a personalized gesture that shows thoughtfulness. With a variety of fragrance collections like Japanese Cherry Blossom and A Thousand Wishes, and a selection of lavish products from body cream to 3-Wick Candles, it's a surefire way to craft a uniquely memorable and heartfelt gift. 
Price: Based on choice of products 
PLUM Goodness - Caramel Popcorn Kit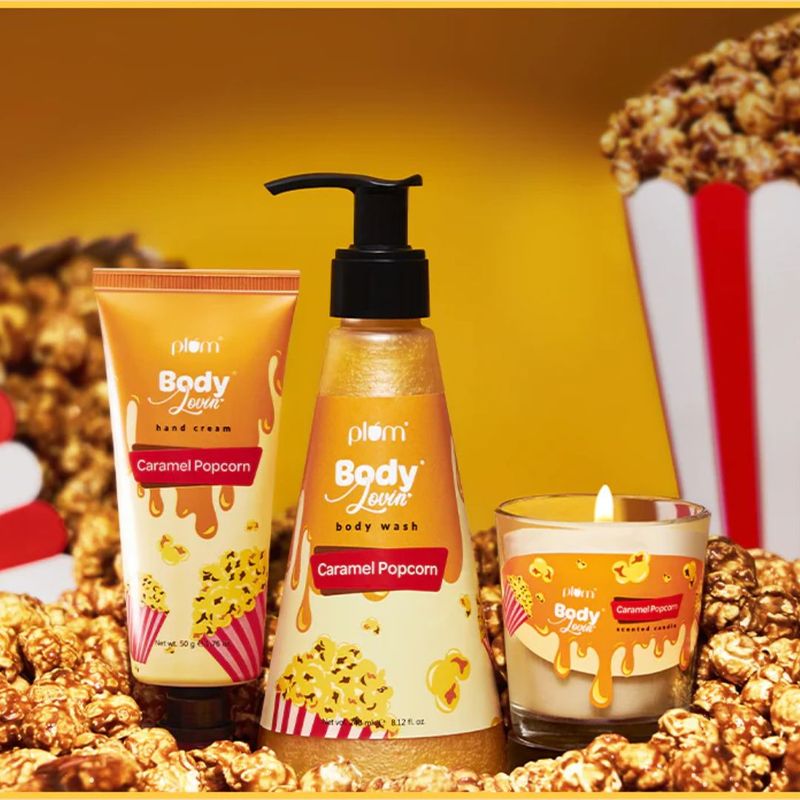 Ace Raksha Bandhan gifting with the PLUM Goodness Caramel Popcorn Kit, a scrumptiously delightful blend of sweet and salty flavours that's as irresistible as your sister's charm. Enriched with nourishing ingredients and available in a range including body wash, hand cream, and a scented candle, it's a 100% vegan and cruelty-free indulgence. 
Price: Rs 875 
Fix My Curls - 5-Step Moisture Bundle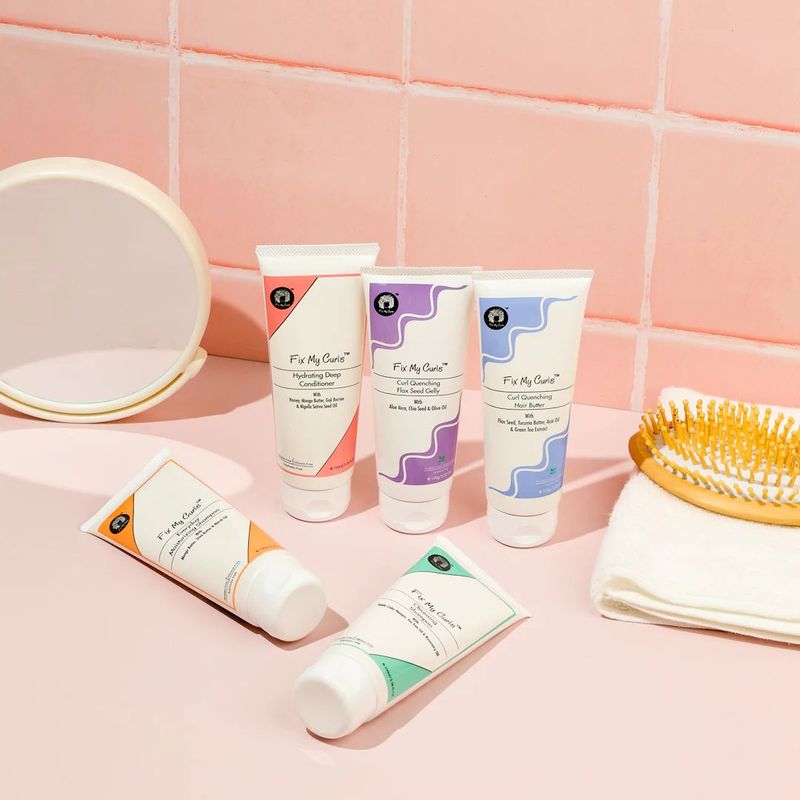 The gift of gorgeous curls for your sister is just a click away with the Fix My Curls 5-Step Moisture Bundle - a complete haircare package designed to cleanse, nourish, and define her curls with love and care. It features a cleansing shampoo, moisturising shampoo, hydrating deep conditioner, curl quenching hair butter, and curl quenching hair jelly. 
Price: Rs 1195
La Mior Velvet Liquid Lipstick – Combo of 3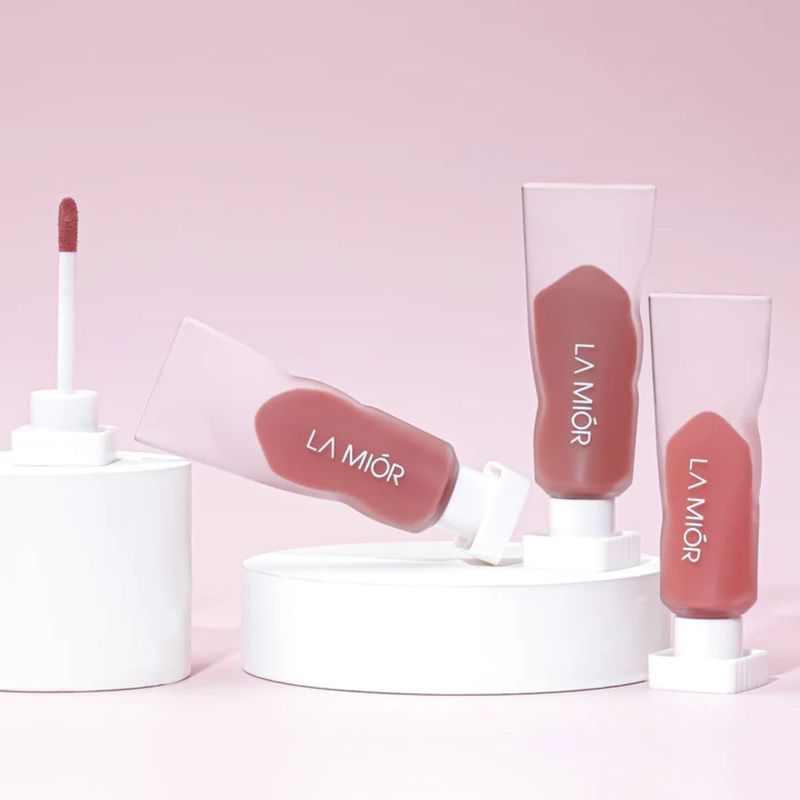 Why stop at one when you can spoil her silly with three velvety liquid lipsticks. La Mior, a vegan and cruelty-free makeup brand, is offering a combo of 3 liquid lipsticks that are transfer-proof, provide intense colour payoff, make lips look plump, and are lightweight to wear.  
Price: Rs 1980 
Type Beauty - Lip Combo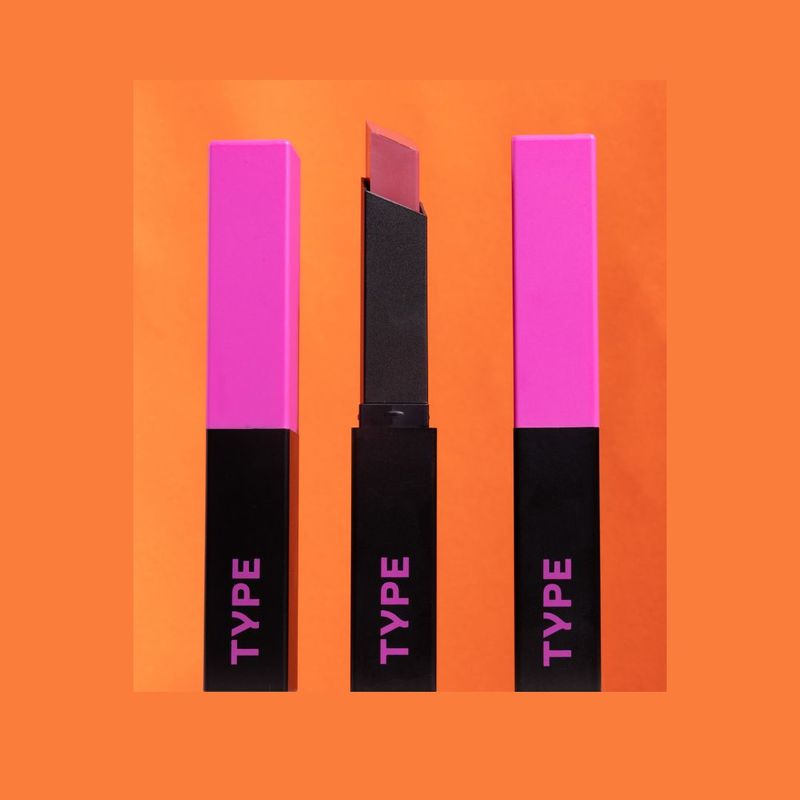 Delight your beauty-loving sister with a revolutionary gift - the world's first anti-pigmentation lipstick that not only delivers rich colour but also offers eight-hour wear while healing and hydrating her lips, revealing a nourished and brighter smile. 
Price: Rs 1499 
Eze Gift Set - Sublime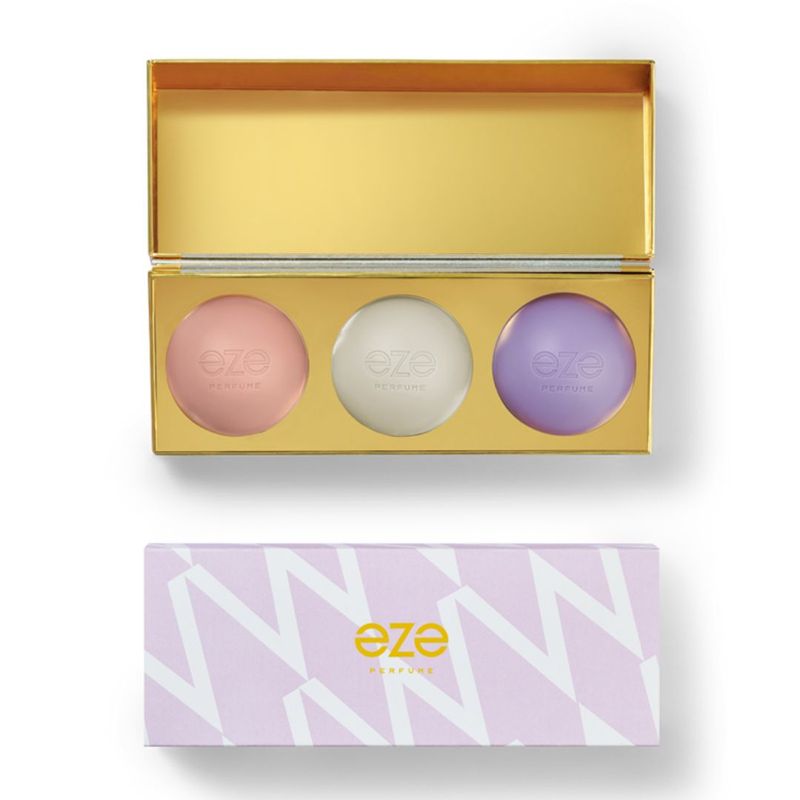 Eze's Raksha Bandhan gift for women, a beautifully curated three-perfume kit, captures a blend of captivating aromas such as peach, rose, sandalwood, musk, vanilla, amber, tuberose, and vanilla, among others. This aromatic present not only envelops in captivating fragrances but also spreads positivity while being long-lasting, vegan, and affordable. The three varieties of Eze Perfume in this gift set are available in 30 ml bottles. 
Price: Rs 1895 
Justhuman - Indulge & Invigorate Gift Box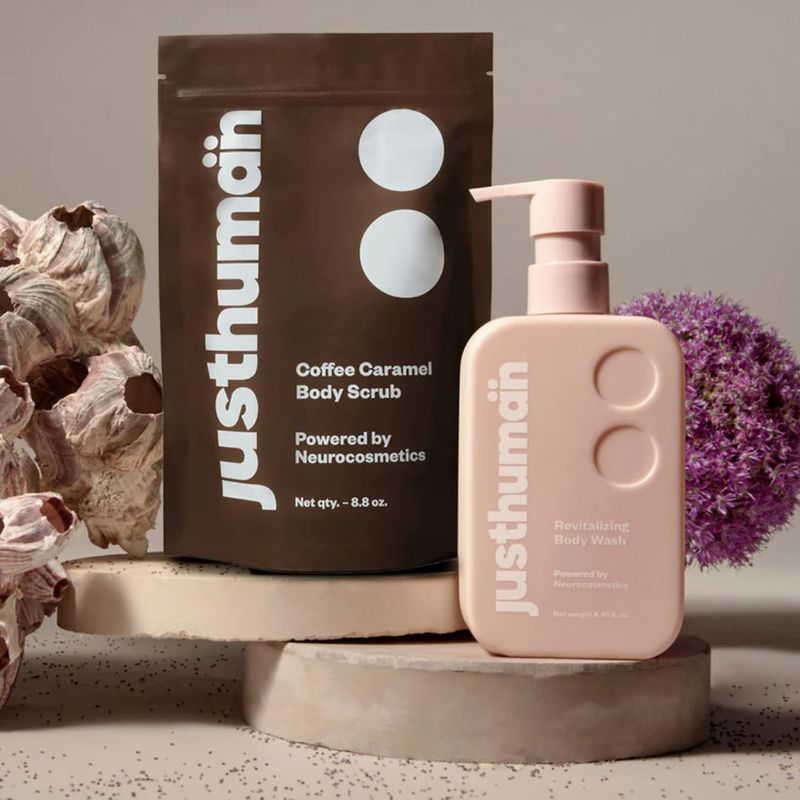 Let her experience the ultimate skin treat with Justhuman's limited-edition Indulge & Invigorate gift set - a luxurious duo comprising coffee caramel body scrub for indulgent exfoliation and revitalising body wash for a refreshing cleanse.  
Price: Rs 2649 
OTT Skyncare - Hydration Station Gift Box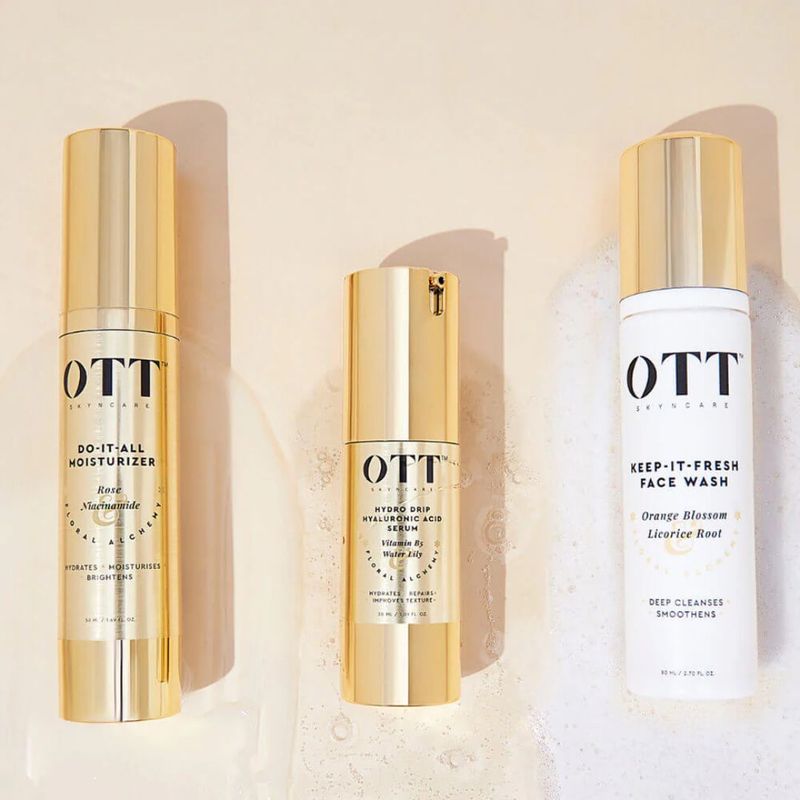 The promise of ultimate skin indulgence comes with OTT Skyncare's hydration-focused trio. This three-step routine, featuring Keep-It-Fresh face wash, Hydro Drip Hyaluronic Acid Serum, and Do-It-All Moisturizer, offers instant hydration and nourishment. This routine ensures her skin stays moisturised over time, revealing a refreshed and plumped complexion. 
Price: Rs1890 
The Body Shop - Sparkle & Shine Moringa Haircare Gift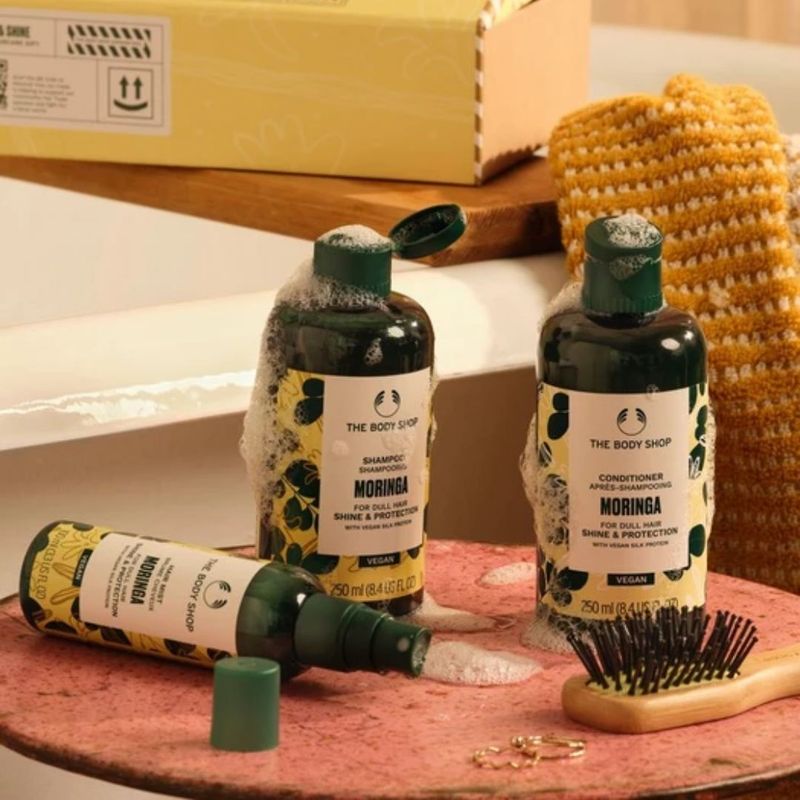 This Rakhi, impress your sister with The Body Shop's Radiant Haircare Gift Set, enriched with vegan silk protein and natural ingredients, that may bring dull hair to life. A gift of confidence, perfect for anyone seeking radiant locks, reflecting the meaningful connection you share. 
Price: Rs 3795 
LoveChild Masaba - Meetha Perfume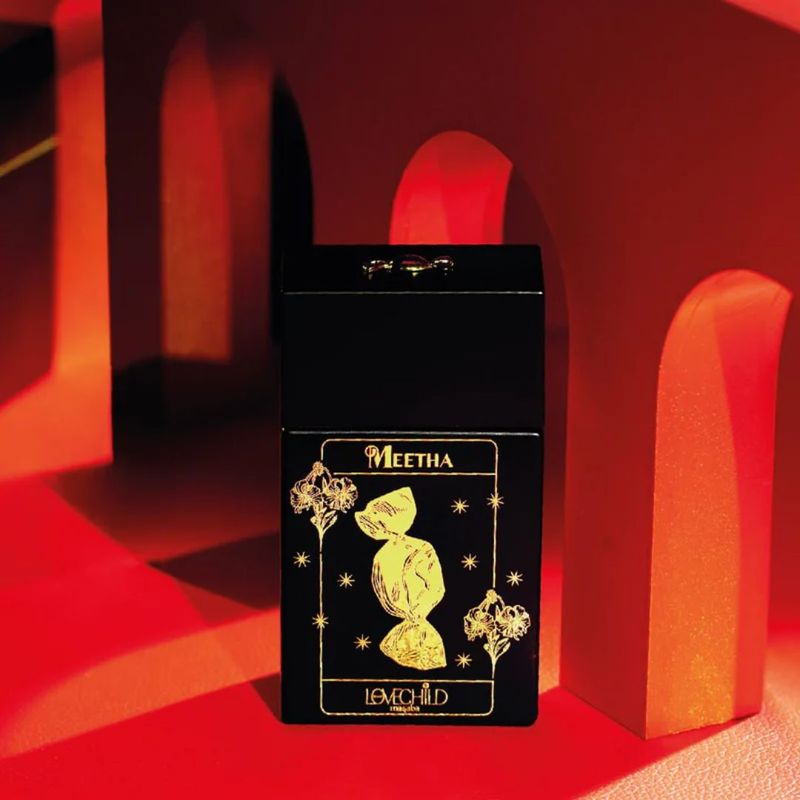 Gift an enchanting statement this Rakhi with a captivating fragrance, LoveChild Masaba Meetha Perfume, that echoes memories and indulgence. With notes of peach, blood orange, cognac, and vanilla, this luxury perfume is a 'sugar-free' nostalgic delight. 
Price: Rs 2200 
Gift ideas for the fashionista sister 
Amazon Pay Gift Card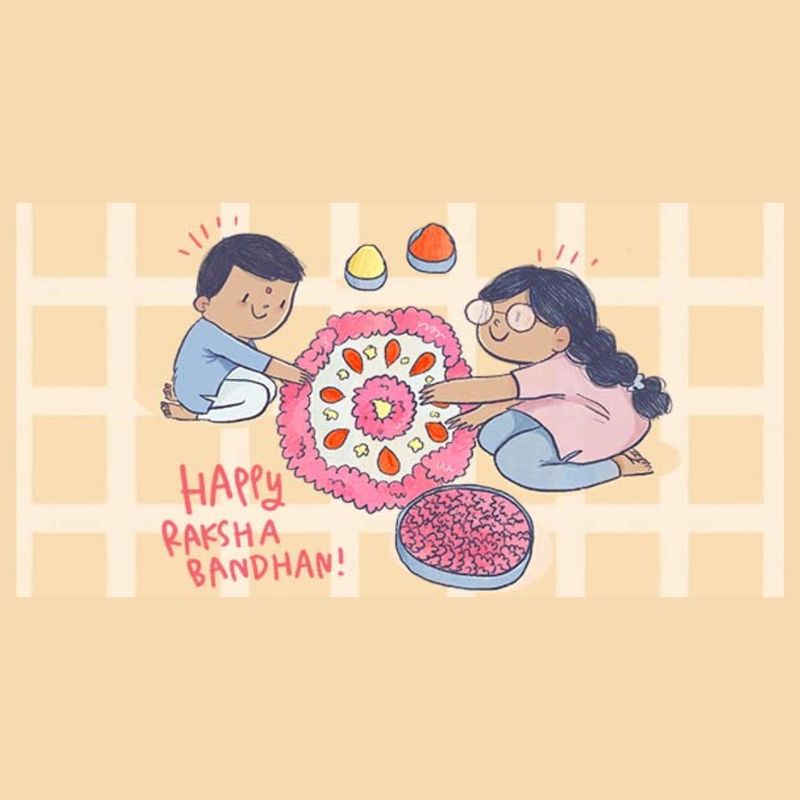 Delight your fashionista sister with an Amazon Pay gift card, offering the 'Gift of Choice.' With a plethora of options on Amazon.in, you're ensuring she receives precisely what she desires, spreading happiness and creating treasured moments. With an array of designs by illustrator Alicia Souza and availability in multiple languages, these gift cards break language barriers, providing exciting offers and rescuing you from last-minute gifting worries. 
Zouk Hobo Bag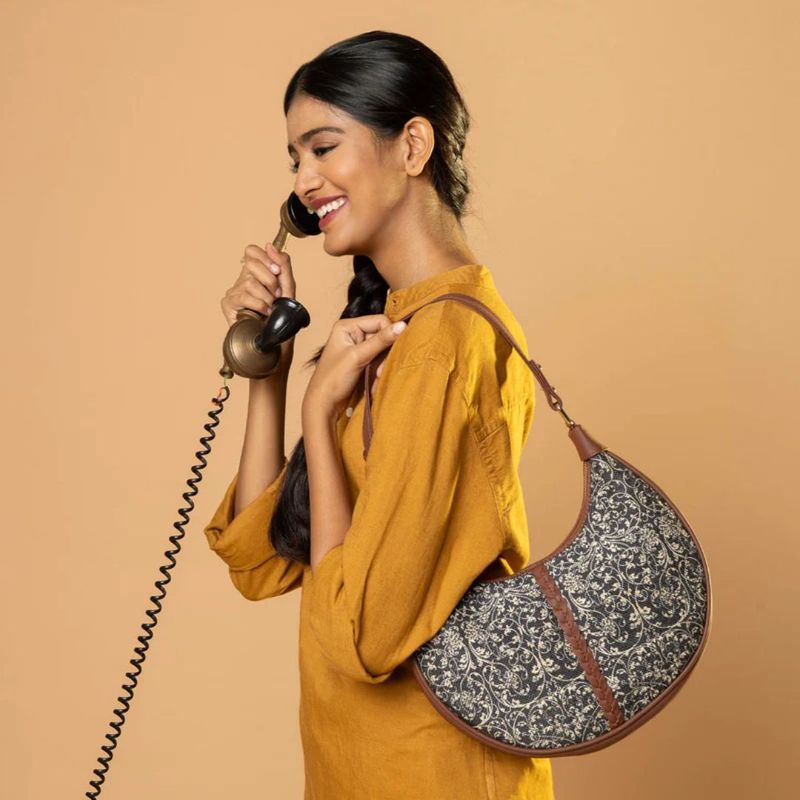 For the fashion-forward sister, the Zouk hobo bag is the perfect rakhi gift - proudly Indian, 100% PeTA-approved vegan, and adorned with a chic floral pattern. With its roomy interior, durable design, and versatile style, it effortlessly balances fashion and function for her everyday needs. 
Price: Rs 1399  
Mia By Tanishq - 14kt Rose Gold Pretty Infinity Diamond Bracelet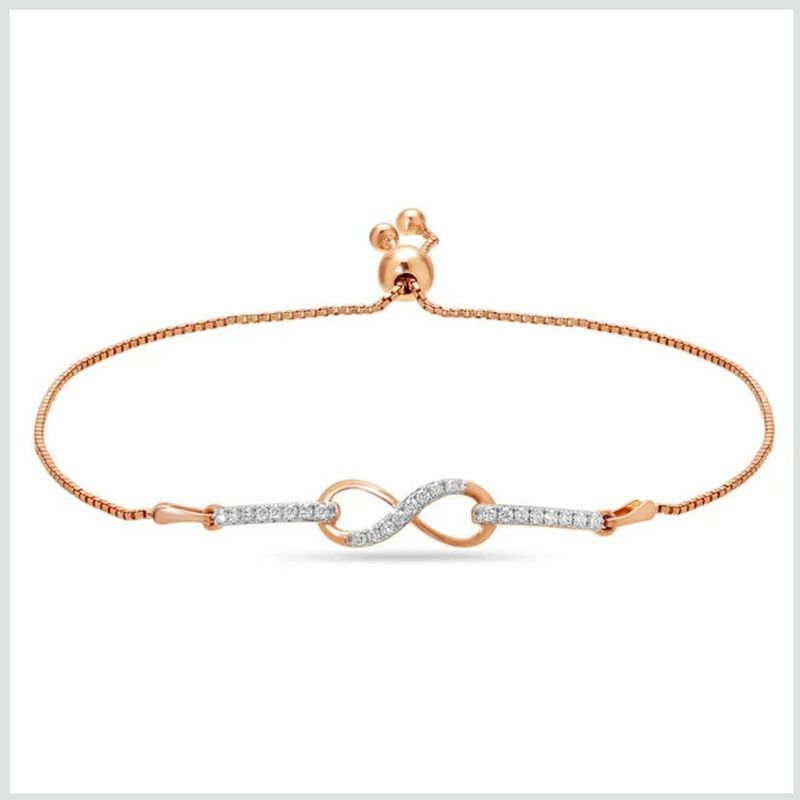 Adorn your sister's wrist with timeless elegance through the 14kt Rose Gold Pretty Infinity Diamond Bracelet. Its delicate infinity symbol design, embellished with sparkling diamonds, graces a slender chain and an adjustable closure, ensuring a perfect fit. The bracelet's lustrous rose gold adds an extra touch of sophistication to this exquisite piece. 
Price: Rs 31141 
Shobitam Sarees - Ikkat Patola and Kanjivaram Pure Silk Fusion Saree in Blue and Red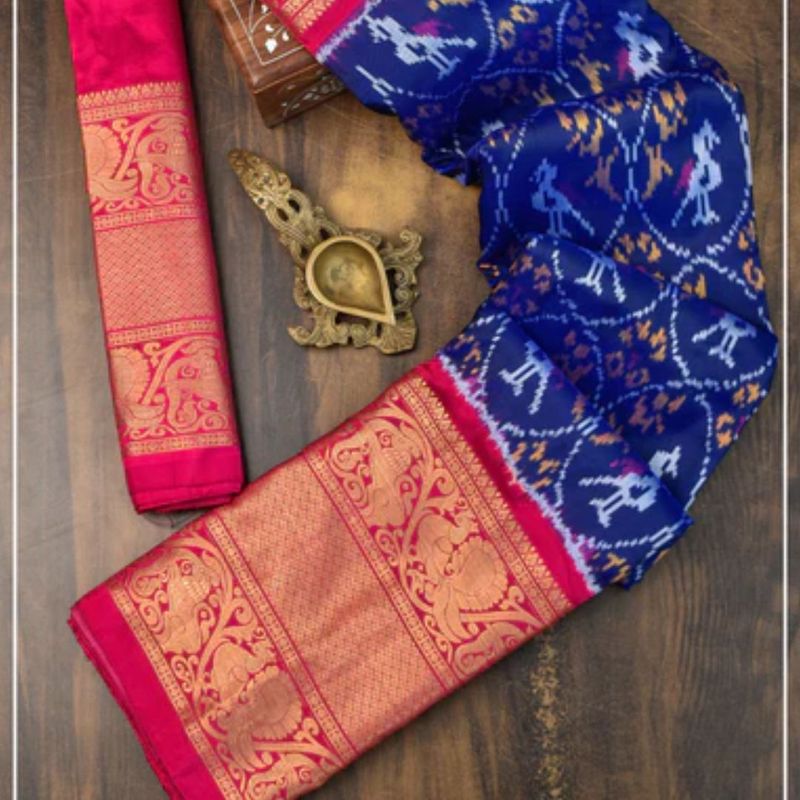 Make her discover the artful fusion of two revered weaves in a single saree, where meticulous Ikkat technique adorns the lower part with intricate Patola motifs, while opulent Kanjivaram zari enriches the wide border and pallu.  
Price: Rs 31349 
Tao Paris - Demet Heels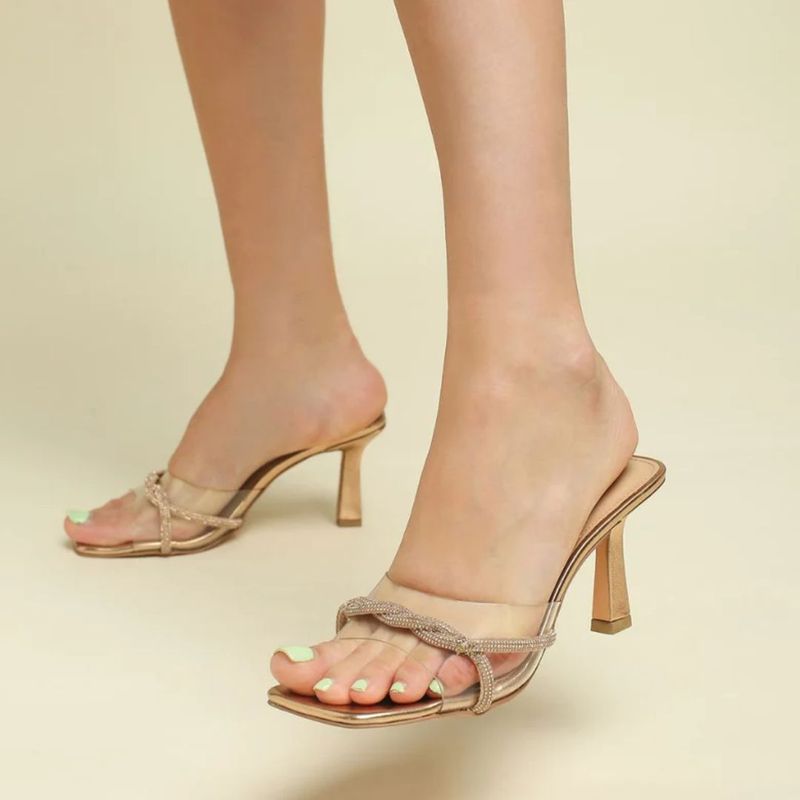 Gift the perfect balance of style and stability with this pair from Tao Paris' Demet collection of stilettos. Think rhinestone accents and rose gold tones that add sophistication to any attire, ensuring both elegance and secure footing for your sister this Rakhi. 
Price: Rs 3690 
Indya - Asymmetric Kurta And Palazzo Pants Set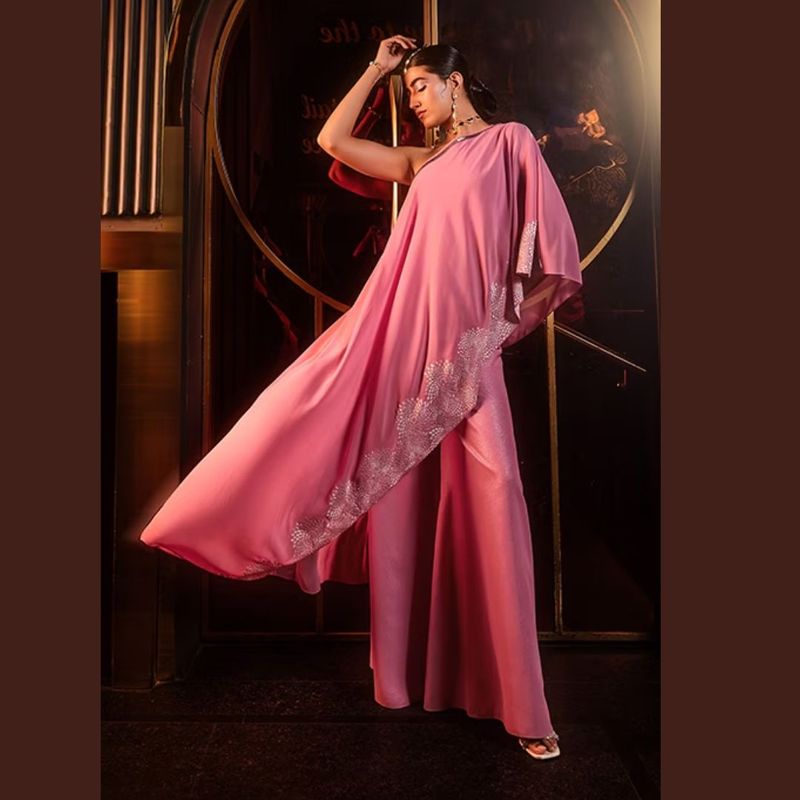 Indulge your fashion-loving sister with the exquisite 'Roshni' collection by Indya in collaboration with Rohit Gandhi + Rahul Khanna - an asymmetrical georgette kurta in captivating pink. Its one-shoulder design, adorned with zari embroidery, boasts elegance, paired perfectly with pink palazzo pants, creating an ensemble that's both stylish and unique.  
Price: Rs 5950 
Voyce Jewellery - Hexa Crystal Earrings (Ocean Waves)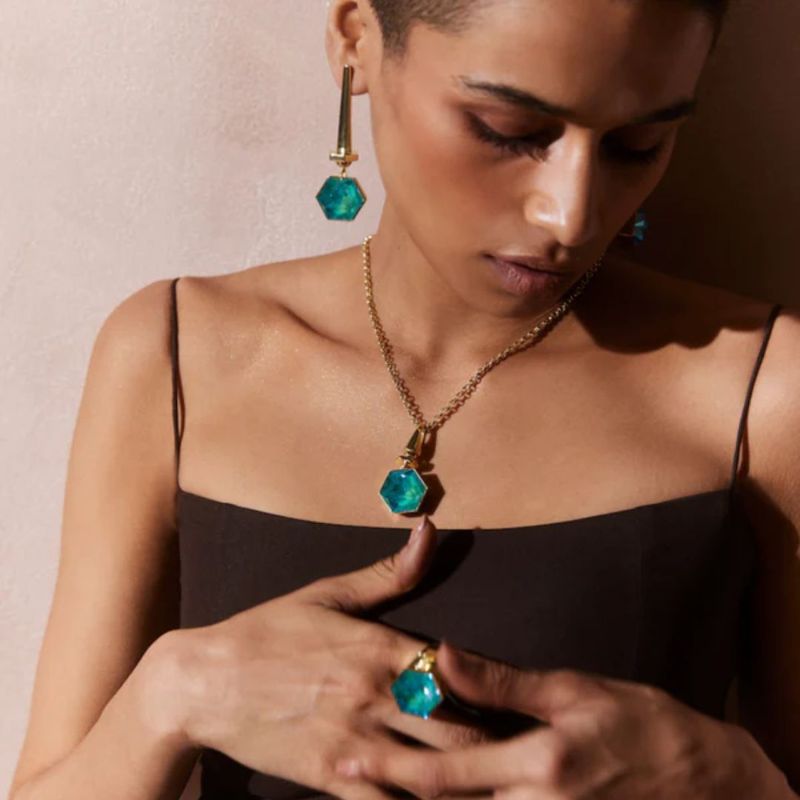 Elevate Raksha Bandhan gifting with Voyce Jewellery's exclusive hexagonal crystal earrings. Representing harmony and an unbreakable bond, these limited-edition pair from the 'Ethereal' collection make a stylish tribute to sibling relationships, adding both meaning and elegance to your gift for your sister. 
Price: Rs 8900 
Limerick by Abirr & Nanki - Printed Alayka Shirt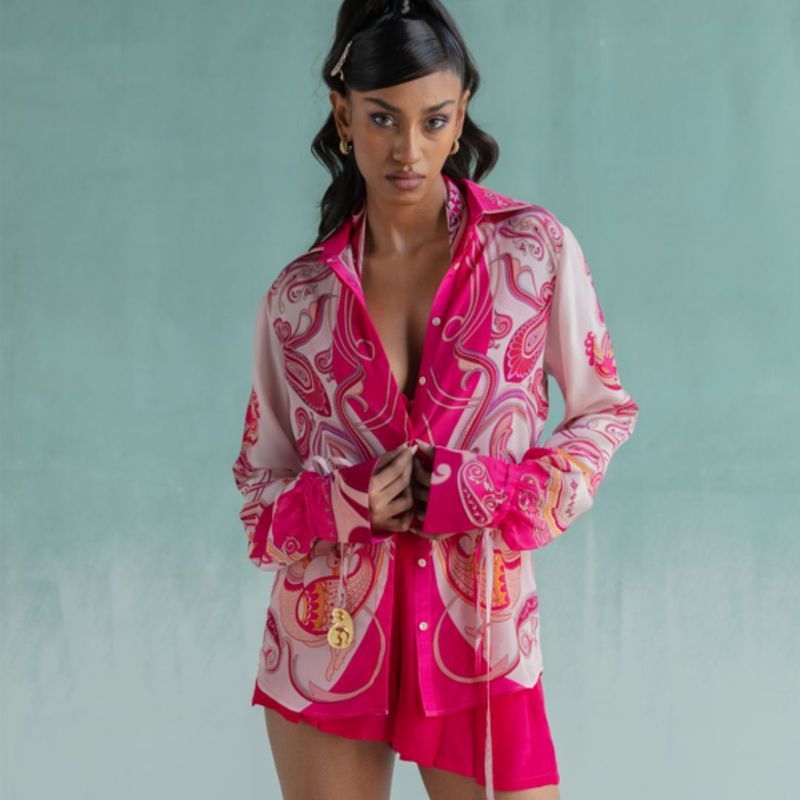 Contribute to your sister's top-notch style game this Raksha Bandhan by gifting her this Limerick By Abirr & Nanki printed shirt. Crafted from luxurious crepe, this button-down masterpiece celebrates Kashmir's artistic heritage, bringing traditional charm and modern elegance to her wardrobe. 
Price: Rs 9900 
Westside Off-White Pouch Bag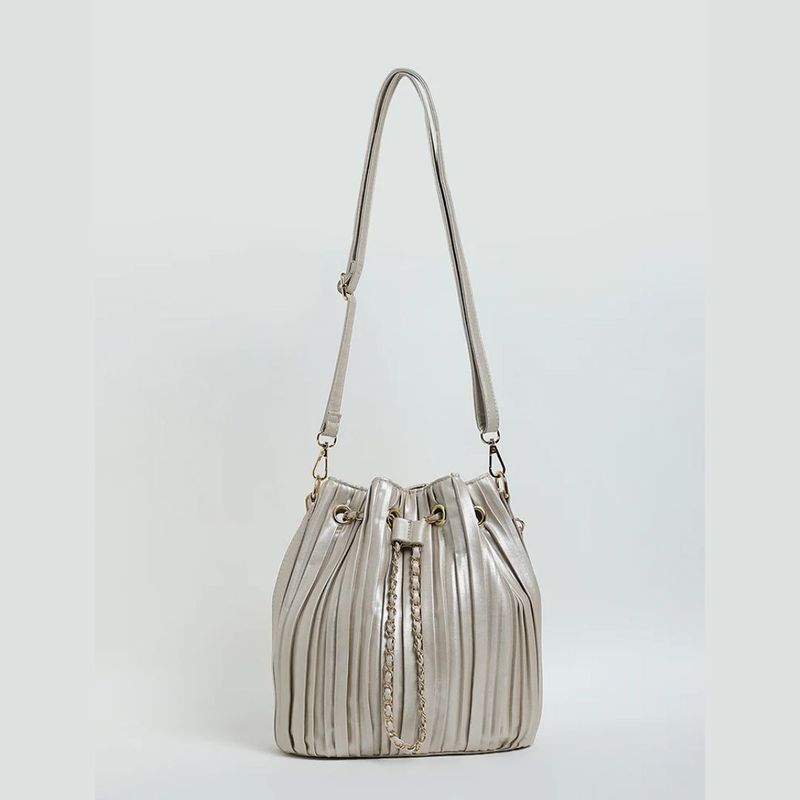 Gift your sister style and convenience this Rakhi with the Westside off-white pouch bag. Its drawstring closure, spacious compartment, and interior zipper ensure both fashion and function, while the adjustable handle adds comfort and versatility, making it a versatile accessory for every occasion.
Price: Rs 1299
Paulmi&Harsh – Made-to-order jacket and skirt set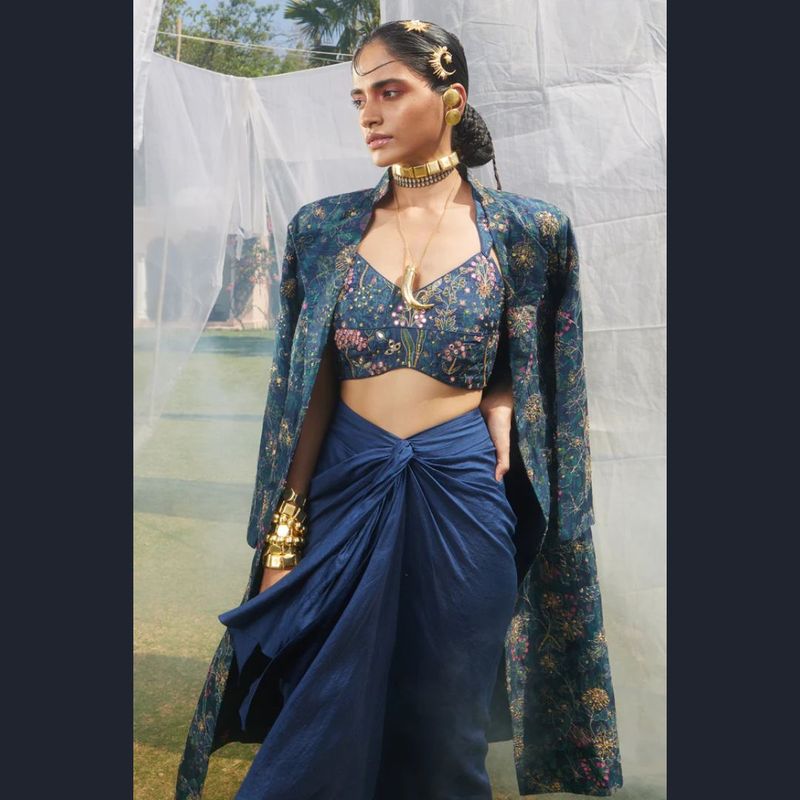 Indulge your sister's sense of style with this Paulmi&Harsh made-to-order set consisting of a self-woven jacket paired with an intricately embroidered skirt, all in their signature print. Crafted from Russian Jacquard and Chiniya Silk, this ensemble embodies elegance and grace.  
Price: Rs 32800 
---
Photo: Shutterstock and featured brands