It's a packed house at Pati Dubroff's masterclass at the Masters of Makeup event in Mumbai. Every chair is taken, every alley occupied. That's the impact of celebrity makeup artist Pati Dubroff, who is responsible for some of the most drool-worthy red carpet and movie looks. Apart from being Priyanka Chopra's makeup artist, she is also behind Margot Robbie's look for the press tour of the film Barbie and Sofia Richie's wedding makeup. This renowned makeup guru is well known for her natural, dewy makeup with a pop of colour.
Before becoming a celebrity 'go-to makeup artist,' Dubroff assisted makeup bigwigs like François Nars, worked for MTV, and did makeup on sets of major music videos like Björk's iconic 'Big Time Sensuality.' Her unique style, creative vision, and unparalleled stress on prepping the skin before makeup has made her one of Hollywood's most respected makeup artists—coveted by both celebrities and world-renowned photographers.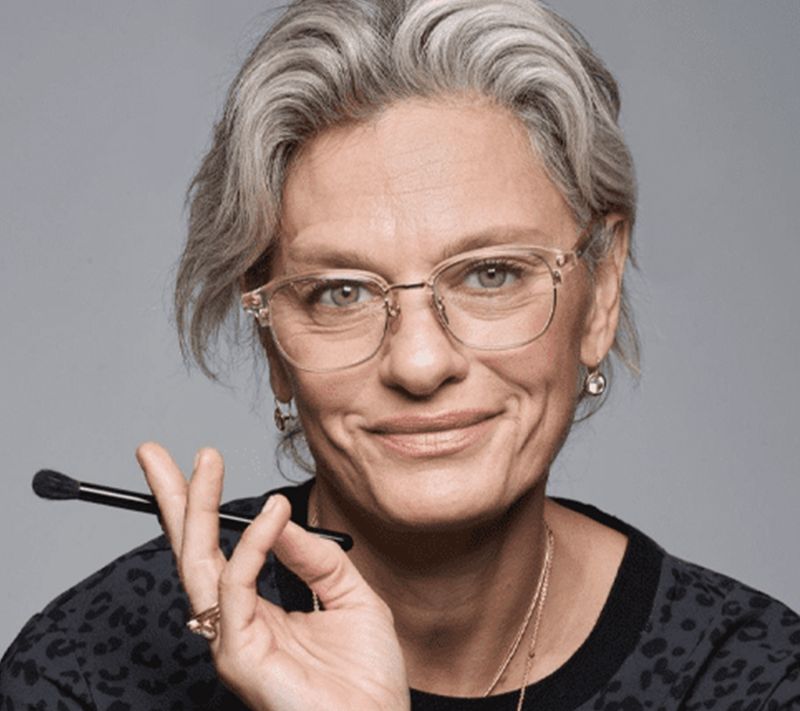 Read on to know what inspires the icon and how to create the trending soft glam, lit-from-within-look that's trending.
On the importance of prepping the skin before makeup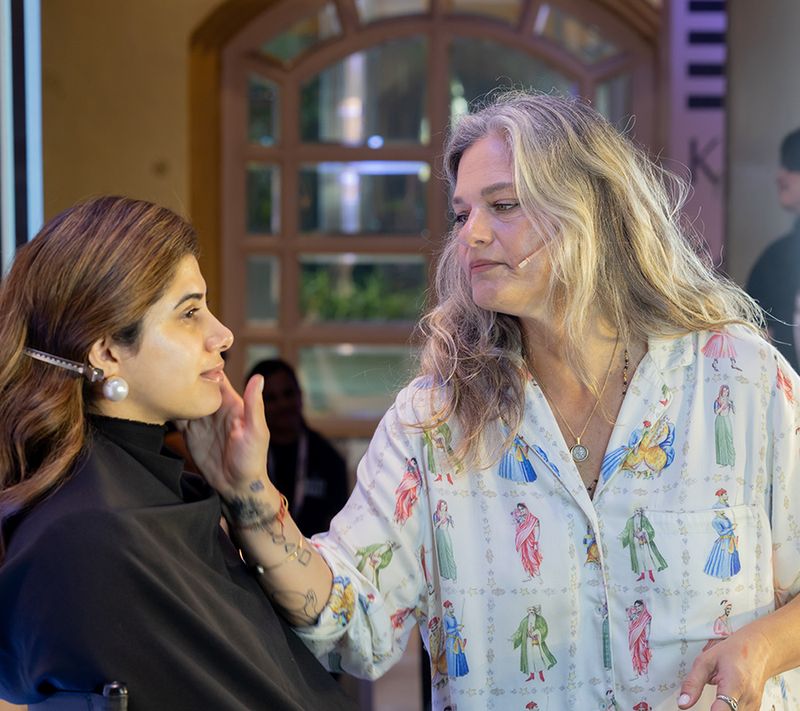 I would never apply makeup to a skin that hasn't been made 'more alive' with the use of facial tools and great skincare. If the skin doesn't look great, that complicated eye or bold lip won't pop. I always start with a sheet mask, mostly a hydrating or purifying mask. It really makes the skin come alive. Then I follow up with a massage with ReFa Roller, which makes a big difference. Even if I don't have the time for a mask, I always massage the face. It helps to lift the skin, de-puff, and add vitality to the skin. Moisturising is important for a smooth finish. My personal favourite is Augustinus Bader.
The power of face tools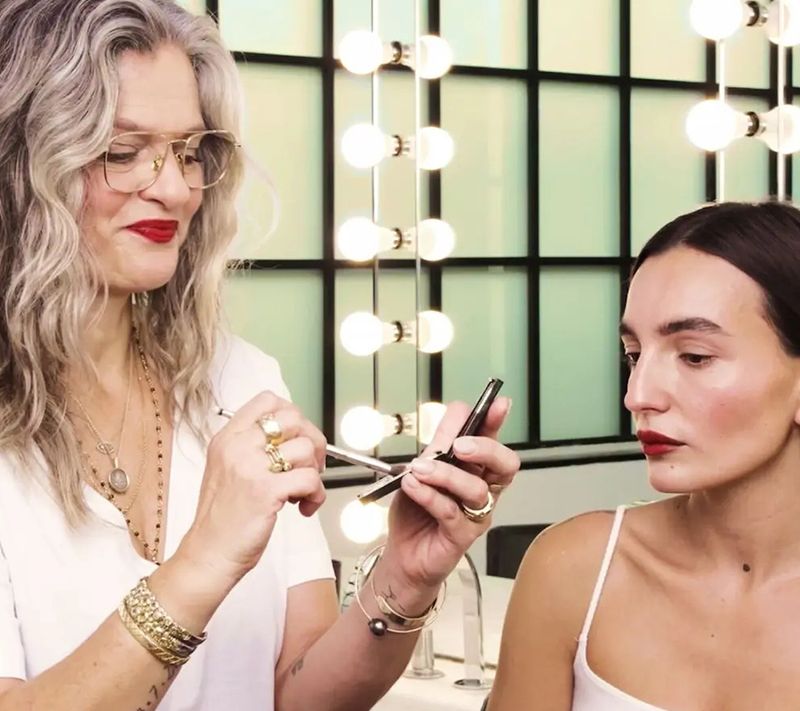 I am obsessed with facial massage tools from the Japanese company ReFa. It has little rollers that just grip the skin in the perfect way and feel really good. Rollers are also great to stimulate, move fluids around, and boost circulation. I like to keep them in the fridge and bring them out when I need to. I also like the laser from Lyma for skin regeneration. Micro current devices are great for stimulating the skin.
On working with celebrities
It's really important to check in and see where they are, and not just assume that they are doing great. A makeup artist may not be a therapist but most often we are their therapist with a lipstick! There's always a sacred bubble when we work with a celebrity client and what happens within the sacred bubble is something that should stay within the bubble. You are never going to get hired back if you talk outside the bubble about what happened inside the bubble.    
Inside my makeup kit
A ReFa hair brush shaped like a heart is always in my bag. I use it to loosen tangles and knots. The one thing I absolutely can't do without is my tinted lip balm and a lip pencil. I also love my brushes. I use different brushes for the foundation, blending, and contouring, That's how you get that flawless finish. One of my favourite brushes include a concealer/first stage of foundation brush from Westman Atelier. I am obsessed with it as it fits perfectly around the pockets of the eye area and around the nose. I use another one from Chanel for the blending and another Chanel brush for the contouring. For powder bronzer or powder blush I use a fan brush
Tips and tricks to ace the glam look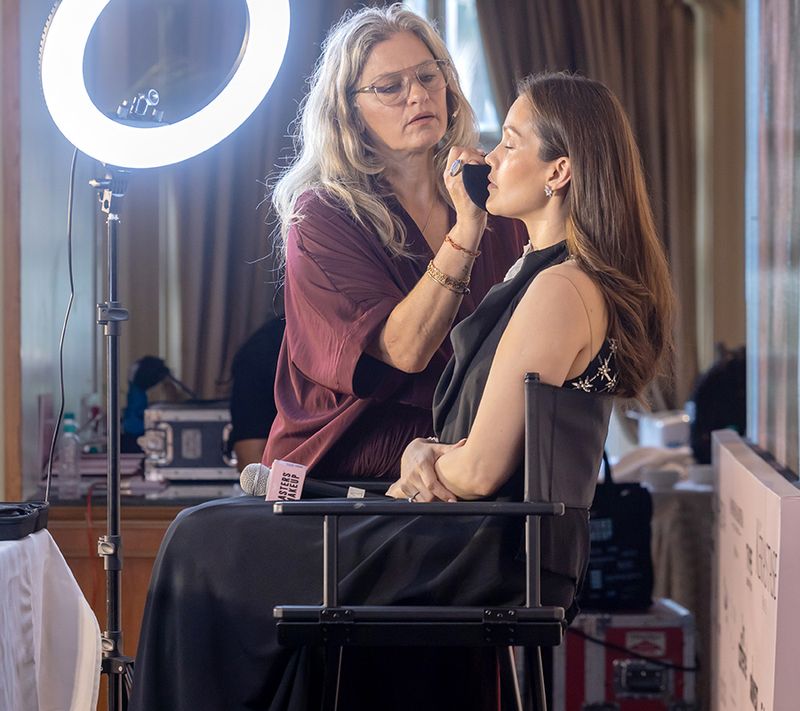 Always moisturise the skin before you start with makeup—but don't put hydrating products everywhere on the face; you don't want a shiny centre. I like to moisturise on the perimeter of the face in areas where you want the glow and then use a mattifying primer on the centre of the face. When it comes to foundation, never use a single shade. That tends to make the face look too bright. I like to use at least two to three different shades and formulas with varying textures. This helps to add dimension and a natural contour that looks real. I only powder the T-zone, so the skin really maintains its glow. Lastly look for lipsticks that have some texture. I like to pat lipstick with my fingers, blending the shades out to the edges. It's the easiest way to create a strong lip without making it look severe. And remember less is more. You want to look great but at the same time also feel great. I personally don't like to feel makeup on my skin. Having makeup that almost feels like nothing is ideal.    
On working with Priyanka Chopra
I always wanted to work with her—I call her my brown Barbie. For her, my favourite thing to start with is a 111SKIN face mask. It gives an incredible plump glow and feels really good as it's cold and acts like a wakeup call. Magic rollers help to stimulate circulation and move fluids around. Priyanka has such incredible features–her eyes, lips, and eyebrows are iconic. She likes her eyes to be kept dewy and fresh; something that feels and looks moist. She is very particular about her eyebrows and prefers to do her own brows. That's her department and I don't go near them. I just sit back and watch in amazement. Nobody does brows like Priyanka Chopra.
Inspiration galore
I love to take photos of nature–sunrises, sunsets, details of flowers, colour of the sky and so on. I go back to those photos when I get stuck or when I am looking for inspiration. I never go to Instagram to look at other people's makeup for inspiration.
Clean skin and how to achieve it
Using make up for long hours can really clog the skin. So its super important to keep the skin very clean when you are off hours and hydrate it from the inside out. Make sure you get rid of all the makeup at the end of the day. I recommend double or even triple cleansing. The first step should be a micellar water to get the makeup off followed by an oil to get the rest of the makeup off. The final step should be something creamy or slightly exfoliating to make sure that the skin is thoroughly clean with no sediments left.
Advice for budding makeup artists
Try and assist as much as you can. Assisting can be a great learning opportunity. I assisted a lot when I started out. It was the most valuable time of my life. I often assisted for free. But don't be on your phone while you are assisting unless you are asked to. When I see an assistant constantly texting away, they are not invited again. Also, when a client opens that door you never know what you are about to walk into. It could be someone in a really great space or someone who's just had a fight with her husband and her world is falling apart. You have to be prepared for anything. But when you close that door, you leave it all behind. You are not supposed to take that energy home. Lastly, practice! When I started off, I would do makeup on anyone who would let me. All those hours of practice really helped me stand in front of actresses and do my thing.
---
Photo: Israni Photography