The 200-year-old Sassoon Building, across from Jehangir Art Gallery and the historic David Sassoon Library, has finally found a new purpose. It's now home to fashion designer Anita Dongre's exquisite collections.
The four- storied yellow building with its signature balconies and stained glass windows is hard to miss and with its current makeover, the historical building is now an address for fashion, culture and heritage. It took a year to revive the building, and is Dongre's "love letter" to Mumbai.
From the signature black and white marble flooring to the green and gold hand-painted pichhwai walls that hold 200 year old exposed teak beams, this new store is sight to behold.
In an interview with Zee Zest, the doyenne of the Indian fashion industry talks about her flagship store and what it means to her, her love for Indian art and craft, and of course her fashion, among other things.
Excerpts:
1. How did you choose the heritage location for your flagship store?
Bombay is my home, and the Sassoon building has witnessed every change of this city. It has always been my dream to have a flagship store in Kalaghoda's art district with its rich history and melting pot of this city's constantly evolving culture.  Across the street from Jehangir Art Gallery and the historic David Sassoon library, the Sassoon Building was a perfect space to bring this dream to life.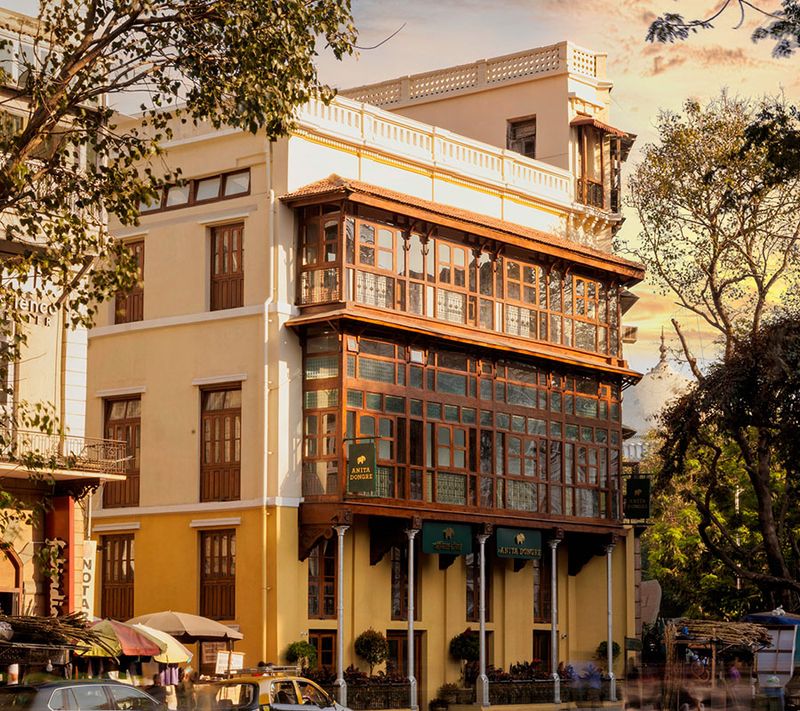 2. Pichhwai designs feature repeatedly in your collections, tell us how did you choose it for your store decors?
I've always loved indigenous Indian crafts and Rajasthan holds a special place in my heart. I discovered a collective of Pichhwai painters on an early store project and there has been no looking back since. Hand painted pichhwai is losing its patronage in contemporary art and working with these arts, whether in garments or interior design, is one way to remind the world of the detail, beauty and relevance of this craft form in the 21st century.
This store is my love letter to craft, an embrace of a bygone era, and a celebration of old meeting new, the store decor came together from this foundational vision in addition to wanting to restore a heritage building.
3. Given the e-comm wave post-Covid, why did you feel the need to launch an on-ground store and what should an Anita Dongre customer look forward to at the store?
E-commerce has transformed how people shop by expanding access– you can be in an island of Oceania or a small town in India and have access to the latest fashion. For brands like ours a physical experience becomes so important - the material and craft need to be felt to truly appreciate your purchase. Our store stylists are trained to provide input on what to pair with what for your special day- a service only available in store. Having people give you the right experience and guidance allows you to differentiate quality- an experience unique to the physical space of a retail store.
4. As a a proponent of sustainable living, can you tell us why the vegan accessories line was the next step for the brand and what's next in the pipeline? 
My personal philosophy is to live a mindful life with kindness. This philosophy extends to respecting all life because of which we have never used leather for our line of accessories. At Anita Dongre, we have been looking for a leather replacement for years, one that is cruelty-free and kind to the environment. The vegan accessories line has been a dream that has only come to fruition now with material sciences answering my decades old question. Women today need to express their authentic selves and carrying a bag that reflects their core philosophies is important to them.
5. Tell us how you found the right materials to create this line and how do you plan to expand it further? 
The search for a material that replaces leather while being kind to the planet has been on for years and continues to date. With MIRUM® we found a partner who creates this beautiful material that mimics the touch, feel and age of leather without the cruelty. It does this without the use of plastic, a material that has been a constant in vegan leather but is so bad for the planet. We also use recycled glass beads in some of the bags. All accessories have beautiful metal detailing. Material science is a field of research and the process of achieving the result we desire takes time, effort, creativity and patience. We've gone through various rounds of sampling for over 18 months to achieve this product and I'm excited about the breakthroughs that we're witness to everyday. My vision is only restricted by the ethical material we currently have in the world. As a creative, while designing this line, there was so much we wanted to do but working with sustainable materials comes with a unique set of constraints. For instance, MIRUM® is only created in a limited set of colours, so our "leather" bags are in classic black. The recycled beads are in gold and black.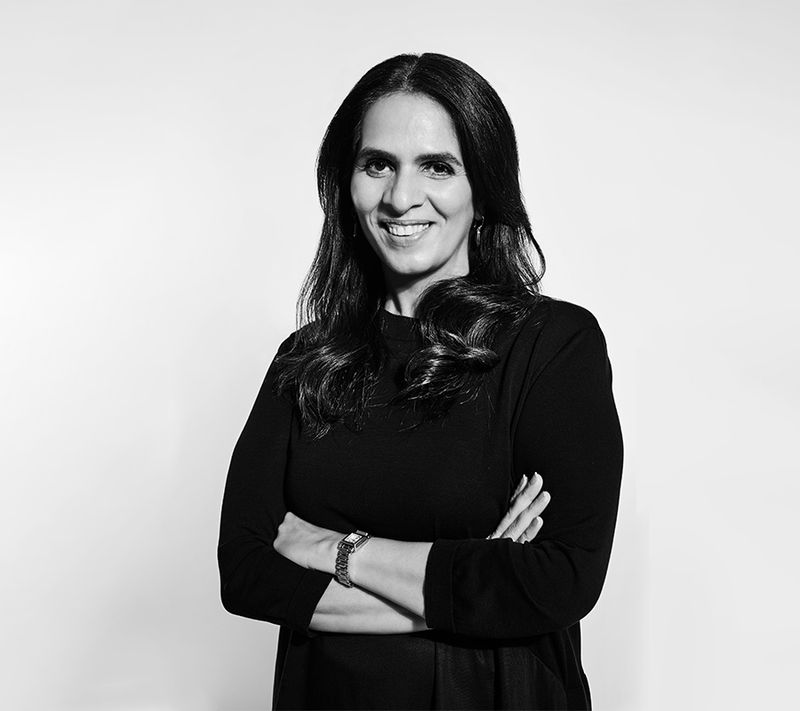 6. How has your journey as a fashion designer to a fashion entrepreneur and a creative mind been so far and how do you see yourself in the next few years?
Since I was a child designing clothes for myself and designing glass bangles when I visited my grandparents on summer vacation, I have always known I would be a fashion designer. I want to be part of every decision that my name represents so being an entrepreneur was a long gone conclusion. It's been an exciting journey with the privilege of working with some of the best creative minds in the country from artisans to market specialists. I see my purpose in the future however as singular– to use the power of fashion for good or in other words, to create social impact through the medium of fashion design. I truly believe that this industry needs a change, a way to build social sustainability and economic opportunity in India's villages while putting Indian craftsmanship on the global map.
7. You support skilled artisan communities by collaborating with a network of independent artisans and non-profit organisations to empower them, tell us more about this this journey and your work?
I was introduced to the women of SEWA many years ago. They showed me their beautiful craft and said there wasn't employment in their villages– men would leave the family for months to eke out a living while the women were left behind with no financial security. This conversation with them made it obvious that as entrepreneurs there was a dying talent in the villages of India. What started as one craft collective has grown into collaborative work with artisans across the country, and across my brands.
8. You come from a traditional Sindhi family and have pursued your dream of becoming an entrepreneur. Any advice for women entrepreneurs?
I think my advice to women entrepreneurs is the same one I have followed for years– get started.
9. Tell us how do your brand reflect the modern woman?
The quintessential modern woman is independent. Her style is timeless, and she values both culture and practicality. She's the 21st century girl who knows what she wants. No two women are alike and that's absolutely true for each woman who wears any of our designs. The one commonality, however, is that the Anita Dongre woman treasures fuss-free, effortless grace.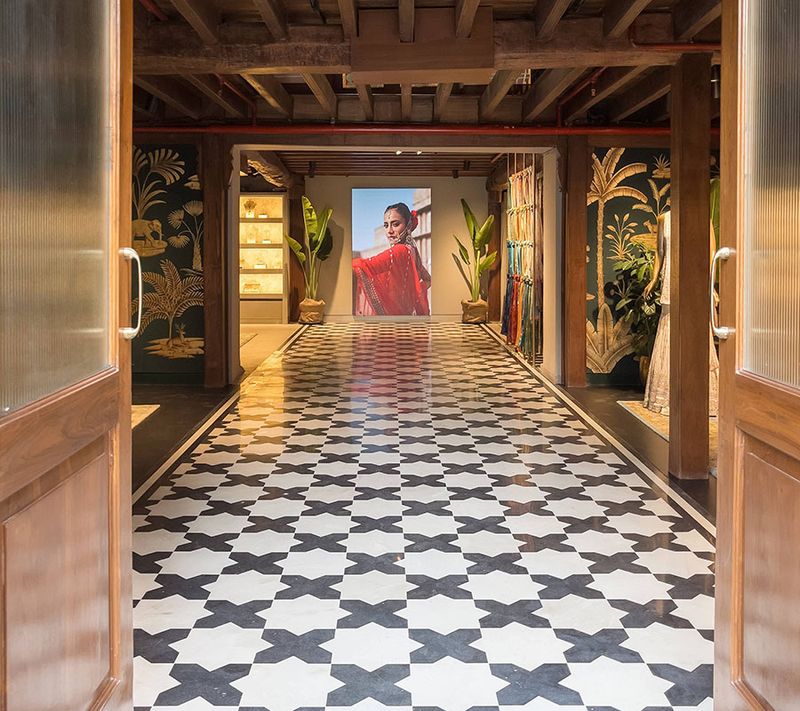 10. You opened a store in Soho New York in 2017, where next?
We're excited about opportunities in the Middle East and America's west coast. More details soon.
11. What are your thoughts on the current trends of pre-loved and thrifting and do you see a change in the way the Indian buyer perceives fashion today?
I can't tell you how much I love seeing this. Watching brides reimagine their mother's old wedding sarees, seeing clothes swapped between friends and sisters– it takes me back to the old days where a garment held stories. This is the way fashion was always meant to be in my mind. 
 
---
Photo: Featured brand