As a child you may have seen your mother toting an elegant little pouch around her wrist for special occasions. And if you are wondering why we are talking about 'yesteryear' styles, know that these gorgeous 'potli' bags are still very much in. Of course, they've got a modern upgrade to become the trend du jour ahead of the wedding festivities.
From homegrown brands to luxurious designer houses, here's a curation of cool yet traditional potli bags that are a wedding wardrobe winner, and here are some of the reigning styles.
1. Floral Potlis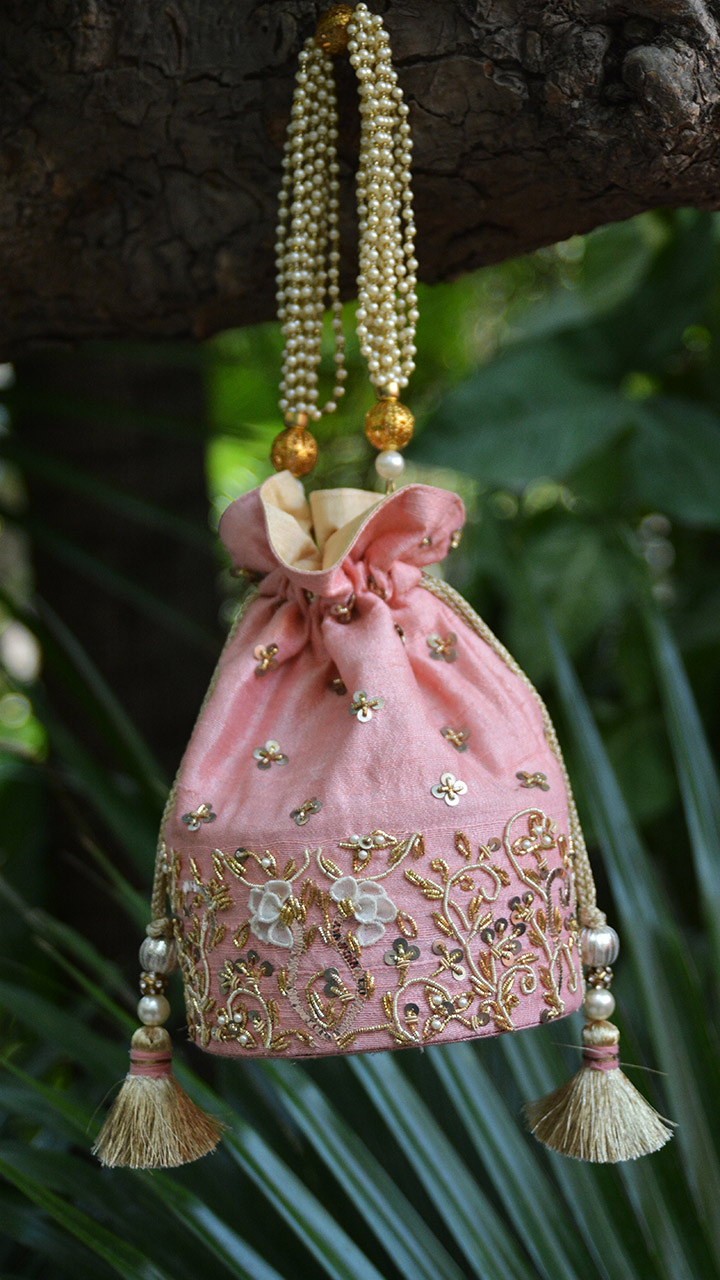 Featuring saffron, peaches and soft pink color palette, these potli bags by label Yashodhara with exquisite 3D embroidery ties together tradition with floral aesthetics. Peonies and hydrangeas in 3D and pearl embroidery bring nature's elements to life if this is something that you want your wedding look to gravitate towards.
2. Tasselled Potlis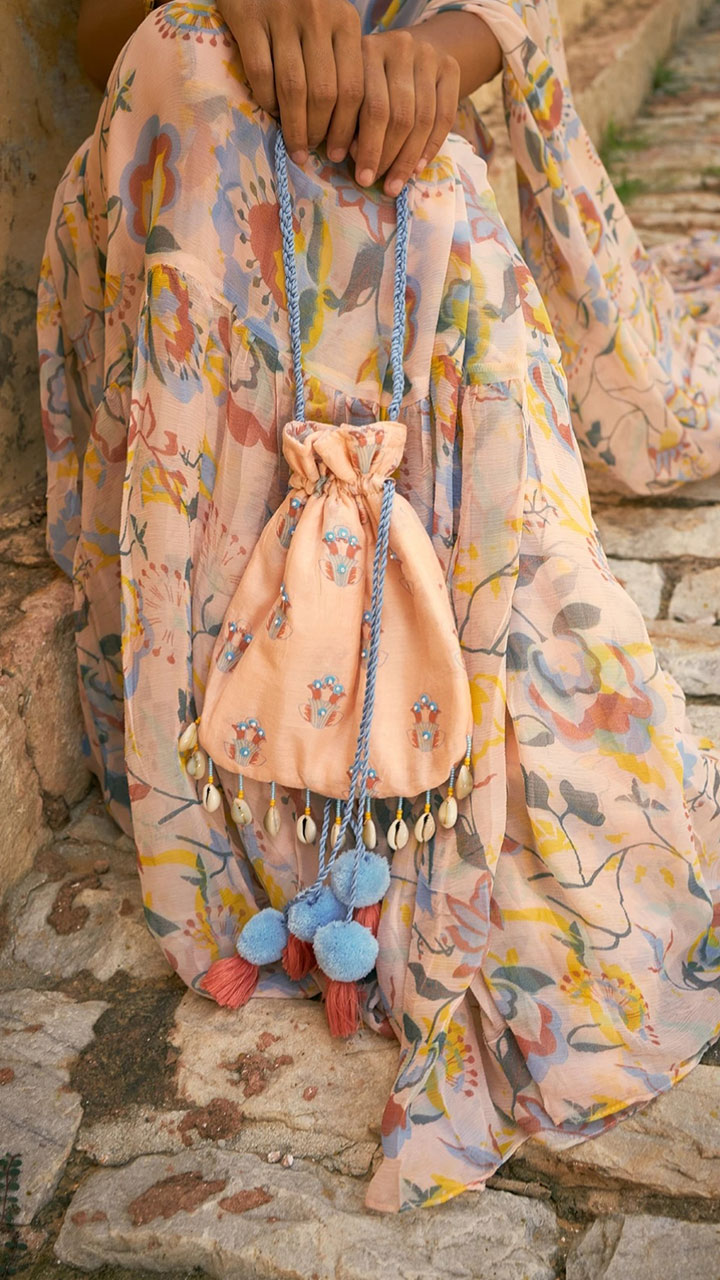 Homegrown brand Baise Gaba's special tasselled silk bag, Sneh, stands true to its name with a round potli, shell latkans, and a crocheted handle along with beautiful tassels—you will fall in love with this one. We suggest not to go by its size as this little firecracker has enough space to carry all essential items.
3. Leather Potlis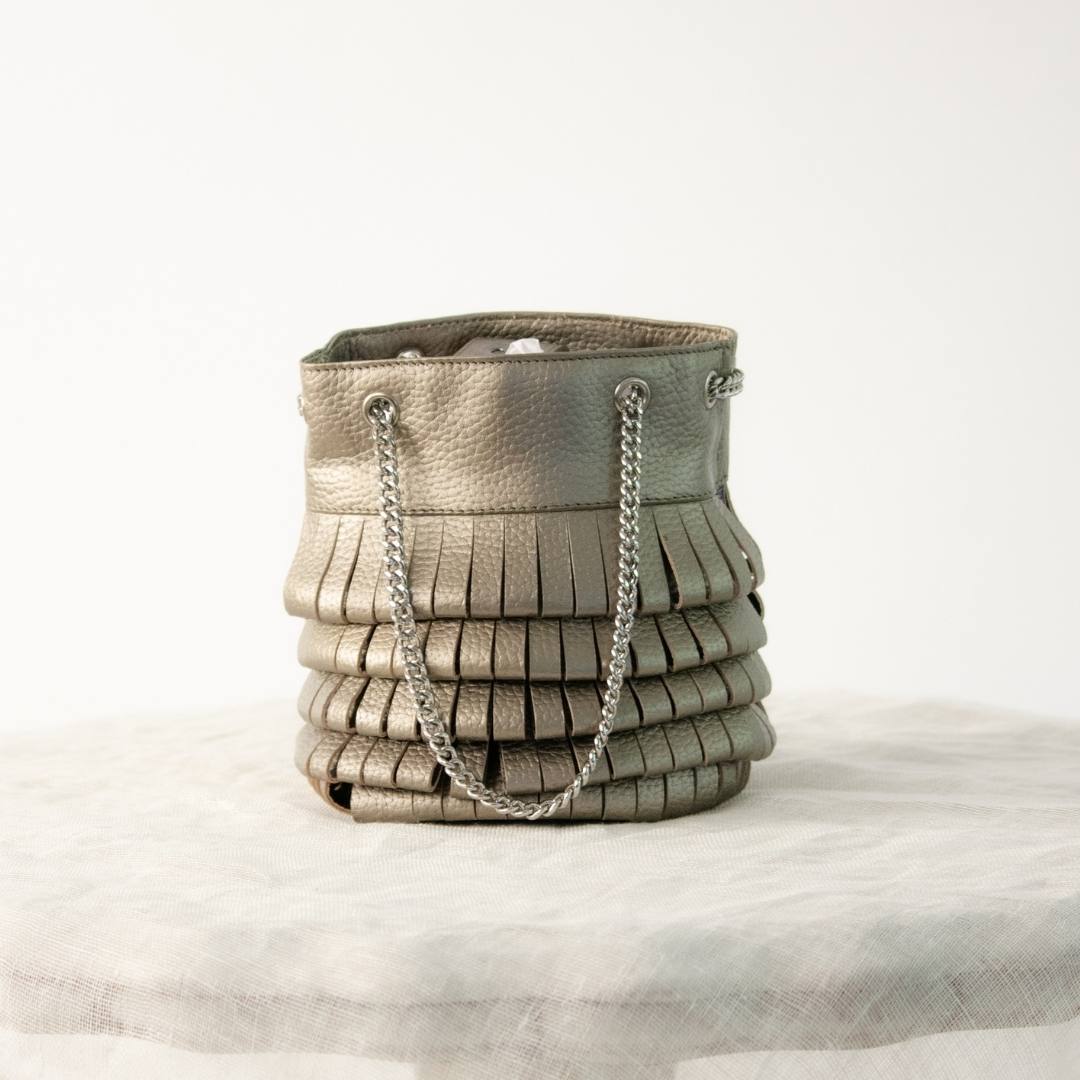 For those who are always on the lookout for statement accessories, designer DevinaJuneja's potli bags will not disappoint. Made using metallic leather and chain drawstring handle, this is an edgy potli that will work well both with traditional and modern silhouettes. Even small pieces of leather are folded and stitched to give a multi-tassled look that is sure to win your vote.
4. Pearl Potlis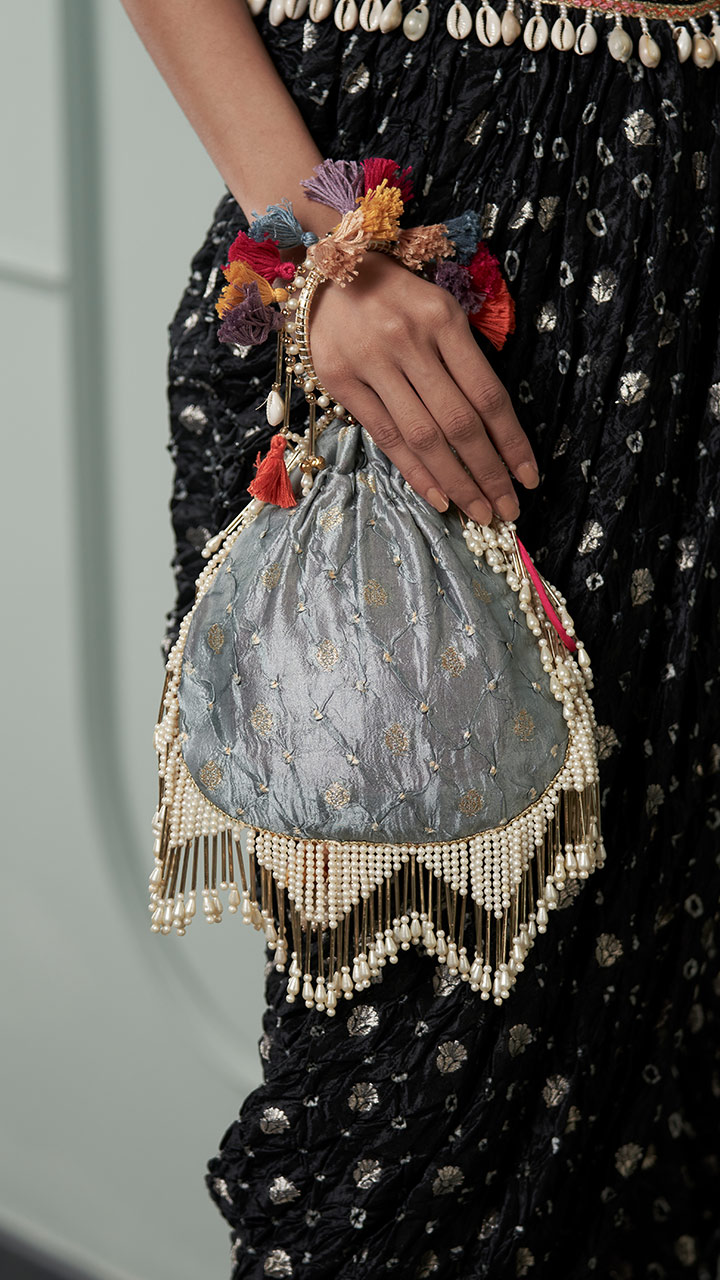 Design house Qbik has a potli for every festive and wedding party that you can think of. Called as MenekaBatua, this handcrafted potli in metallic grey Banarasi silk with pearls and nalki tassel embroidered all over is nothing less than a piece of art on your wrist. The potli is held together by a gold beaded ring for the wrist, making it easy to carry.
5. Mirrorwork Potlis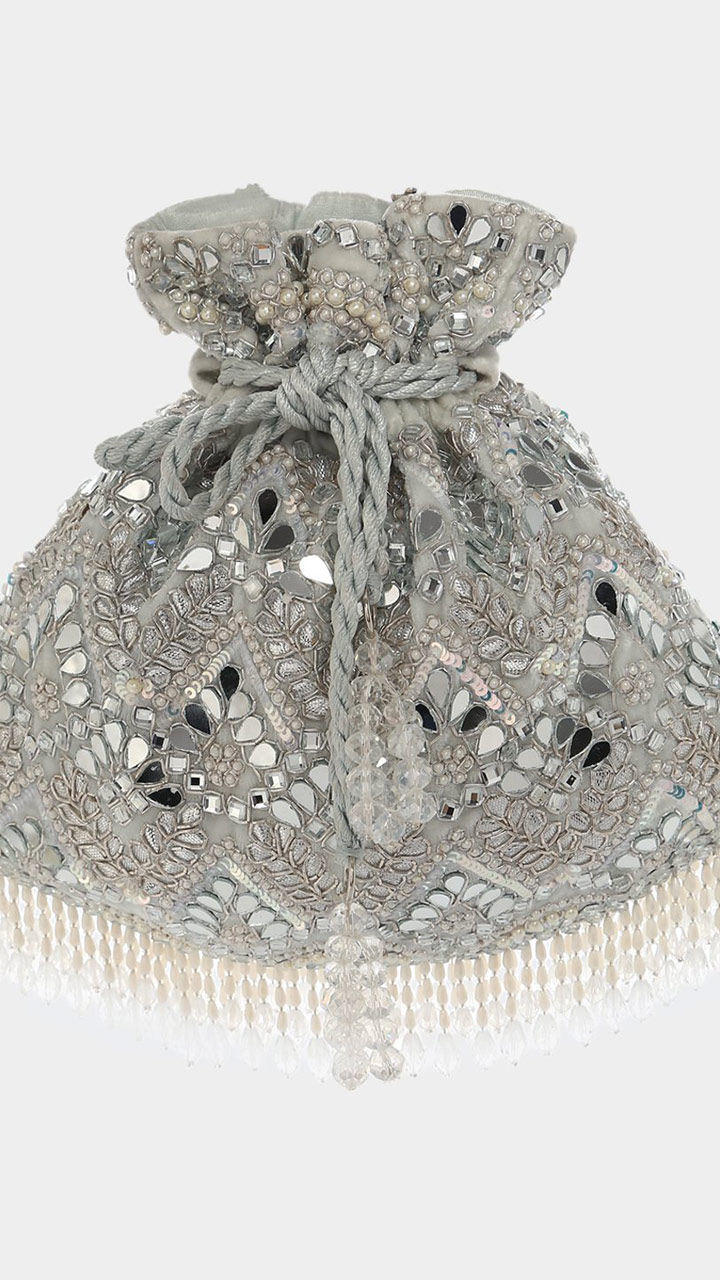 An Aanchal Sayal classic, this bag is a charming addition to your ethnic ensemble. The potli is in plush velvet with light sequin and mirror work on the body and crystal tassels on the bottom. The ease of classic potlis with western wear is unmatchable.
6. Embroidered Potlis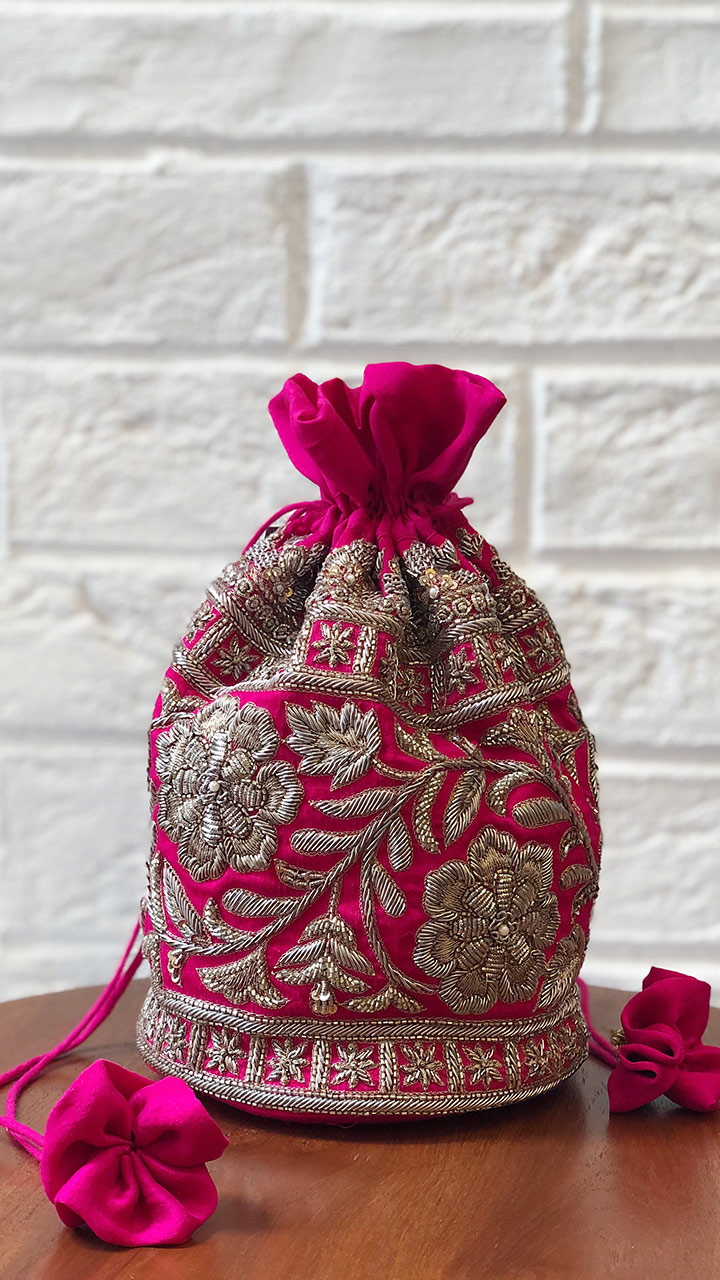 If your opting for a traditional wedding trousseau, designer Mrunalini Rao's accessories collection featuring hand-embroidered potli bags made with intricate detailing using traditional techniques is a must-have.
7. Brocade Potlis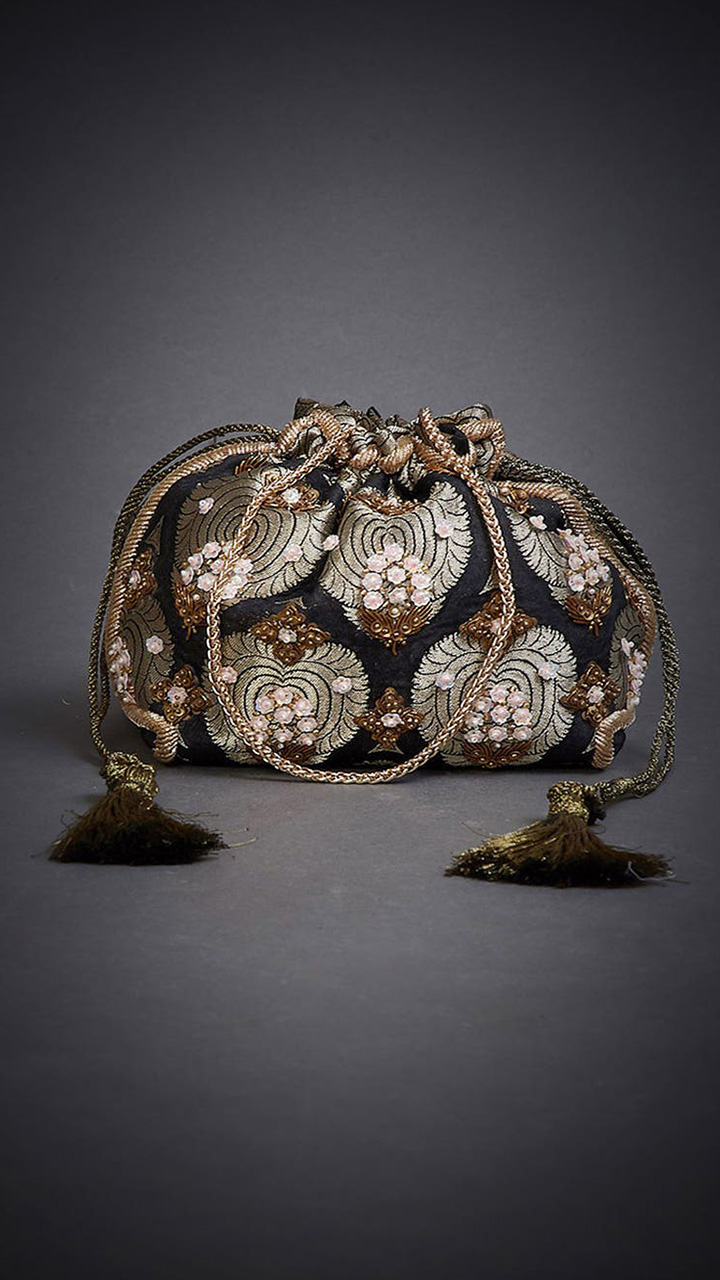 Talk about opulence and brocades are not far behind. The beauty of brocade is that it holds on to the traditional intricacies and finery yet fits in comfortably into modern aesthetics. Designer Ritu Kumar's marvellous brocade potli in black features intricate Zardosi and sequin embroidery that is timeless and classic.
8. Modern-Day Potlis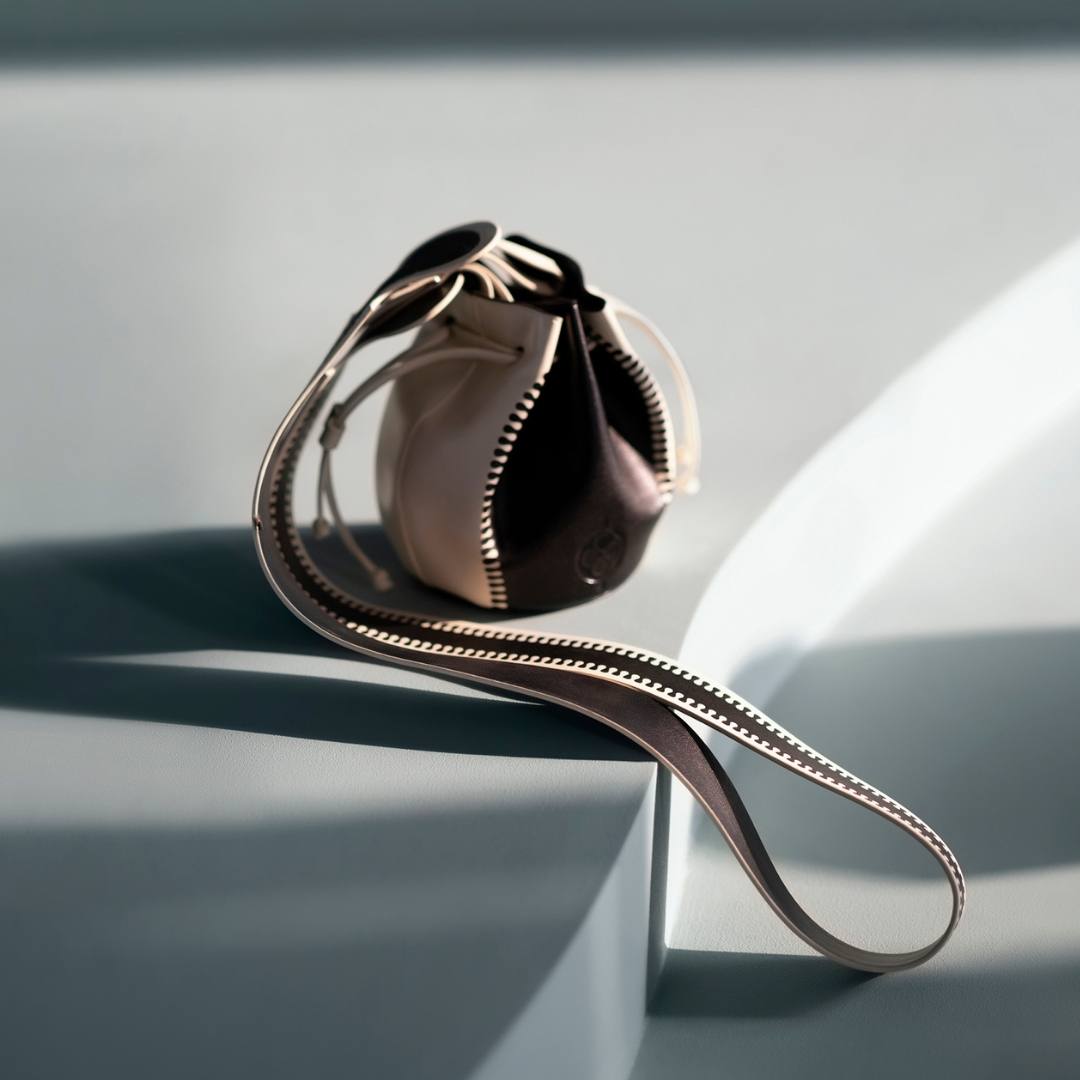 Some of us prefer to keep our sartorial choices understated and unconventional. This potli bag by luxury brand AMPM adds the right amount of minimalism to your wardrobe. Crafted in faux leather and accentuated with laser cut and enamel stud details add edginess to your wedding festivities.
Photo: Featured Brands