"Living the dream" – reads Bollywood actor Shraddha Kapoor's Instagram bio and it seems apt based on her professional achievements and her social media updates. Her real-girl approach to all aspects of life – from beauty and wellness, family, health and fitness, food, to career – is relatable, noteworthy, and inspiring. This is one of the reasons why she is the third most-followed Indian celebrity on Instagram (she enjoys a follower count of 77.4 million as of January 2023), with actors Deepika Padukone and Alia Bhatt behind her on the list.  
Shraddha, the daughter of veteran actor Shakti Kapoor and the niece of yesteryear actor Padmini Kolhapure, stepped into the limelight in 2010 with Teen Patti alongside Amitabh Bachchan and R Madhavan. She garnered a lot of public attention and love in 2013, as the female lead of Aashiqui 2, a romance-drama film by Mohit Suri. Her bubbly, free-spirited personality, beautiful smile, and impressive acting and dance skills struck a chord with the audience then and continue to do so even after a decade has passed since her debut. Over the years, she has given us several memorable performances, including Ek Villain (2014), Chhichhore (2019), and Stree (2018).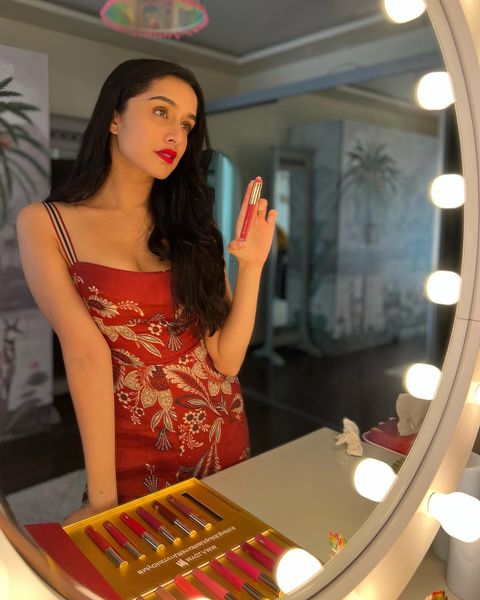 Apart from being a successful actor in Bollywood, Shraddha is also the brand ambassador and investor of MyGlamm, a cruelty-free beauty brand in India. She invested an undisclosed amount in the brand in June 2021, taking her interest in the segment to the next level. "Through my association with MyGlamm, my goal is to understand and fulfil the beauty needs of my fans and followers. This collaboration also aims to democratise beauty at a whole new level and empower all the women out there," she tells us while talking about what made this investment click for her.
When not unapologetically bingeing on popular Maharashtrian and north Indian delicacies like misal pav, vada pav, ragda pattice, and pav bhaji (her favourite); promoting her upcoming projects (including Tu Jhoothi Main Makkar alongside Ranbir Kapoor), or giving us major fashion goals, the Bollywood diva is busy Instagramming stunning bare-faced selfies, reflecting confidence and a good skincare regime.
Curious about her beauty routine and more, Zee Zest interviewed the Indian beauty. The result was a detailed chat on beauty philosophy, goals for 2023, earliest memories of beauty, home remedies for healthy skin, foods she loves to gorge on, her choice of films, and her go-to ways to exercise.
Read the edited excerpts below:
Your Instagram page is flooded with bare-faced selfies and that's inspiring for many. Please take us through your skincare routine.
My mantra is 'less is more'. I have sensitive skin, so I stick to what I know works for me. Icing my face is something that I swear by because it helps in reducing puffiness and makes me feel refreshed. I also try to consume a decent amount of water throughout the day and pay attention to my meals as well. I think that what you eat is what you are, so I try to focus on eating clean.
What is Shraddha Kapoor's beauty philosophy?
I believe beauty is skin deep. True beauty shines through one's characteristics–kindness, humility, generosity, and empathy. I resonate with appreciating these aspects of beauty, which look beyond the superficial.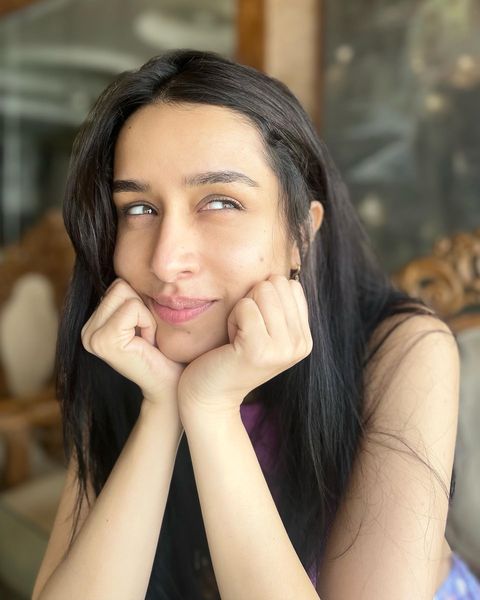 And are there any beauty tips from your mom or someone else that you swear by?  
When it comes to beauty tips, homemade face masks are something that my mom and I love indulging in together! They are super quick and easy to make, and very effective.
Talking about skincare, MyGlamm's newest drop is the super makeup. Why is it important to choose makeup with skincare benefits?
Incorporating products which combine makeup and skincare into our routine is super convenient, because skin-loving makeup protects your skin, keeping it nourished and helping you achieve that healthy, natural glow.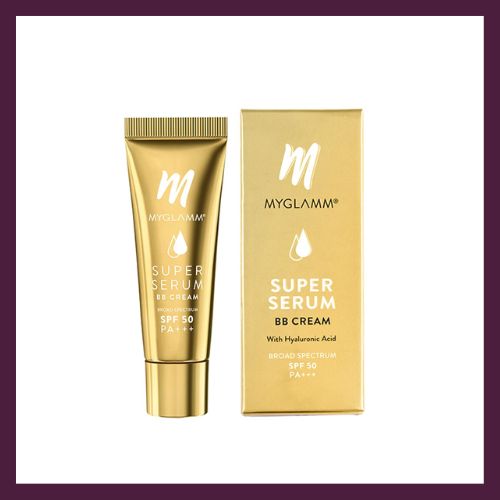 The Super Serum face makeup range brings together the best that makeup and skincare have to offer. The range is infused with Hyaluronic Acid, which holds 1,000x its weight in water, to retain skin moisture, and add bounce and suppleness, along with antioxidants that work to protect the skin from damage. I think the range is a must-have for modern women because it allows us to bring a balanced approach to our everyday makeup routine.
Which are the beauty products that never leave your bag?
A new favourite is the Super Serum BB Cream by MyGlamm – it has a cream formula which gives a non-cakey, natural-looking, and radiant finish. I also love a good, vibrant red lipstick, and the MyGlamm Ultimatte Long-Stay Matte Liquid Lipstick in the shade Red Diva is one which I've been obsessed with lately. Apart from these, I also try to keep a compact, mascara and sunscreen handy. 
Who inspires you when it comes to beauty and style?
My number one beauty and style icon is for sure my mom. My earliest memories of beauty revolve around going through my mom's makeup kit and just having fun with it. Enjoying this process of learning what works best for me, and my style has definitely evolved through that. Above all, I would like to attribute my understanding of what true beauty is to my mom – she's the one who taught me the importance of genuineness and sincerity in everything one does.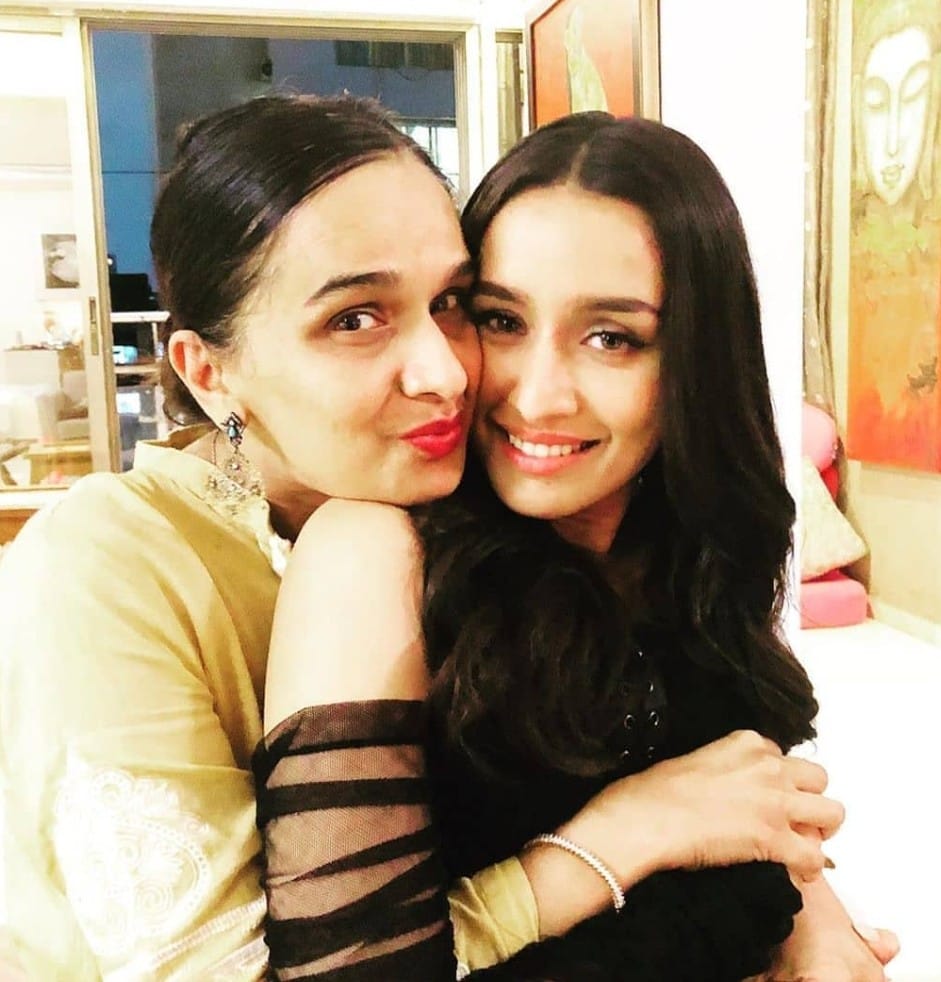 What are your beauty and wellness goals for 2023?
Self-care! Everyone has their own ways of indulging in self-care, and for me, it means beginning my day by meditating. I also create a to-do list in the morning because it's important to me that my day is well organised. I also ensure that I have a wholesome, filling breakfast – I really believe it's the most important meal of the day. 
We see you binge eating from occasion to occasion, without any guilt involved. How do you then balance it out? Or do you just eat and trust your metabolism?
I am a foodie in its truest sense – I love my pav bhaji as much as anyone else! I like to binge on my favourite dishes occasionally, so I make sure to balance it out with healthy eating regularly.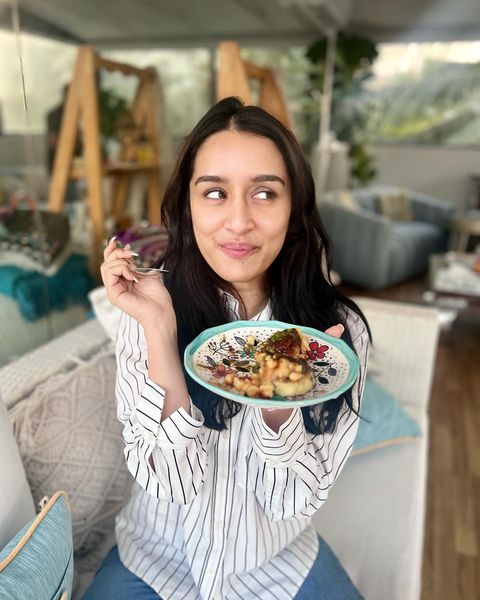 Focusing on health and wellness is as important to me as gorging on good food is. I exercise regularly at the gym, but I also switch it up at times with outdoor sports, swimming, or dancing. It's all about striking a good balance.
If you could share your number one piece of advice for healthy living, what would it be?
Find what works best for you. I don't think there's any right answer when it comes to healthy living – for some, it could mean incorporating a good workout into your daily routine, for others it could mean embracing mindful time spent in one's own company. When it comes to myself, I believe practising gratitude is the key to self-care and healthy living.
What are your fitness goals for 2023?
As far as fitness goals go, a consistent goal has always been maintaining both my physical and mental health. Meditating is something that allows me to find balance and peace of mind.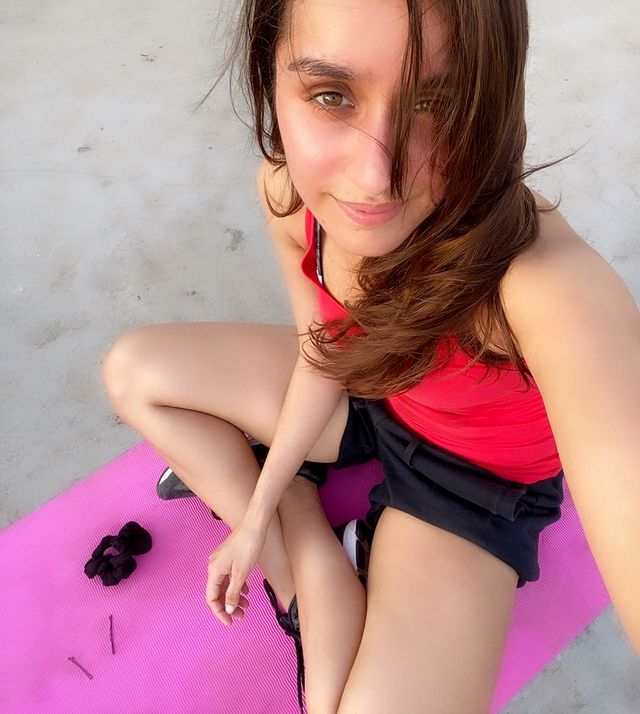 What are some of your favourite ways to work out?
I've always loved being active since I was young, and I've embraced different forms of exercise. But dancing has remained a favourite through the years, and it works wonders for busting stress too.
Coming to work life, what defines your choice of films?
First, I see whether the film caters to a wide spectrum of audiences. Another aspect that comes into play is whether the film is one that I would personally enjoy watching in the theatre.
What does 2023 look like for you?
2023 is a very packed year! I have some very interesting projects in the pipeline, and I can't wait for you all to see the results. We've worked very hard, and it's allowed me to explore and push myself as an actor. For one, I have Luv Ranjan's Tu Jhooti Main Makkaar coming soon with Ranbir Kapoor in March.
Photo: Instagram/Shraddha Kapoor and MyGlamm