Why settle for one present when you can gift a hamper? Get the Diwali celebrations going in full swing and gift your loved ones a beauty hamper! It will help them get through their hectic festive schedules or help them unwind and get their post-festive season off to a fresh start. Think makeup heroes, skincare must-haves and luxurious wellness hampers for everyone. 
You could spend hours researching on the internet and checking those reviews to find the ultimate gift for your loved ones OR, while you're here, you can just scroll down and check out our Diwali 2022 compilation of beauty gift hampers for every budget. 
SKINCARE 
L'Occitane
Let your loved one embark on a truly sensorial experience with L'Occinate's cult favourites. This power duo set comes with the newly festive packed Immortelle Reset serum and Immortelle divine youth oil for youthful and glowing skin.
Price: Rs 10,300
Buy in.loccitane.com
mCaffeine
This Diwali, let your loved ones take their coffee obsession to the next level. Gift them this mCaffeine kit which features coffee-infused skincare products. It contains a body scrub, face wash, face scrub and face mask – so they'll have everything covered from exfoliation to cleansing. 
Price: Rs 1,599
Buy here: mcaffeine.com  
LANEIGE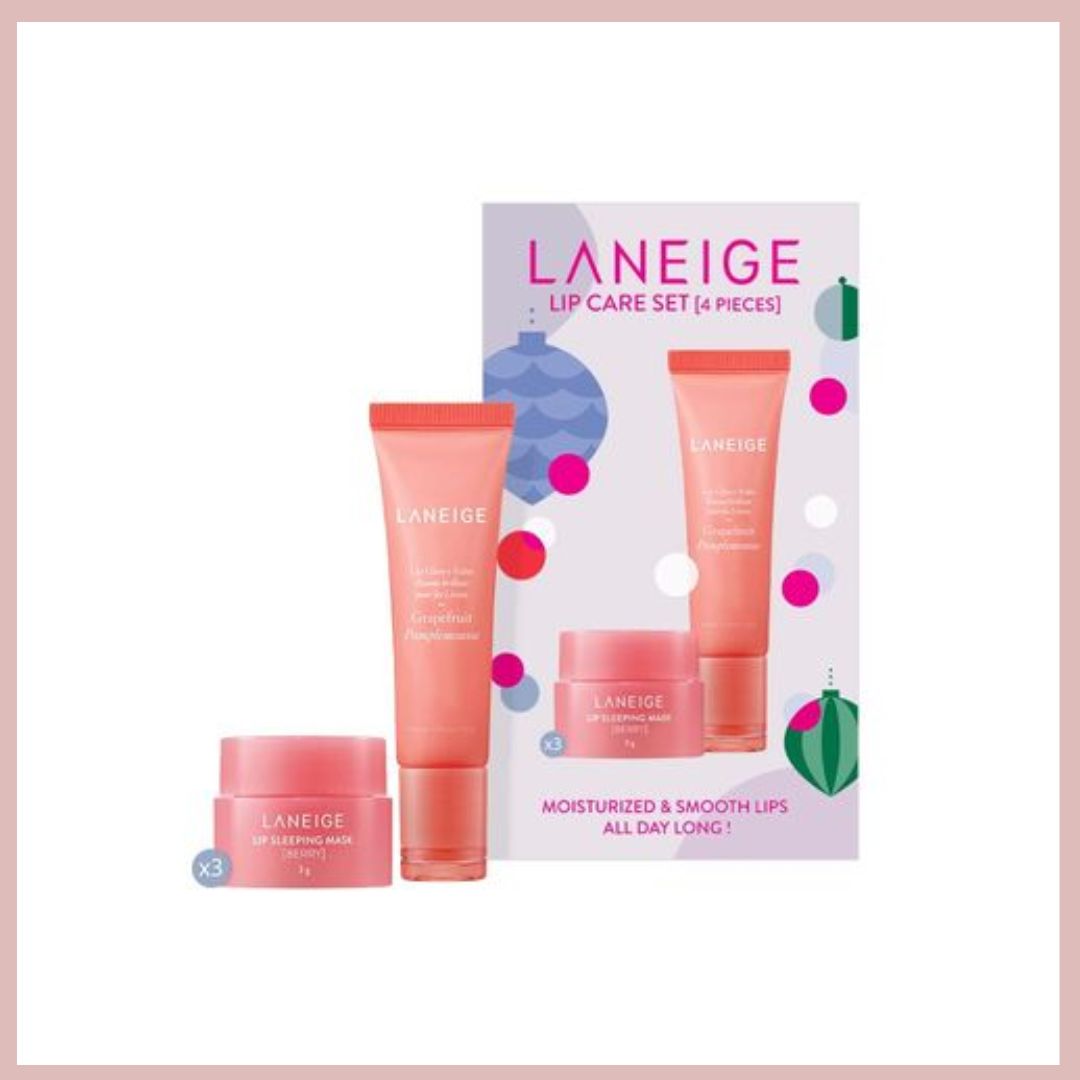 No one likes flaky, dry, chapped lips, we're sure even your special people don't. Which is why they deserve this LANEIGE Lip Care Set. It contains three lip sleeping masks, which dissolve dead skin cells and moisturise the lips. The kit also has a grapefruit-flavoured lip balm that coats the lips to moisturise and make them look supple and glossy. 
Price: Rs 899
Buy here: nykaa.com 
HAPPIER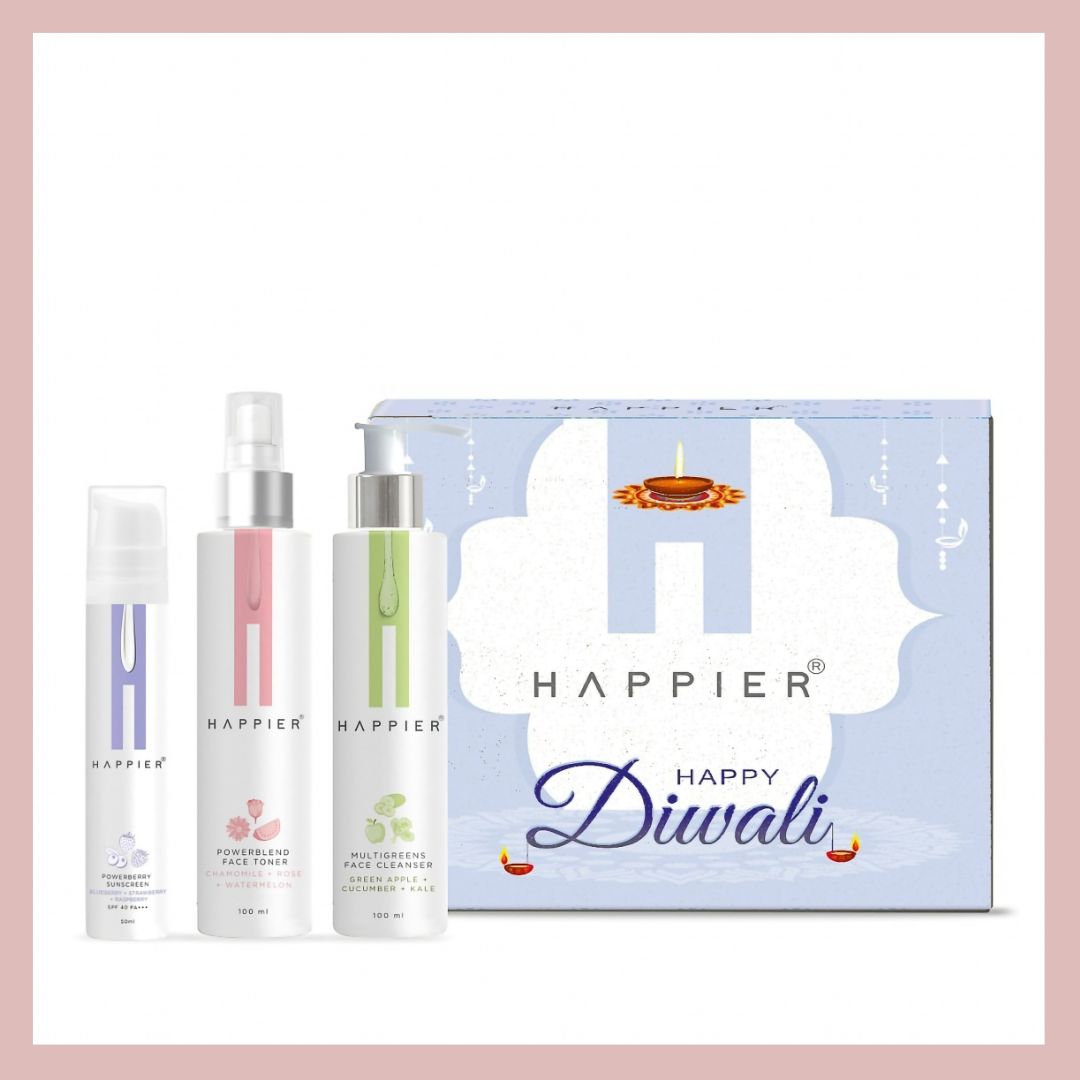 A guaranteed brownie point scorer for you this Diwali, the festive hamper from HAPPIER contains three products that will help your loved one achieve a beautiful glow this season. Loaded with ingredients, such as aloe vera, green tea, green apple and more, that are associated with skin nourishment and glow, this package features a face cleanser, face toner and sunscreen. 
Price: Rs 1,295
Buy here: behappier.com 
Better Beauty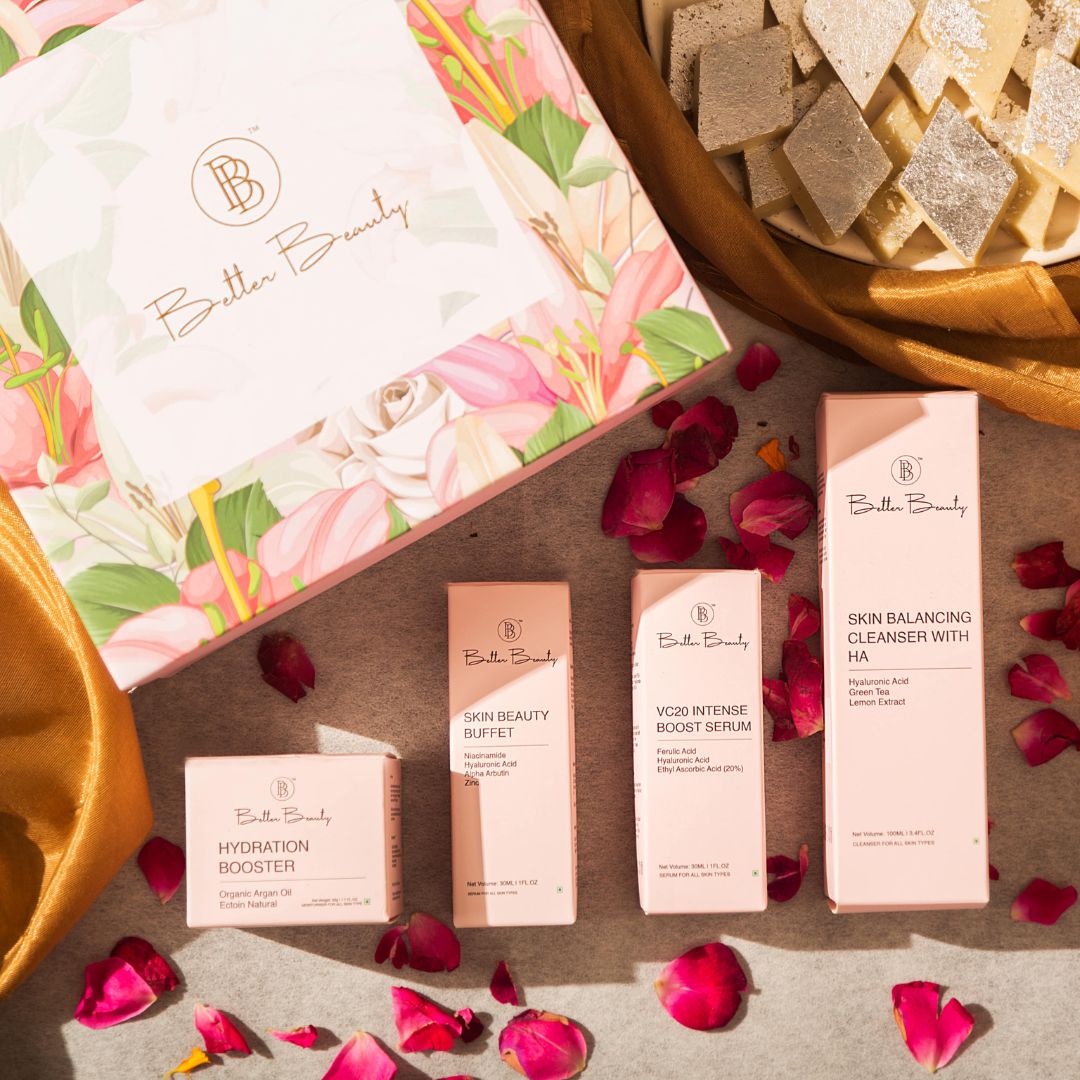 For those who prefer a simple and minimalistic skincare routine, this Better Beauty Promising Pink Set can be the ultimate gift. It consists of a cleanser, a face serum and a moisturiser.  
Price: Rs. 3,799
Buy here: thebetterbeauty.com  
Finite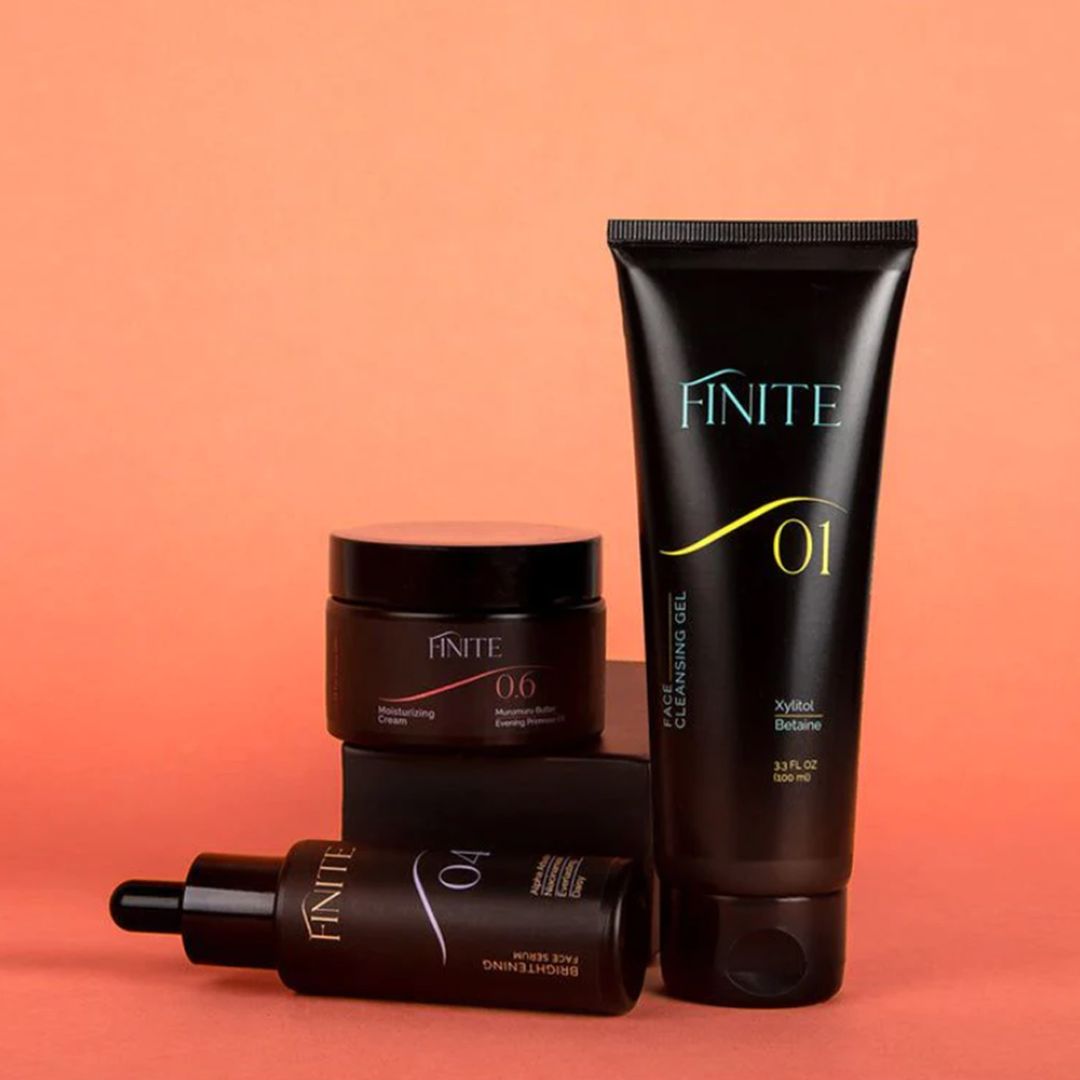 What's better than lighting firecrackers this Diwali? Looking like one! This skin brightening combination for the face by Finite, containing a cleansing gel, face serum and moisturising cream, not only hydrates one's skin but also removes excess oil and reduces visible lines. 
Price: Rs 1,499
Buy here: thefinite.co 
Mary Cohr
Here's everything one needs to achieve that instant glow this festive season, regardless of their skin type. The Mary Cohr festive gift set features a Lilly Essences mild exfoliator to help eliminate dead cells and impurities, and a hydromose mask for clean, soft, hydrated skin. 
Price: Rs 6,000
Buy here: marycohr.co.in 
Bioderma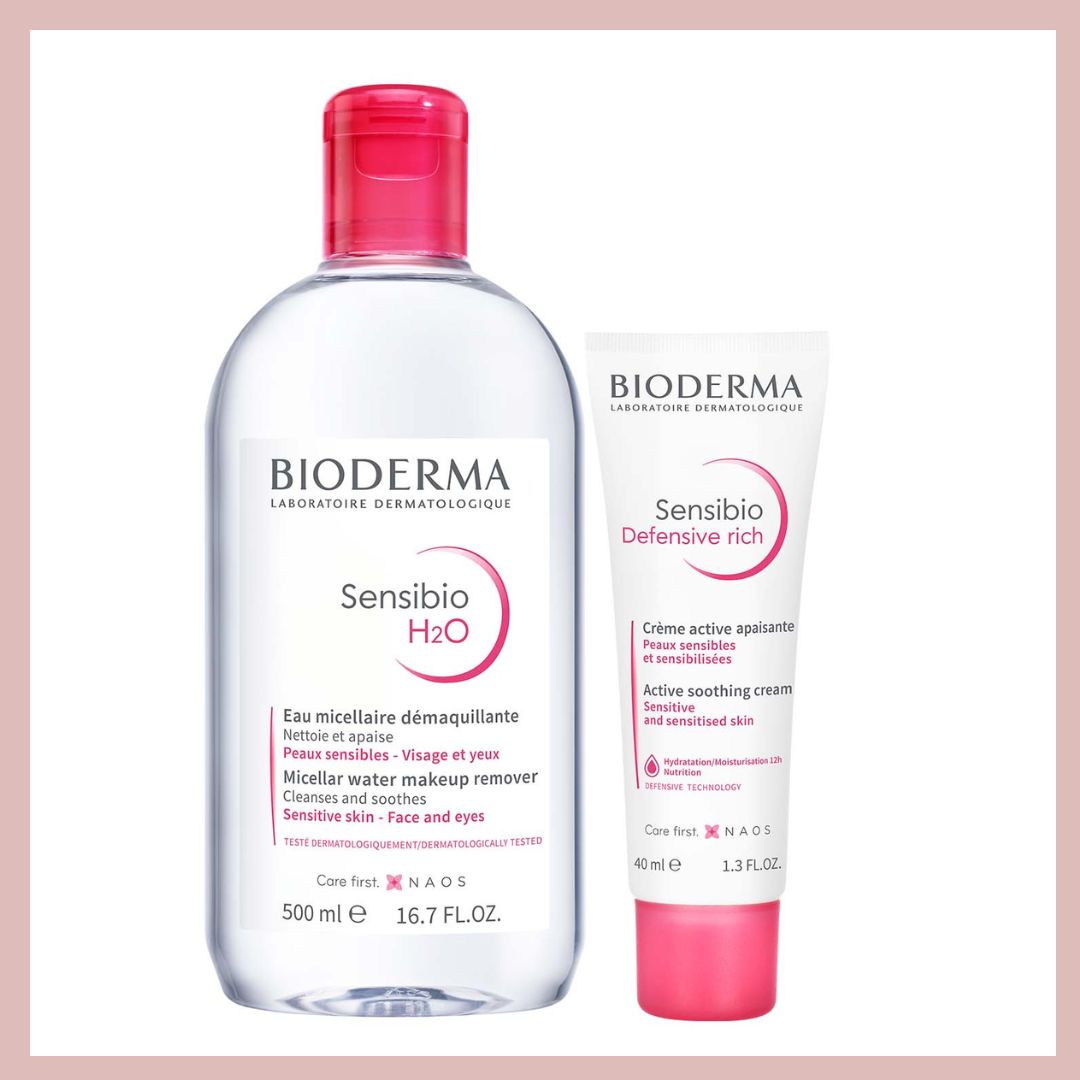 For Diwali 2022, Bioderma is offering a combo of its best-selling products – the Sensibio Defensive Rich Cream and H2O Micellar Water. The former is an active soothing cream that prevents skin reactions, while the latter is known to clean, smoothen and restore the natural balance of the skin. This combo is best for those with sensitive skin. 
Price: Rs 1,775
Buy here: amazon.in 
The Body Shop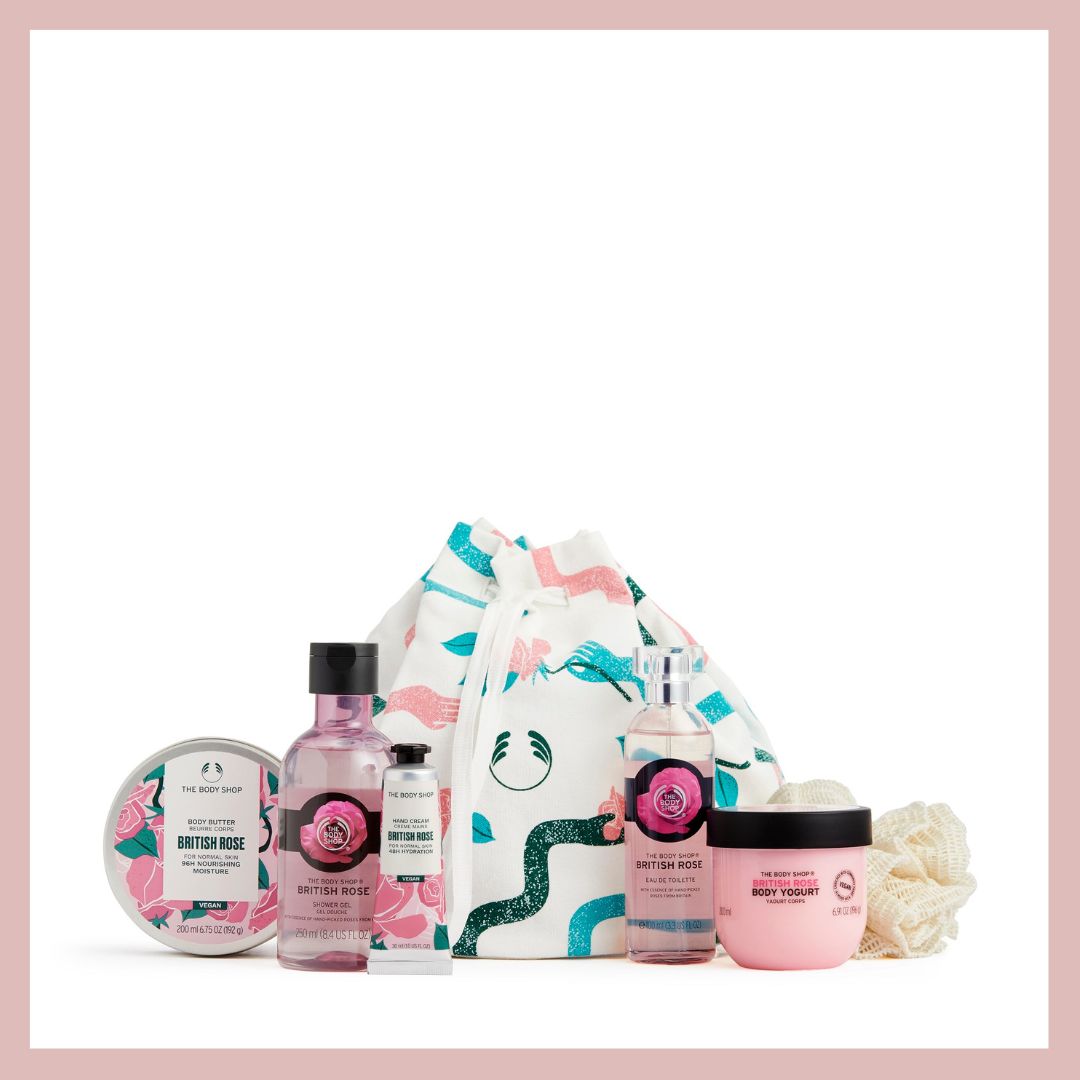 One of the most popular ranges by The Body Shop, the British Rose is part of their deluxe gift set for Diwali 2022. In this kit, you'll find a pink bath lily made using recycled plastic, a 250 ml shower gel, 200 ml body butter, 30 ml hand cream and 100 ml eau de toilette with scents that will instantly transport your loved one to the English countryside. 
Price: Rs 5,845 
Buy here: The Body Shop stores or thebodyshop.in 
Skinella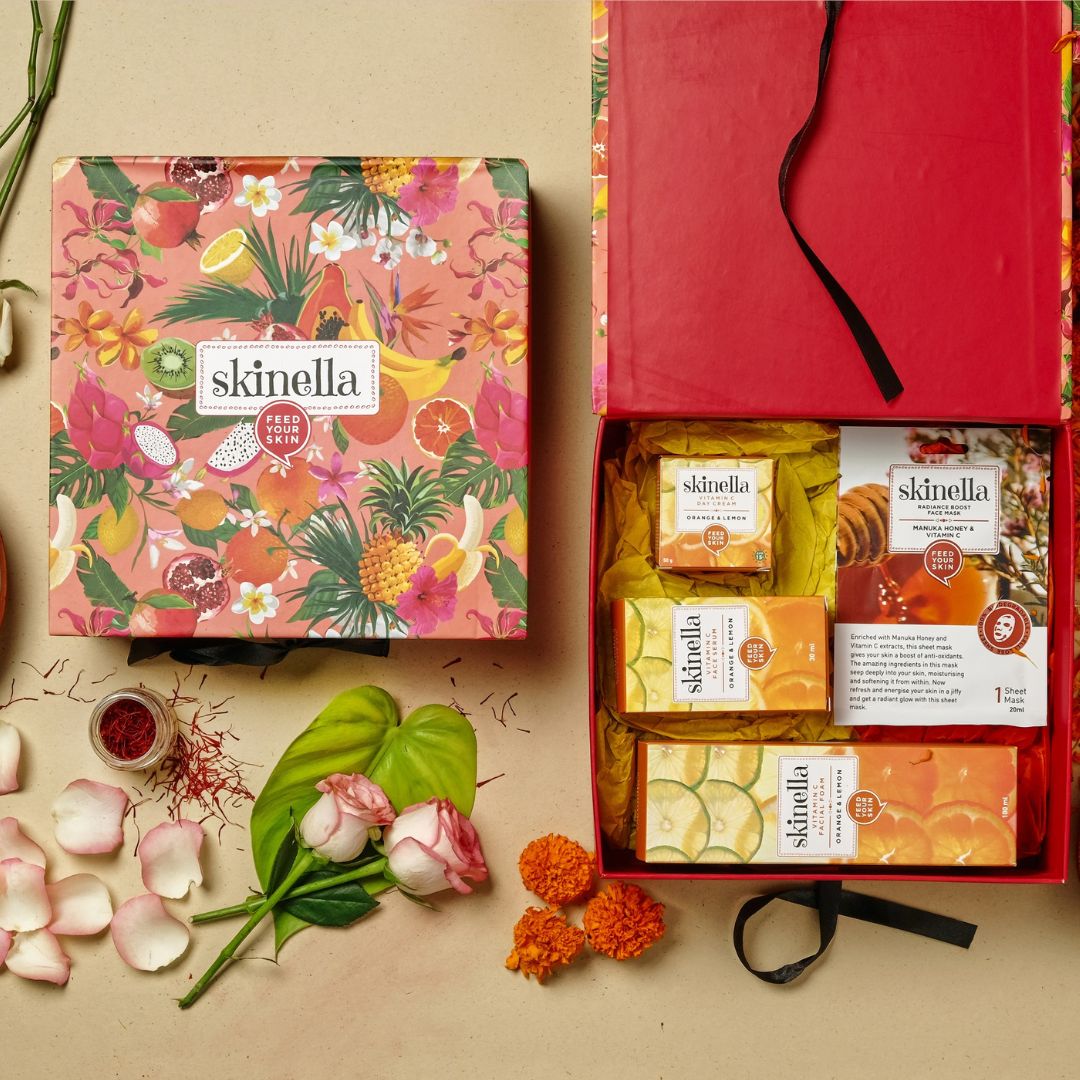 Vitamin C has been a buzzword for skincare and immunity for the past few years, and Skinella's Diwali beauty hamper comprises products that are packed with it. It has an orange and lemon vitamin C face serum for hydration and protection from free radicals, orange and lemon facial foam for exfoliation and glow, a sheet mask for radiant skin, and a day cream with SPF 15 for protection from the sun. 
Price: Rs 1,220
Buy here: skinella.com, Nykaa and Amazon 
Neemli Naturals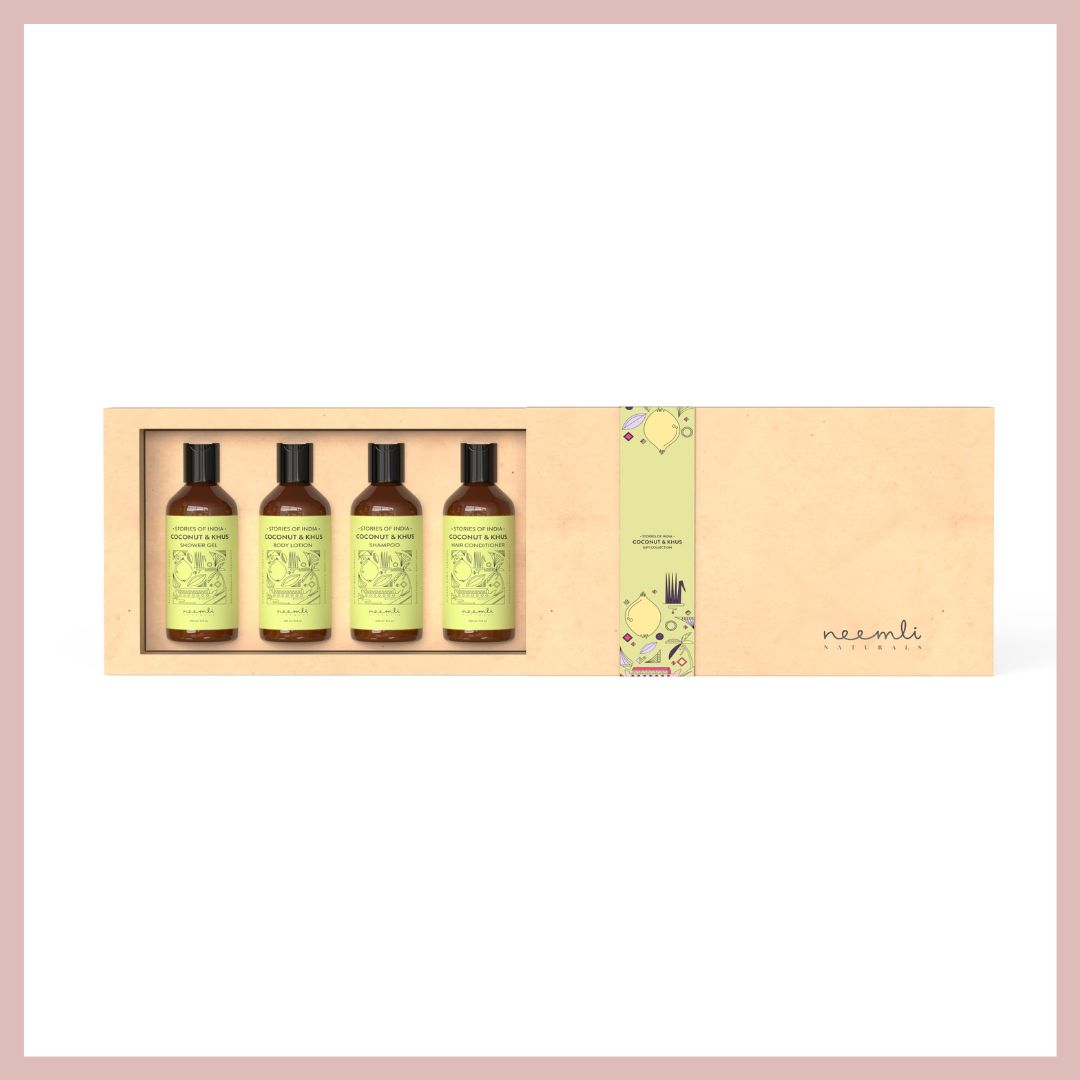 Introduce your loved ones to their new go-to personal care products with this coconut and khus gift set by Neemli Naturals. You'll find a shower gel, shampoo and hair conditioner, made using coconut oil from Kerala and khus from Uttar Pradesh. 
Price: Rs 1,425
Buy here: neemlinaturals.com  
The Ayurveda Co. (TAC) 
The Ayurveda Co. lets you pick from a range of their skin, lip and haircare bestselling products and curate a self-care package of your own with their 'DIY (do-it-yourself) box' option. Add the onion hair oil for healthy hair, ubtan foaming face wash for everyday glow, rose water for toning, a travel organiser pouch bag, and a few other products that you think he or she might like.  
Price: Based on your selection 
How to order: theayurvedaco.com
MAKEUP 
Glamm Squad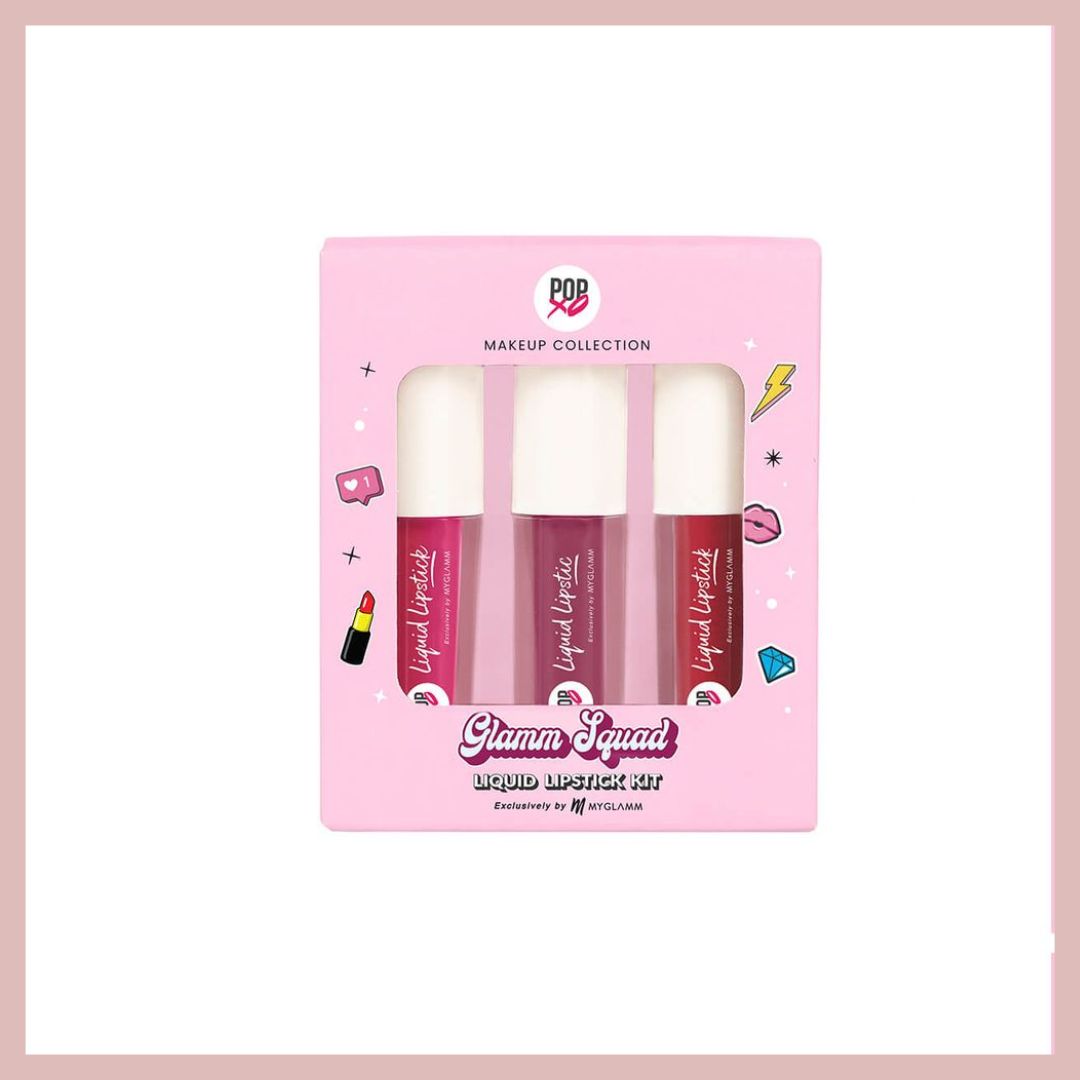 A set of three long-stay liquid lipsticks in impressive shades of pink, plum and maroon are a part of this Glamm Squad. They can help your friend or sibling create that perfect boho look for their Diwali 2022 party.  
Price: Rs 499
Buy here: myglamm.com 
amag Beauty
From liquid lip colours to lipsticks, pick an amag Beauty combo that you think your makeup enthusiast friend or family member will love. After all, one can never have enough lip colours, can they? They also have a range of impressive makeup essentials such as coloured kajals and foundation.
Price: Rs 800 onwards
Buy here: amagbeauty.com 
Vanity Wagon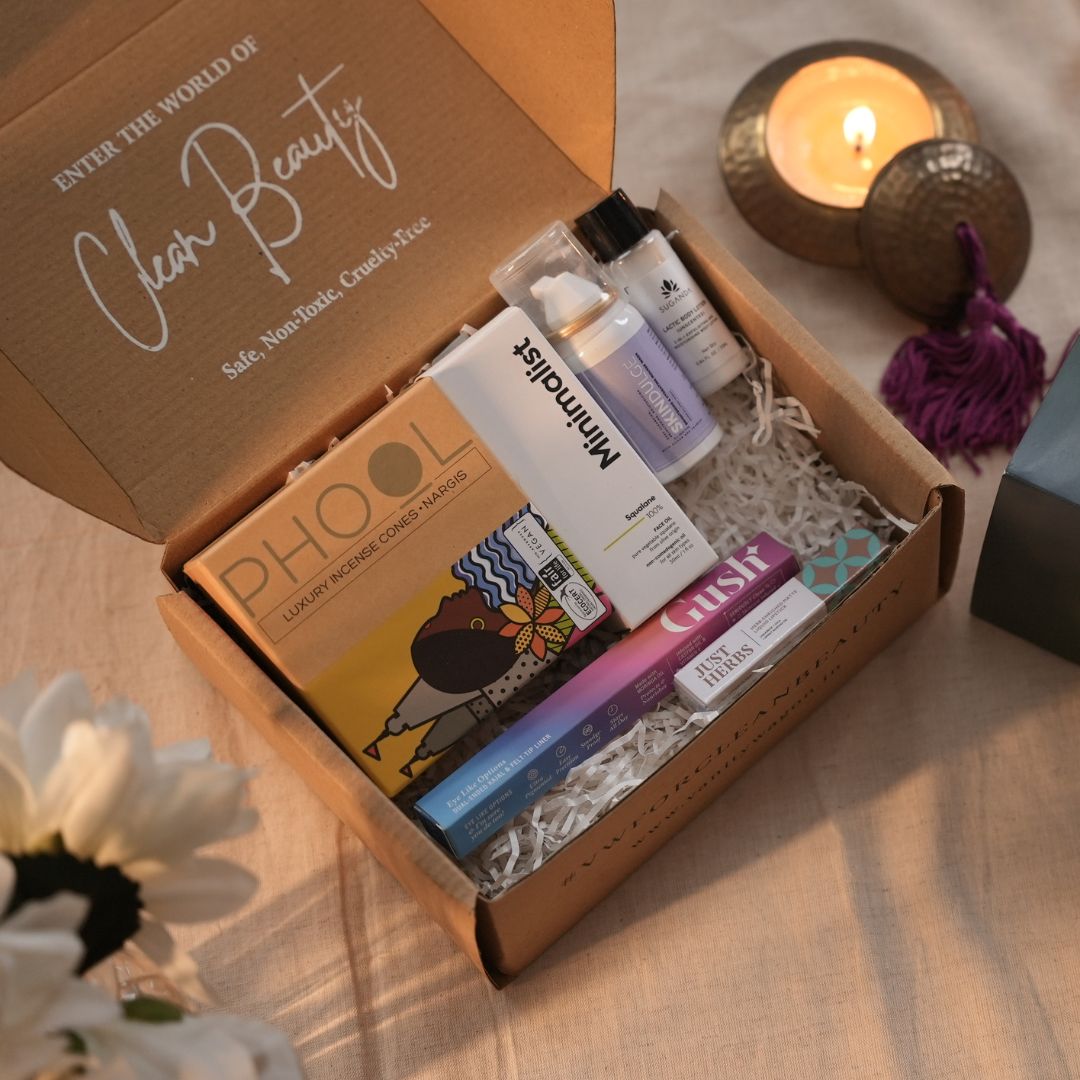 A Diwali gift hamper that combines beauty and wellness, Vanity Wagon's Belle Box, created in collaboration with Phool Co., has six products – luxury incense cones by Phool, a liquid matte lipstick by Just Herb, a face oil from Minimalist, a body lotion by Suganda, a mousse wash from Skindulge, and more. 
Price: Rs 999
Buy here: vanitywagon.in
Milap Cosmetics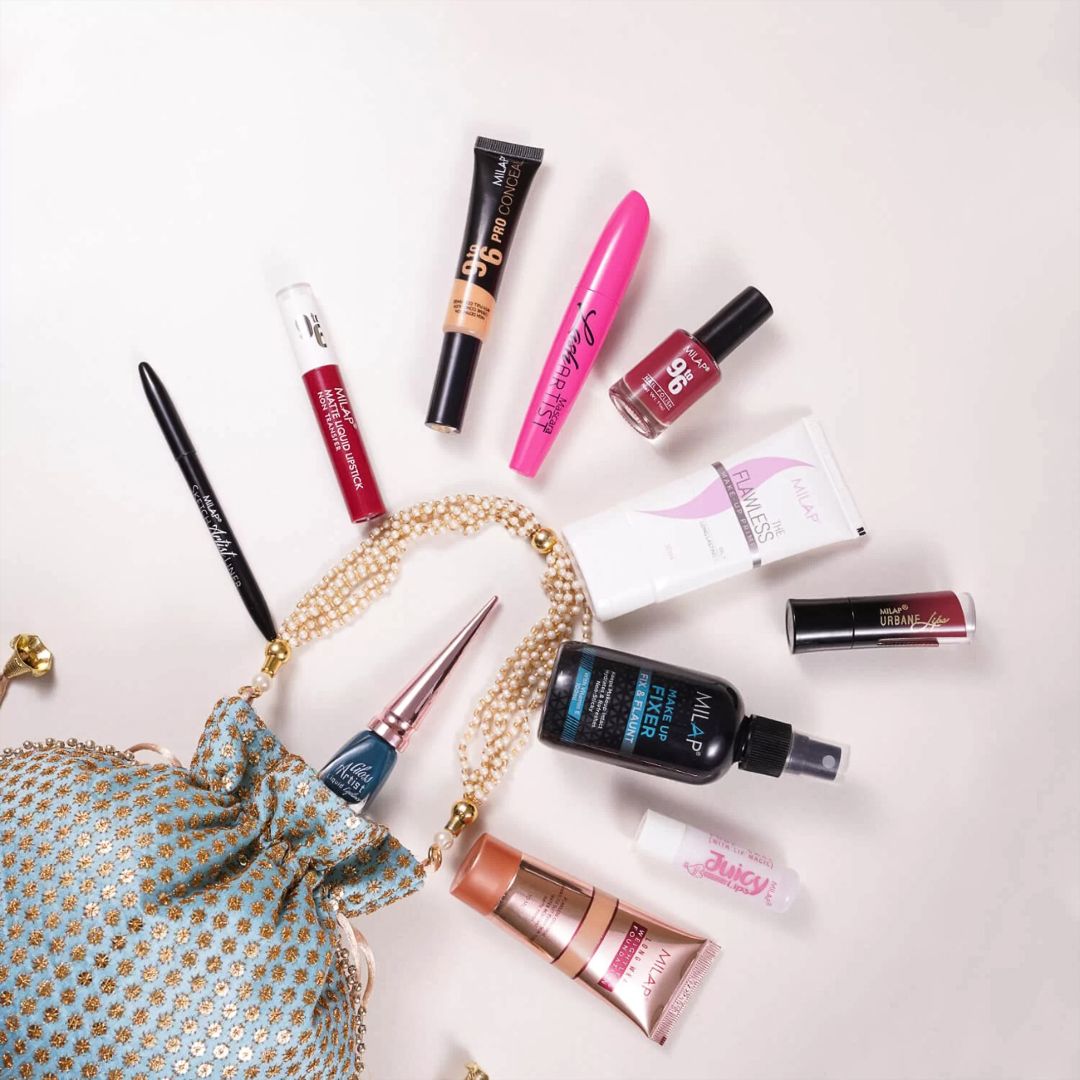 Milap Cosmetics' Diwali 2022 gift hamper has all the makeup essentials your loved one will need – primer, concealer, foundation, eyeliner, mascara, lipstick, lip balm, liquid matte lipstick, matte lipstick, makeup fixer and nail polish. So, they won't have to look elsewhere for products to create that glowing Diwali makeup look. 
Price: Rs 1,699
Buy here: milapcosmetics.com  
Proarte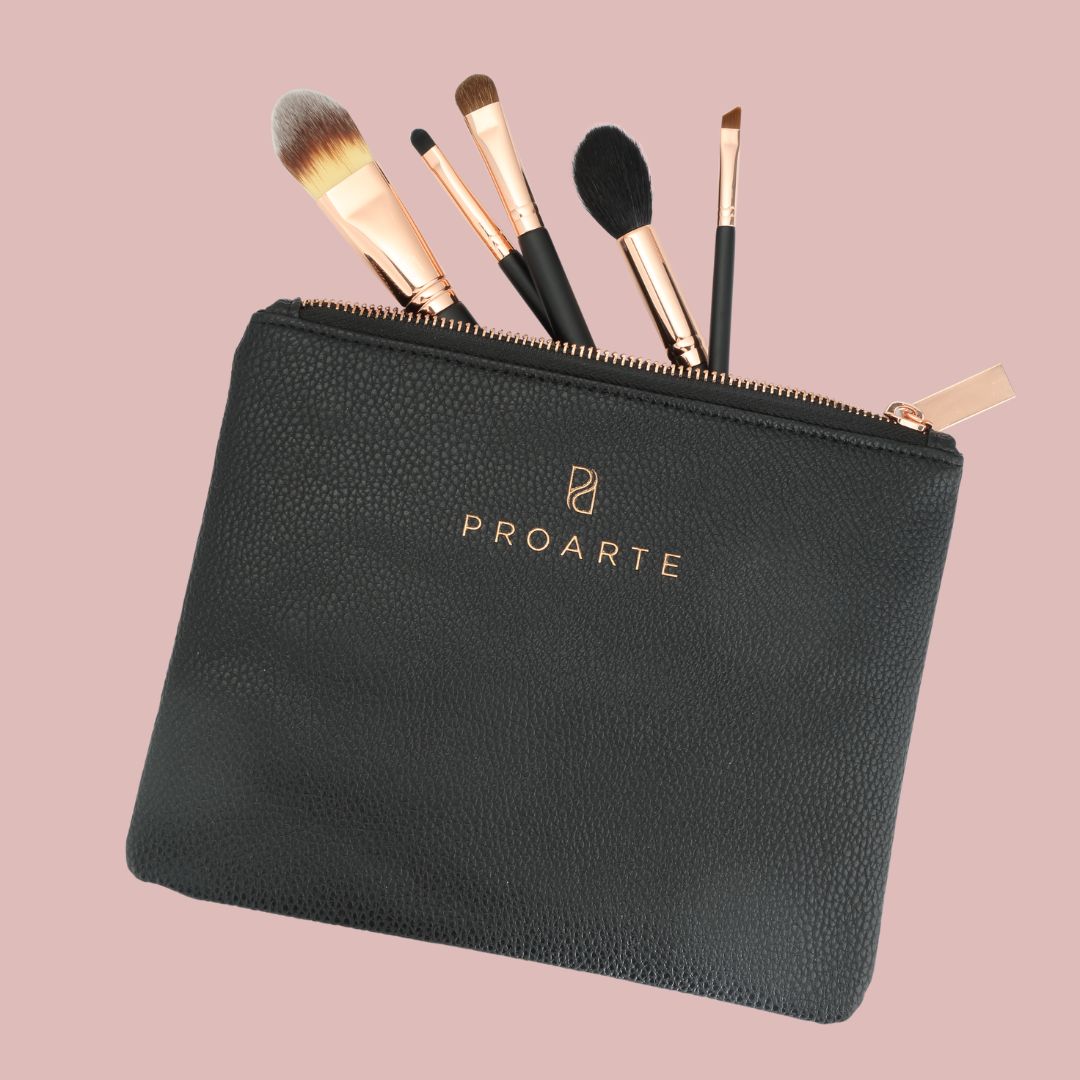 The importance of good quality makeup brushes can't be ignored. Proarte's studio brush set may help them achieve a flawless makeup look for the wedding-festive season that is upon us. The 12-makeup brush set consists of a pro foundation brush, face tapered brush, precision face applicator, precision face contour brush, duo foundation polishing brush, eyelid applicator brush, eye blender brush, flat blending brush, cream eyeshadow brush, liner brush, brow filler brush, and pro lips precision brush.  
Price: Rs 9000 
How to order: amazon.in or proarteworld.com  
Phy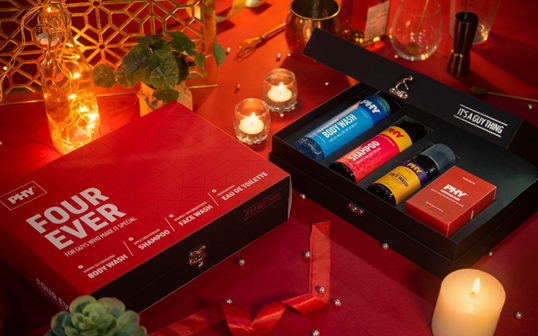 Phy, a vegan skin and haircare brand for men, has created a limited-edition personal care gift box for Diwali 2022 titled Four Ever. It comprises a sulphate-free body wash, an apple cider vinegar shampoo, a vitamin C face wash, and eau de toilette with notes of aqua, mandarin, lavender, neroli and cedarwood.   
Price: Rs 1,995
Buy here: thephylife.com or nykaa.com  
Swiss Beauty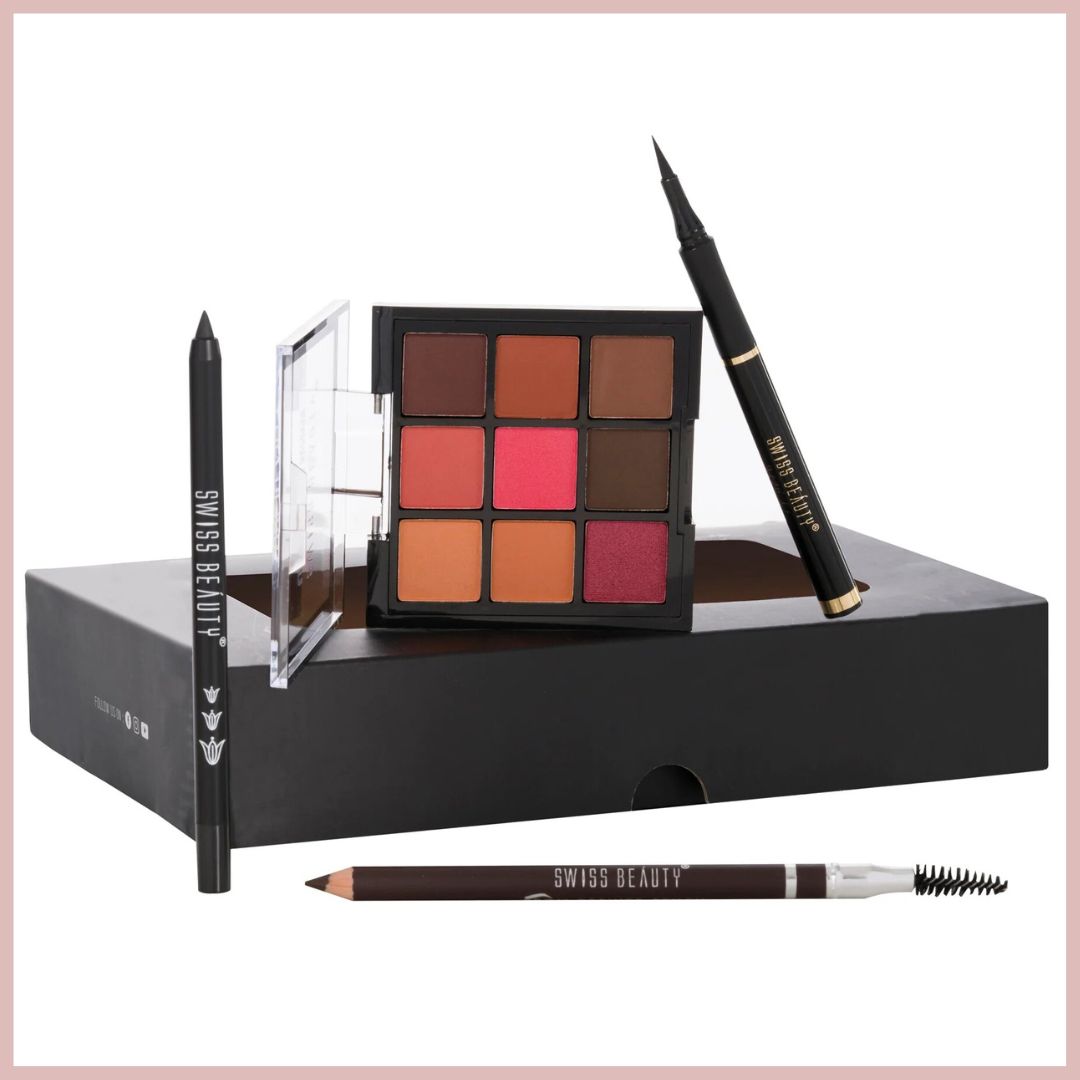 Swiss Beauty's Diwali 2022 gift offering is a makeup kit with all the essentials including an eyeliner pen, kajal, eyeshadow palette and a brow definer pencil. Each of these cosmetics is easy to apply, smudge-proof and water-resistant. 
Price: Rs 795
Buy here: amazon.in or swissbeauty.in  
Sugar Cosmetics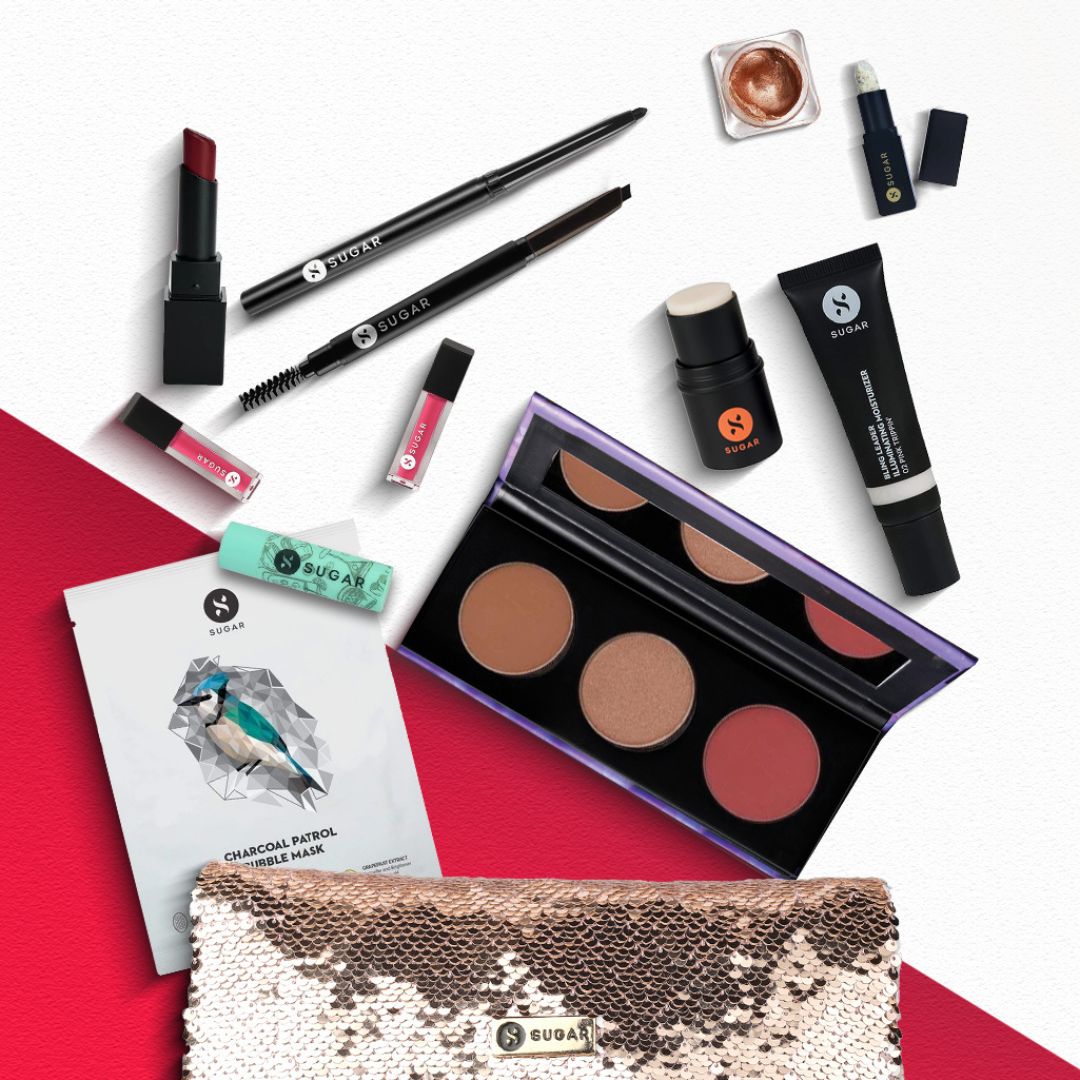 With this gift set by Sugar Cosmetics, they can ace a glam look for Diwali 2022 in no time. Sugar Cosmetics festive ready kit includes their Smudge Me Not mini liquid lipsticks, a moisturising lip balm, eyeshadow, brow definer, kajal, curl lengthening mascara, contour palette, cooling stick, and a bubble mask.  
Price: Rs 3590 
How to order: sugarcosmetics.com
Simply NAM 
Celebrity makeup artist Namrata Soni-owned Simply Nam has created a festive gift box for Diwali 2022 that has all the essentials one will need to create a striking makeup look. Two ultra-matte liquid lipsticks, a pack of makeup remover towel, waterproof mascara, lash curler, velvet microfiber sponge, and two blush.  
Price: Rs 11,428 
How to order: simplynam.com  
Type Beauty 
Pick a bunch (minimum three) of Type Beauty products – lipstick, foundation, and more - for your friend or family member who appreciates makeup, and the brand will deliver it to you in a vibrant pink potli with a pack of seeds to plant, and a deck of cards. Basically, you pick the products and they'll design an exciting Diwali gift hamper for you.  
Price: On request 
How to order: typebeautyinc.com 
Nat Habit
Inspired by the home remedies put together by mothers and grandmothers in the kitchen, Nat Habit is a brand known for handmade, small-batch skincare and haircare products. Their Diwali 2022 gift set that we love is the 'Ultimate Nourishment Blast' box. It comprises a turmeric and rosehip facial oil, a rose ubtan, steam-distilled rose water, a cinnamon and pear face wash, a lentil ubtan and a hibiscus amla hair oil. 
Price: Rs 1,734
Buy here: nathabit.in  
AcneSquad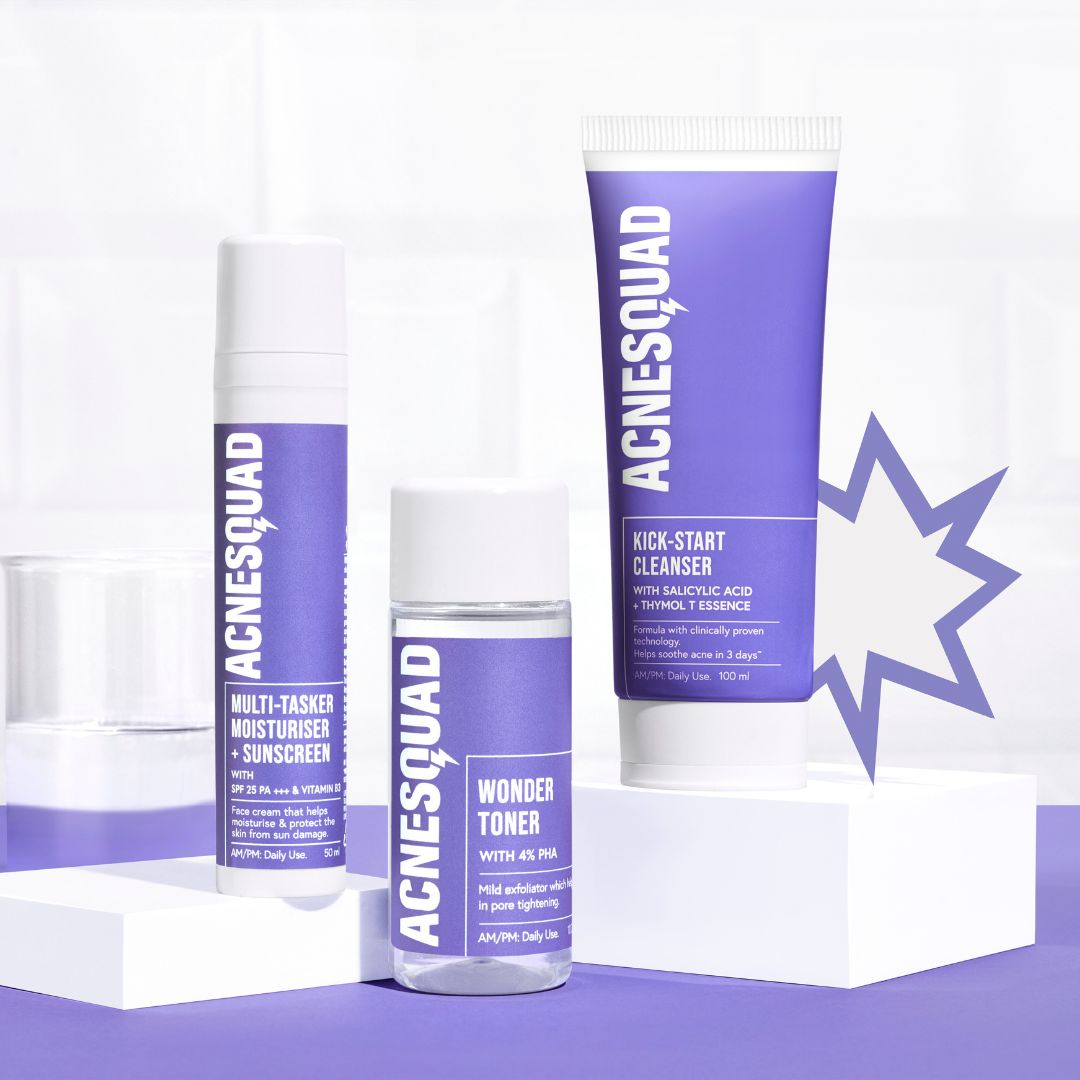 Discover AcneSquad's essentials, which include three products to help your loved one immerse themselves in the essence of skincare. A cleanser with salicylic acid, a toner and a moisturiser cum sunscreen are a part of this combo kit. You can also buy each product individually. 
Price: Rs 1,579
Buy here: acnesquad.com 
Blossom Kochhar Aroma Magic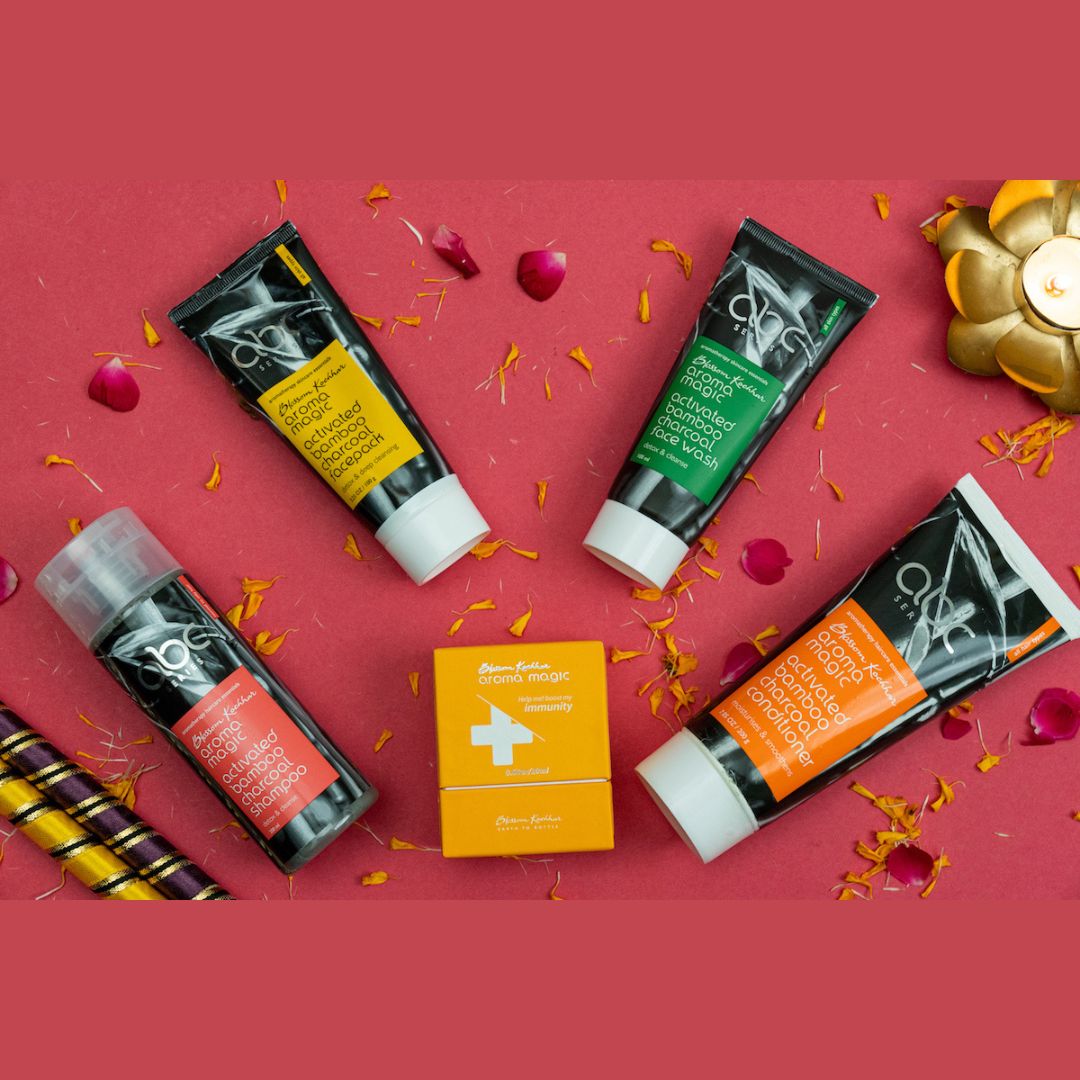 Another good skincare gift for Diwali 2022 is the Immunity Booster Curative Oil and Activated Bamboo Charcoal range combo by Blossom Kochhar Aroma Magic. You can also pick a bunch of products and make your own Diwali gift box via the brand's official website. Choose from products like face wash, moisturiser, toner, sunscreen lotion and much more. 
Price: Rs 500 onwards
Buy here: aromamagic.com
Innisfree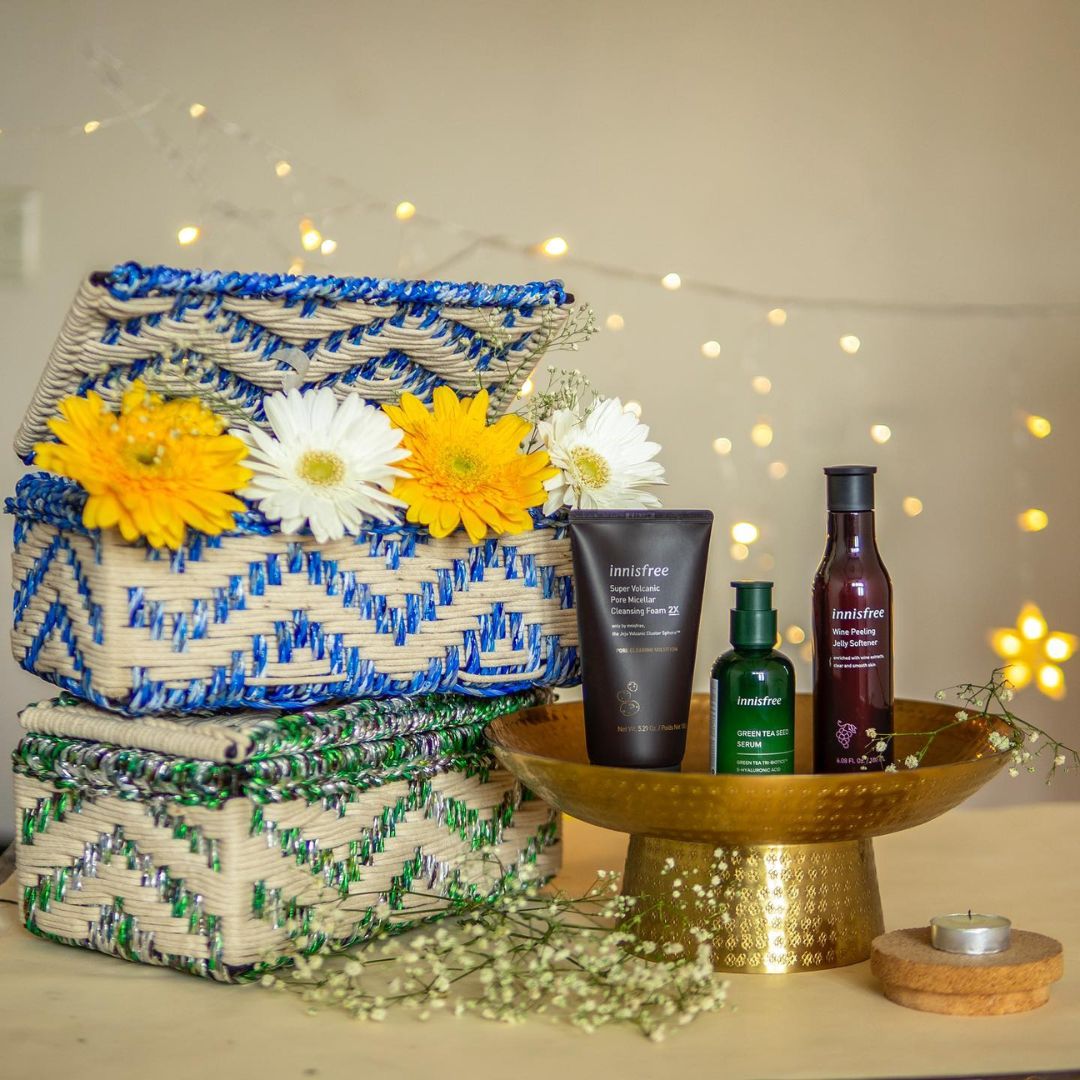 This festive season, Innisfree collaborates with the sustainable brand Sirohi to help you pamper your loved ones with skin care products beautifully packaged in personalized and handwoven boxes. 
Price: Rs 3999 onwards
Buy here: innisfree.com
Nutriglow
This gift kit by NutriGlow Cosmetics includes a hand & body lotion, a face and body scrub, and a hydrating gel that leaves your skin feeling awakened and helps you look more radiant.
Price: Rs 850
Buy here: nutriglowcosmetics.com
Dromen & Co.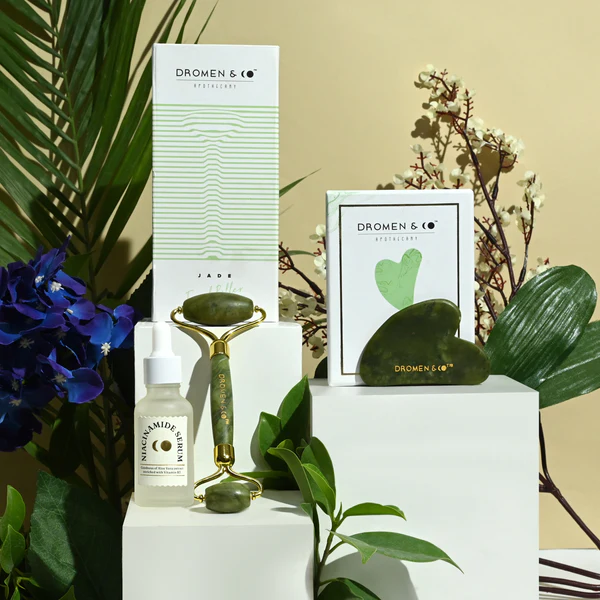 Discover this amazing combo from Dromen & Co. that comes with a face jade roller, a gua-sha and a niacinamide serum. The combo serves as an ideal pick for glowing skin. 
Price: Rs 2999
Buy here: dromenco.com
HAIRCARE 
Arata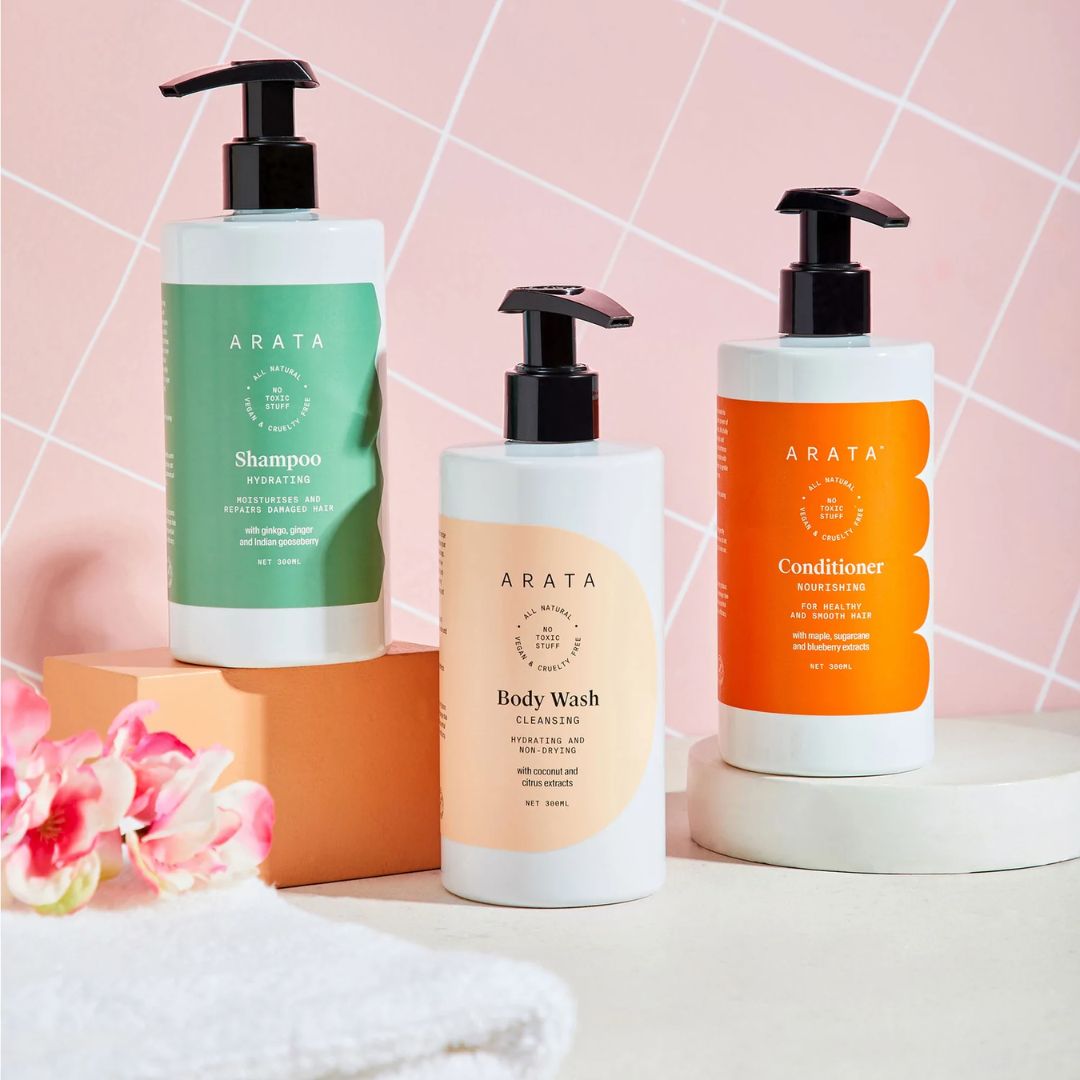 Good hair days every day are possible suggests Arata with its deep hydration combo – one of the many Diwali 2022 special combo sets they've curated. This gift set contains a hydrating shampoo and conditioner, and a body wash. All products here are free of sulfates, parabens, silicones, and colours.  
Price: Rs 1799 inclusive of taxes 
How to order: arata.in 
Vedix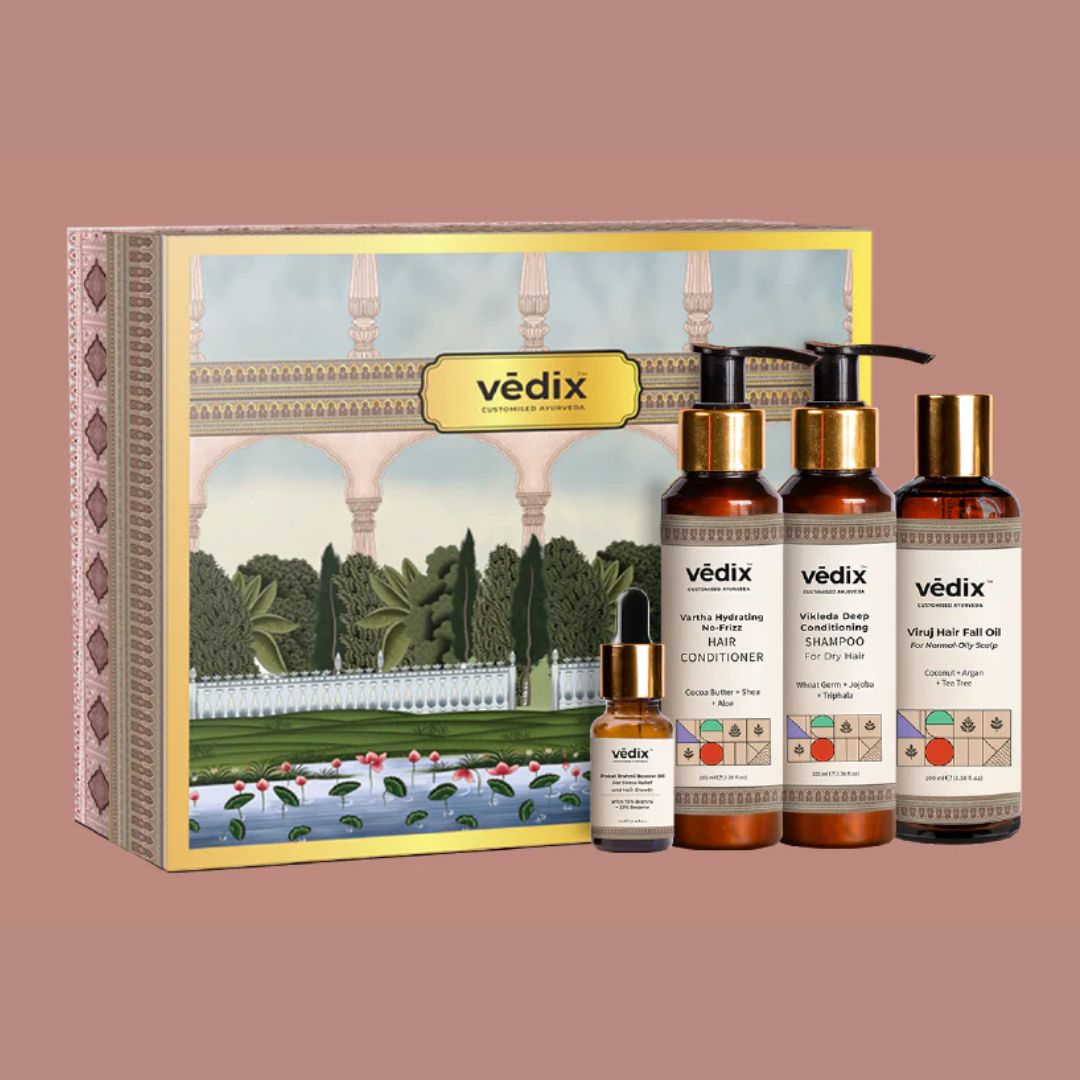 The festive season can get hectic, give your loved ones a chance to destress and rejuvenate by gifting them Vedix's limited-edition Ayurvedic hair spa kit. The four products in this kit – an anti-hairfall oil, a nutrient-rich booster oil, a dry hair shampoo, and a hydrating hair conditioner – will ensure they get some self-care time and, at the same time, soothe and rejuvenate their scalp.  
Price: Rs 1796  
Buy here: vedix.com 
Fix My Curls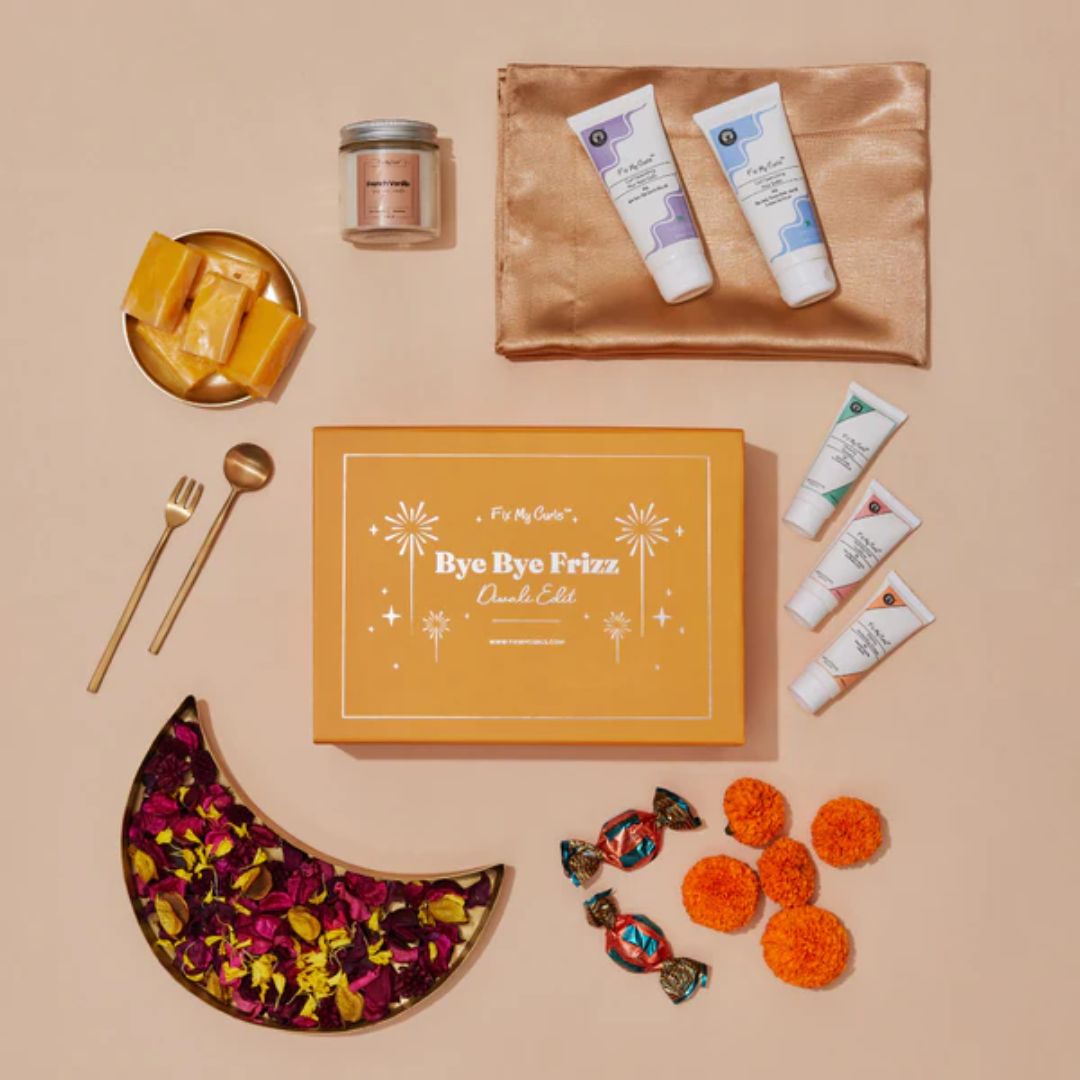 Most of Fix My Curls' bestsellers are present in their Diwali 2022 gift hamper titled Bye Bye Frizz. It box has a satin pillowcase, hair butter, hair jelly, and a soy vanilla candle. With products that may prevent frizz, heat damage and breakage, this Fix My Curls gift box can be a great addition to a curly-haired girl's haircare routine.  
Price: Rs 1800 
How to order: fixmycurls.com 
Earth Rhythm
This festive season, help your loved ones have soothing hair and keepPric them shiny and bouncy. The kit is an alternative not just to your traditional gifting norms but an alternative to your plastic use with plastic-free packaging. So take the guilt-free gifting option and show your loved ones you care. 
Price: Rs 1400
Buy here: earthrhythm.com
Dyson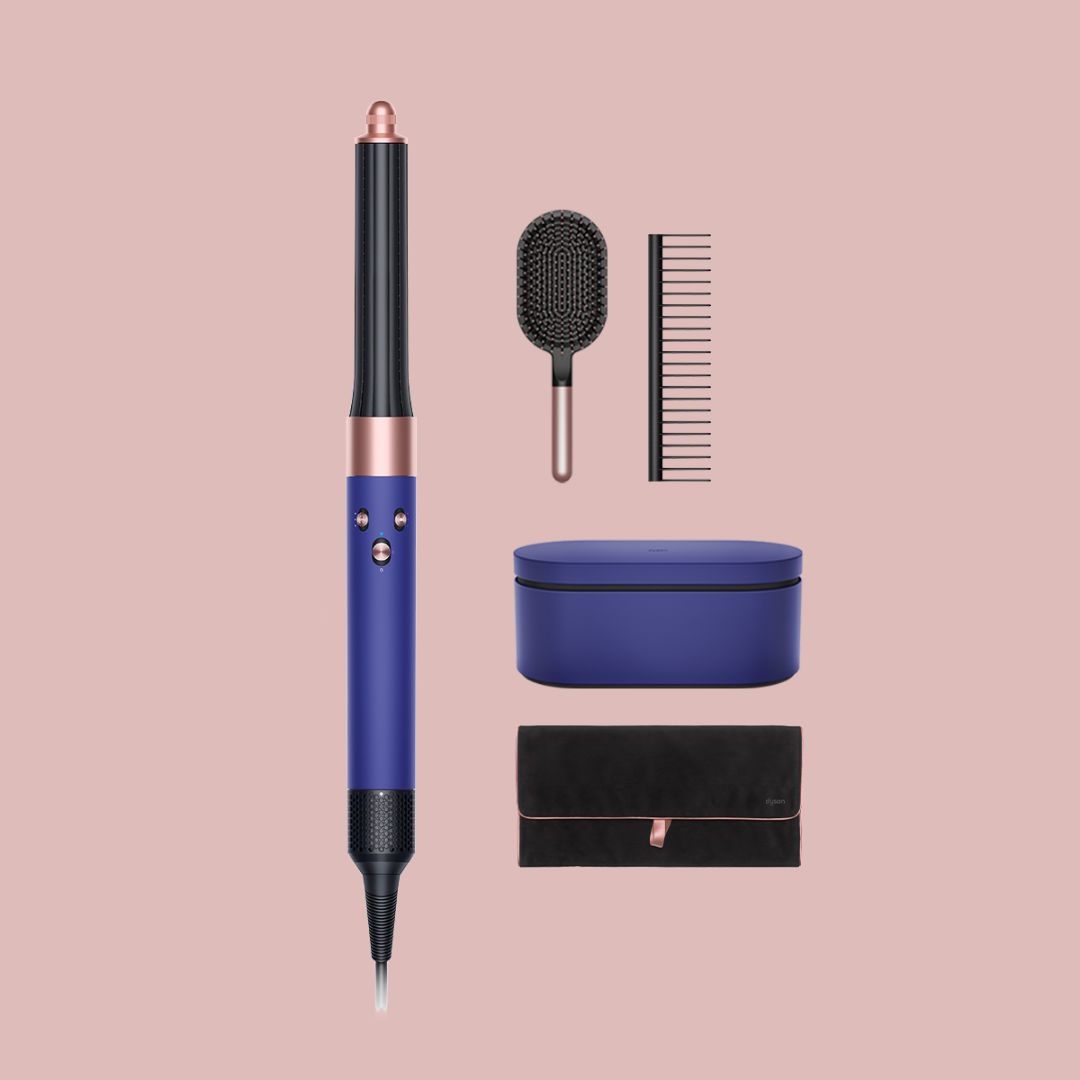 Dyson has unveiled a new limited-edition - Vinca Blue and Rosé colourway - launched exclusively for the festive season. Available in Airwrap Multi-Styler, get party-ready hair in no time for Diwali. 
Price: Rs 45,900
Buy here: dyson.in
Prolixr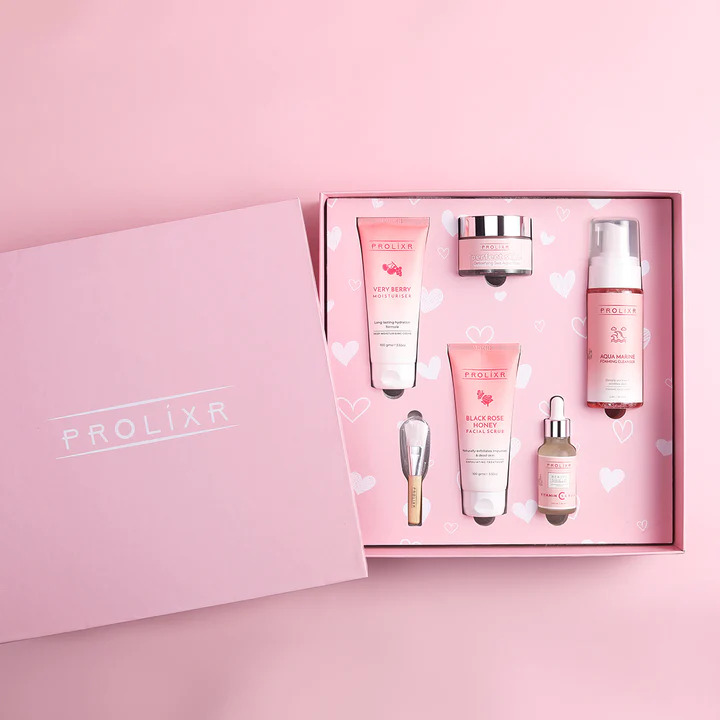 This Prolixr gift box is like a feel-good box of happiness for your loved ones to indulge in a much-needed pamper session. Wrapped in lovely pink packaging, this kit contains a detoxifying face mask, facial scrub, and a lightweight moisturiser—everything that will help for glowing and radiant skin. 
Price: Rs 2000
Buy here: prolixr.in
Omeo 
For haircare lovers, a Diwali gift hamper of Omeo's Indulgence Ritual haircare range would be a treat. This collection consists of a shampoo, a hydrating conditioner, an intense repair shampoo and an aloe vera gel. The aim of this range is to rejuvenate the scalp, stimulate hair follicles by improving blood flow and prevent premature hair fall. 
Price: Rs 1,215 
Buy here: omeocare.com or Instagram/Omeocare 
Plum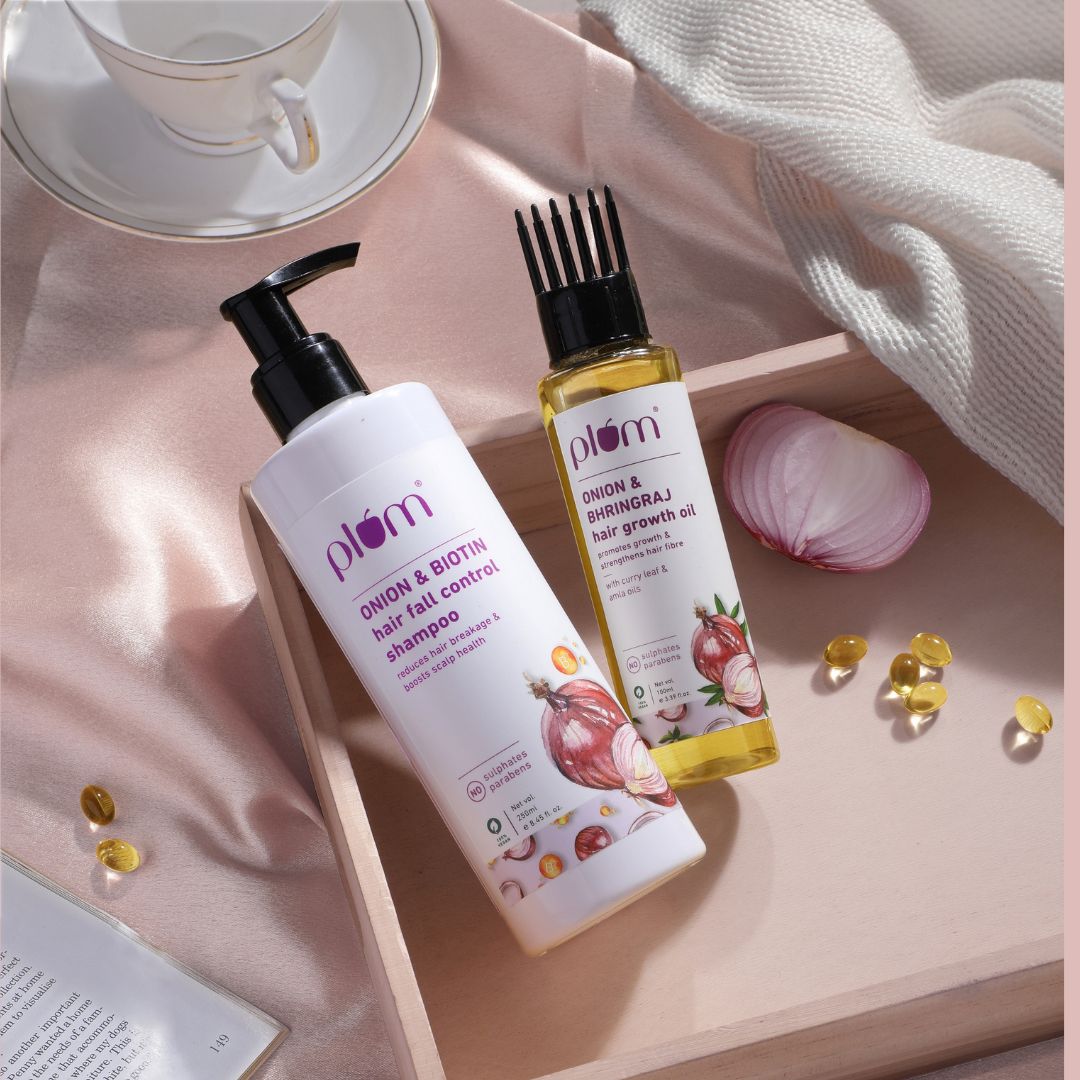 One of the best gifts to give for Diwali 2022 is the gift of good hair. Vegan beauty and haircare brand Plum's festive gifting options include their 'Not your basic onion range'. This haircare duo pack puts the spotlight on scalp health and features a hair growth oil and a hair fall control shampoo. 
Price: Rs 675 
Buy here: plumgoodness.com  
indē wild
The perfect gift for those who find serenity in nostalgic rituals. Enjoy The beautiful tradition of champi with the products from indē wild - hair oil, a wooden comb and a bowl.
Price: Rs 2,200
Buy here: india.indewild.com 
WELLNESS 
INJA Wellness
Now here's something they'll need post-Diwali for detox and rejuvenation of skin, hair and nails – a combo of INJA Wellness beauty collagen, available in mango, orange and lychee flavours. It is made using the finest quality marine collagen from India and Japan. 
Price: INR 1,250 onwards
Buy here: injawellness.com 
Pure Nutrition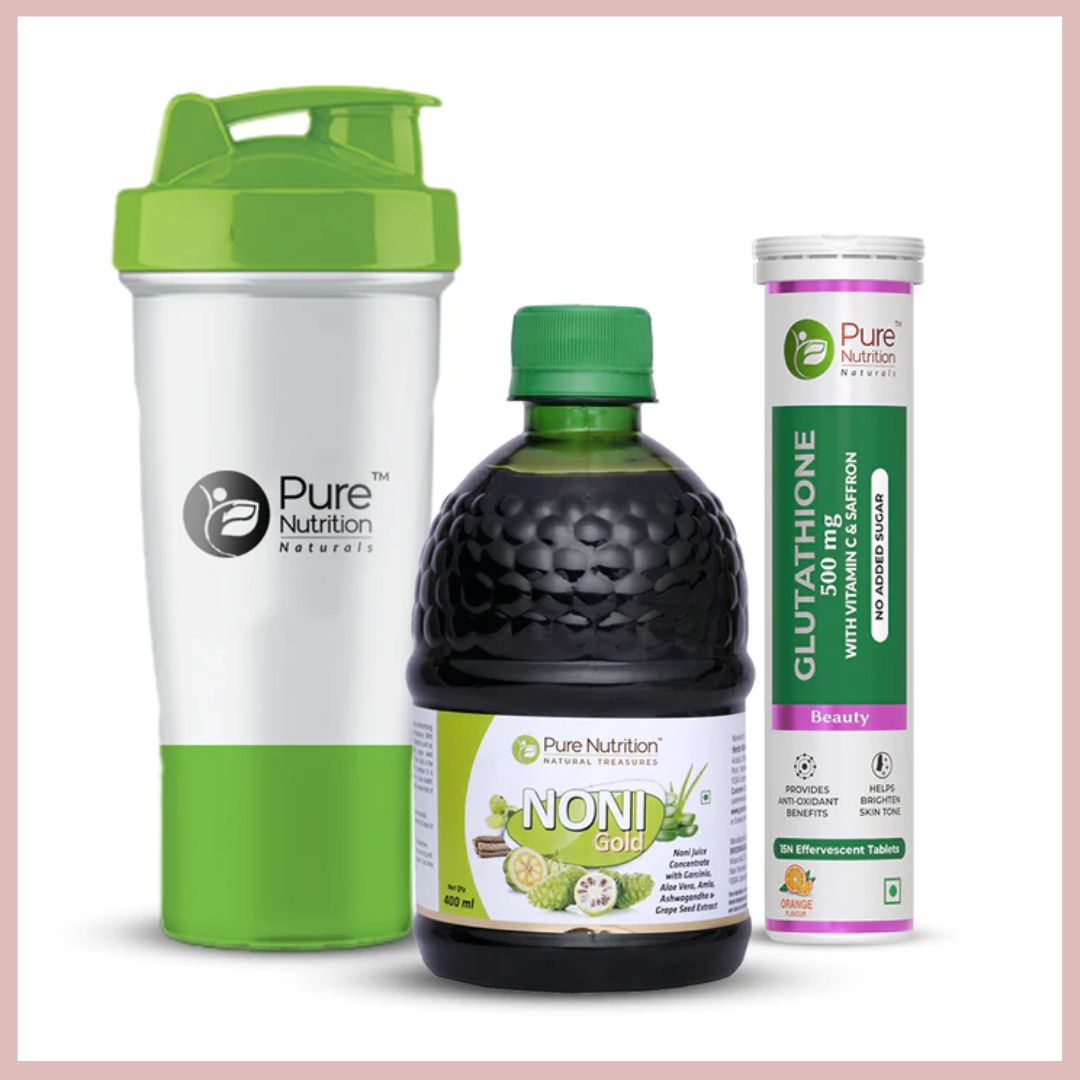 Often, our diet alone isn't enough to fulfil the quota of our daily nutrition hence, all of us need help every now and then. This Pure Nutrition noni gold and glutathione combo aka glowing skin combo helps improve your holistic health, skin tone and skin elasticity. 
Price: Rs 2,098
Buy here: purenutrition.in 
Wellness Forever
Here's a Diwali 2022 wellness hamper that promises relaxation to the core is this BBB body spa kiy by Wellness Forever. It consists of a Soulflower lavender skin soap, and BBB lavender and chamomile body lotion, body wash and hand wash. 
Price: Rs 2500
How to order: wellnessforever.com or Wellness Forever store
Azafran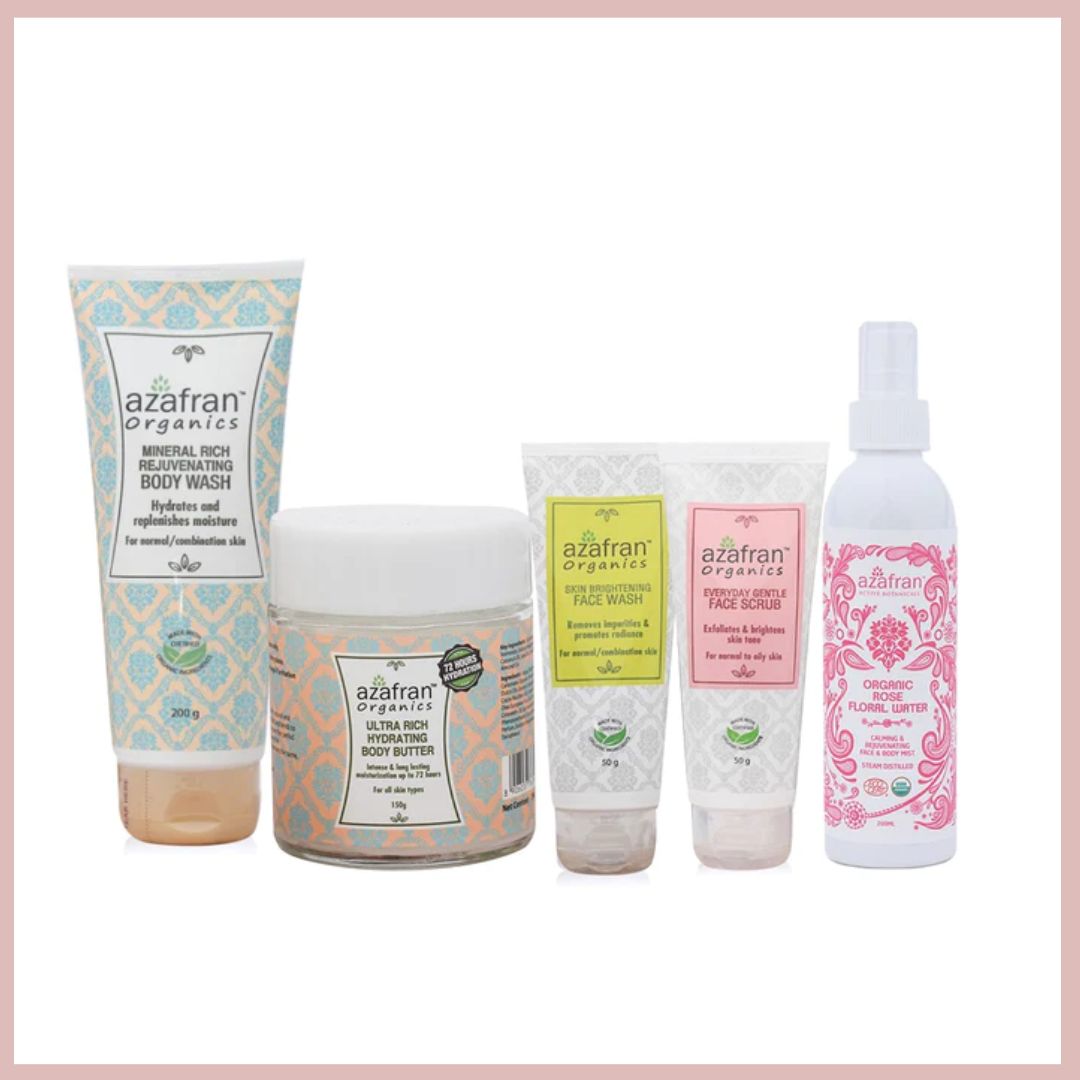 All of us deserve a spa day (or two), especially amid the festive season, which can get hectic. This Azafran spa day combo can give your loved one (and even you) that relaxing and rejuvenating experience in the comfort of their home. The combo for Diwali 2022 gifting includes a brightening face wash, scrub, body butter, body wash and rose water – all made using organic ingredients. 
Price: Rs 2,573 
Buy here: azafran.in
Photo: Shutterstock and Featured Brands