Maintaining healthy and radiant skin can be a challenge, especially for those with dry and pigmented skin. However, when it comes to skincare, celebrity dermatologist Dr Jaishree Sharad, director of Skinfiniti Aesthetic Skin & Laser Clinic and author of The Skincare Answer Book, knows precisely how to cater to her skin's unique needs. With her expertise and experience, she has curated a step-by-step skincare routine that effectively addresses her skin concerns and keeps her complexion glowing. Let's delve into Dr Jaishree's morning and nighttime skincare rituals, tailored specifically for her extremely dry and pigmented skin. 
Dr Jaishree Sharad's AM Skincare Routine: 
Step 1: Cleansing 
Dr Jaishree starts her day with the Uriage Crème Lavante cleansing cream face wash, a mild, soap-free cleanser known to eliminate impurities and preserve the skin's hydrolipidic film. The presence of nourishing milk and Uriage Thermal Water protects her skin from the drying effects of hard water, ensuring a fresh and clean canvas for the day ahead.  
Step 2: Serum  
Next, Dr Jaishree incorporates a Vitamin C serum by Sesderma or La Roche Posay. Vitamin C is a potent antioxidant that shields the skin from UVA, UVB, and blue light, providing comprehensive protection. Additionally, it inhibits tyrosinase, the enzyme responsible for melanin formation, effectively preventing and reducing hyperpigmentation.  
Step 3: Moisturising  
To combat dryness, Dr Jaishree applies a Sebamed hydrating moisturiser with 2% vitamin E. This lightweight moisturiser not only deeply hydrates but also guards the skin against pollutants and dryness throughout the day. It boosts the skin's natural barrier, providing optimum protection with daily use.  
Step 4: Sun protection
Dr Jaishree never skips the crucial step of sun protection. She uses Fotoprotector ISDIN Fusion Water Tinted SPF 50, a water-based, oil-free, and non-comedogenic sunscreen. The formula offers broad-spectrum UVA and UVB protection with a tinted finish, melting into the skin without leaving a greasy feeling or white residue. It serves as an excellent base for makeup without caking the skin.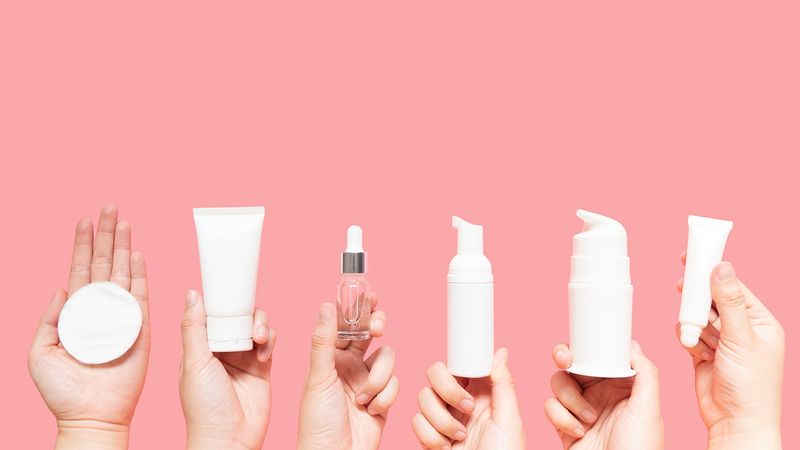 Dr Jaishree Sharad's PM Skincare Routine: 
Step 1: Makeup Removal
At night, Dr Jaishree starts her routine by gently removing makeup using ISDIN Micellar Solution, a 4-in-1 makeup remover, cleanser, and hydrating toner. The gentle formula effectively removes makeup from the face and under the eyes, including waterproof makeup, without compromising the skin's natural barrier. 
Step 2: Cleansing 
Dr Jaishree follows her makeup removal with another round of cleansing using Uriage Crème Lavante cleansing cream face wash.  
Step 3: Eye serum
To tackle dark circles and signs of ageing in the eye contour area, Dr Jaishree uses Sesderma K Vit Under Eye Serum. The serum contains vitamin K oxide encapsulated in liposomes, reducing the appearance of dark circles. This formula improves microcirculation and addresses eye contour concerns, she informs us.  
Step 4: Hydrating
To maintain hydrated and firm skin, Dr Jaishree incorporates Skinceuticals Hyaluronic Acid Intensifier into her nighttime routine, which helps hydrate and smoothen the skin.  
Step 5: Managing specific skin concerns  
To provide deep hydration and address other skin concerns, Dr Jaishree uses Skinfix Barrier + Triple Lipid-Peptide Cream. This cream, containing active lipids, peptides, hyaluronic acid, and shea butter, helps brighten, firm, and plump the skin.  
Step 6: Moisturising
Dr Jaishree extends her skincare routine to the body, using Cerave Body Moisturiser twice a day to keep her skin moisturised and supple.  
Dr Jaishree Sharad's skincare routine is a testament to the power of personalised care. By tailoring her routine to suit her dry and pigmented skin, she effectively addresses her concerns and maintains a radiant complexion. For those with similar skin types, Dr Jaishree's skincare regimen serves as an excellent guide to achieving healthy and glowing skin. Remember, consulting a dermatologist is essential to design a routine tailored to individual skin needs and concerns, ensuring the best possible results. 
---
Photo: Dr Jaishree Sharad and Shutterstock