Ganesh Chaturthi is an extraordinary festival that embodies a distinct emotion. The exuberant celebrations and sheer happiness it brings are unmatched in their fervour. This festival commemorates the birth of Lord Ganesh. Originating with Chhatrapati Shivaji, the Maratha empire's founder, to foster national unity among his subjects, it later gained prominence when freedom fighter Bal Gangadhar Tilak revived public celebrations to protest the British ban on political assemblies.
From its defiant beginnings, Ganesh Chaturthi has evolved into a celebration of joy, community, and reverence for Lord Ganesh, affectionately called Bappa. Today, it's a time when entire communities unite to prepare for Bappa's arrival and revel in His vibrant presence. The festival offers a much-needed break from mundane routines, allowing people to dance and rejoice.
In Maharashtra, the festival can last from one and a half days to a full eleven days. During this festive period, there are numerous ways to immerse yourself further in the spirit of the occasion. Since Ganesh Chaturthi centres around celebration, people across Maharashtra don their finest traditional attire, fully embracing the festival's essence. It's a time to showcase their best clothing, jewellery, and accessories, dressing in full traditional regalia to honour the occasion.
The best traditional items to wear this Ganesh Chaturthi 
1. Nauvari saree
The nauvari saree, a nine-yard variation of the traditional saree, stands out as one of the most renowned traditional garments for women in Maharashtra. This attire adds a touch of beauty and grace to a woman's appearance. The nauvari saree possesses a unique cultural charm that bestows a sense of poise and elegance, creating a captivating aura as women welcome Bappa in all His splendour.
2. Maharashtrian nath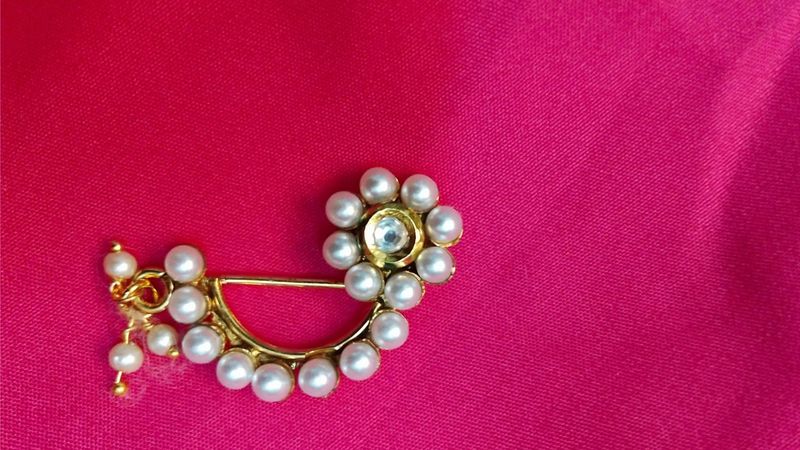 The traditional Nath, a perfect complement to a Maharashtrian saree, is a charming piece of jewellery deeply ingrained in our culture since ancient times. It elegantly accentuates a woman's inherent beauty, giving her a queenly appearance. The nath's allure is so captivating that it alone can completely elevate a traditional look into its finest form.
3. Paithani saree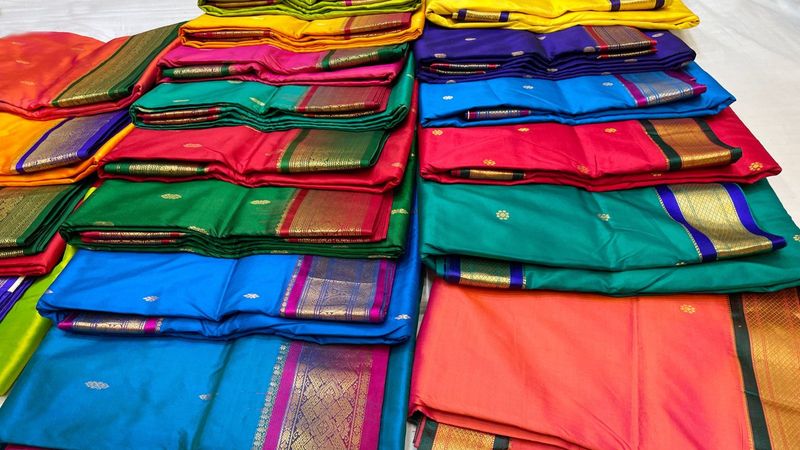 Paithani sarees are another coveted style of sarees creating waves in Maharashtra. These sarees are renowned for their opulence, being among the most luxurious. The combination of silk, intricate craftsmanship, vibrant hues, and intricate patterns results in a breathtaking ensemble that's ideal for enhancing the festive charm of Ganesh Chaturthi.
4. Saaz necklace
Saaz necklaces, a unique variety of gold necklaces from Kolhapur, hold great popularity during Ganesh Chaturthi. Gold holds immense significance in Maharashtra's culture, particularly during festivals. Consequently, women adorn themselves with gold jewellery while adorning their finest traditional attire. With their distinct design, saaz necklaces serve as the ideal jewellery for festive dressing.
5. Gajra
In the traditional Maharashtrian ensemble, a gajra holds a crucial role, contributing essential richness to the overall appearance. Worn as a floral accessory in the hair, a gajra effectively complements the traditional look, creating a harmonious balance. Infusing a touch of freshness and fragrance lent by the flowers, the gajra enhances the allure of the traditional look.
6. Glass bangles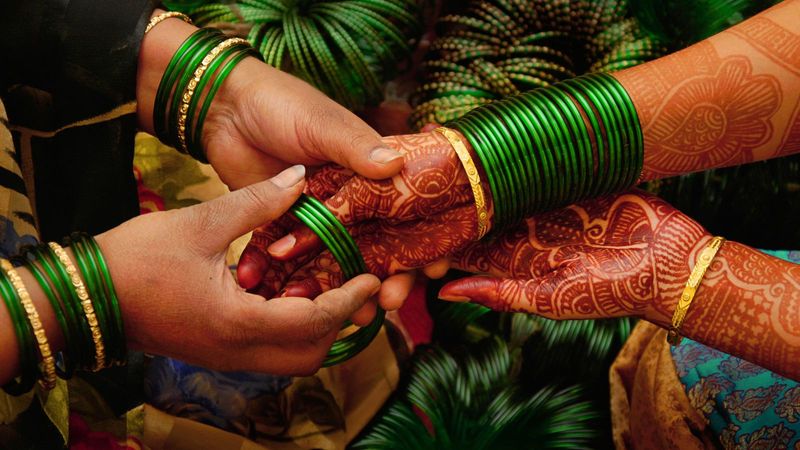 Glass bangles hold a pivotal role in completing the traditional Maharashtrian attire. Often adorned in green, these tinkling glass bangles are occasionally combined with other bangles to create diverse styles. With their delightful sound and traditional appearance, these bangles add a radiant touch to the cultural ensemble.
7. Khun blouse
Khun blouses, a timeless choice for Maharashtrian women when paired with nauvari, paithani, and other sarees, exhibit unparalleled charm and allure. These blouses create a delightful contrast to the opulent, warm hues through their intricate and elaborate patterns. Their popularity endures, particularly for traditional Ganesh Chaturthi ensembles, due to the elegance they bestow upon the overall look.
---
Photo: Shutterstock