When it comes to fashion, celebrities are known for setting trends and inspiring millions of style-conscious individuals around the world. Among their wardrobe staples, black colour jeans have emerged as a timeless and versatile piece that exudes both sophistication and edginess. If you've ever wondered how your favourite stars manage to look effortlessly chic in black colour jeans, you're in for a treat! In this style guide, we've compiled eight fantastic ways to incorporate black-coloured jeans into your outfits, straight from the playbooks of your beloved celebrities.
From the laid-back street style of off-duty models to glamorous red-carpet ensembles, black colour jeans have proven to be a must-have item for any fashion-forward individual. Whether you prefer a casual and cool look or a more polished and refined appearance, black jeans can be dressed up or down for any occasion. Join us on this fashion journey as we reveal the insider tips and tricks used by celebrities to elevate their black jeans game.
Before we dive in, let's explore the endless possibilities of styling stark black jeans or faded jeans using items we already have in our closets. From casual to sophisticated looks, black jeans offer a plethora of fashionable options that can adapt to any occasion and individual style.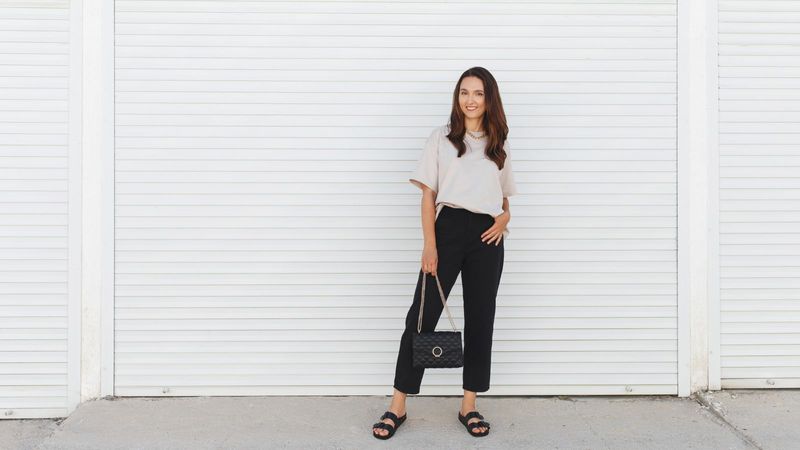 Let's now discover some of the best and most versatile ways to style these wardrobe staples:
Casual chic: Pair your black jeans with a plain white t-shirt, a leather or denim jacket, and a pair of white sneakers for a classic and effortlessly stylish casual look.
Monochromatic elegance: Create a sleek and sophisticated outfit by combining black colour jeans with a black blouse or sweater. Add a statement necklace or bold accessories to add a touch of interest to the all-black ensemble.
Boho vibe: Embrace a bohemian-inspired look by wearing your faded black jeans with a flowy floral top, layered necklaces, and ankle boots. Complete the outfit with a fringe bag for added boho flair.
Business casual: Dress up your black jeans for the office by pairing them with a tailored blazer, a crisp button-down shirt, and pointed-toe heels or loafers.
Rock chic: Tap into your edgy side by teaming black faded jeans with a graphic band t-shirt, a moto jacket, and chunky combat boots. Top it off with some studded accessories for an edgy rocker look.
Effortless glam: For a night out, style your black jeans with a silky camisole or a sequined top. Add strappy heels and a clutch purse to elevate the look and exude effortless glamour.
Athleisure appeal: Combine the comfort of activewear with the chicness of black jeans by pairing them with a sporty hoodie or a cropped sweatshirt and trendy sneakers.
Layered fall look: During colder months, layer a cosy oversized sweater or cardigan over your faded black jeans, and complement the outfit with ankle boots and a wide-brimmed hat for a chic autumnal appearance.
With the basics in place, it's time to elevate your fashion game and make a lasting impression with your impeccable style with your favourite pair of faded black jeans. Get ready to embrace celebrity-inspired looks and master the art of rocking black jeans like a true star! Let's embark on this exciting journey and discover the best ways to shine in your black denim.
1. Sonakshi Sinha 
Get ready to beat the greens in style on your next holiday adventure. Take a cue from the fabulous Sonakshi Sinha, who effortlessly channelled the wilderness with her all-black ensemble. From exploring the lush landscapes to trekking through nature's wonders, this forest-inspired look exudes both glamour and a touch of rugged charm, making it the perfect outfit to conquer the great outdoors with confidence and flair. Embrace the power of black and blend seamlessly with the breathtaking beauty of nature on your upcoming escapade.
2. Jacqueline Fernandes
Black jeans take on a bohemian twist, thanks to the style icon Jacqueline Fernandes. Embrace the boho-chic vibe by pairing your black denim with flowy colour-blocked tops, earthy accessories, and suede ankle boots. With the right styling, faded black jeans can effortlessly transition into a laid-back and free-spirited look, perfect for music festivals, outdoor gatherings, or a relaxed day out. Follow Jacqueline's lead and infuse your faded black jeans with boho elements to create a fashion-forward and whimsical ensemble that reflects your adventurous spirit.
3. Disha Patani
These versatile black denim cargoes are undeniably having a moment and can effortlessly transition from day to night with the right styling. This comfort-meets-style trend is taking the fashion world by storm, and we couldn't be more enchanted. From running errands after a workout to rocking a chic evening ensemble, black denim cargoes offer the perfect blend of functionality and fashion flair, making them a wardrobe essential we can't get enough of.
4. Sonam Kapoor Ahuja
Never thought we would see this but here we are, witnessing the epitome of elegance with Sonam Kapoor's black denim couture. This style icon proves that black denim can transcend casual wear and elevate into the realm of formal fashion. With the right tailoring and sophisticated accessories, black denim can seamlessly blend into black-tie events, cocktail parties, and even red-carpet affairs. Sonam Kapoor's glamorous ensembles showcase the versatility and timeless allure of black denim, redefining its role in haute couture and proving that it's not just for casual outings but a sartorial statement for any sophisticated occasion.
5. Pooja Hegde
Pooja Hegde sets a new trend with baggy cargoes made sexy! Embrace a bold and daring look by pairing these utilitarian pants with risqué pieces like corsets and barely-there crop tops. The unexpected combination adds an alluring edge to the otherwise relaxed silhouette, striking the perfect balance between comfort and sensuality. Pooja's style exemplifies how fashion can empower women to express their individuality and embrace their confident, sexy selves, redefining the way we perceive and wear baggy cargo.
---
Photo: Shutterstock