The season of summer calls for a day (or more) of beach escape. And if you're headed for one, you'll need a good, trusted carryall, regardless of the type of beachgoer you are, to avoid multiple runs to the car or your hotel room. You need a bag that screams summer in looks, offers plenty of space for a good beach day (including a towel, sunscreen, sunglasses, snacks, beverages, probably a book, and more), and can easily get rid of sand. 
Scroll down to check out our compilation of stylish tote bags to upgrade your beach vacation. 
1. Multi Colour Kuno Printed Canvas Tote Bag by Payal Singhal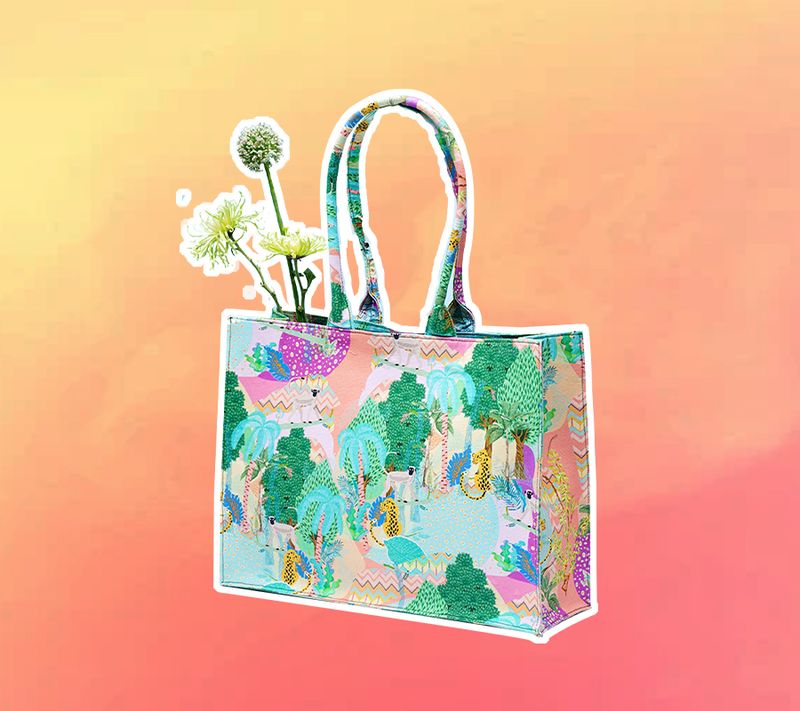 Make heads turn with this multi-coloured Kuno printed canvas tote bag by fashion designer Payal Singhal. It is made spacious and durable, and you can easily shake the sand off it once you're headed back home. 
2. Women's Tropical Fringe Box Bag by Maisha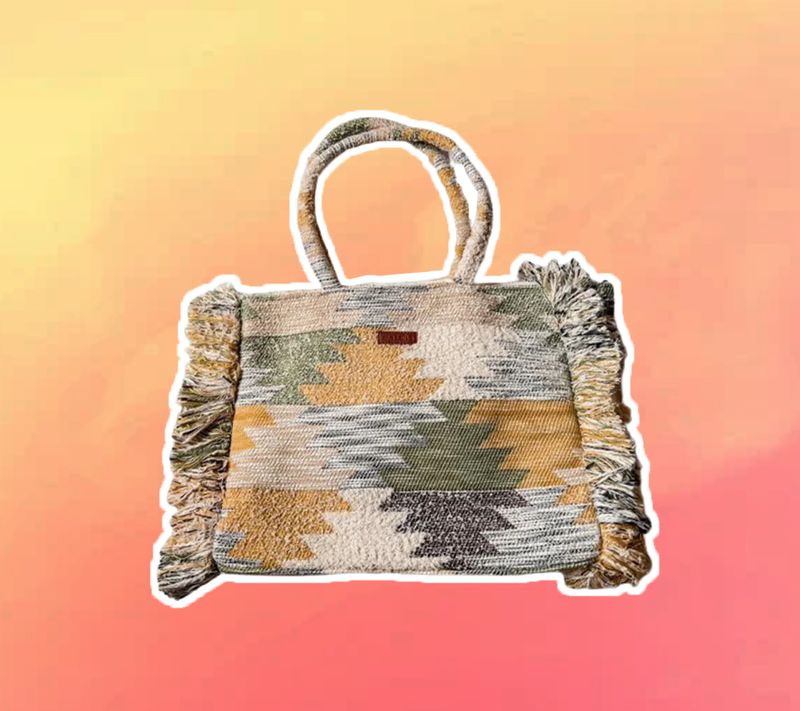 If your vibe is boho-chic, this Maisha women's tropical fringe box bag made using cotton jacquard is perfect for you. The tote bag has fringes on the side to add a crafty, playful vibe. It features a mag-dot closure for easy, secure usage. 
3. Eden Off White Woven Cotton Tote Bag by Pipa Bella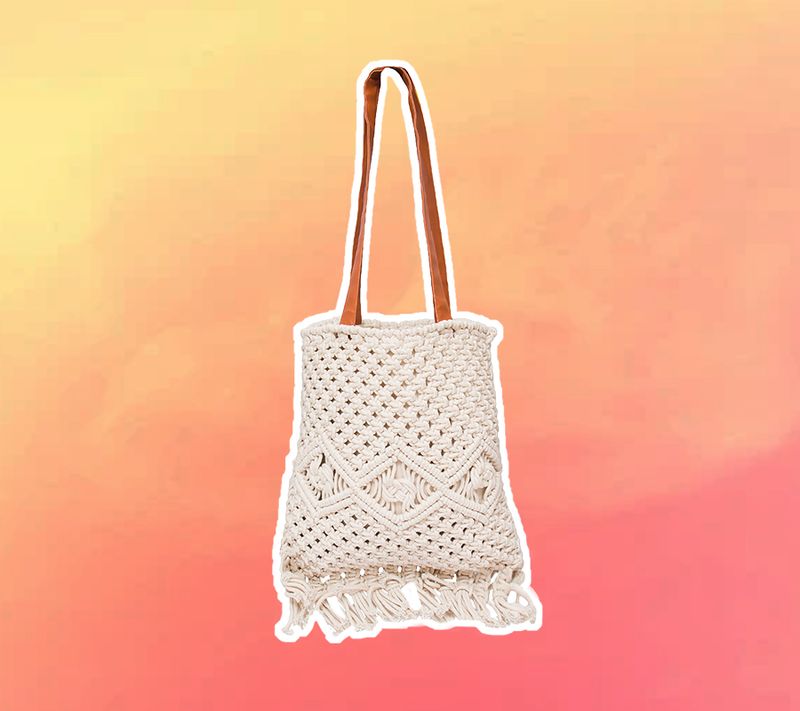 Woven bags continue to be on-trend and your wardrobe deserves an investment like that. This Pipa Bella by Nykaa Fashion is made using high-quality material and will beautifully complement your boho-chic beach vibes. 
4. Green Summer Tote Bag by Vero Moda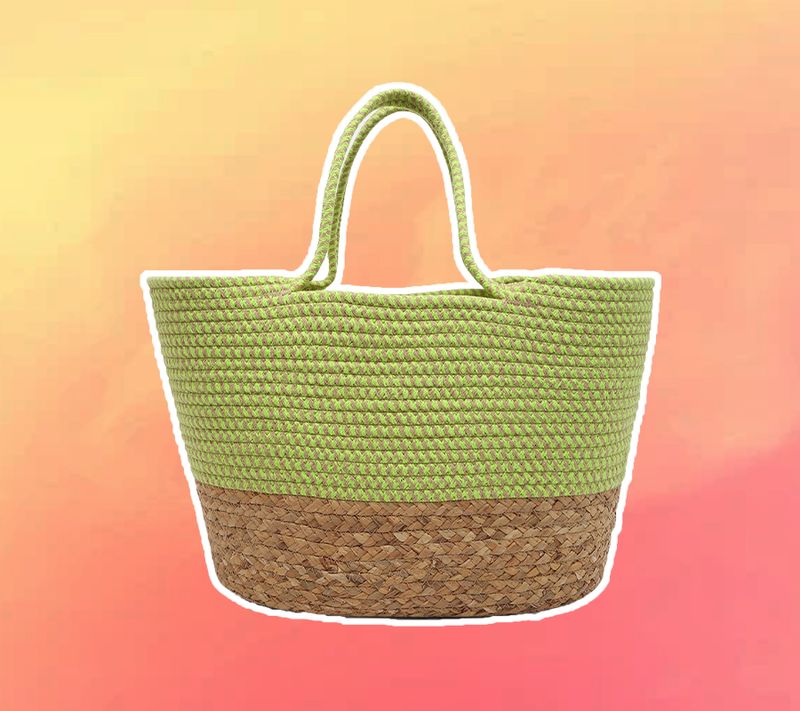 Dreaming of that perfect beach vacay? Then seal the deal with this half cane and half fabric bag by Vero Moda that can store everything from sunscreen to a beach towel and snacks.
5. LOV Navy and Blue Patterned Tote Bag by Westside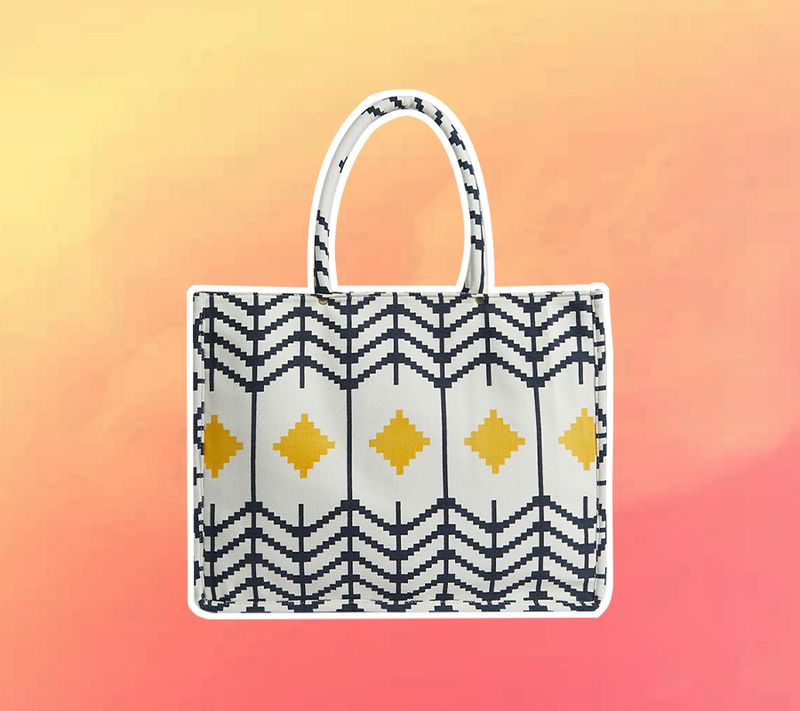 Make way for this sophisticated LOV navy and blue pattern tote bag by Westside. It is a box-style bag with a single compartment and a top handle. The 100 per cent cotton bag features an urbane design in navy blue and yellow on white on the exterior for a contemporary look. 
6. Beige Textured Oversized Tote Bag by Twenty Dresses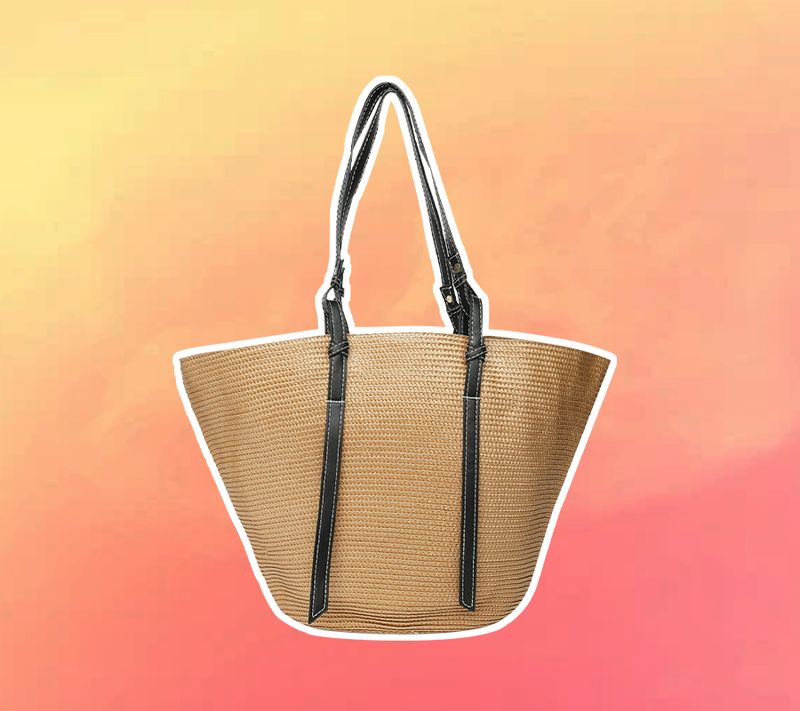 An oversized bag with woven detailing? Say no more! Here's a beige textured tote bag by Twenty Dresses. It is rectangular in shape and features two shoulder straps. Pair it with a vibrant beach coverup and you're ready for a fun day at the beach.  
7. Colour-blocked shopper tote bag by Ginger 
It may not seem like it, but this Ginger colour-blocked shopper by Lifestyle Stores is one spacious bag that can fit your beach essentials. Available in beige colour with hints of brown and yellow, this shopper has twin handles and a zipper closure. 
8. Fringed Shopper by H&M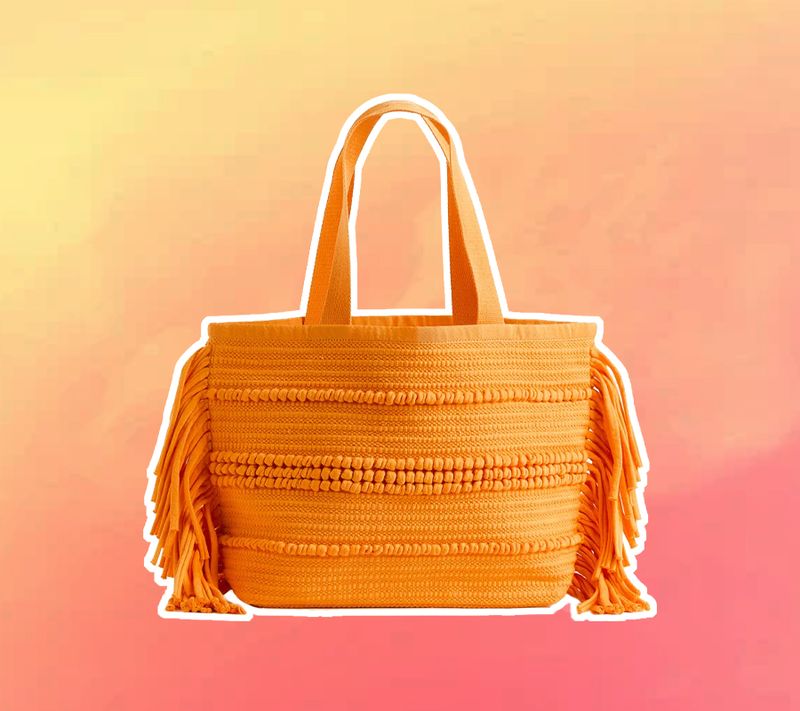 This designer-looking orange fringed shopper bag by H&M comes with an off-white lining inside for extra durability. A large carryall that can be folded, this bag doubles up as a fashion statement for the beach. 
9. Groove A Little Carry-All Tote Bag by EcoRight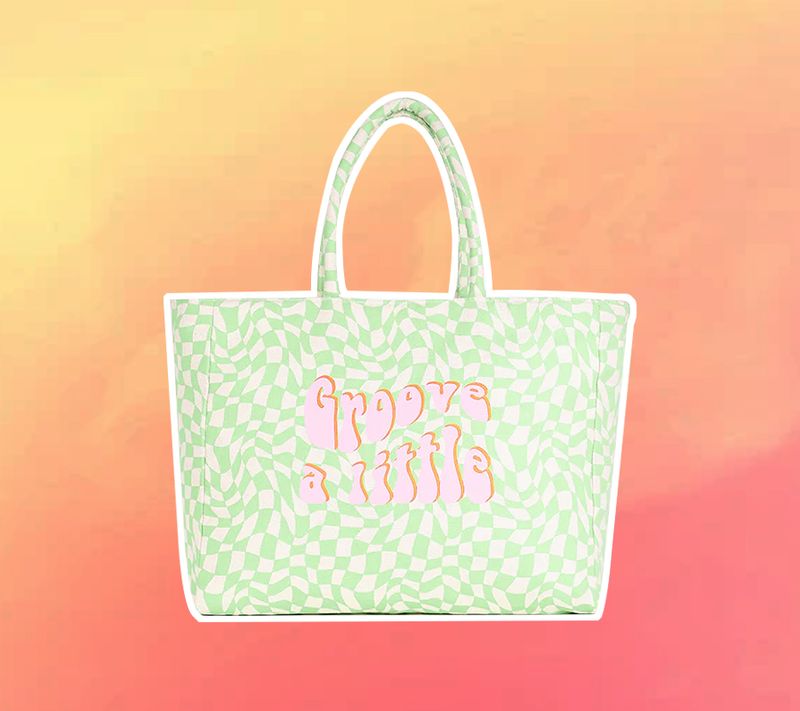 You must groove a little sometimes, especially when you're at the beach. And this EcoRight carryall tote bag sends out the message loud and clear! It's made using 100 per cent organic cotton and features three compartments, 1 zipper inner pocket, and an overall zip closure. 
10. Embroidered Tote Bag by Zara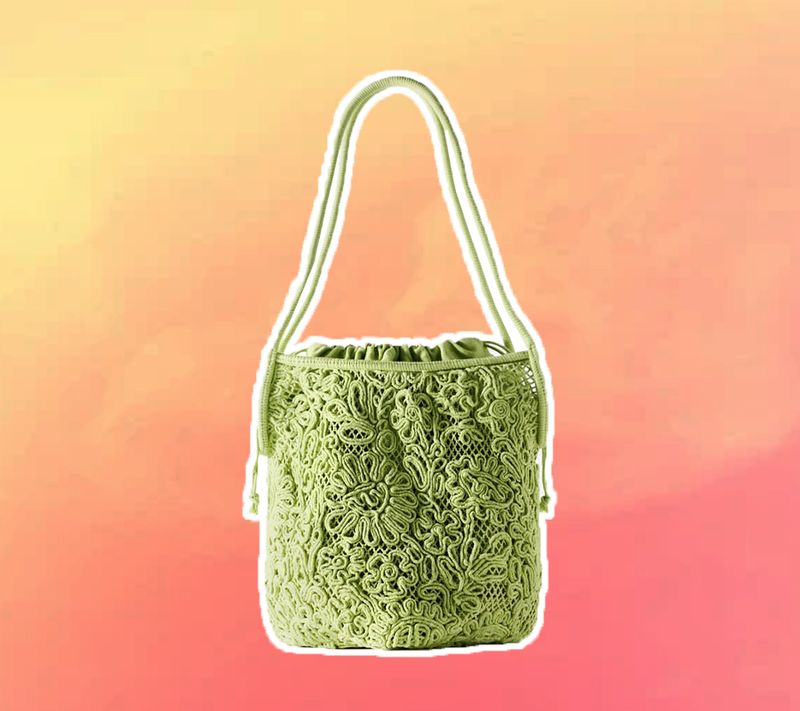 Up your beach style game with this Zara cotton tote bag with die-cut fabric and embroidery. Also available in pink colour, it has mid-length shoulder straps, and its inner bag boasts a gathered closure. 
11. Nallon Women's Tote by Lavie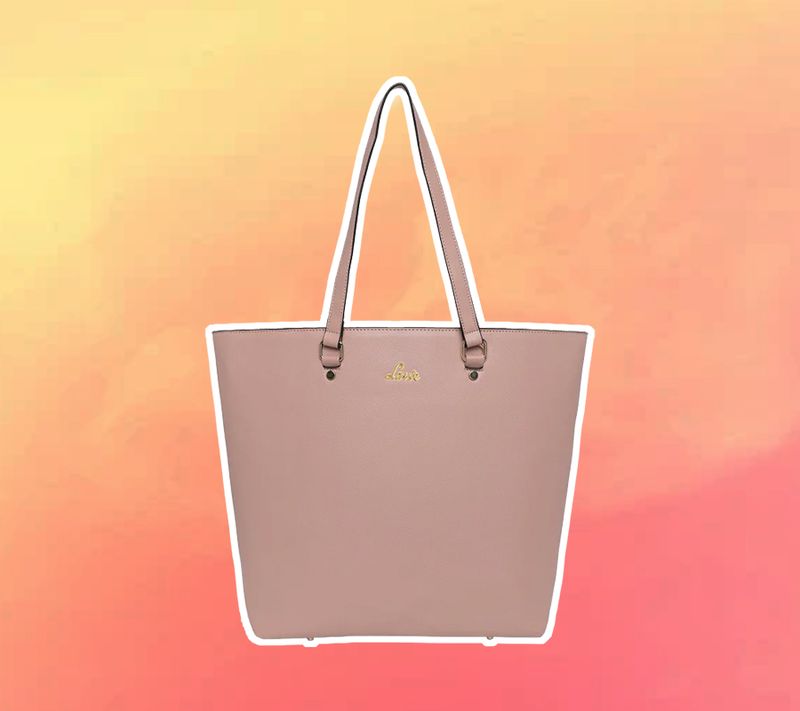 If you're looking for a simple black tote bag, here's one by Lavie that will ensure you get more bang for your buck. It has a pebble texture on the outside and multi-utility pockets on the inside. This large bag is also available in three more colour options including pink, brown, and white. 
---
Photo: Featured brands