Inspired by India's rich cultural heritage and driven by fashion designer Aneeth Arora's passion for everything handmade, New Delhi-based Péro marks a milestone of 14 years this month. 'Péro', which means 'to wear' in Marwari language was launched by the media-shy designer in 2008, post her education at the Indian Institute of Fashion Technology and National Institute of Design in India. 
Ever since, Aneeth has been personifying beauty, elegance, and romance through her unconventional, thoughtfully crafted designs using traditional Indian methods such as dyeing, weaving, and embroidery. And simultaneously striking a balance between traditional and trendy. Take, for instance, her spring-summer 2023 collection Forget-Me-Not, inspired by daisies and forget-me-not flowers. It comprises tiered dresses, skirts, coats, and jersey tops in bright, summery shades of yellow, blue, and white; and the ensembles feature a combination of techniques like crochet, beadwork, applique, cutwork, and schiffli. Over the years, Péro has branched out to create collections for men, kids, and even homes.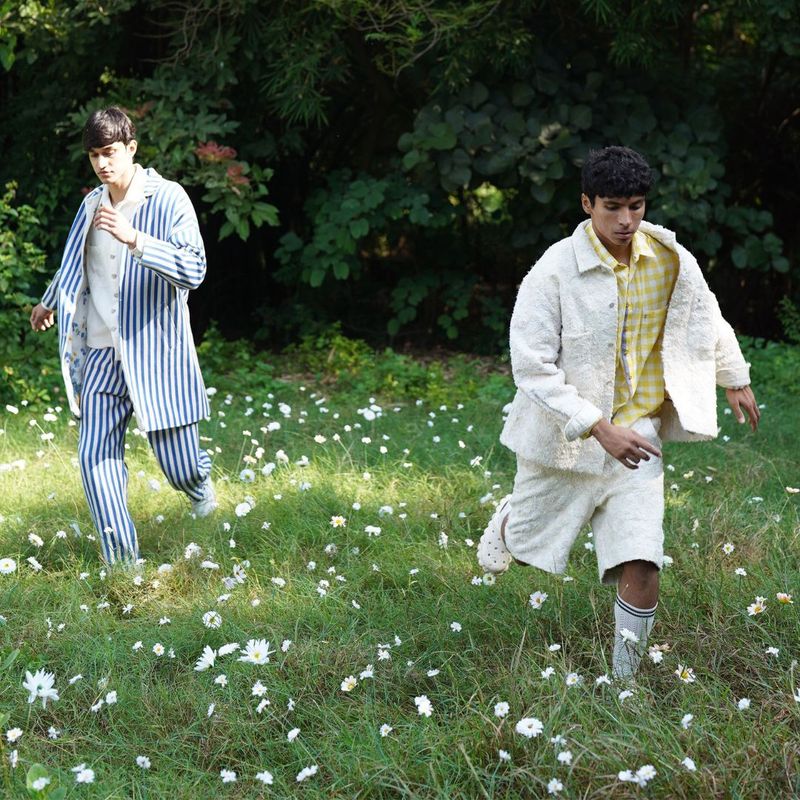 The brand's USP – craftsmanship (and understanding of the ancient local textile traditions) – is a big seller for Péro, not just in India but also in international markets including Europe, the United States, and Japan to name a few. What has also been a game-changer is their focus on textile upcycling, in addition to their craft-based aesthetics. It has found fans and patrons in the likes of Kangana Ranaut, Kareena Kapoor Khan, Anushka Sharma, Sonam Kapoor, Jim Sarbh, and Fatima Sana Shaikh.  
In a free-wheeling chat with Zee Zest, Aneeth talks about Péro turning 14, her romance with florals, designers who inspire her, and the road ahead.  
Read the edited excerpts below:  
Pero completes 14 years this month. What have been your key learnings over the years?   
It's not about these landmarks, but yeah, every day is a lesson. We've seen the brand evolve from what we were doing 14 years back to now. It's just that everything has become extensive.  
Back when we started, we would work with two-three different techniques in a season, and today there are so many more. I think the evolution of the brand in terms of the techniques we use is something that I feel is an achievement. Also, in terms of understanding different people and brands, and collaborating. It's only going from strength to strength, and we are learning how to work with different people – from our craftspeople to other brands that we collaborate with. So, that's another learning that we've had in all these years.   
Personally, I have learnt that nothing is impossible. And that we can make things possible with the right team, and that makes me value the people who work with me. Most of whom, we are associated with till date.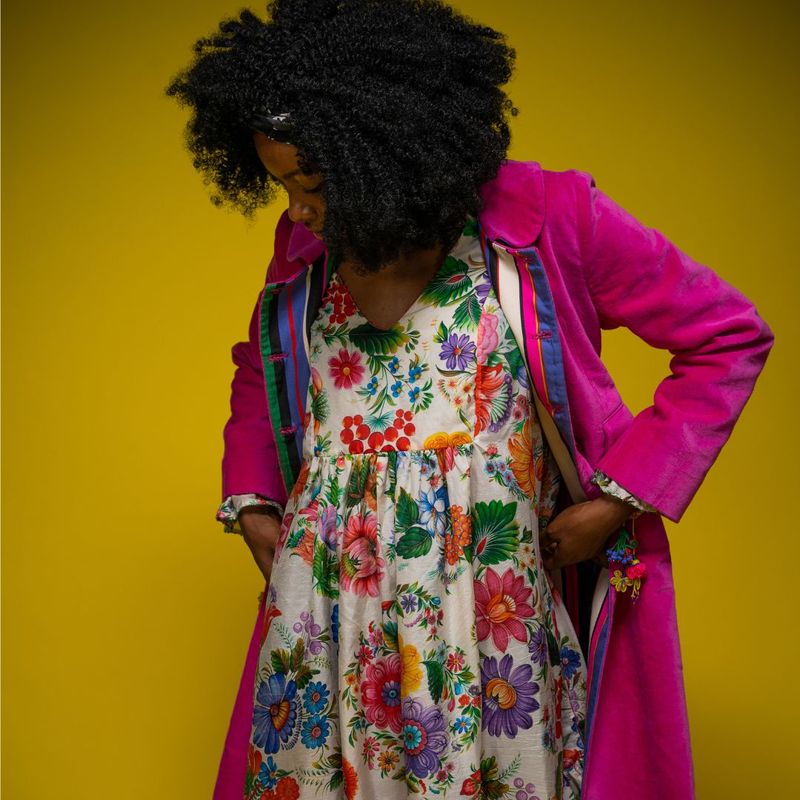 When did your tryst with everything handmade begin?  
It started even before Péro was launched. I am a fashion student and was fortunate enough to get hands-on experience with craftspeople in the villages. When you spend time with those people, who do everything by hand, when you witness their hard work, the time that goes into making a piece, that's when you realise what makes those pieces unique.   
So, from day one, I was in love with everything handmade, and it was a conscious attempt to make the fabric before making the clothing and doing the handwork. The core of Péro is handmade. I understand that handmade is a luxury and is not something that everyone can afford.   
What drives you to design today?  
I think it's the love and appreciation we get from people who wear Péro and acknowledge the hard work put into making those pieces. They are those happy wearers, their smiling faces, and love notes that we get, which motivate me to keep creating daily.   
Who are the designers, Indian or international, that inspire you? 
I am drawn a lot towards Japanese aesthetics. I appreciate and respect the design sensibilities of designers Yuji Yamamoto and Issey Miyake from the international scene. And, in India, I think no one does it better than the people in the remote villages of our country. I don't think anyone is as effortless as they are.  
The dominance of flowers in your collections is evident. What is it about florals that work for you, and is it a conscious effort?   
I think it's important for the wearer to feel happy in their clothing, and I have rarely come across people who don't like flowers. Also, there are so many flowers around us that we don't even know about. There's no dearth of inspiration. Even if we decide to pick one or two flowers every season, there is enough to work on. So, I think, this is why we always keep going back to flora and fauna for inspiration.  
In a past interview, you mentioned that you don't prefer to wear floral. So, what's Aneeth Arora's personal style like?   
I dress up in a uniform daily while I am thinking about clothing for the whole world, the whole day. I don't like spending too much time thinking about what to wear, what not to wear. So, I have a set uniform – you could call it my workwear, which features a basic t-shirt and pairs of denims and sneakers. I will have the same type of t-shirt in five different colours and that's what I'm dressed in, always.  
Péro loves upcycling, which we've noticed from the past seasons. Do you see upcycling taking over the fast-fashion landscape and possibly ending up on the High Street?  
I think it's already happening. In fact, if you see in India, the concept of using, reusing, and upcycling has been there for generations. A simple example of it is Indians turning old clothes into quilts. For us, at Péro, it also started long back. From the first or second season onwards, we started upcycling denim jackets that we found at a flea market in UP. Then we adopted 500 trench coats, from a warehouse that was shutting, to upcycle. So the concept is close to our hearts.  
And if you ask me if it's going to become high fashion, I think it's already there. You can see people in the streets of Paris and Japan, that is how people there are dressing these days. I would not call upcycling a trend because it has always existed, it never went away, and it is here to stay.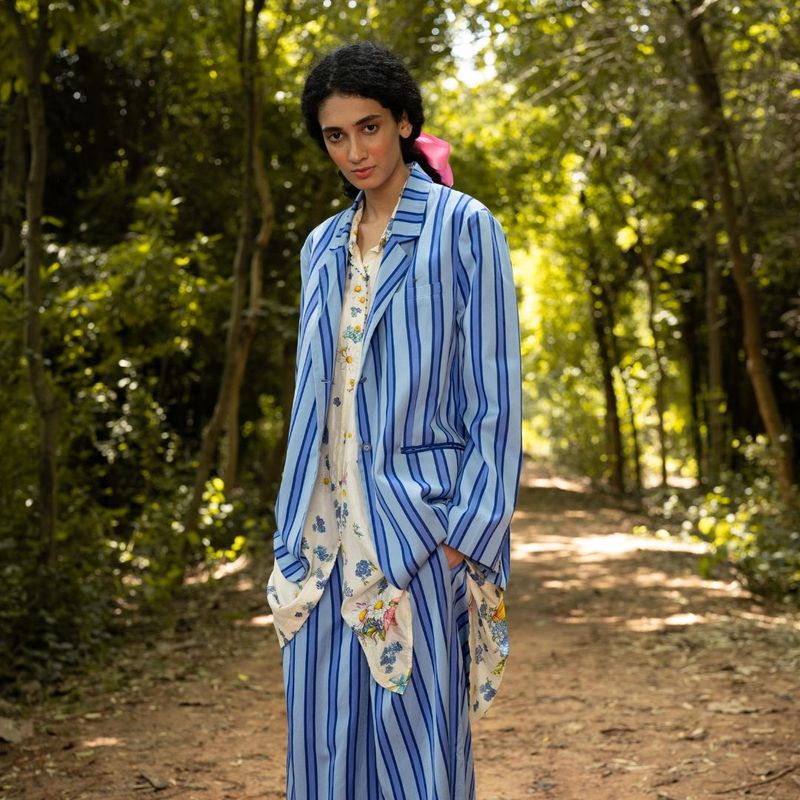 What are your forthcoming plans for Péro?  
We've already finished making fabrics for spring-summer 2024 and we are looking at fall-winter 2024 fabrics. We are also seriously working on our homes launch, which will happen in Paris. We had already showcased a season of it. We are also looking at menswear, to showcase it in different cities.  
---
Photo: Pero