There are two types of people. Those who love to track their spending and look at what they are spending on and the others who find it to be a stressful chore. Though it is a common desire to start spending judiciously, not everyone has the discipline when it comes to maintaining a budget or managing expenses. But if you are one of those who wants to keep track of where your money is being spent, and want it done easily, there are various apps that can do the hard work of organising your spending for you. At just a glance, you can see where your money is going and how much funds are coming in. 
But with so many different apps on the market, it can be hard to know which one is the best. We have zeroed down on some crowd-pleasers based on their features:
Money Manager
This is a highly visual app and a great one for beginners. It tracks your income and expenses and also allows you to add photos to entries, which is handy if you need to provide receipts for work. The app only supports manual entries so you don't end up giving any third-party companies access to your financial details. Definitely a plus for those who appreciate privacy. The app provides in-depth analysis of your income and expenses using pie charts and line graphs that are easy to follow. While the free version is limited to 10 accounts, a paid version unlocks additional features such as access from a laptop, zero ads and the ability to link up to 10 accounts.  
Available on: Both iOS and Android.
Mint
This highly-rated app syncs with your bank accounts, credit cards and investments to track your income, purchases and savings. The best part is the bill payment reminders, customised alerts when you're over budget and a credit monitoring service. Mint will also send alerts if you're being charged an ATM fee, going over budget or if there's been a large or suspicious transaction on your account. The app also shows users their credit score and net worth. Mint's user interface is simple and easy to navigate. If you are worried about safety, Mint uses VeriSign for transferring data and multi-factor authentication for accessing your account. The app will require a 4-digit code to view your account or Touch ID. 
Available on: iOS and Android 
Wallet
This money managing app with clean graphics, straightforward menus and options gives you quick and easy insights into your spending pattern. Every time you spend money, you can add a transaction into the app and categorise it accordingly. Categories include, among others, food and drink, shopping, entertainment, travel, housing and communication. Each category has a list of subcategories and can be personalised. You can even set a budget for a specific account or category and Wallet will notify you when you go beyond it. There is a paid version (Wallet Premium) also but features such as dark mode and a security pin for your data are included in the free version. You can use the desktop version if you prefer to tackle your finances on a laptop. The budgeting features and ability to handle multiple currencies are big plus points.
Walnut
Here's a personal finance app that helps track spending across various categories, sets reminders for bill payments, makes charts for easy visualisation and even tracks expenses via SMS. Then it prepares intuitive dashboards and reports that show how much you spend over a period of time and where. It also allows you to transfer money to friends and relatives without account details or IFSC codes. You can transfer using a debit card number. There's more. The app even splits money and settles accounts with friends.
Available on: Android and iOS (Do note that the Android version has more features as compared to the iOS version). 
Expense Manager
This money management app sets up and tracks weekly, monthly and annual budgets. The spending is categorised and limits set on expenditure. The app also generates reports in different formats like xls and pdf. You can backup data on an SD card, upload it to Google Drive or Dropbox. Common but essential tools such as currency converter and basic calculator come inbuilt. The app is free though there is an ad-free paid version too. 
Available on: iOS and Android.
Basis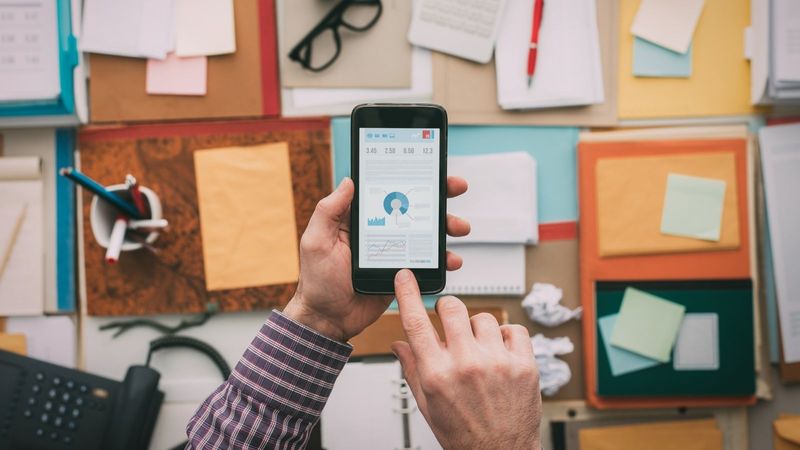 While this new entrant in the market doesn't assist you to keep a check on your expenses it helps you to manage and plan your finances better. For instance, if you want to plan for your retirement, the platform has a calculator indicating the funds you will require to retire comfortably. It also recommends the best fit financial products (on the basis of funds available) that could help you earn good returns. It's especially designed for women with curated financial recommendations and products that work for them. The plus points include simplicity, jargon-free content on managing money and planning tools powered by Basis' own gender-intelligent algorithms. 
Available on: IOS & Android. Can also be accessed on the website.
Moneyfy
If you are looking for an app with a good visual interface and easy to use features, Moneyfy is the right choice. It comes with a journal style data entry feature wherein you can add a line item each time you spend money. Security features such as Face ID and Touch ID make it safe to use. It also allows you to sync data across devices, if you have aDropbox account. Colourful pie chart for both expenses and income make it easier to track where most of your money is going. While the free version lets you back up data and set a monthly budget, the premium version will additionally let you apply a dark theme, use the password protection feature and add more expense and income categories.  
Available on: IOS & Android 
Goodbudget 
This is a good app for those searching for a simple way to save money. It relies on the envelope method wherein you set aside one envelope each for expenses such as rent, food, bills and entertainment. Multiple people in the house can use and simultaneously set and track a household budget. This way, you're not the only one responsible for household budgeting. It's also versatile and works on multiple platforms including mobile, tablet and desktop devices. Goodbudget comes in a free version with 20 budget envelopes and a Plus version that gives you unlimited envelopes.
Available on: iOS and Android.
Whichever money managing app you choose, do ensure that it's developed by a reliable company so that your data is safe and you can expect regular feature updates and security patches. And lastly check out the reviews of the app before installing it. This will give you an insight of the positive and negative aspects of the app, which will help you decide if it is the right one for your needs.
---
Photo: Canva and Featured Apps