When you have the luxury of a terrace with your home, it demands to be decorated. With the right terrace garden decoration ideas, you can set up your very own outdoor haven complete with natural elements that create the perfect vibe for relaxation. You can go with simple terrace garden ideas or go all-out and build a mini garden for your home. Based on your budget and preferences, you can get an artificial grass carpet that will give your terrace the appearance of a lawn. You could also add aesthetic appeal with wooden tiles for a more rustic look. Once it's ready, you won't get enough of spending leisure time in your terrace garden. The natural light, fresh air, greens, flowers and perhaps a good view will be enough to have a calming effect on your mind. So, here are some tips and terrace garden decoration ideas for your home.  
1. Invest in garden accessories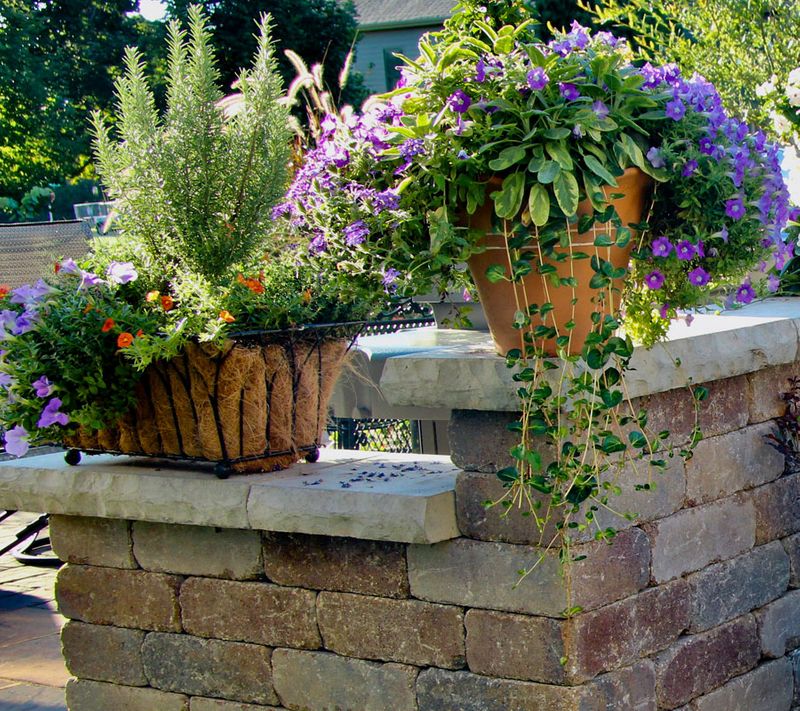 Instal a shelf for potted plants to use the vertical space or get hanging flower pots. If you're creating a garden on your balcony, you can use ornamental hanging flowerpots and carriers to grow different herbs and flowers. You could even start your own veggie garden. Place a small outdoor table with chairs where you can sit and enjoy the outdoors while reading the newspaper or a book and sipping your cuppa. You could also invest in outdoor decorations like statues, lanterns and candelabra.
2. Glitz it up with the right lighting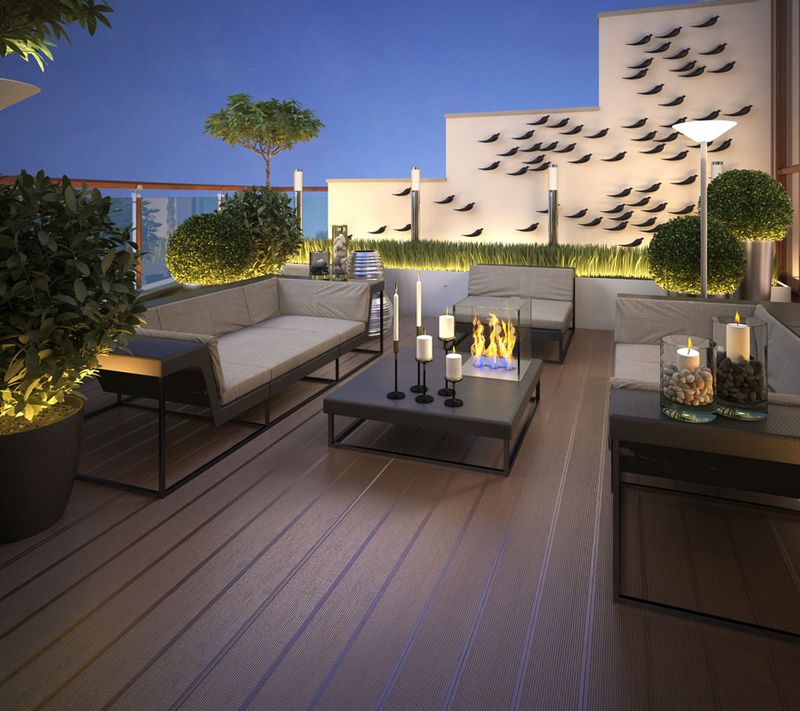 The right lighting can completely transform a space. Setting the mood has a lot to do with selecting the proper lighting. Create a fun vibe in your terrace garden with string or fairy lights. They will make every day feel like a festival. They're also perfect for when you want to create a setup for a romantic meal or a house party. A bunch of fairy or string lights provide just the right amount of illumination you would need, allowing you to take advantage of the nighttime view. You could also add a small lantern and a few candles for some more ambient lighting.
3. Use brightly coloured pots
If you like all things colourful and vibrant, don't forget to get some brightly coloured pots for your terrace garden. You could even take up a DIY project and make your own. The bright pots, along with the greenery and flowers of your garden, will make a sight no less than a painting. Make sure they are properly positioned and well maintained. A net across your balcony or terrace will help to keep flies and birds away from your garden.
4. Create a chill zone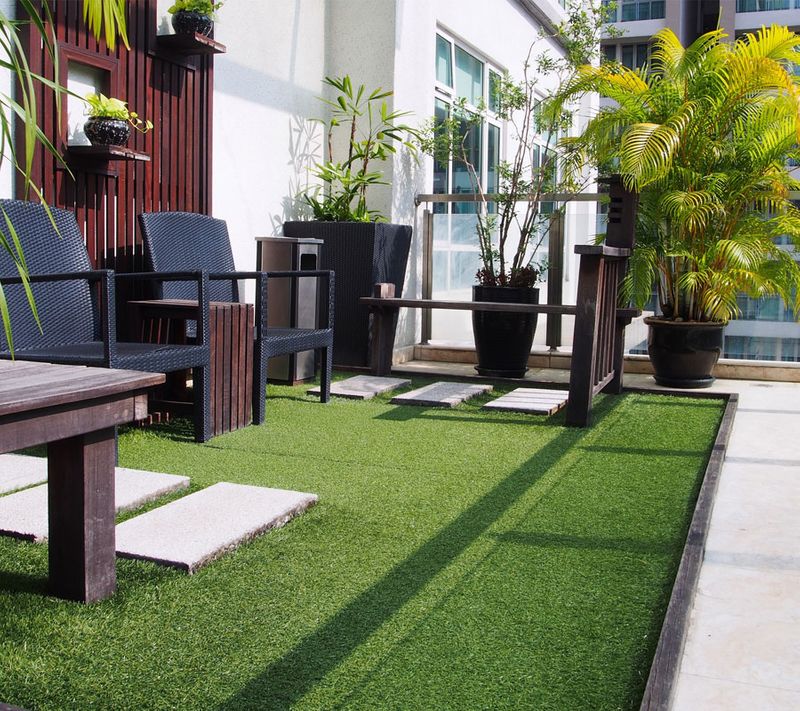 You can even turn your terrace garden into a pretty little cafe! All you need is an attractive tablecloth for the outdoor table and add a vase while you're at it. To create a more laid back seating arrangement, you could place some floor pillows and a blanket to make your terrace garden more personal. Some bamboo seats and mats will make it the ultimate place for relaxation.
5. Add a central focus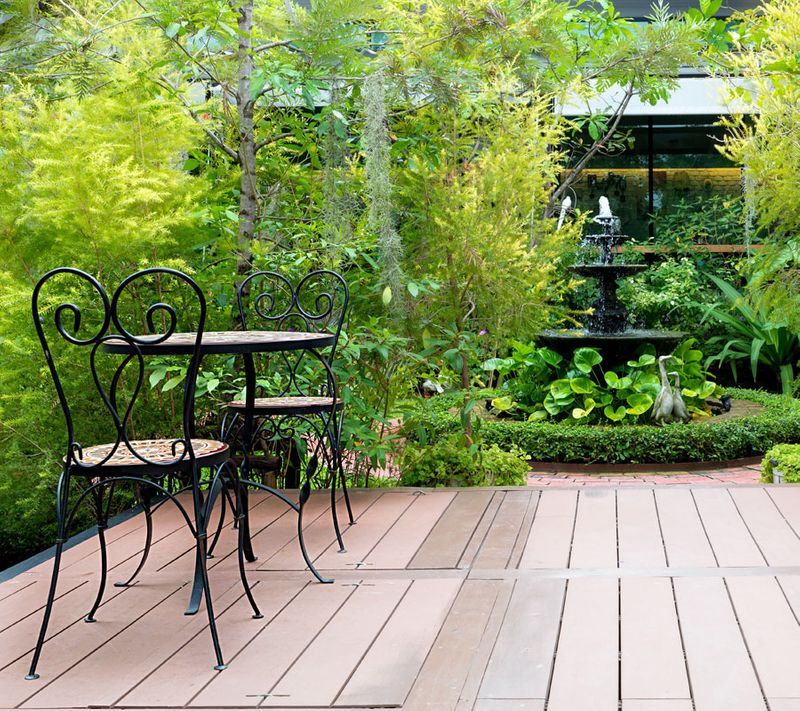 If you'd like to go with a more minimalist theme, complement it with a statement piece that works as the central focus of your garden. Go with plants all around and balance it with a simple metal table and chair set or add a swing! If the space and budget allow, you could also consider installing a water fountain.
There are several ways to decorate a terrace garden without needing to make major structural changes. To make the most of terrace garden decoration ideas, all you need to do is select the right plants, accessories, outdoor furniture and lights and work with the space and layout you have available.
---
Photo: Shutterstock