In October 2019, Dindigul Thalappakatti Hotels (of Dindugal Thalapakatti Biryani fame) raised Rs 260 crore via private equity in one of the biggest deals in the Indian restaurant chain space. The chain that operates over 60 restaurants across South India and overseas has become a poster boy of sorts for Dindigul biryani. In the process, it's eclipsed another iconic biryani as Tamil Nadu's best-known biryani, especially outside the state—Ambur biryani.
A biryani from a hub of leather goods
As a school kid in Don Bosco (Egmore) Chennai, the Ambur-style biryani was one of the first dishes that sparked my curiosity in food and probably the first dish that I deemed worthy of trading the contents of my lunch box. I still remember the aromas from my friends' lunchboxes—an aroma I still get to relive thanks to frequent meet-ups and alumni get-togethers with the same friends.
Ambur, a busy manufacturing centre lies halfway between Chennai and Bengaluru on the NH48. For decades it was best known as one of India's hubs for high-quality leather goods. Over the years, Ambur's biryani has gained popularity, especially in Bengaluru and Chennai.
Almost a century old
The story of Ambur biryani can be traced back to the Mughal kitchens. The Nawabs of Arcot (established by Mughal emperor Aurangzeb) who ruled the Carnatic region of South India mainly in the 18th century used Arcot (near Ambur) as their base and it's in these kitchens that the Ambur biryani saga began.
It wasn't always called Ambur biryani, for decades this was Arcot biryani but many of Ambur's legendary eateries can take credit for this change in nomenclature. Hasin Baig is a legend of sorts in Ambur. He was a cook in the kitchens of the Arcot Nawab before setting up Ambur Star Briyani (that's how they spell biryani) in his hometown Ambur.
It's grown to become a powerful brand more than a century later and is now helmed by Muneer Ahmed and Naseer Ahmed, direct descendants of Hasin Baig. It has also sparked a bunch of clones, creating confusion in the mind of any visitor or gourmand who visits Ambur for a plate of the real deal. Some of my friends in Ambur prefer the slightly nondescript Rahmaniya hotel, one of the three establishments that Star Briyani manages in Ambur. But that's not the best place in town for Ambur biryani.
Behind the making of Ambur biryani
Most locals will concur that its homes and weddings that serve the best biryani in town. I spoke to Mukarram who has been cooking at Ambur weddings for a few years and believes it's the unique cooking style. The rice and meat are cooked separately before bringing them together in a covered vessel in the traditional 'dum' style. This is a contrast to the more popular kachi gosht biryani in Hyderabad. What's interesting is that both the long grain basmati rice and the short grain seeraga samba (used in Dindigul biryani) are used. Ambur biryani might be synonymous with mutton but a chicken version is not uncommon.
My search for the best restaurant version of the Ambur biryani led me 15 km from Ambur to the neighbouring town of Vaniyambadi. This town also has a hallowed reputation for biryani, something that my meal at Kaja restaurant vindicated. Ironically the best restaurant version of the rice recipe is actually in Vaniyambadi. Ambur Biryani might be spicier than its Lucknowi counterpart and yet it's usually eaten with kathirikai pachadi (locals also call this khattay baingan), a spicy accompaniment made with aubergine.
Many wedding caterers in Chennai who also have roots in the Arcot region make terrific biryani. The original Ya Mohideen biryani in Pallavaram and some outlets of Buhari (where the Chicken 65 was originally invented) serve a reasonably good version of the Ambur or Arcot biryani in Chennai too. But nothing quite beats an Ambur biryani at a local wedding.
Ambur biryani recipe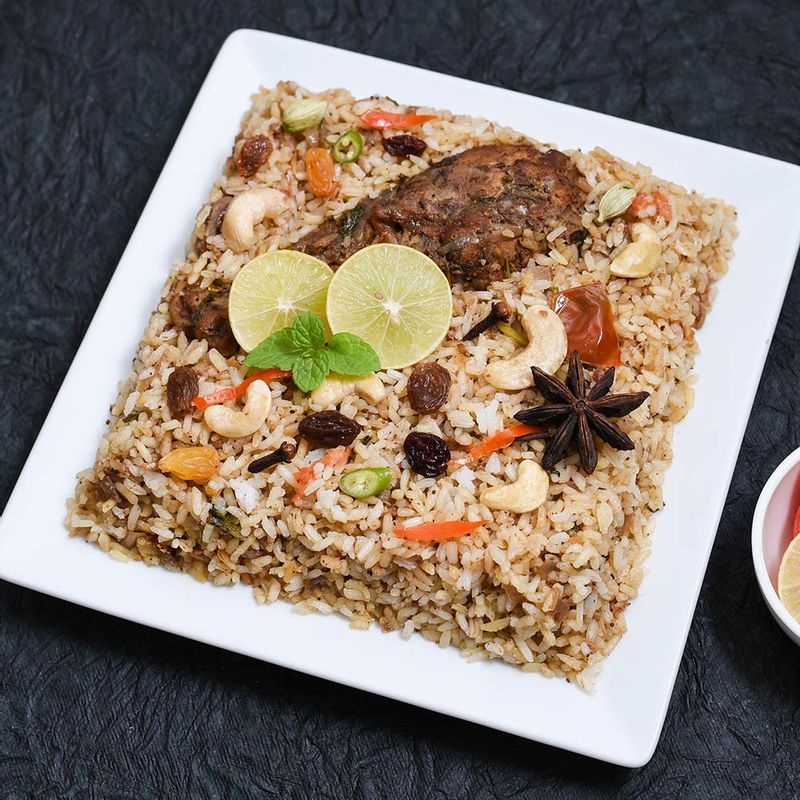 Ingredients
1 kg Rice (Basmati or Seeraga Samba)
1 kg mutton (Chopped)
200 ml refined oil
2 tablespoons of ghee
50 gm curd
300 gm tomato (finely chopped)
400 gm onion (finely chopped)
2 sticks of cinnamon
4 pods of cardamom
4 cloves
A small bunch of coriander
A small bunch of mint leaves
½ lemon
2 green chillies
1 teaspoon chilli powder
100 gm of garlic (peeled and pounded into a paste)
80 gm of ginger (pounded)
Salt to taste
Method
Fry the spices in the oil and gradually add half the onions to the oil.

Add the garlic, then the ginger paste and then the red chilli powder

Add the mutton, the salt, the tomatoes and then add the remaining onions

Add the green chillies, curd and squeeze half the lemon.

Fry it for a few minutes adding a little water and then pressure cook this (the korma) for about 20 minutes.

Cook the rice for about five minutes in a separate vessel and then drain the excess water.

Bring the kurma and the rice together in a cooking vessel

Add the finely chopped coriander, mint leaves and salt (to taste).

Sprinkle the ghee as you layer the rice and the kurma

Cover the vessel with a thin cloth and cook on a low flame for about 10 minutes in 'dum style'. You could place a larger vessel with water under this vessel as a precaution (to ensure the Ambur biryani doesn't stick to the vessel).
---
Photo: Shutterstock