When it's blistering hot outside, you need a drink that can cool you off— and watermelon juice can do the trick. Watermelon juice is typically made from just two ingredients: watermelon pulp and black salt. It packs in many essential nutrients like vitamins, minerals, and organic compounds that have tonnes of health benefits.
So, this summer, ditch aerated drinks and have a chilled refreshing watermelon juice. Here's the recipe for the quintessential summer drink inspired by renowned chef Kunal Kapur.
Watermelon juice recipe
Ingredients
1 watermelon

Fresh ginger

A handful of raw mango slices

7-8 cucumber slices

1 tbsp sugar

Salt as per taste

A pinch of pepper powder

Few springs of mint leaves
Method:
Slice the watermelon into two equal halves. Remove the watermelon rind and seeds with a knife. Then, cut the fruit into cube size and store the seedless watermelon in the fridge for about three hours. 

Add the chilled watermelon cubes, ginger, raw mango, cucumber, salt, sugar, pepper, and mint leaves into a mixer-grinder. Blend it for 12-15 seconds. 

Then pour the mixture through a strainer and squeeze to get as much liquid as possible. 

Transfer the juice into a pitcher, add some black salt, and your refreshing watermelon juice is ready to be served.
You can also add exotic fruits like raspberry, blueberries, strawberries, and make a watermelon mocktail.
How and when to have watermelon juice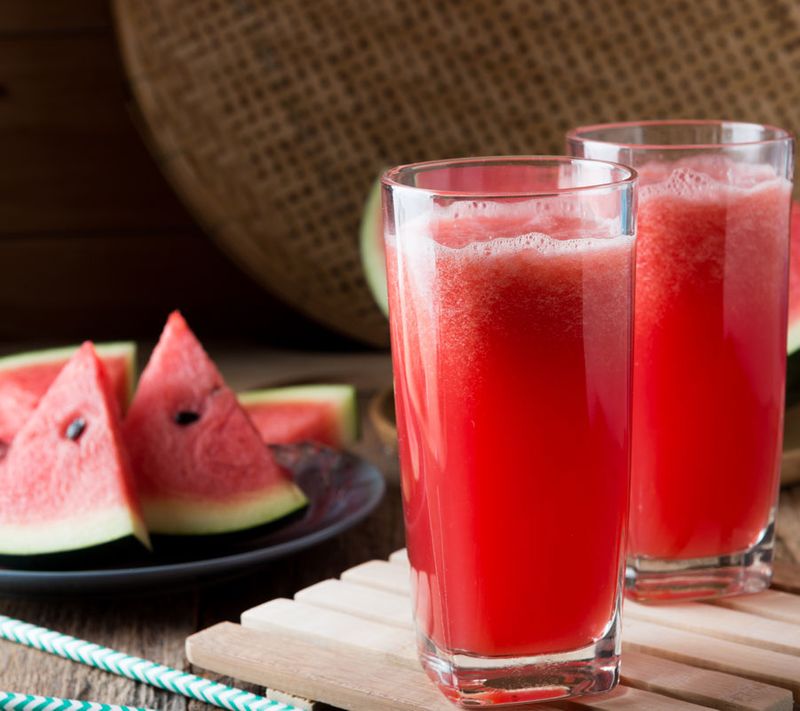 Watermelon juice is packed with many vitamins, nutrients, and antioxidants that replenish your body. Therefore, the juice can be taken at any time of the day. However, having a fresh glass of watermelon juice in the morning will be a great start to the day.
You can also have the juice with a snack or serve it to friends during a game night. Furthermore, you can also mix coconut water or orange juice with the watermelon juice, or make watermelon juice popsicles.
Benefits of having watermelon juice
Watermelon juice has vitamin A, vitamin B6, and vitamin C. It is also packed with minerals like calcium, magnesium, potassium, antioxidants, and amino acids. Here are all the health benefits of watermelon juice:
1. Improves digestion
Watermelons are considered a home remedy for constipation because they contain fibre and water. It is also considered a cleanser for the digestive tract. So, instead of having plain water, eat the fruit or drink watermelon juice this summer to improve your digestion.
2. Hydrates your body
Watermelon contains 92% water, and that's why this fruit is widely consumed during the summer. A glass of watermelon juice will offer hydration with electrolytes and water.
3. Lowers inflammation
Watermelon has vitamin C and lycopene, both of which have anti-inflammatory properties. Hence, having watermelon juice can lower inflammation in your body. 
---
Photo: Shutterstock