Ganesh Chaturthi is a joyous festival filled with dancing, indulging in delectable sweets, and creating cherished memories with loved ones. Amidst the plethora of delicacies enjoyed during this festive season, modaks hold a special place as Lord Ganpati's favourite treat. With their various sizes and enticing varieties, modaks are an integral part of the Ganpati festival experience. It is often believed that the festival remains incomplete without relishing these delightful sweets. Let us guide you through a delightful journey of discovering numerous equally delicious variations of modaks, making your festival even more enjoyable.
Celebrate the arrival of lord Ganpati with these delightful modaks
1. Steamed Modak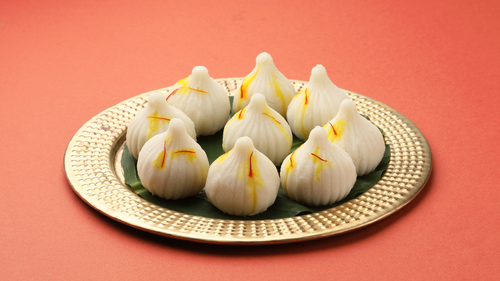 Maybe the most commonly known variety of modak, these steamed modaks, also called Ukadiche Modak can be found in almost every household, temple and sweet shop during the Ganpati festival. A famous traditional Maharashtrian variety of modak, these steamed modaks are scrumptiously so soft when ready to be eaten that they will melt in your mouth. Filled with the most amazing filling of coconut, nuts, etc., these modaks are a perfect balance of taste and different textures.
2. Fried Modak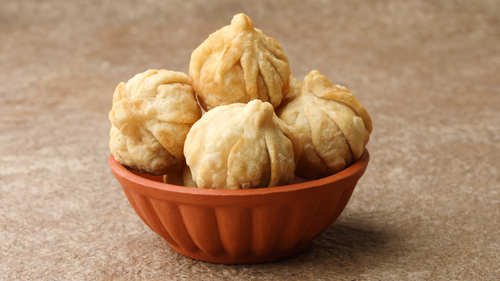 A fried version of modak, this variety is easier to make if you want to try your hand at modak making. Even if you just want to taste these modaks, you are in for a treat. Filled with a delicious filling of coconut and jaggery, thus providing a perfect level of sweetness, the outer layer adds to the taste by providing a great crunchy texture. These not-too-sweet modaks are the perfect version to try for people who do not have much of a sweet tooth.
3. Chocolate Modak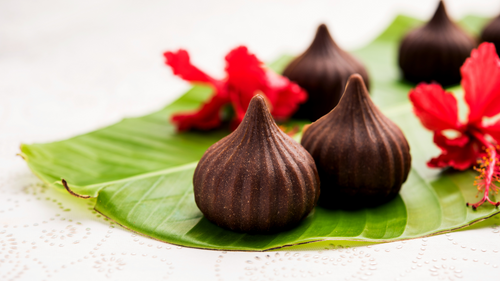 Chocolate modaks might be the easiest version to make and easily one of the tastiest to eat. These modaks are perfect for when you want to try some non-traditional varieties of modaks. Made of easy-to-find ingredients like chocolate/chocolate powder/chocolate syrup, condensed milk, etc., these modaks are also the best choice to make if you want to make some quick-to-whip-up modaks at home.
4. Khoya Modak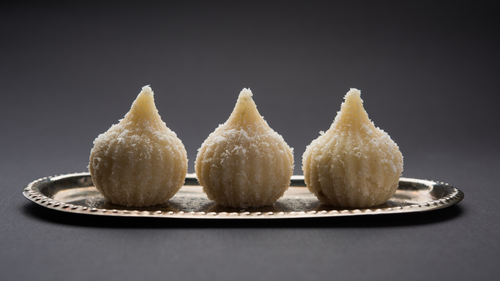 An easier version of the traditional steamed modaks, these are nowhere lacking in taste. Made of khoya with chopped dates, nuts, etc. these modaks are extremely tasty. A rich version as compared to other modaks, these decadent treats are a hot favourite of people during the Ganpati festival. Be sure to give these deliciously rich modaks a try.
5. Dry Fruit Modak
Dry fruit modaks have done a twist on the traditional version. Instead of being used as ingredients for the stuffing inside the dough of a modak, dry fruits have been incorporated in the very dough, in this fusion version. Made from dry fruits like cashews, raisins, almonds and other ingredients such as coconut, and milk to make up the dough, these are a different take on the original recipe. Refreshingly luxurious and rich in taste, be sure to give these unique modaks a taste, this Ganpati.
6. Kesar Modak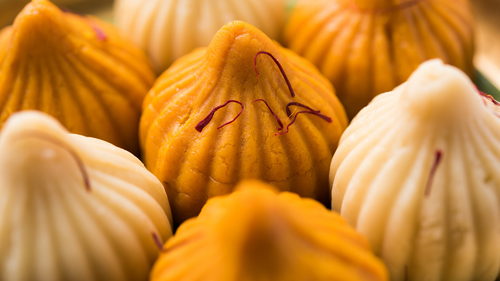 These Kesar modaks are a non-stuffed variant of the traditional sweet. Made from saffron-infused milk mixed with traditional dough, this is a different but amazing take on the modak. If you are looking to try a lighter version of modak which does not feel too heavy on eating and makes you feel stuffed, kesar modak is your best bet. Enjoy these modaks during the Ganpati festival without worrying too much about an uncomfortable, too-stuffed feeling afterwards.
7. Mango Modak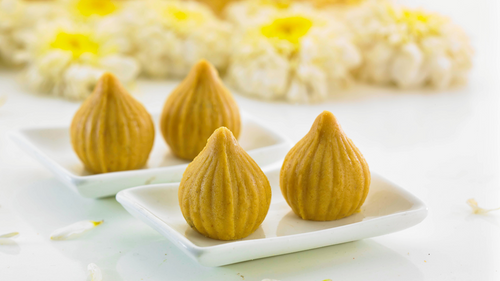 Another amazing fusion version of the traditional sweet, mango modak is mouthwateringly good. A beautiful, creamy, smooth mix of the typical ingredients but with the addition of mango pulp, these modaks will make it impossible for you to resist. These are also non-stuffed versions of modaks, but with the addition of the delicious mango pulp, you will not miss the sweet filling one bit. These are the perfect choice for all mango lovers and people with a sweet tooth.
Gourmet modaks with a fusion of tradition and innovation
Get ready for a mouthwatering twist on the classic modaks! While the timeless flavours still reign supreme, Mumbai-based gourmet mithai brands like Bombay Sweet Shop, Meethi Elaichi, Genda Phool, and more are taking modaks to a whole new level. Brace yourself for an explosion of flavours with options like the luscious pista pann modak, the irresistible cherry swirl modak, the comforting puran poli modak, and even the tempting chocolate fudge modak. These innovative creations are redefining the modak game, blending tradition with culinary artistry. Prepare your taste buds for an unforgettable gourmet experience this Ganpati season.
---
Photo: Shutterstock