Sky restaurants not only serve meals high in the air, but they also provide a culinary experience unlike any other. This is an excellent option for lunch or dinner for foodies and experimental diners. Indians can now partake in one of the most unusual and fascinating dining experiences in the world — dining in the sky! If you're always on the hunt for new concept restaurants in India, how about a sky restaurant? Add some thrill and exhilaration to your meal and dine some 100 feet above the ground. Here are some of the best hanging restaurants to check out in India.
1. Hanging Restaurant, Bengaluru
The Hanging Restaurant in Bangalore is one of India's most famous hanging restaurants. Diners in the city can enjoy delectable cuisine up in the air. This fly dining restaurant, one of India's most popular hanging restaurants, is ideal for explorers and those looking for a unique dining experience. You'll be seated in a specially made room that takes you more than 100 feet in the air, giving you a bird's eye view of India's Silicon Valley. The hanging restaurant in Bengaluru offers four time slots between 4.30 PM and 8 PM. You can either experience mocktails or a full meal in the air. Make your reservations in advance by contacting the restaurant or booking at Easemytrip.
2. Fly Dining, Noida
Fly Dining arranges dinner for its guests at a height of 160 feet. You can see the Great India Place Mall, Worlds of Wonder and the other buildings around the Gardens Galleria Mall from your table, which may accommodate up to 24 people. As thrilling as it is to be perched so far above the city with your toes in the air, this is a once-in-a-lifetime dining experience. You can make your reservation between 6 PM and 10 PM and 12 AM. Due to the limited availability of seats, make sure you reserve your place in advance. You can make your reservation at the restaurant's website.
3. Biswa Bangla Gate, Kolkata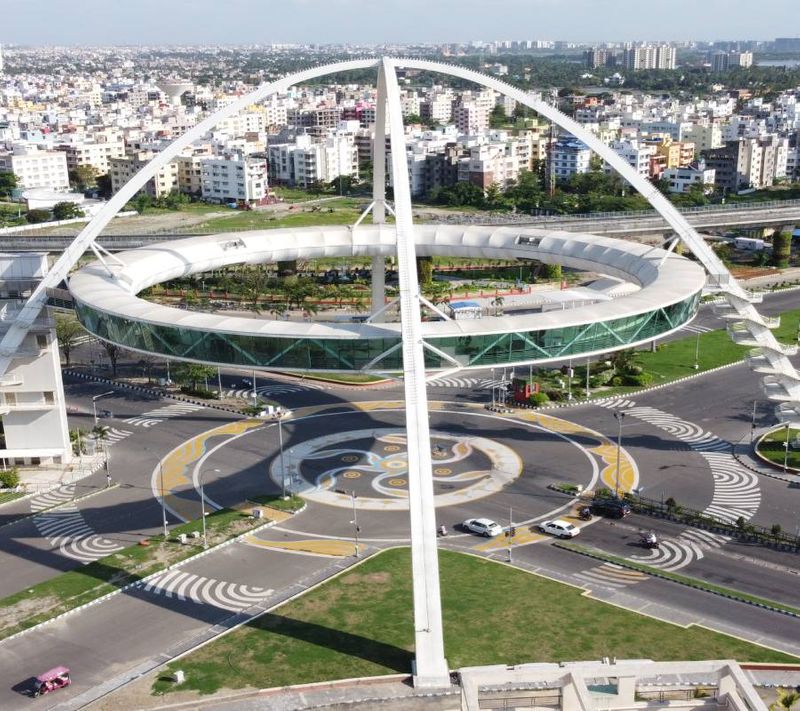 Biswa Bangla Gate is one of India's most famous and well-known hanging restaurants. The facade, which is an architectural marvel in itself, is made of reinforced glass with laminated silicone sheets that is strong enough to withstand almost all kinds of extreme weather conditions. The restaurant can seat 72 diners at a time and offers a 360-degree view of the city. The formal dining and cafeteria hours are 7 to8.30 PM and 9 to10 PM respectively. You can make your reservations in advance by contacting the restaurant directly or visiting BookMyShow.
4. Fly Dining, Goa 
Not many locations in the world allow you to dine while having an adventure, but this sky restaurant in Goa does just that. Diners are elevated above the Anjuna cliff for an aerial meal along Goa's gorgeous coastline. This is one great dining experience you won't have to haggle to have company for. You can also book the hanging restaurant for special personalised occasions like proposals, wedding anniversaries or birthdays. So, give them a ring and reserve a table in the clouds! You can make your reservations by visiting the restaurant's website.
---
Photo: Instagram/ Fly Dining Goa