Escape the sweltering heat this summer and head over to the picturesque hill station of Mahabaleshwar. Located in Maharashtra, this quaint little destination is a haven for those seeking respite from the scorching sun. With its pleasant weather and scenic beauty, Mahabaleshwar attracts visitors from all corners of the country.
But wait, there's more to Mahabaleshwar than just breathtaking views and hiking trails. The place also boasts some of the most delicious food that will tantalise your taste buds. And the best part? You don't have to break the bank to indulge in these culinary delights!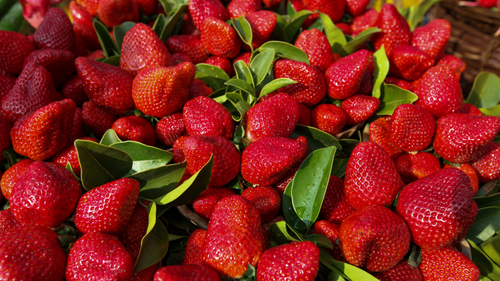 If you're planning a trip to Mahabaleshwar this summer, make sure to check out these top 9 Mahabaleshwar's famous foods that the place has to offer. From the mouth-watering strawberry cream to the delicious vada pav, there's something for everyone to savour.
Top nine Mahabaleshwar famous foods that are a must-try this summer
Whether you're a seasoned traveller or a first-timer, these local delicacies are a must-try for anyone visiting Mahabaleshwar. So, pack your bags and prepare for a feast for all your senses in this charming hill station.
1. Strawberry cream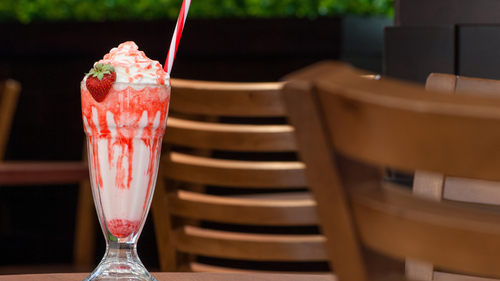 A visit to Mahabaleshwar would be a waste without indulging in Mahabaleshwar's famous fruit, luscious red strawberries. The strawberry farms in this area produce an array of berries, including mulberries and cranberries, but the strawberries hold a special place in the hearts of tourists. The vibrant fruits are easily accessible everywhere, from the Mahabaleshwar Market to the scenic Venna Lake. However, if you haven't tasted the exquisite strawberry cream, you're missing out on a heavenly experience. Imagine a perfect blend of fresh Mahabaleshwar fruit, creamy ice cream, and fluffy whipped cream melting in your mouth on a hot summer day. This dessert is a must-try delicacy in Mahabaleshwar, and it's easy to see why.
Best places to get it: Apart from the Strawberry Den and Mapro Garden, Bagicha Corner serves the best strawberry cream in Mahabaleshwar.
Approximate cost: INR 120-300 per person.
2. Corn delicacies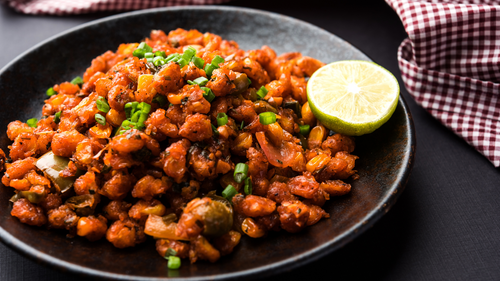 If you're visiting Mahabaleshwar, you can't miss out on one of the specialities of Mahabaleshwar - flame-roasted corn on the cob. With a generous sprinkle of salt and fiery red chilli powder, this delicious snack is finished off with a squeeze of tangy lime juice. The sweet corn masala is an absolute must-try for those who prefer their corn with a little more spice. Boiled sweet corn spiced with local masala is the perfect heat to satisfy your cravings in the Mahabaleshwar climate. Another local favourite is the corn patties, a healthy yet delicious Mahabaleshwar food with a mix of spices that will leave you wanting more. The rainy season in Mahabaleshwar fills the air with the irresistible aroma of this Mahabaleshwar special food, making it a food lover's paradise.
Best place to get them:  The mouth-watering corn delicacies can be found throughout Mahabaleshwar, including the famous Venna Lake and other well-known spots. Bagicha Corner has one of the best corn patties.
Approximate cost: The corn delicacies at Bagicha Corner are priced from INR 60 onwards.
3. Maharashtrian thali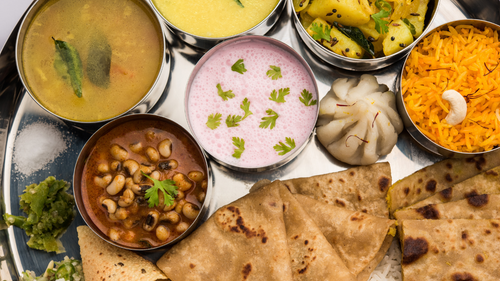 For a wholesome lunch experience in Mahabaleshwar, the Maharashtrian thali is an absolute must-try. This item can be found in big restaurants or smaller eateries scattered throughout the market. The thali is typically vegetarian, but some places offer non-veg options with succulent chicken dishes. The meal features a range of dishes traditionally prepared in Maharashtra, including koshimbir, aamti or varan, roti made with different flours, vegetables, lentils, pickles, and other flavourful condiments. No Maharashtrian thali is complete without a sweet ending, and the dessert options are aplenty. Satisfy your hunger pangs and indulge in the diverse flavours of Maharashtra with one of the best foods in Mahabaleshwar.
Best place to get it: Royal Garden Restaurant, Mahabaleshwar.
Approximate cost: INR 800.
4. Puran poli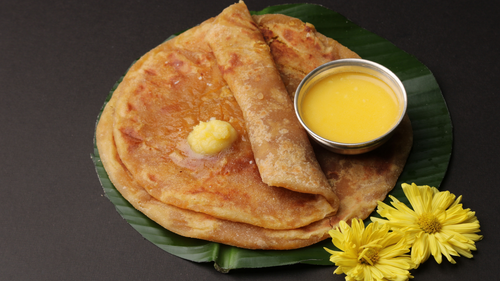 Indulge in the taste of Maharashtra with the scrumptious Maharashtrian puran poli, a popular delicacy found in Mahabaleshwar. This mouth-watering dish consists of a chapati stuffed with a unique mix of boiled grams, ghee, and jaggery, known as puran.In Mahabaleshwar, puran poli is a popular dessert that's enjoyed not only as a tea-time snack or after meals but also during festivals, where special preparations of the dish are made. Unlike any other bread or roti invention, the sweet chapati stuffed with puran is a unique and delicious creation that will tantalise your taste buds and satisfy your cravings. So, treat yourself to this Mahabaleshwar famous food and give your brain cells a boost while relishing in the flavours of Maharashtra.
Best places to get it: Bharat Hotel and Suman Raj Resort
Approximate cost: Depends on the vendor
5. Chana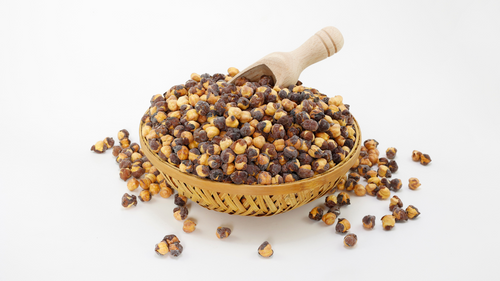 Get a taste of the local flavours of Mahabaleshwar and Panchgani with the delectable channa snack. A speciality of Mahabaleshwar, loved by locals, channa chaat, is significant in portion size and taste. Whether you prefer it plain or with onions and chillies, this snack will satisfy your cravings. Vendors serve them in paper cups, topped with chaat masala, making it a perfect on-the-go snack for those exploring Mahabaleshwar. Not only is it delicious, but it's also a hearty and healthy meal that will energise you and keep you going throughout the day. So, indulge in channa's mouth-watering taste and experience the essence of local cuisine.
Best place to get it: Mama Chanawala serves freshly roasted chana and even packed ones.
Approximate cost: INR 200 and up. 
6. Bharli vangi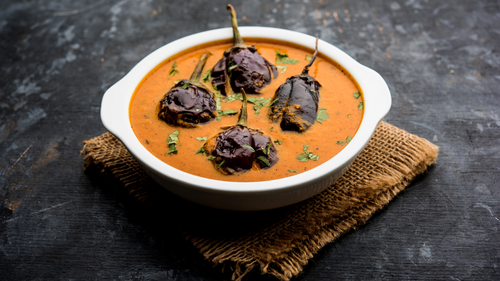 Indulge in the flavours of Mahabaleshwar with the famous bharli vangi, a stuffed brinjal dish cooked in the typical local style. A popular item on the menu of Indian vegetarian restaurants, bharli vangi, features small brinjals stuffed with a delectable mixture of coconut, sesame seeds, peanuts, onions, tomatoes, and spices, creating a rich and savoury gravy base. The dish boasts unique Goda masala and groundnuts, adding flavours to your taste buds. The dish is a must-have for lunch and pairs well with roti or bread. For those following a vegan diet, bharli vangi is an excellent plant-based option that promises to delight your senses.
Best place to get it: Dongarmatha
7. Chicken lollipop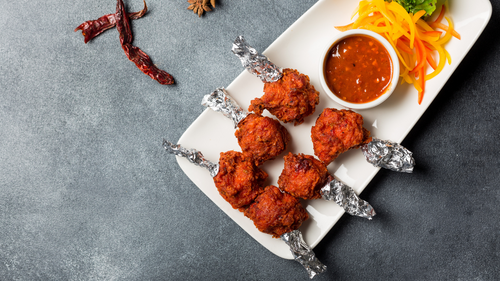 A delicious Indian-Chinese fusion dish, chicken lollipops are a crispy and juicy starter that will leave your taste buds craving more. Served with a mild Schezwan sauce, this Mahabaleshwar speciality is a popular snack among non-vegetarians. You can find it at Chinese food stalls in the market or in a few restaurants. The lollipop-shaped chicken wings are coated in a spicy batter and then deep-fried to perfection. The crunchy exterior gives way to the succulent chicken meat inside, making it a must-have dish for those looking for a quick and satisfying snack. Don't miss out on this delightful dish during your visit to Mahabaleshwar.
Best place to get it: Saayali Restaurant, Mahabaleshwar.
Approximate cost: INR 300.
8. Parsi foods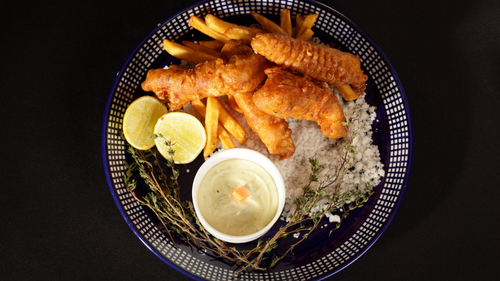 Nestled in the picturesque locales of Mahabaleshwar and Panchgani, you'll come across several Parsi restaurants serving delectable Parsi cuisine cooked traditionally. Relish the lip-smacking dhansak and the aromatic berry pulav, among other popular dishes. But the real treasure is the classic raspberry soda, which will surely transport you back to a bygone era. With its vintage charm and authentic flavours, the Parsi restaurants in Mahabaleshwar are a true culinary delight for anyone seeking an unforgettable gastronomic experience.
Best place to get it: The GraveVine Restaurant, Mahabaleshwar. The restaurant also offers one of the best foods in Mahabaleshwar.
Approximate cost: INR 600 for two people.
9. Chikki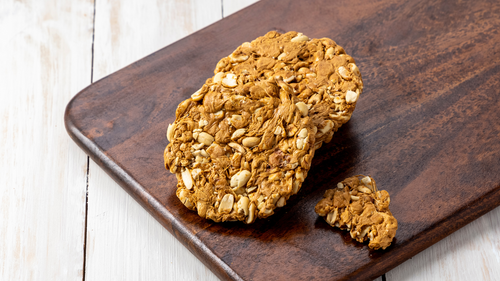 Maharashtra's hill stations are famous for their sweet treats, and Mahabaleshwar is no exception. Chikki, a crunchy sweet made from jaggery and groundnuts, is a must-try delicacy in the area. But, the chikki makers in Mahabaleshwar are not content with just the traditional recipe. They are getting creative and creating new and exciting varieties like chocolate and strawberry chikki. You can taste the different flavours at chikki marts across the town before you buy. The most popular flavours are groundnut, strawberry, and cashew nut chikki. Don't miss out on indulging in Mahabaleshwar's delicious and innovative chikkis.
Best place to get it: Any store in Mahabaleshwar's main market.
Approximate cost: Varies according to the vendor.
Now that we have explored Mahabaleshwar's famous food and mouth-watering culinary culture, there's no reason why you shouldn't try them the first opportunity you get. There are numerous varieties of dishes to try in Mahabaleshwar, but one must not miss out on these special Mahabaleshwar food items. From the hearty Maharashtrian thali to the sweet puran poli, the spicy chicken lollipops to the delectable chikki, the hill station has something to offer for every kind of taste bud. Whether it's the local markets or the famous eateries, the food in Mahabaleshwar is sure to leave a lasting impression on anyone who visits.
Are you looking for some excitement while in Mahabaleshwar? Look no further than these fun things to do in Mahabaleshwar. Don't forget to explore the Mahabaleshwar Fort and the thrilling activities available there.
---
Photo: Shutterstock