Sometime in 2018, the culinary world in India exploded over sous vide – a slow-cooking technique known to retain the delicate flavours of food. "From the French for 'under vacuum', the cooking method wherein food is placed in a vacuum-sealed pouch and cooked in a temperature-controlled water bath... If you place the meat in an airtight vacuum-sealed pouch and submerge it in a temperature-controlled water bath, the water very efficiently transfers heat energy to the steak while maintaining precise temperature. The result is meat that's cooked evenly from edge to edge." This is how J Kenji Lopez-Alt, a prolific food writer, explains the technique in his book The Food Lab: Better Home Cooking Through Science. Apart from the element of vacuum, it is the same concept underlining the art of steaming food using plant leaves, which is prevalent across India. But alas! This indigenous cooking technique – integral to several regional cuisines in India – has never received the kind of limelight sous vide has. 
But there are exceptions. A few chefs, home chefs and culinary experts – known to have played a seminal role in resuscitating lost recipes, obscure ingredients and traditional cooking methods – have dedicated their time, talent and social media feeds to acquaint the uninitiated with these treasured recipes. Of them, Mangalore-based chef and entrepreneur, Shriya Shetty is one. For Shetty, returning to the food of her ancestors seems less exceptional and more congenital. She reasserts this when she says that much of her work has already been cut out for her, because the R&D that goes into understanding what techniques, flavour profiles and ingredients make a dish, were already put in place by her predecessors. All she does is follow. "Our cuisine is built on whatever we found in the backyard. So, I don't fully understand it when people talk about saving 'lost recipes.' It's not going to be possible to do that unless you save the ingredients, too," the young chef rightly points out. In fact, to save a recipe, you would have to give equal attention to the ingredients, yes, but also, the techniques, to retain (or restore) its ethos in entirety. 
Necessity is the mother of invention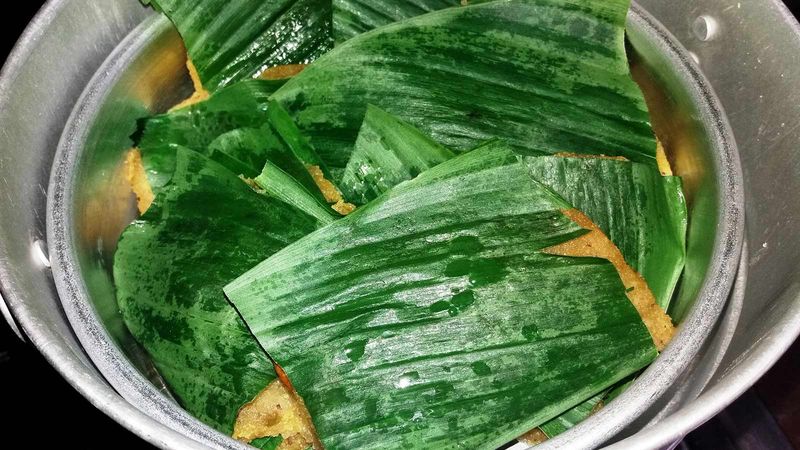 In that sense, a conversation on steaming food using leaves is important, given how innate it is to Indian cooking, where other techniques, such as baking, entered much later via Portugal and the Middle East. Mangaluru, too, is no stranger to steaming using plant leaves. The region has a plethora of offerings, ranging from manjol ire da gatti – also known as Patoli in the Konkan belt – a steamed rice-coconut and jaggery dessert, to pelakai da gatti, or jackfruit idlis, which are steamed using teak leaves and kottige, basket-shaped idlis steamed in jackfruit plant leaves. Shetty believes these dishes were both a product of imagination and necessity. Imagination, because she presumes those who conceptualised, for example, pelakai da gatti, which gets a beautiful purple hue from the teak leaves, were like the modern chefs of their era. And necessity, because leaves perhaps were used in the absence of utensils and tools (like an idli steamer). 
Chef, host and food nerd, Rakesh Raghunathan echoes this when he says, "There's a written document from the 8th century by the Chinese traveller, Hiuen Tsang, where he says that in all his travels around India and all the documentation that he made, he particularly observed that that are no utensils used in India for steaming. Subsequently, if you look at some of the ancient texts in Sanskrit and Kannada, like Manasollasa from the 12th century, you will find mention of idli and the ingredients that go into it, such as urad dal and cumin seeds, but there is no mention of rice, fermentation, or a method. Which leads you to infer that steaming probably came in as a technique along with kings and rulers from Southeast Asia and that could be how the idli came into existence." 
This is as disillusioning as it is exciting, given the Deccan plateau's own repertoire in steamed dishes. Be it Tamil Nadu's lesser-known, but enchanting Kanchipuram or kovil idli, a foot-long cylindrical delicacy steamed inside Bauhinia-leaf-lined baskets; Kerala's sweet rice-coconut and-jaggery dumpling called ela ada – similar to Konkan's patholi – steamed inside banana leaves; Thoothukudi's panai olai kozhukattai, a Tamilian delicacy, comprising a dough made of roasted rice flour, host of lentils and sugar, steamed inside a palm leaf; and therily kozhukatti, similar to olai kozhukatti, made with jaggery instead of sugar and remarkably, steamed using cinnamon leaves. 
Bengal and it is magic of bhapa 
Like the South, Bengal, too, has its own oeuvre of steamed dishes, collectively known as bhapa, meaning steamed. This stretches out to include a host of sub-categories under bhapa, from fish and veggies to sweets. Shedding more light on the subject, loved Bengali home chef and veteran foodie based out of Kolkata, Iti Mishra says, "Steaming is very popular in Bengal and some of its most iconic dishes, like the fish paturi, are steamed." 
It is here that Bengal's repertoire in steaming shines, when compared to the Konkan and Southern belts.Known for its non exhaustive offerings in seafood and sweets, a Bengali manages to apply the logic of steaming to a variety of food categories. To that end, dishes like bhetki paturi, bhapa ilish (hilsa) and bhapa chingri (prawn), are a no-brainer. One, because they are all part of the quintessentially Bangali diet; and two, because unlike red or lean meat, fish is delicate and therefore, perfect for steaming. Bengal also makes use of different kinds of leaves to best optimise the technique of steaming, going beyond banana, to include bottle gourd or lau leaves and pumpkin or kumro leaves, which once steamed, could be eaten as is, without being unwrapped. In terms of vegetarian offerings, Bengali cuisine has steamed delights to offer from that category, too, in the form of kumro (pumpkin) bhapa, kochu or colocasia bhapa, as well as posto bhapa, which made use of poppy seed paste, turned into small cutlets, that were then steamed. 
Mishra deduces that steaming perhaps gained currency in Bengali cooking, because of how effortless it was. Marinated fish or veggies would be put together into leaf-wrapped parcels and placed atop a cauldron of steaming rice, cutting lunch or dinner prep time by half. What is particularly exciting, is Bengal's reserve of bhapa mishtis or steamed sweets. Of them, the most popular being, bhapa doi or steamed sweet yoghurt. However, she clarifies, that while steamed sweets are a rare beauty , these hardly warranted the use of leaves. Even so, Bengal's litany of pithe-puli or steamed rice-based sweet dishes, celebrates the art of steaming significantly, much like its counterparts in the South and the West. 
The art of steaming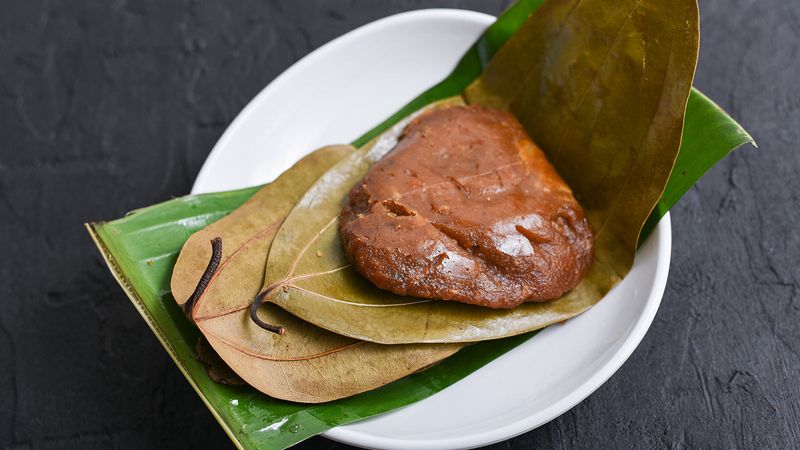 Bangalore-based Navya Shanbhag Pai, the woman behind popular food blog, Konkani Food Recipes, who belongs to the Goud Saraswat Brahmin (GSB) community, reiterates this when she says, "In a GSB home, steaming is an everyday affair. Other than our dosas and curries, everything else is steamed." Which is true. The community vanguards a host of steamed delicacies that consequently make use of a range of leaves, such as cucumber idlis steamed in turmeric leaves, to khotto, which is jackfruit-leaf-steamed idlis and moode, that comes ensconced beautifully inside conical parcels made out of screw pine leaves. Pai opines that the use of different kinds of leaves is a flavour game.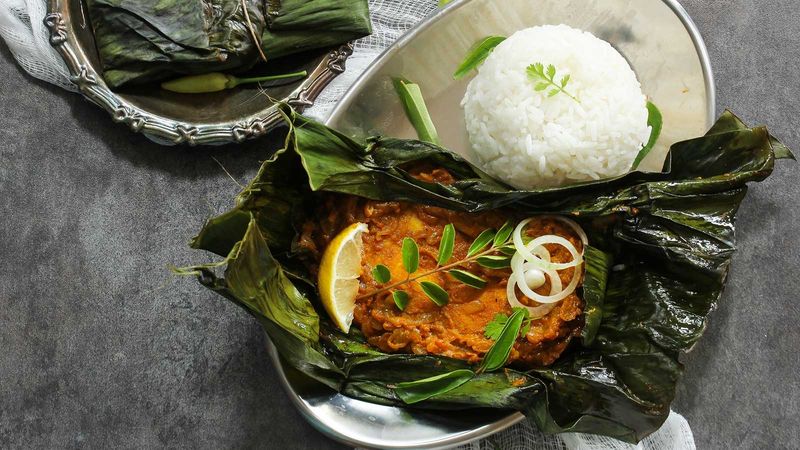 In fact, flavour is the hallmark of this technique. Elucidating on this, Misra tells us, "The idea of wrapping an ingredient neatly into a plant-leaf parcel is to ensure that the juices from the marinade does not escape."
Shetty echoes this, when she says that Indian cooking is innately healthy because it is centred around nutrition and 'what's good for you.' In that sense, steaming is the best technique, because it is much healthier than frying or cooking on a stove. Plus, steaming not only denotes a lovely texture to the food being steamed, but also helps abet loss of nutrients. But of all the propositions made in favour of using the traditional Indian method of steaming using leaves, this one – proposed by Shetty – makes most sense. She says, "The French bake their fish after wrapping it in parchment paper and there's a huge hullabaloo around it. Paper comes from a tree. And so does a leaf…"
---
Photo: Shutterstock