Makar Sankranti marks Uttarayana or the Summer Solstice when the sun moves into the Northern hemisphere. It's also the day we gorge on til gur, til laddoo, sweet pongal or gul poli, depending on which part of the country you're in. "Sankranti suggests the movement of the planet, the movement that nourishes life," explains Pandit Vasant Gadgil, eminent Sanksrit scholar and head of the India International Multivarsity.
Quite befittingly, Til and Gur, the twin symbols of prosperity, are relished on this day in every part of the country. From the North Indian gajjak and revris to Assamese til pitha, and til laddoo and chikki—these ingredients are the heroes of Sankranti. What's more, of all the Indian festivals, Sankranti has a version in every region—Bhogali Bihu in Assam, Lohri in Punjab, Pongal in Tamil Nadu and Makar Sankranti in the West—making it a festival that brings people together and more reason to enjoy til gur.
Til-Gur Goodies
In Maharashtra, while gifting sweets made of til gur, people greet each other with the cheerful "Til gul ghya ani goad goad bola," which literally translates to 'Accept these sweets and say good things."
"Til gul or til gur is meant to symbolise one's soul—which should be tender as the sesame seed—and the voice that ought to be as sweet as jaggery. The message represented by til gur is simple: love and respect one another," explains award-winning Chef Vaishali Malpani who has researched the cuisines and festivities of Maharashtra.
Speaking of the other interesting food rituals of Makar Sankranti, Indologist and academician Manjiri Bhalerao says that agrarian societies like ours celebrated the cusp of seasons with due ceremony. "In a way, it is thanksgiving to the earth for its fresh and seasonal produce that nourishes us," she says.
One such unique custom is the bornahan—a new baby's customary 'bath' with all the goodies that children usually covet—including the ber fruit, pieces of sugarcane, puffed rice, candy and chocolates—are symbolic of the baby's first spring, celebrated in Maharashtra. Also on this day is the first welcome to the daughter-in-law, and in parts of Goa, Karnataka and Maharashtra the young woman is dressed up in jewellery sewn from stringing the white stars of til gul.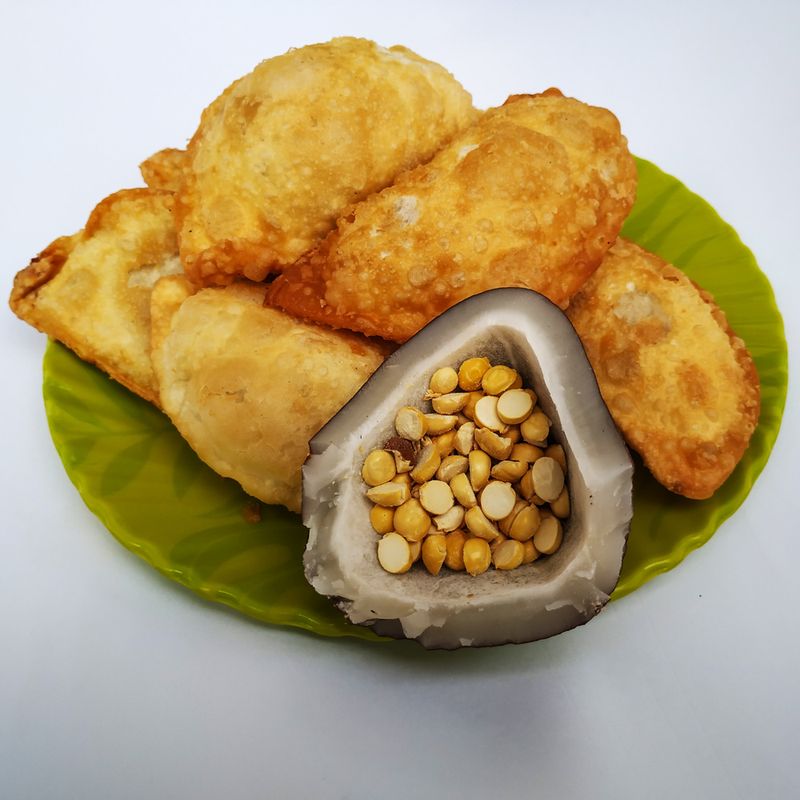 Apart from the popular til gur and til ladoo, sweets like revri are popular in Punjab, Haryana, Delhi and parts of UP. Karjikai—a deep-fried stuffed pastry filled with coconut, jaggery and sesame, or Ellu Bella, a kind of trail mix with roasted chana dal, peanuts, sesame seeds and jaggery is distributed to neighbours in Karnataka. The East has sweets made with Nolen gur (palm jaggery) harvested in the winter months in West Bengal, and various kinds of pitha are enjoyed throughout the day in Assam. The joy is universal.
---
Photo: Shutterstock