I am in a boat making my way to Brijrama Palace in Varanasi when I get a glimpse of the vast expanse of ghats along the Ganges. It is noon and the famous Dashashvamedh Ghat is teeming with people jostling for their turn to take a dip in the holy river.
There is an enigmatic resonance in Varanasi that I've rarely felt anywhere else. There is a multi-faceted and multi-hued side to the river city, something that also holds true for its food too. At first, you will find the options limited, but look deeper and you'll see that the bylanes are studded with culinary gems.
Here's a guide to what to eat in Varanasi if you have only 24 hours in the city, with a quick tour of the ghats.
Chai pe charcha
Early mornings on the ghats are quiet and if you're an early bird, head straight to Assi Ghat to soak in the warmth of the rising sun and witness the Ganga aarti at the Ghat, which is a part of the Subah-e-Banaras initiative. Make your way to Lakshmi Chai Walah in Chowk for chai and a buttered slice of bread toasted on charcoal embers. As you eavesdrop on the conversations amongst the locals, over a purva (earthen cup) or two of tea, you feel yourself invigorated with the fresh morning energy.
Just outside the lane near the tea joint, there's an unnamed shop selling tiny aloo kachoris (ping pong ball sized kachoris with stuffing of mashed potatoes flavoured generously with hing) and mawa bati, a jalebi-like dessert made with the same batter and same technique but in a shape of a sphere and stuffed with mawa (not to be confused with the dessert with the same name from Madhya Pradesh).
Further down inside Thatheri Bazaar, The Ram Bhandar makes the best kachoris (these ones are similar to puris but stuffed with urad dal) served with aloo subzi. Club it with hot jalebis to complete your breakfast. During winter, you'll find the lanes crowded with vendors selling malaiyo, a cloudy dessert that is made by churning milk for hours. The butter collected is flavoured with saffron and topped with malai or fresh cream.
To wash it all down head to Blue Lassi in Kachori Gali for a glass of lassi. The shop is known for its extensive menu of flavoured lassis made with fresh fruits and even chocolate. For a more authentic taste go to Rajaram Lassi in Thatheri Bazaar where you'll still get the taste of the old Banarasi lassi (a quintessential component of the street food in Banaras). Here it's made with dahi or curd, which is churned and topped with a thick sheet of malai.
Banarasi thaath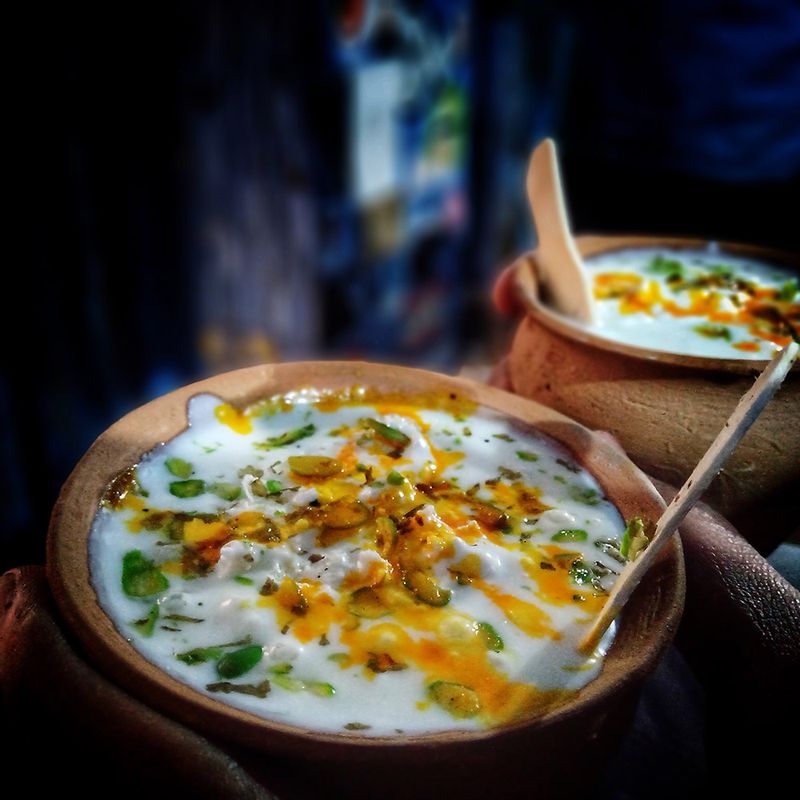 A trip to Varanasi is not complete without experiencing the city's thaath (living expansively) and the best way to do it is by heading to Brijrama Palace for lunch. The heritage palace-turned-hotel is as opulent as it could get. The restaurant Darbhanga offers a massive Banarasi thali with kachori, seasonal vegetables, dal, Banarasi dum aloo and kheer. Later, go for a walk down the ghats, which are lulled into a slow pace in the afternoon.
Bingeing in the bylanes
Evenings in Varanasi are chock-a-block with human traffic in lanes, big and small. This is also when the jalebi shops shut and chaat shops fire up their stoves. Start at the Kashi Chaat Bhandar in Godowlia Road with the famous tamatar ki chaat. The shop is said to have invented the dish made with tomatoes, cooked down to puree, and topped with spices and onions. Also have the aloo tikki here, which is garnished with grated radish in winter.
Vishwanath Chaat in Vishwanath Gali is where you should stop for quick paani ke batashe—Varanasi's take on pani puri. Make sure you take a shot of the spicy paani blended with masala and lime juice. A little further down, follow your nose—an easy job with the lingering aroma of hing in the air—to Dina Kaka's stall.
Here you'll find Dina Kaka, India's very own Soup Nazi, frying only three batches of kachoris between 4:00-7:00 pm every evening. And if you're impertinent to be impatient, you don't get to eat any! The tiny, crisp kachoris with a generous flavouring of hing are worth the wait. Dina Kaka lightly crushes the hot kachoris and tops them with kaale chane ki ghugni and a variety of sweet and spicy chutneys.
Ending the day on a sweet note
To satiate the sweet tooth, walk towards Rasvanti in Thatheri Bazar for the lal peda; milk is reduced slowly till it turns into a brown fudge. Make sure you pack a box to take back home. Now comes the grand finale of the Varanasi food trail, the Banarasi paan.
There've been songs written for this Banarasi street food star and you'll know why once you've had the taste. Deepak Tambul Bhandar in Vishwanath Gali is one of the oldest paan shops in the area. Ask for a Banarasi saada or Banarasi meetha and let it blow your mind before you head to witness the evening aarti on Dashashwamedh Ghat.
---
Photo: Shutterstock