Thaggu ke Laddu. Yes, you read it right, this prominent mithai shop in the bustling Bada Chauraha of Kanpur is called just that.
In an era of image consciousness, even as brands outdo each other in cultivating a wholesome, reliable, goody-two-shoes aura, be their positioning premium or accessible, here's to a story of cheekiness and irreverence that has stood the test of time since well before independence.
What's more, it has worked well for them. In the bold red letters that their nameplate boasts of at that. How else do you explain the fact that Thaggu ke Laddu only seems to have gone from strength to strength on the back of an even more fascinating tagline – "Aisa koi saga nahin, jisko humne thaga nahin?" (Loosely translated it means: There isn't a near and dear one that we haven't thugged.)
Keeping the legacy of quirks alive
On to its third generation, Thaggu ke Laddu is proof positive that a brand can dare to have a personality that refuses to fit the book. And it hasn't hurt them much. They have six outlets in Kanpur at present and plan to branch out to Delhi/NCR soon.
Little wonder then that none other than filmmaker Gulzar featured the store prominently in his 2005 blockbuster Bunty Aur Babli! Though the movie isn't quite its claim to fame, both are evidently a natural fit in the value they signify – the small town Indians' willingness to own its cultural quirks. The shop is also listed in the book Highway on my Plate: The Indian Guide to Roadside Eating by Rocky Singh and Mayur Sharma – not only for its attitude but also for the sheer quality.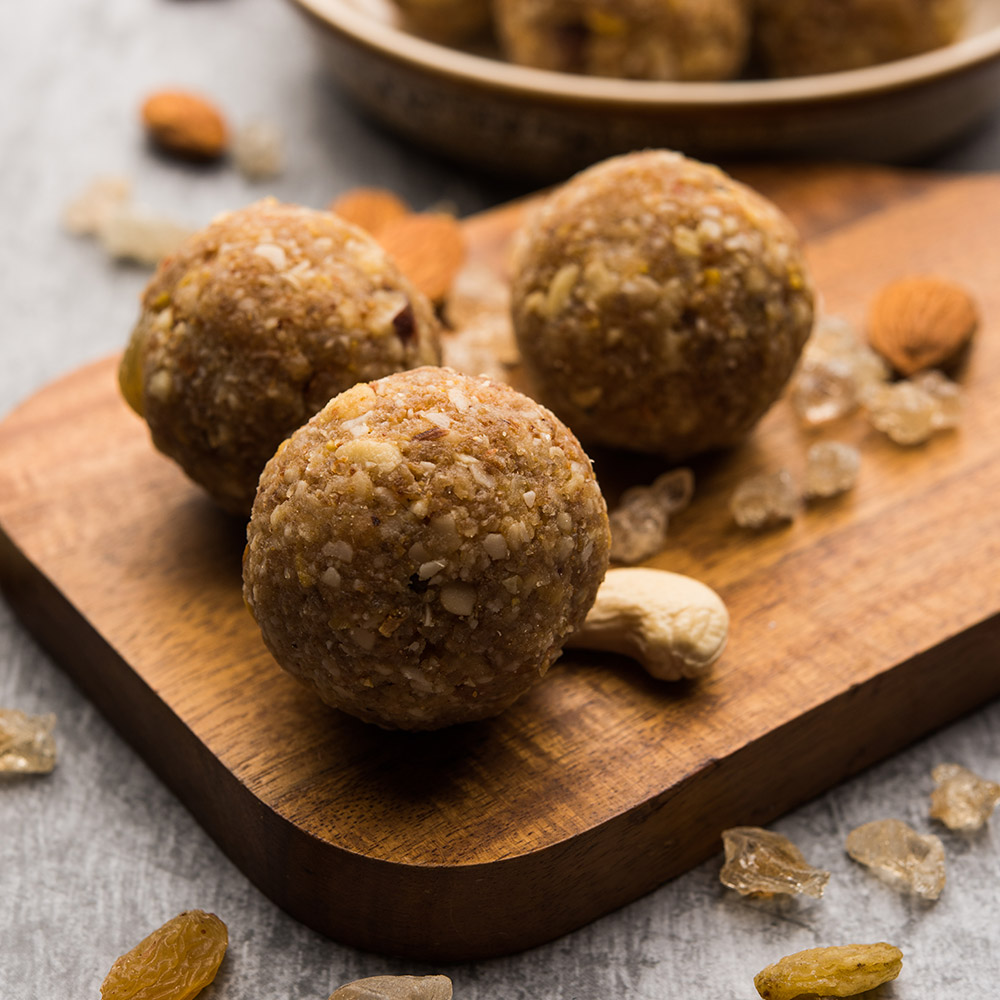 The smoothness and consistency of taste associated—nay, demanded of all things Kanpur—is not easy to maintain but the thugs are evidently great at guarding both: the secret of their success as well as the secret of their swag.
Pre-independence origins
But hold on just a bit. Adarsh Pandey, grandson of the founder-owner Ram Avtar Pandey, will have you know the name is more than a marketing gimmick. "My grandfather, being a follower of Mahatma Gandhi, would regularly attend his meetings. Given the socio-political and economic climate of the time, Gandhiji remarked that sugar was white poison. Not only was it bad for the country (given that imported sugar was sold for a whopper) but also bad for health. Despite this, people were still being thugged by the British into consuming the same," he narrates. Obviously, Gandhiji would have liked his bhakts to give up on the white sugar too.
This put Ram Avtarji in a fix for the simple reason that there was just no substitute for the thug's goods—that is sugar—not where his laddus or mithai were concerned. There was just no way to make his wares without sugar as the mainstay. And that's how it all started.
Blessed with a rare sense of humour as well as irony—uncommon to the earnest times he lived in—Ram Avtarji decidedly to honestly state that the use of sugar was dishonest—and called his shop Thaggu ke Laddu. Given the sheer popularity his shop enjoyed, the tag line "Aisa koi saga nahin jisko humne thaga nahin" was apt. Yes, people gasped at the sheer impertinence, but the word spread and so did the business.
Pride of place
Fun and games apart, maintaining quality over time is serious work and here's where the shop scores too. You can't leave the shop without trying four items at least. The Kaju laddus made of pure khoya and suji mixed with kaju, cardamom and gond (tragacanth gum) which are a hit in the North Indian winters, the special dry fruit ladoo made using a variety of dry fruits, the doodh peda made of milk, sugar and elaichi and last but not the least – the sassy and impertinent badnaam ("notorious") kulfi, thus called, because well, it is rich, extravagant and OTT with nuts and cream and a much-in-demand item.
Plus, as Ram Avtarji would solicitously explain to anyone who cared to ask: any item that counted as street food would always be associated with the disrepute accorded to the roadside—no matter how successful. This, the name was an apt fit.
Keeping the menu card limited is a well-thought-out strategy that has worked for the shop. It helps keep the standards consistently high and business unfailingly brisk. The rave reviews are one part of the story, the other is far more nostalgic.
Consistent quality is the secret ingredient
Homemaker Rati Shukla, a denizen of Kanpur says while the secret of Thaggu's success can partially be ascribed to the clever branding, the heart of the matter lies in the fact that they don't scrimp on the ingredients that are fresh and top-notch.
"The price is not bad at all for what they are offering—while a box of any of their laddus could range from Rs 400 to 600, the badnaam kulfi is approximately Rs 50. They clearly have a secret recipe, for the laddus are distinct from anything you are likely to have tasted before," she says.
That's not all. The core ingredients of the laddu help them enjoy a longer shelf life allowing them to be gifted and parcelled to different cities. "Apart from the chaat and kachoris, this is one shop that we associate with our childhood," says Shahida Khan, a native of the city. "Sure, the name elicits a lot of laughs—and I suppose that was the intention in the first place—but to many who have moved out of the city—it tastes of home and a box from Thaggu is always welcome."
Photo: Shutterstock