Celebrated across India, Shravan maas (month) holds a special place for Hindus, especially those who worship Lord Shiva, and is a month of devotion, rituals, and abstinence. During Shravan, which is the most auspicious month according to the Hindu calendar, devotees stick to a sattvik diet, which is a diet based on Ayurvedic principles. A sattvik diet or sattvik aahar is known to energise and rejuvenate our body, and it focuses on local, seasonal produce such as fruits, vegetables, whole grains, nuts, seeds, and dairy products. It recommends food cooked using natural rock salt instead of the iodised version.
An important of Shravan celebrations in India is the Shravan somwar upvas (Monday fast) when people observe fast to seek the blessings of Lord Shiva. On this day, people give their body a break from the daily diet of the usual mass cultivated grains like rice and wheat, and heating foods like ginger and garlic. Instead, they feast on millets, a few starchy foods like potato and sweet potato and banana, and dairy products.
Here, we bring to you a compilation of traditional as well as modern recipes using desi ingredients for Shravan.   
1. Sawan ki dahi makhana kebab
by Sougata Halder, executive chef, Aloft Bengaluru Cessna Business Park 
Ingredients:
500 gm hung curd

100 gm paneer (grated)

4 gm salt or as per taste

Black pepper to taste

10 gm cardamom powder

30 gm cashewnuts

50 gm raisins

20 gm ginger

2 pcs green chilli

20 gm coriander

4 gm sendha namak

600 ml curd

250 gm crushed makhana
Method:
Add green chilies, chopped ginger, raisins, cashew nuts, roasted black pepper, coriander powder, salt, paneer and hung curd in a bowl and mix to form a dough.

Portion out round pieces (30g each).

Make a batter with water, flour, and salt.

Dip the pieces in batter, crumb it with the crushed makhana.

Form to the shape of a cutlet.

Fry the pieces in a pan until golden brown.
2. Khatkhate (Goan vegetable stew)
by Rishi Manucha, executive chef at Taj Fort Aguada Resort & Spa, Goa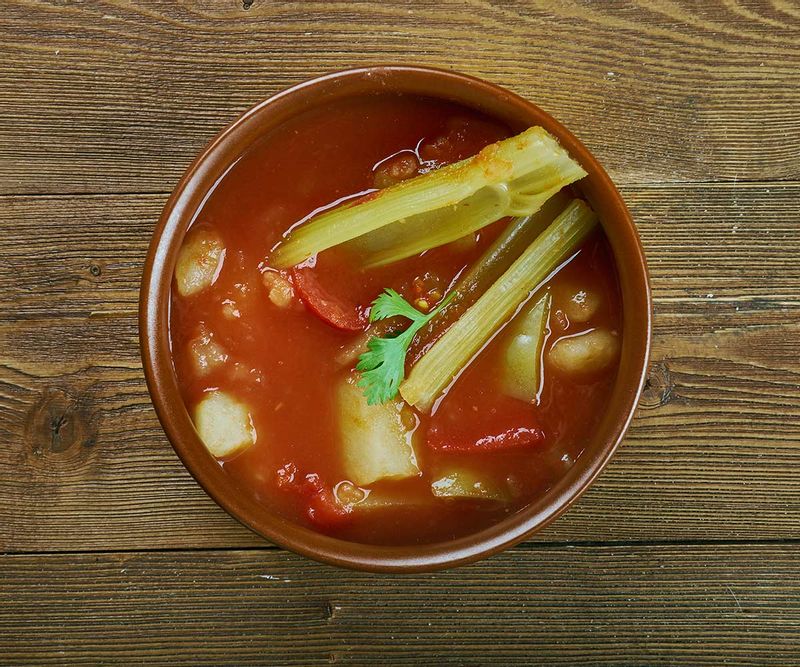 Ingredients:
For Masala:
1 no coconut (grated)

4 no dry red chilli

1 tsp turmeric powder

20 gm tamarind

2 tbsp garam masala powder
For the Curry:
1 tsp mustard seeds

1/4 tsp thing

A few curry leaves

1 no dry red chilli

1 no onion (chopped)

50 gm cauliflower

50 gm pumpkin

50 gm brinjal

50 gm carrot

50 gm French bean

7-8 no triphala

Salt to taste
Method: 
To make the masala, grind coconut, red chilli, turmeric powder, tamarind and garam masala powder with little water.

Prep the vegetables by cleaning and cutting them into an inch long pieces.

In a pan, heat oil and add mustard seeds, when they crackle add hing along with curry leaves and red chilli.

Add chopped onion and sauté until brown.

Add chopped vegetables and sauté for a minute.
3. Rajgira Sheera
By Mrs Sheetal Bhatt, founder and certified Ayurvedic philosopher and specialist
Ingredients:
30 ml A2 ghee

1 cup Rajgira Atta

1/4 cup organic sugar

1 cup water

1 tbsp mixed dry fruits
Garnish:
Dried Rose Petals

Pistachios

Almonds
Method:
Heat the A2 ghee in a pan and toast the rajgira atta until golden brown.

Then pour in the water and cook until the water has evaporated.

After which add the measured organic sugar and cook for 5 minutes, until the sugar is completely dissolved.

Remove from the heat and add in a serving bowl; garnish with dried rose petals, pistachios, and almonds and serve warm.
4. Khatte Aloo 
By Sayantani, blogger, Delish Studio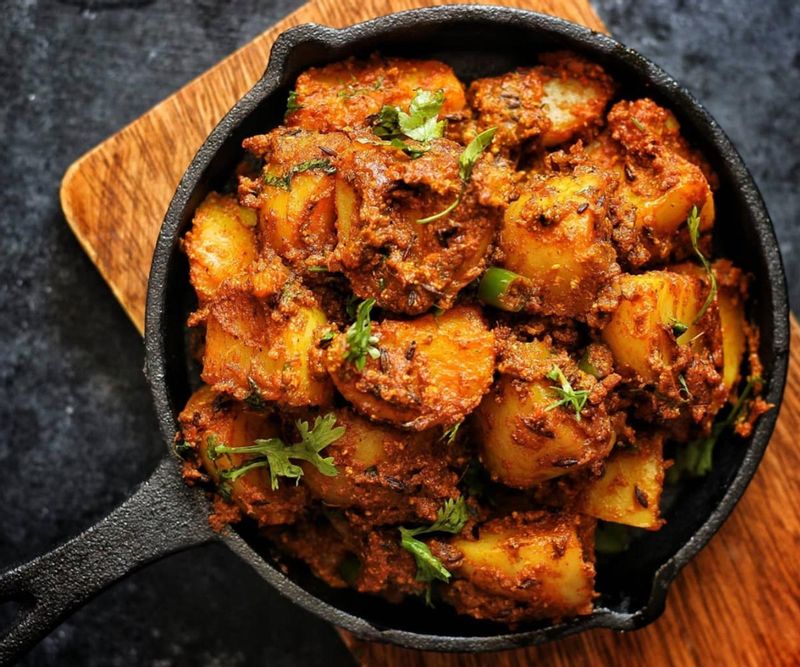 Ingredients:
6 small potatoes boiled, peeled and cut into 4 pieces

2 tsp ghee

3 tbsp curd

1 tsp cumin seeds/jeera

1/4 tsp hing powder( asafoetida)

1 green chilli chopped

Coriander chopped ( optional)

Salt to taste
Spice mix:
1 tsp turmeric powder

2 tsp Coriander or Dhaniya Powder

1 tsp Mango or Amchur Powder

1 tsp Cumin or Jeera Powder

1 tsp Red Chili or Lal Mirch Powder

1/2 tsp Garam Masala

1 tsp Pomegranate Seed or Anardana Powder (optional)
Method: 
In a pan heat some ghee, add the cumin seeds and asafoetida.

Then add rest of all the Spice mix and the chopped green chillies. Saute well.

To this add the curd and mix well till the curd is completely incorporated into the mixture and starts to leave some oil on the sides.

Add the boiled potatoes to this mixture and mix well to ensure all the potatoes are covered in the mixture.

Splash very little water if the tangy mixture around the potatoes gets a little dry. Saute for 3-4 minutes.

Garnish with chopped coriander leaves.
5. Rose Shrikhand
By Pooja and Aarti, home chefs, The Blue Window Kitchen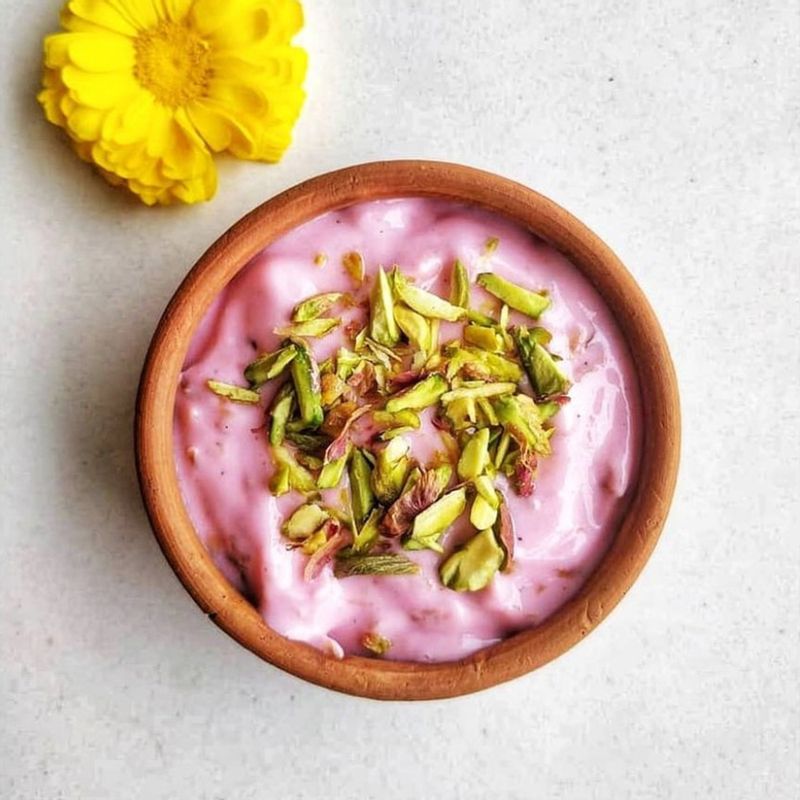 Ingredients: 
2 cups curd

½ powdered sugar

1 tbsp gulkand

2 tbsp rose syrup OR 1 tsp rose essence and 1 tsp pink food colour

1 pinch cardamom powder

2 tbsp mixed dry fruits, chopped
Method: 
Hang curd in a muslin cloth for three to four hours.

Remove the thick curd/hung curd once done and empty it in a bowl.

Add the powdered sugar, gulkand, rose syrup (or rose essence and food colour), and cardamom powder to the hung curd and mix well.

Whisk until light and fluffy.

Garnish with dry fruits once ready.
AlsRead1
6. Ratalyacha Kees (grated sweet potato stir fry)
By Hamsa Nandini, food content creator and actor
https://www.instagram.com/tv/CD80OoiAZPJ/ 
Ingredients: 
2 large sweet potato grated

1 cup crushed peanuts

1 tbsp Jaggery powder/ sugar

Rock salt (optional)

1 cup water

1/2 lemon
For tempering:
2 tbsp Ghee

1tsp cumin

2 tsp Green Chillies Chopped

6-8 Curry leaves
For garnish:
Grated coconut
Method: 
In a flat-bottomed pan, add ghee and once it's hot, add the cumin seeds.

Once the cumin seeds splutter, add green chilli and curry leaves.

Now, put the grated sweet potato in the pan and mix well.

Add salt, jaggery and a little water, mix well and cover the pan with a lid.

Let the sweet potato mixture cook on low flame for five-six minutes and take the lid off.

Add the crushed peanuts and squeeze half a lemon into the mix.

Mix well and cook for a couple of minutes more and your ratalyacha kees is ready to relish.
---
Photo: Shutterstock - Images used for representational purposes only