Ruchira, a Marathi cookbook of vegetarian recipes has remained the definitive guide to Maharashtrian cooking for close to five decades. Brides, homemakers and cooking enthusiasts swear by its precision, lucidity and authenticity, even as the ubiquitous copy dots countless bookcases. It is a cookbook as simple and elegant as the cuisine it represents. If you believe that true charm lies in the uncomplicated, then Ruchira is the book you ought to be read at least once.
Whether you're a collector of regional cookbooks, a fan of Maharashtrian food or simply a cooking enthusiast looking to experiment with a sea of easily deciphered recipes, pick up your copy of Ruchira today.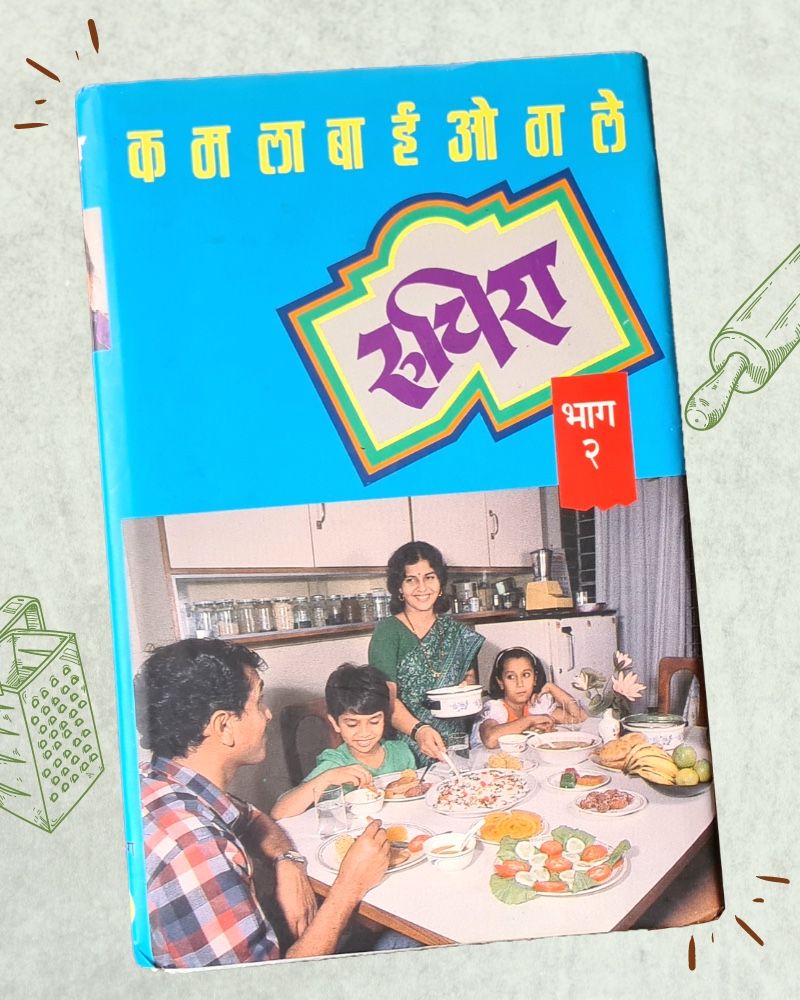 Creating Culinary History
The year 1970 witnessed a best-selling book on a scale rarely seen before. Written by homemaker Kamalabai Ogale, Ruchira's USP was its sheer simplicity and lack of jargon. No fancy measuring devices or mysterious proportions. It asked budding cooks to use simple steel bowls and glasses—standardised utensils in most Indian homes.
Mostly dedicated to vegetarian Maharashtrian Brahmin fare, save for the sporadic appearance of egg in some recipes, Ruchira is the veritable holy book for anyone aspiring to cook. In the 20 years that followed, Ruchira sold over 1,50,000 copies—an unbelievable number for a regional book. What's more, it became a collector's copy, to be passed from mother to daughter, or mother-in-law to daughter-in-law. 
Young, experienced home-makers benefit from the infinite wisdom of a domestic goddess as timeless as she was, easy to understand whereas the more experienced cooks could seek confirmation of the exact constituents of traditional recipes. In keeping with popular demand, part 2 of the Ruchira cookbook came out in 1985 with a bigger line up of desserts, tips and a few continental recipes with a desi twist—as a nod to the changing times.
English translation
A few years later, Ms Usha Jategaonkar translated Ruchira into English—a great service to those constrained by language. "The best part about the Ruchira is that if you follow the recipes to a T, the results will be exactly what you expect them to be," says homemaker Rashmi Joshi, herself an accomplished cook. "It's not always the case with other cookbooks and it's not something to be taken lightly."
While changing times have seen the introduction of cakes and puddings, the 300 recipes-strong index of Ruchira can be counted on to exactly replicate, innumerable bhajis, sides and desserts. Puranpolis and modaks, festive fare like bharleli tondli (stuffed ivy gourd), masale bhat and much, much more. Above all, it's the perfect place to learn all about the masalas, pickles and spice mixes (phodnis/seasonings) that make up the essence of Marathi cooking.
Recent editions have also seen a marked improvement in printing value, though there are some who claim that the English version doesn't quite match up to the original. "It is, however, a boon for those of us without the benefit of an older person in the house to teach us the secrets and basics of our Marathi fare," says educationist Sulabha Vikas. "As a defence wife, I had been away from Maharashtra for several years, but each time I felt like a taste of home, I could pick up a Ruchira. It's reassuring to know some things don't change."
---
Photo: Shutterstock