As a sportsman representing a sport that evokes extreme emotions, cricketer Virat Kohli has achieved a lot-on pitch and off it. Apart from his stellar performance over the years and successful captaincy of the Indian cricket team, Kohli is also known for his astute business decisions. These include high-paying brand deals and business endeavours.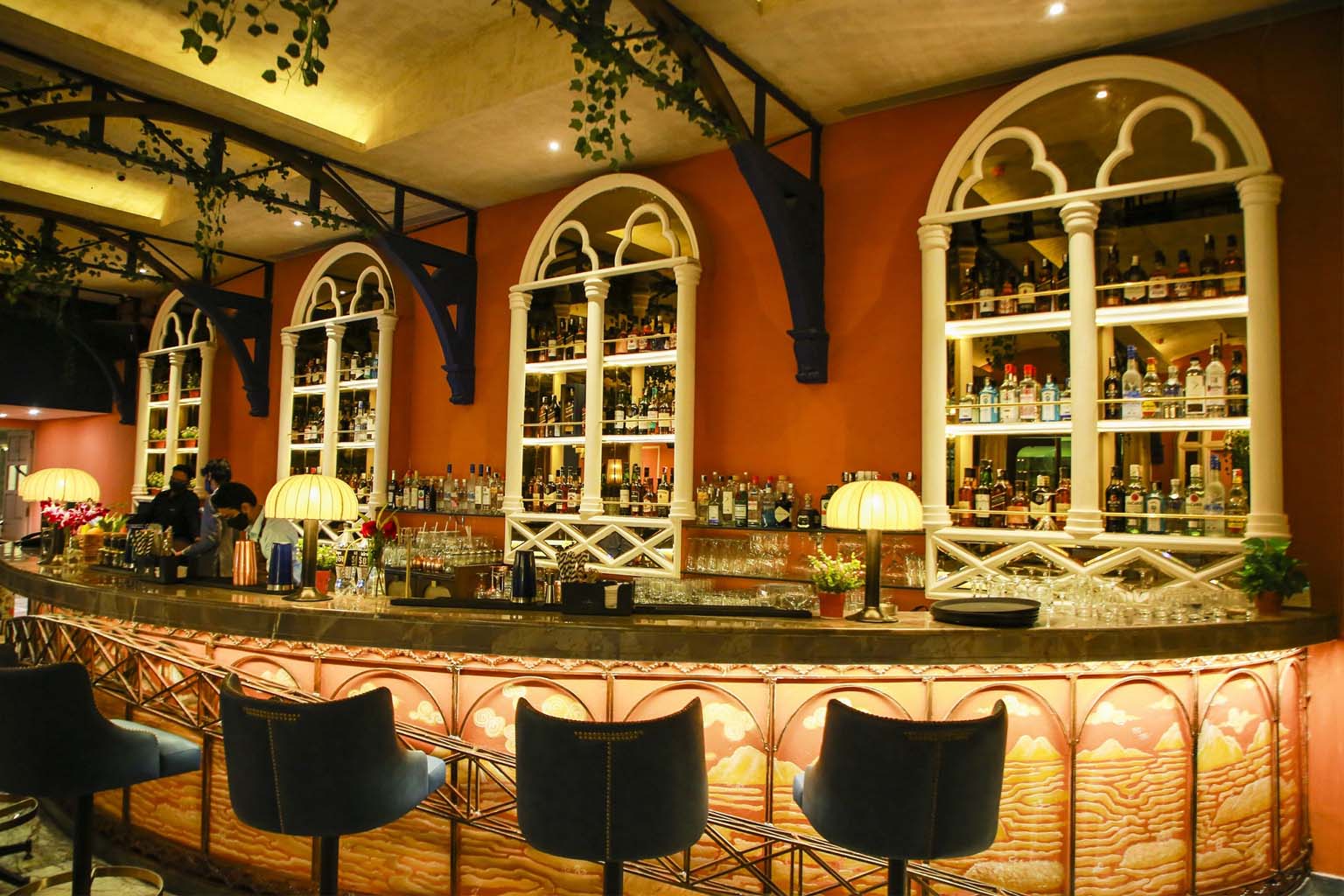 A restaurant review does not need a preamble on Virat Kohli's acumen and success, but in the case of One8 Commune, it sets a precedent for our visit there. By now his acquisition of Gowri Kunj better known as the Kishore Kumar bungalow in the posh lanes of Juhu is common knowledge. The transformation of the late melody king, Kishore Kumar's home into a savvy restaurant further generates anticipation abound. As you walk in the giant wooden door, which had emblazoned on it the restaurant name, the enormity of space smacks you in the face.
The vibe and ambience
In Kohli's words, One8 Commune is meant to be "casual, exposed and raw," in its aesthetic and décor and the "vibe was always about chilling," he said in a YouTube video. A communal dining space that doubles up as a performance space when needed. The sprawling expanse of the Juhu One8 Commune makes it perfect for such transformations.
A Scandinavian-meets-Greece al fresco greets you with its chintz couches, rattan light fixtures, granite flooring mixed combined with generous wood and greenery. As you explore further, the bohemian aesthetic takes over with shades of blue and orange balancing off the rattan, wood and granite. The idea is to keep the space fluid and free-spirited in its feel and invokes nostalgia, creativity, and inspiration.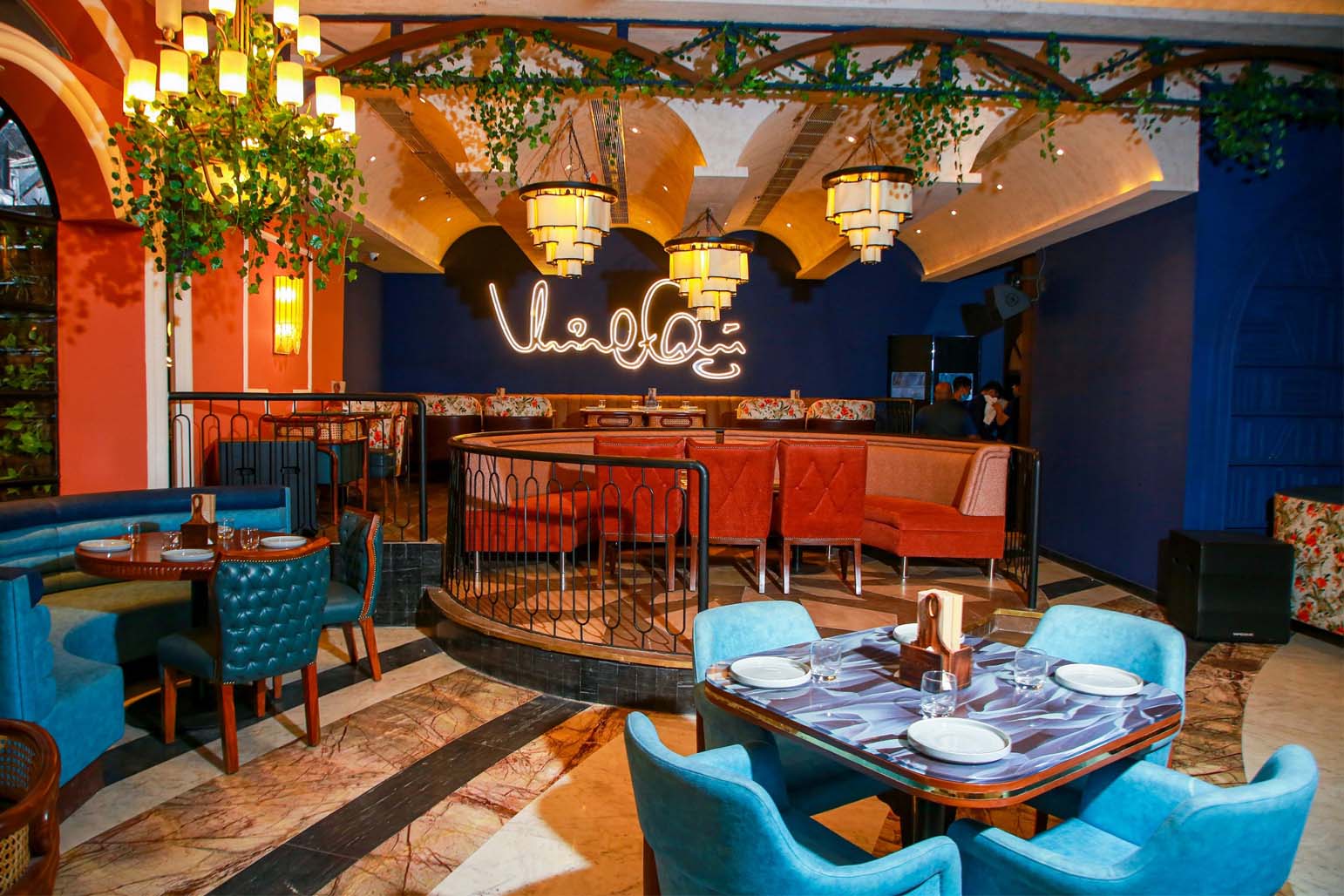 The flourishes of Virat Kohli memorabilia and the giant neon signature of the cricketer will never really let you forget that he is the man behind the restaurant. These integrations fortunately have been made tastefully and goes to show how Kohli has shaped the place. He has said, "If I am invested, then I have to be involved in the project," when discussing his role in One8 Commune Juhu.
The cocktails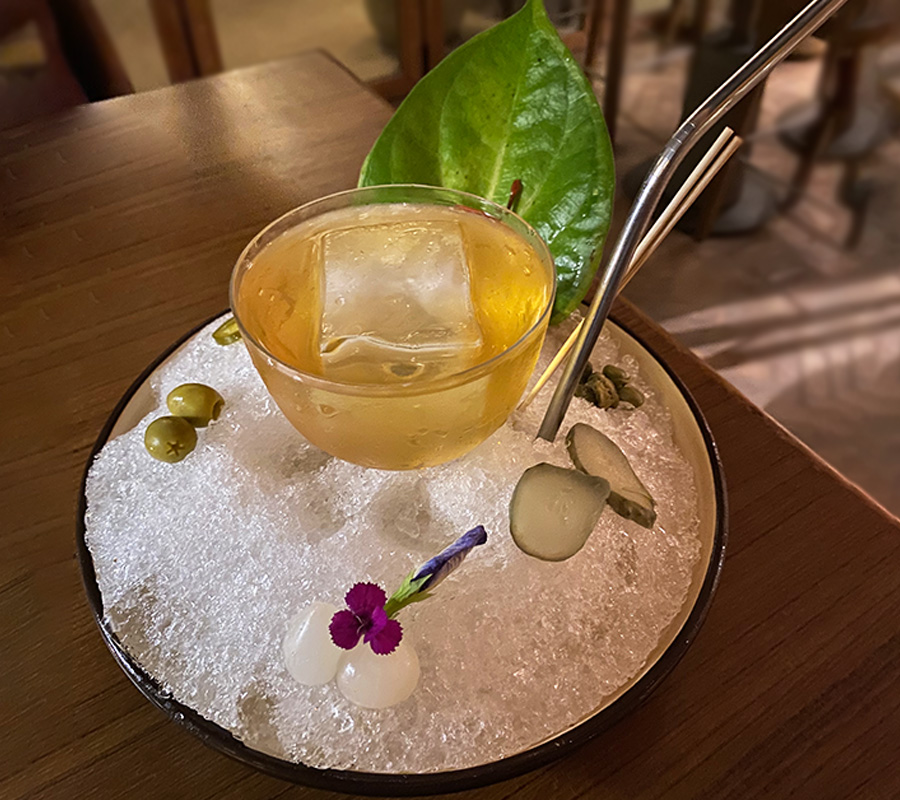 Once seated, the first order of things were the cocktails. There were four on the table over the course of the meal—Lavender Gimlet, Banana Old Fashioned, a Deconstructed Picante and an off-the-menu classic Whisky Sour. These were all well-executed, practiced until perfect to ensure that consistency does not suffer. The Deconstructed Picante on the other hand was a performance piece that took time—we were forewarned of the tardiness. In case you are one of those rare folks who truly relish a savoury cocktail, One8 Commune's Picante is a must-try. The garnishes of pickles, capers, jalapeno, pickled onions, maraschino cherry and betel leaf on a bed of shaved ice, surrounding the glass, is excessive but it's an entertaining experience especially if you're tired of 'serious' cocktails.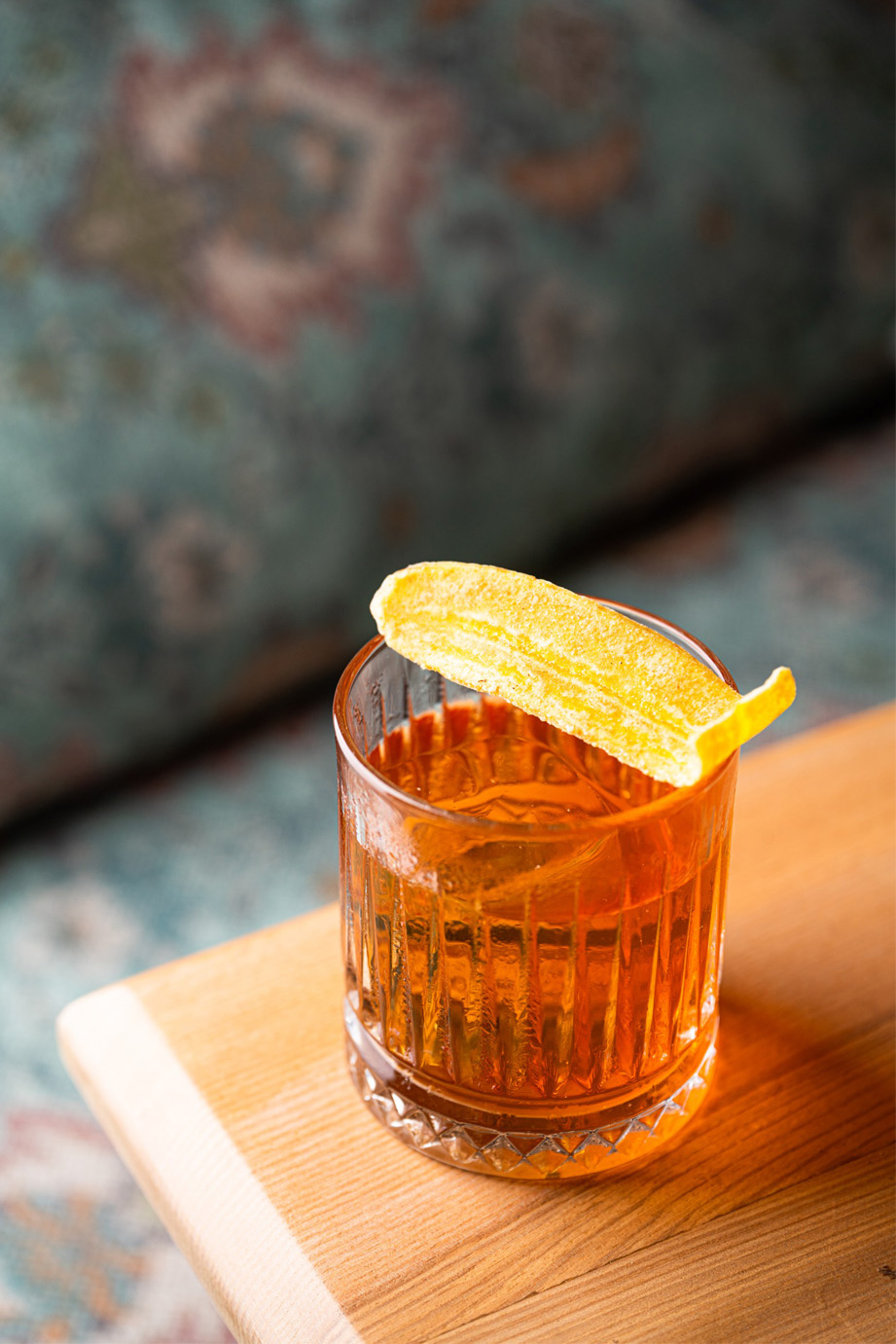 The banana old fashioned is one of One8 Commune's bestseller, reminiscent of a banoffee pie with the notes of caramel and gentle sweetness on the palate. This, however, is the only whiskey cocktail on the menu.
Comfort food gone hipster
The menu is extensive and varied enough for you to keep going back to One8 Commune. There is no distinct cuisine, in the footsteps of modern 'cuisine agnostic' menus—it has a mix of Asian, Mediterranean, Indian and European flavours and concepts. It also has spread so as to cater to pre-lunch hunger pang as well as satiate you with a hearty and wholesome meal. The menu also has a dal khichdi if you're in the mood for it!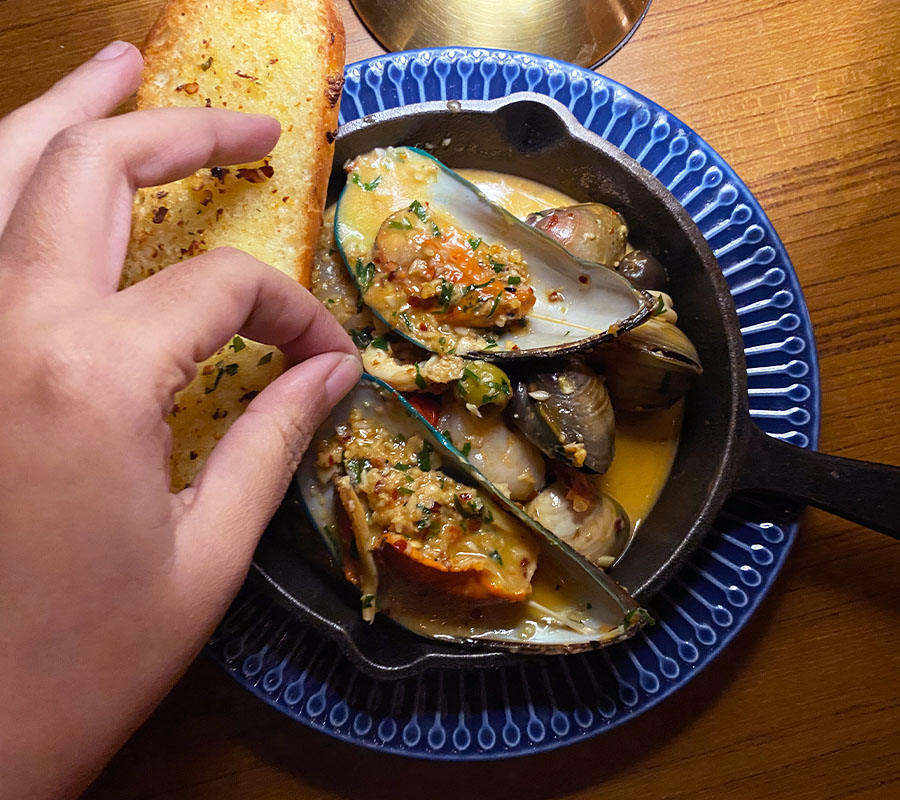 We started off with a seafood-heavy appetiser session, which featured seafood ajillo and calamari fry along with Hunters' Taco with lamb. The ajillo came as a surprise with fresh catch of mussels, clams and even a portion of oyster cooked with a generous amount of garlic, olives and cherry tomatoes. The prawns, calamari and other seafood are cooked tenderly in their own juices that, when mingled with the garlic created a delectable sauce that you will not get enough off—best mopped up with a piece of garlic bread. Be wary of any unopened mussels and clams.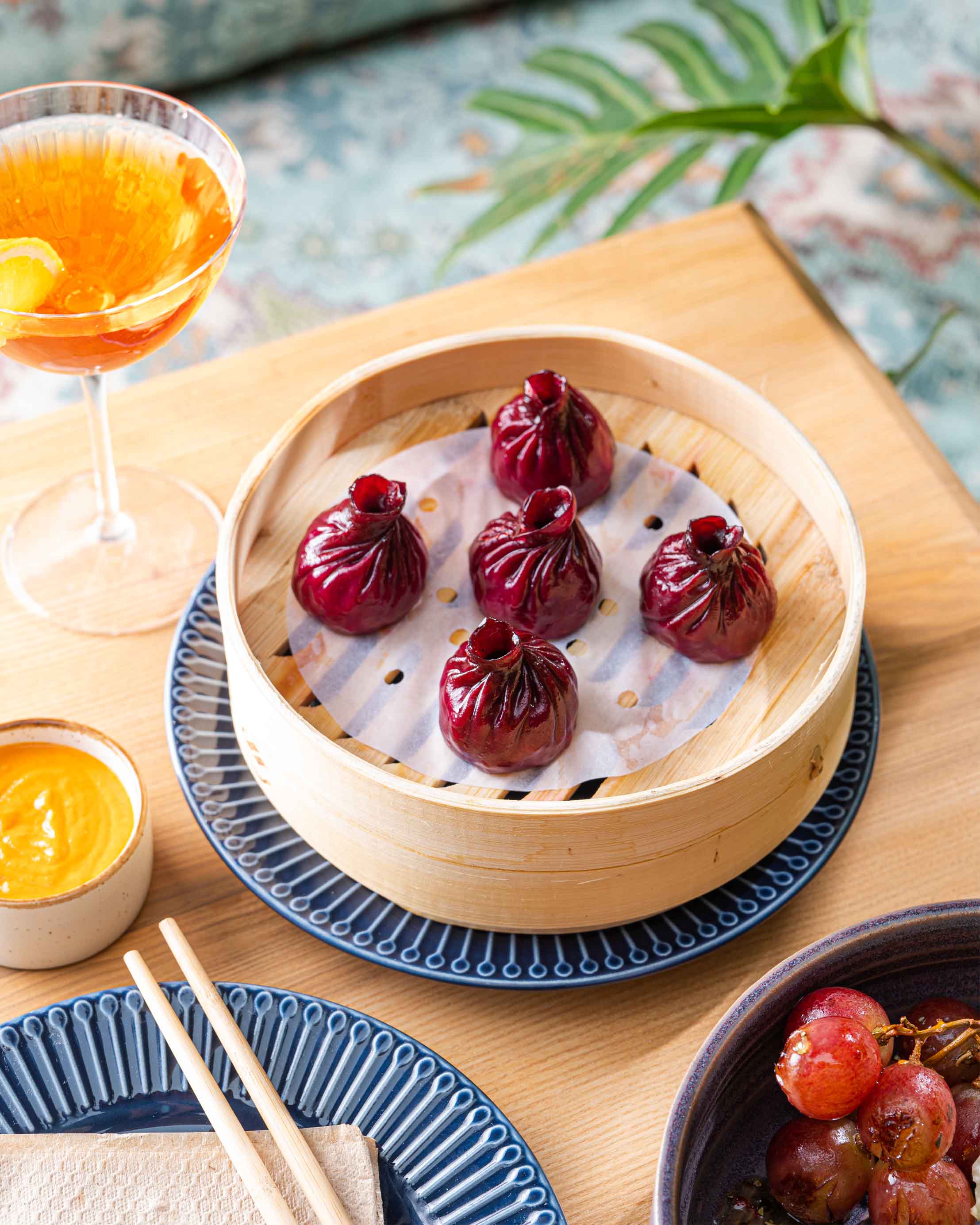 The highlight was their bestseller, Mushroom Googly Dim Sum, that are also Virat Kohli's favourite. Little morsels of different types of mushrooms bound together in a bit of cream cheese and parceled in a beet-coloured casing was truly wholesome. The addition of truffle oil obviously elevated the experience.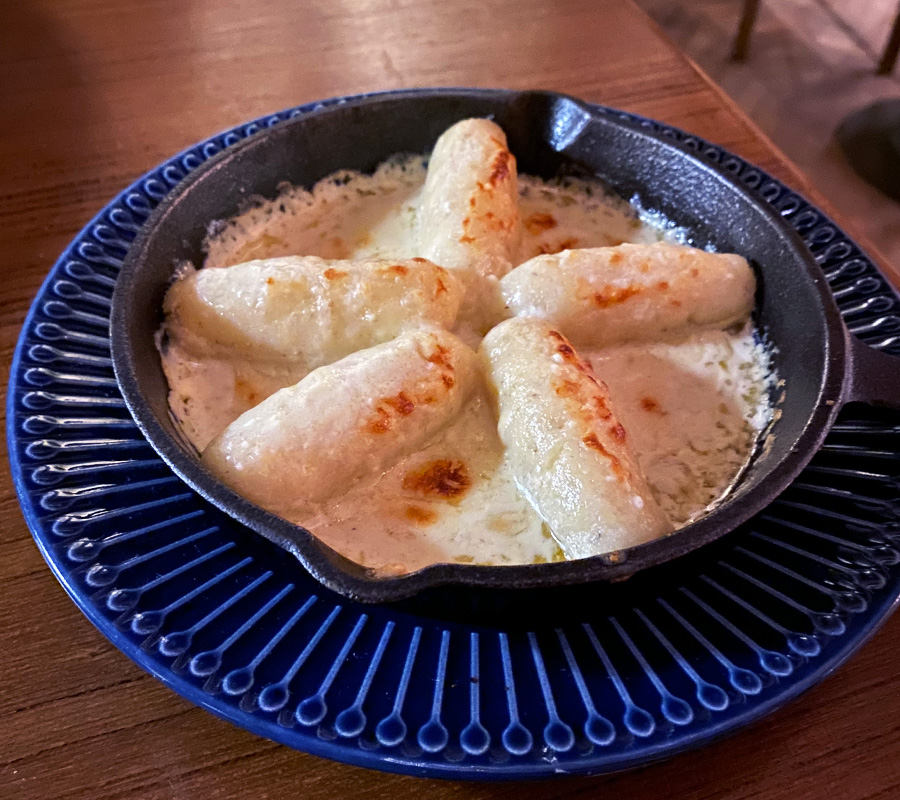 The main course of lamb shank with a bed of greens and mashed potato, and blue cheese gnocchi. The gnocchi was delicate and crumbly with well-balanced broiled cheese sauce. The portion that looks deceivingly small can fill you up very quickly—it is all that cheese! The dish is a treat especially if you aren't counting calories. The lamb shank had an impeccable cook—fall off the bone tender—but missed appropriate seasoning that stopped it from reaching culinary peak it could have.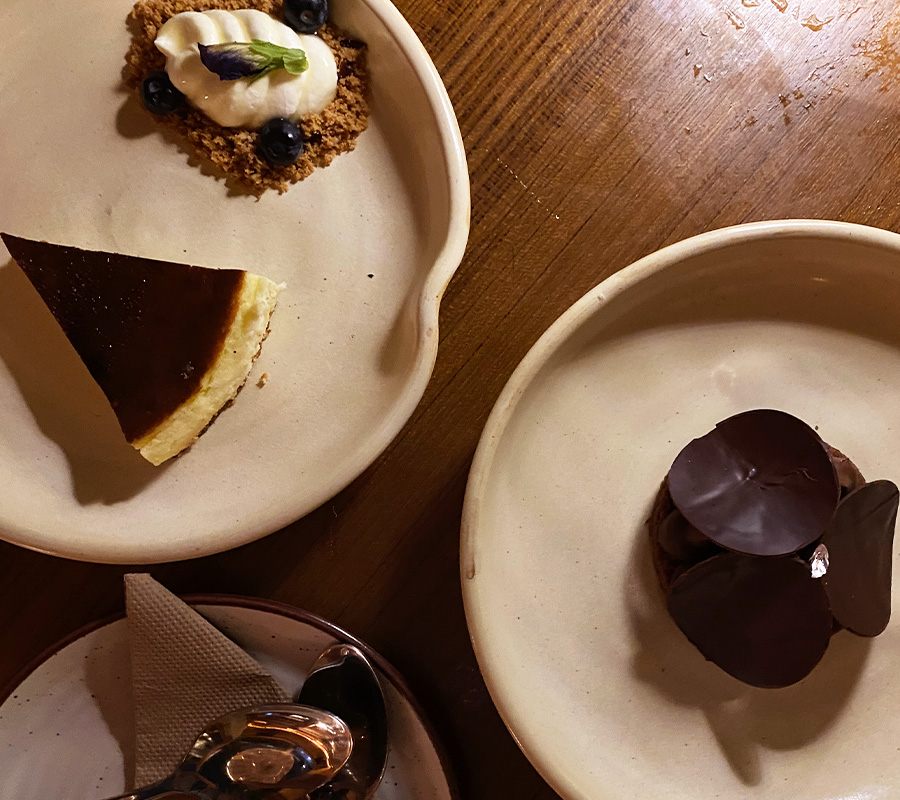 In dessert, there was a burnt Basque cheesecake and texture of chocolate. The former was a classic with its dense structure and airy cream on the side. The latter was, as the name suggests, a showcase of the versatility of chocolate with a flourless cake, nibs and rich chocolate cream. This dessert has the ability to convert the most chocolate averse.
Parting thoughts
One8 Commune Juhu is in an advantageous position of a brilliant location, which with its provenance alone bring in curious diners. It will also be a hotspot for celebrity spotting. The format and the food have stood the test of time, it's safe but comforting with just enough avant-garde spirit to make it a go-to for many in the city.
Photo: One8 Commune; Sayoni Bhaduri