Since its inception in 1999, The Konkan Café has been an iconic restaurant among those seeking authentic southwest coastal cuisine. Nestled inside the President, Mumbai – IHCL SeleQtions, in the posh locality of Cuffe Parade, the restaurant reopened its doors this July with a refreshed outlook and avatar. Is it as good as it was before the pandemic? We dropped by the restaurant on a weekday afternoon to discover just that. Apart from the name and fame that the restaurant has earned for itself over the decades, there are reasons more than one why The Konkan Café has struck a chord with its patrons and continues to do so.
Authentic décor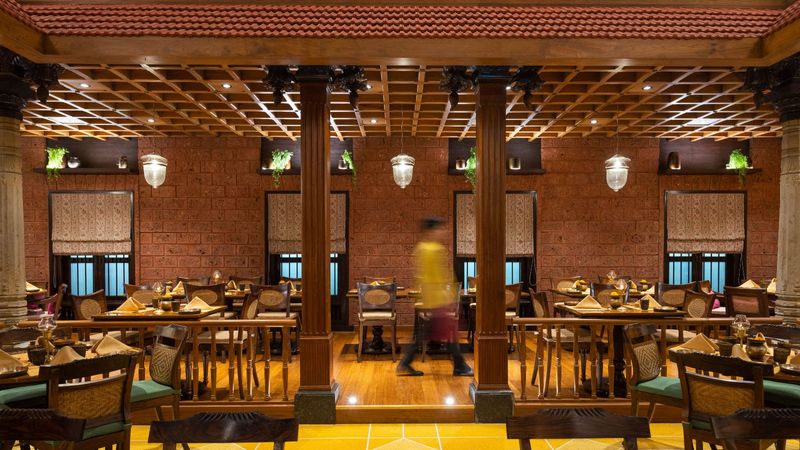 As we set foot inside The Konkan Café, we were instantly transported to a traditional Kerala home with a courtyard called Nalukettu. Although our fellow guests and the vibe of the place were very much 2022-Mumbai, the authenticity in the décor of this age-old restaurant takes you back in time, to a different State. The teakwood carvings, huge windows, a huge stone pillar with carvings, temple bells, and terracotta tiles, all come together to set the mood just right. Plus, the space is graciously lit, adding to the warm and cosy vibes of a regional home.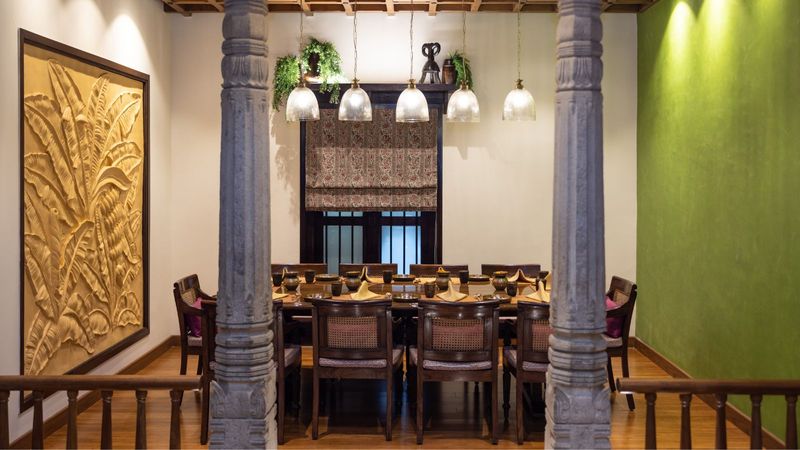 As we took a tour of the courtyard-style dining space of the restaurant, our server for that afternoon suggested we look up and we witnessed the restaurant's humble attempt at recreating an 'open sky'. Several regional homes on the Konkan coast, especially in Maharashtra and Kerala, have an open courtyard, and that is what they have tried to recreate. The mood lighting for this space changes from day to night, and there are stars too, we were told. Unfortunately, we were there for lunch, so we couldn't see what the ceiling transforms into at night. 
Food for the soul
Our table could easily accommodate up to eight people and was set in what could have also doubled up as a bedroom. A quick look at the menu, helmed by executive chef Uddipan Chakravarthy, and it traversed India's rich Konkan coast – from Alibaug, Sindhudurg, and Raigad in Maharashtra to north Kanara and Udupi in Karnataka through Goa. Coconut, rice, seafood, meat, and fresh vegetables are the ingredients that base of the overall menu.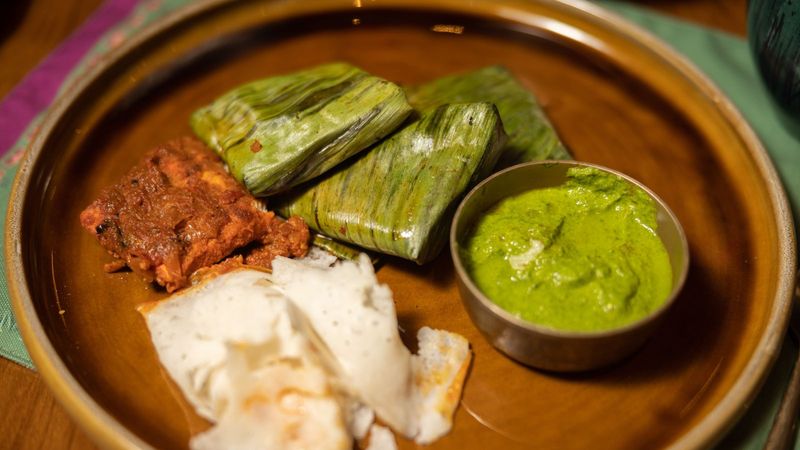 It isn't often that one is treated to an elaborate spread of scrumptious vegetarian and non-vegetarian delicacies from not just one but several coastal States of India under one roof, especially in a city like Mumbai; we were delighted.
Our afternoon began with warm crisp poppadums, served with an interesting array of flavour-packed sides – two types of coconut chutneys and some spicy garlic pickle – served on a copper plate. To complement that, we were offered a glass of solkadhi aka kokum kadhi, a summer specialty from the Konkan region. Although refreshing, the solkadhi was a tad disappointing since it lacked the punch of green chilli and kokum and tasted more like freshly squeezed coconut milk.  
The exciting afternoon unfolded with a delectable course of appetisers that included tawa fry pomfret, thechyacha jhinga (prawns tossed in a spicy Maharashtrian chutney), kozhivarual (crispy fried chicken), and kelphulachi vade (crispy, spicy banana flower fritters). The pomfret was coated in a red spicy marinade that balanced the mild tinge of the sweetness of the fish and then roasted over tawa. Similarly, the generously-sized prawns we tossed in pounded green chillies and garlic. The chicken was fried to perfection, crisp on the outside, laced with Chettinad spices, and soft on the inside. The mildly-spiced banana flower fritters were crisp fried on the outside and were worth every bite.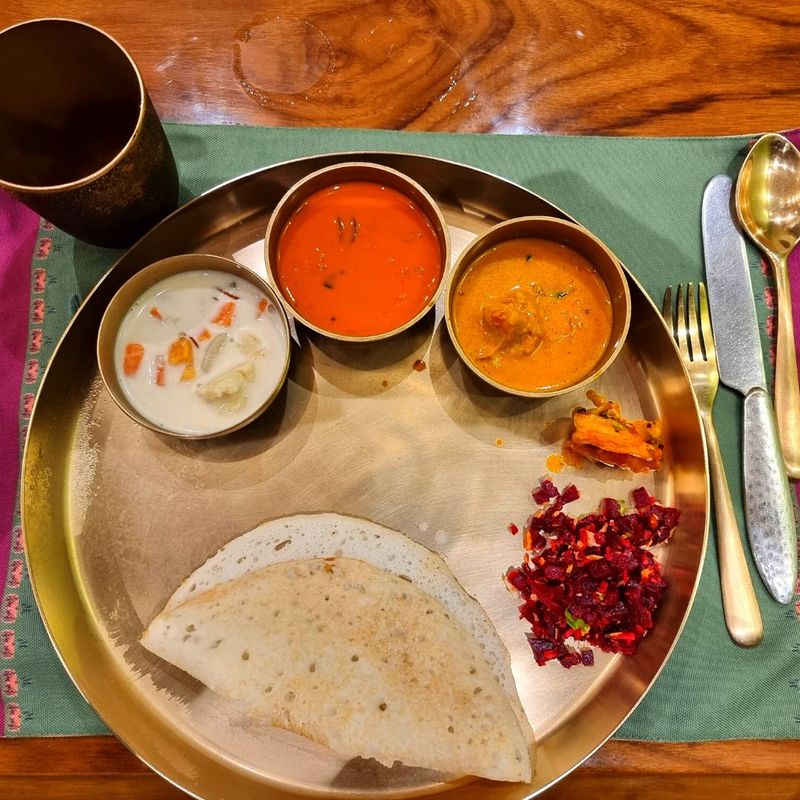 As we were reeling under the effects of these scrumptious appetisers, it was time for the main course. We were served a lavish thali that came with servings of curries, rice, and types of local Indian bread – beetroot poriyal, vegetable ishtew, fish gassi, Malvani chicken curry, appams, neer dosa, and unpolished rice. Not a fan of neer dosa, we went for the pillowy soft appams to enjoy the curries on our plate. The Mangalorean gassi was an orange coconutty gravy with a chunky piece of fish in it; while the Malabari ishtew, loaded with vegetables was simple and flavourful. Not just the coconut milk base but also the vegetables' flavours shone through.
The beetroot poriyal or thoran, where diced beetroot is sautéed with freshly-grated coconut in a tempering including mustard seeds and curry leaves, had a pleasant bite to it with a delicate yet characteristic flavour. We saved the Malvani chicken curry for the end. The curry had succulent chunks of chicken cooked in a spiced but not spicy Malvani-style coconutty gravy, and it was as winsome as the ishtew. 
Ending on a sweet note
For dessert, we devoured several delicacies – not complaining – and the food coma was real! Think crisp, hot jalebis with a creamy malai kulfi, a classic tender coconut souffle, and a portion of Serradura, a Portuguese pudding made with biscuits and whipped cream. The whipped cream in the Serradura was a bit much for us. The souffle was a wobbly, silky-smooth coconut-based pudding with small chunks of tender coconut flesh, and it was heavenly.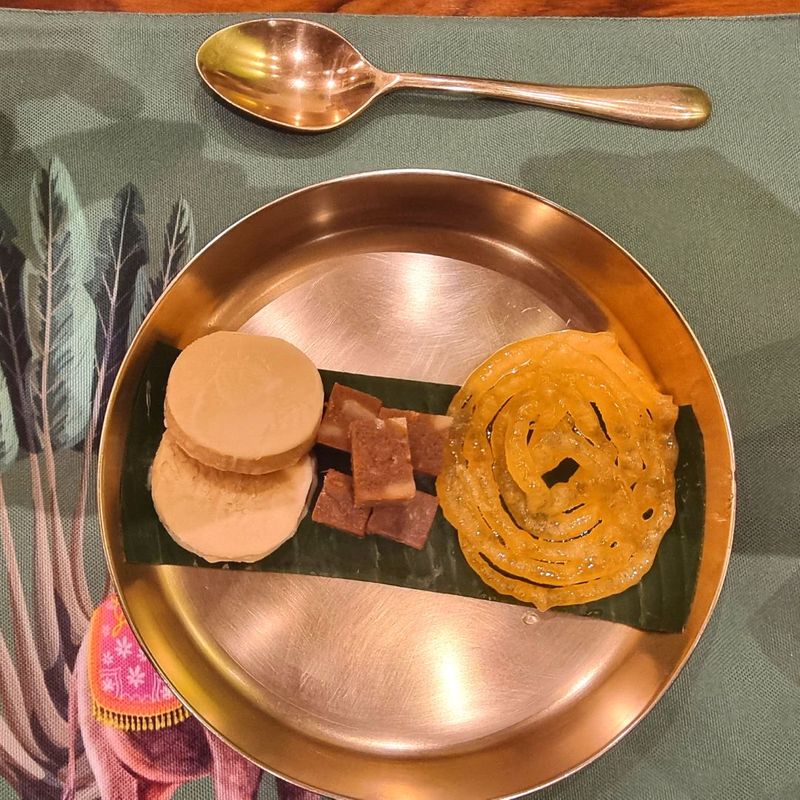 The perfect end to this lavish spread, however, was the jalebi and creamy kulfi combination. It can easily be labelled as the masterpiece of the dessert spread courtesy of the flavour and precision of textures.
Final word
Overall, the Konkan Café is a must-visit for those who love to get lost in the universe of vazhapoo cutlets, dalimb batate, Malabar curry, ghee roast chicken, Malvani chicken curry, and more. Or in simpler words, for a regional food fix. The decades-old restaurant continues to give its guests a homely feel with its authentic décor, food, and service that is both well-informed and warm.
Location: President Mumbai - IHCL SeleQtions, 90, Cuffe Parade, Mumbai, Maharashtra 400005
Meal for two: Rs 4,200 for two people
Reservations: 022 6665 0808
---
Photo: IHCL