Despite living in close proximity to the fantastic eateries of Matunga, I would often make the trip to Dakshin at ITC Maratha to savour regional South Indian fare, particularly of the fishy kind. So, I was stoked when the restaurant moved closer home to ITC Grand Central, Parel. Opened in late September, Dakshin brings South Indian fine dining to south-central Mumbai. Incidentally, Chennai import Avartana with its modernist twist to South Indian cuisine will take Dakshin's place at ITC Maratha later this year—a development that I'm eagerly looking forward to.
From the moment you step into Dakshin, you're immersed in the southern Indian aesthetic, whether it's the terracotta "roof" above the door reminiscent of Kerala homes, a bowl of floating lotus blooms and a dancing figurine at the entrance, or the many pillared dining room. Large windows bring in plenty of light, highlighting the polished wood floors and gleaming brass serveware on the tables. The heady scent of jasmine fills the air and a fragrant coil is tied on my wrist. It's all reassuringly familiar, but in a different setting. On cue, the appalam (papad) basket makes its appearance along with multiple chutneys, including a chutney of the day that could be anything from bell pepper to ridge gourd. Soon, light bites from Iyer's Trolley arrive—piping hot paniyaram, adai, and my favourite banana dosa. The trolley is named after Paramasivam Iyer, a former chef who manned the counter and was hugely popular with guests.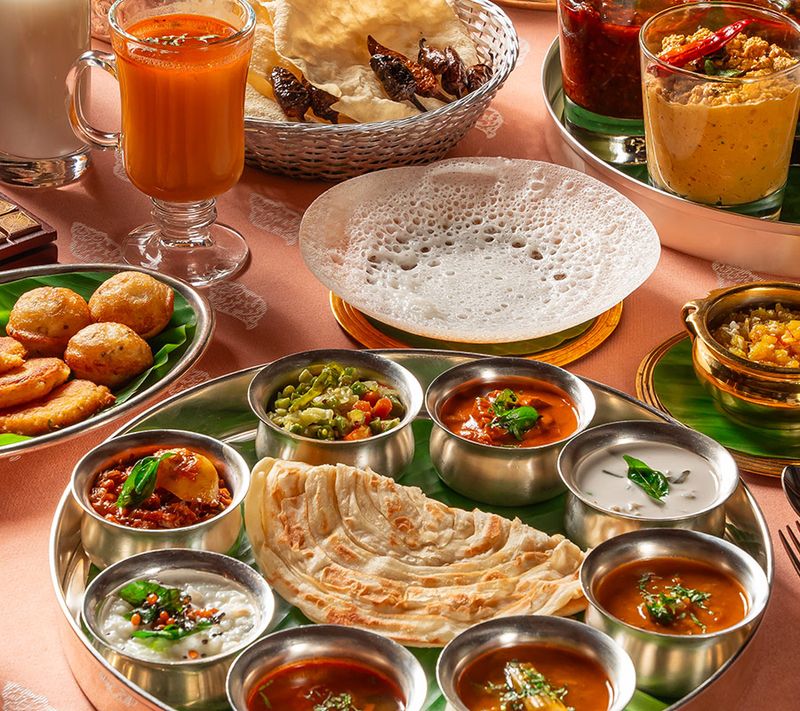 Dakshin as an ITC Hotels brand was born in 1989 under the stewardship of Chef Praveen Anand, ably assisted by top chefs from different southern states. What emerged was a fine-dining experience that pays tribute to distinctive flavours from Kerala, Andhra Pradesh, Karnataka, Telangana, Tamil Nadu, and Pondicherry. Instead of clubbing everything under the generic banner of "South Indian cuisine", Dakshin takes an effort to celebrate the uniqueness of each state's dishes—from the type of chilli to the souring agent used, the focus is on authenticity.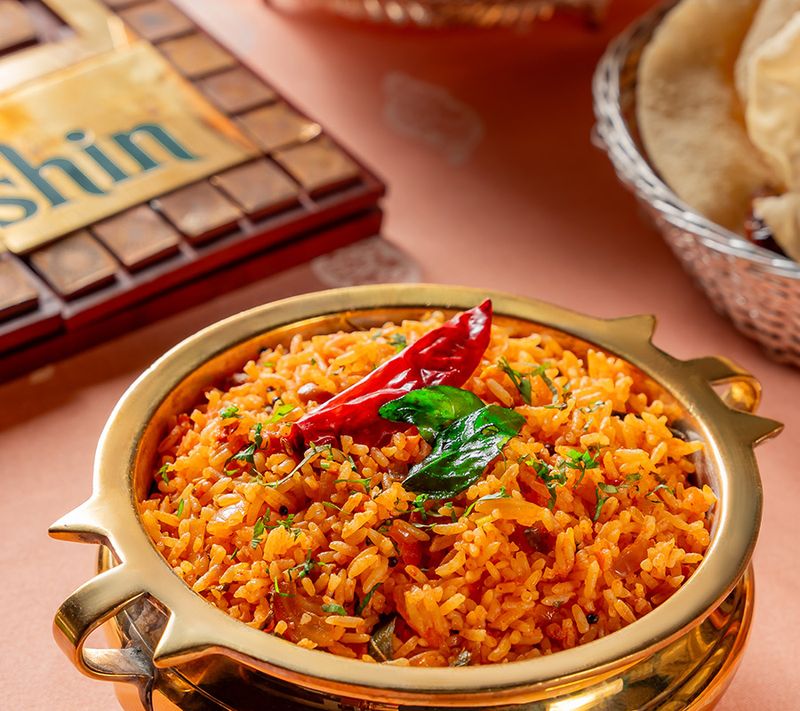 At ITC Grand Central's Dakshin outpost, you can choose between the à la carte menu and the chef-curated menus. The former is several pages long with separate state-wise sections, giving you an immersive experience in a particular state's cuisine. Or you can just leave it to the experts and opt for a vegetarian or non-vegetarian experience menu, Saivam and Asaivam respectively. There's a special Matsyam or seafood menu and keeping in mind Mumbai's large Jain population, a vegetarian menu with no onion or garlic is on offer. If you're particularly hungry, pick Sampoornam, which is a more elaborate version of Saivam and Asaivam meals. There's a short menu of signature drinks, all topically named (tequila-based East Coast Road and two gin-based cocktails Banjara Hills and Tanjore Tryst) and quite Instagram-friendly. Non-alcoholic versions are also available.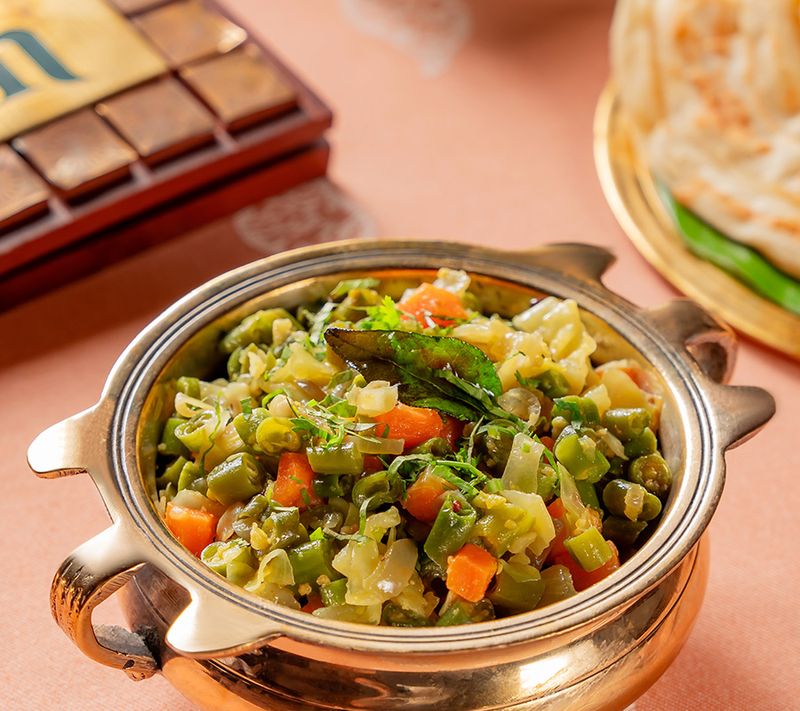 The biggest draw at Dakshin for me has always been the seafood, so I opt for the Matsyam experience while my husband decides to go the whole nine yards with a Sampoornam non-vegetarian feast. Meals arrive on banana leaf-decked thalis along with sides of sambar, rasam, curd rice, and more. My fish thali has two masala-coated fried prawns (although they are so delicious that I could probably eat half a dozen) and meen moilee (silken fish curry in coconut milk with ginger, garlic, and green chillies). I mop it up with hot appams and flaky veechu paratha. Other dishes include urlai roast (spiced baby potatoes), tomato pappu (a comforting lentil curry), and khyma choru (rice tossed with spiced lamb mince, eggs, and capsicum). The rice is a tad dry and I would have been happier with another seafood dish on the plate (like the fish fry that appears on my husband's thali). However, the overall meal is quite delectable and certainly more than I can finish.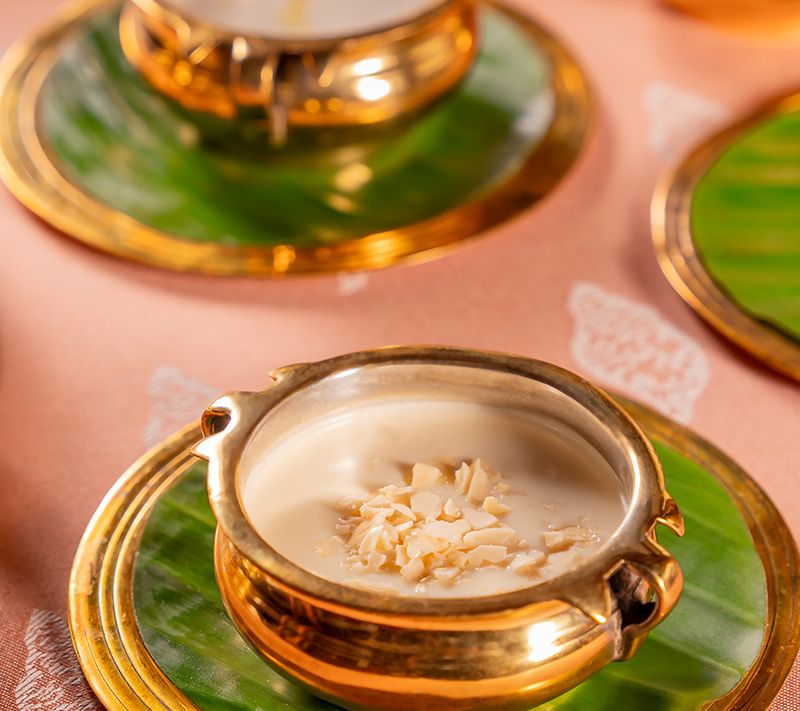 We end the meal with a trio of desserts—elaneer payasam (made with tender coconut), badam halwa, and kadal patchee (kind of like pistachio ice cream). Of course, there's filter kaapi to round off the meal and a veeda (freshly-made paan) at the end. The entire meal is a well-choreographed hour-long experience and is the very definition of food coma—thankfully an afternoon siesta is a 10-minute taxi ride away.
Address: Dakshin, ITC Grand Central, 287 Dr Babasaheb Ambedkar Road, Parel, Mumbai.
Price for two: Rs. 3,700 plus taxes (without alcohol)
---
Photo: Dakshin