Swapna Mickey grew up no stranger to her Syrian Christian roots and its unique cuisine. Back home in Kottayam, a bustling town in south-central Kerala, family meals were lessons in culinary appreciation. Her mom baked and brewed, so everything from cakes to wines were homemade and so good, they could compete with any five-star chef. As the years passed by, Swapna, who inherited her passion for winemaking from her mother, has created almost 30 new varietals, from Cherupayar wine, mango wine, jackfruit wine, gooseberry wine, ginger wine, nutmeg wine to mint wine and even wine without yeast.
"Winemaking is not an easy job, you have to be very patient and dedicated," says the homemaker who currently lives in Kuwait. "A small mistake can ruin the whole batch of wine, and instead leave you with something that's even sourer than vinegar," she shares. The most challenging part about winemaking, she says, is the waiting period. Sometimes, Swapna waits for 6 months and then there are times when it can take up to 7 years.
Goa's homemade wines
"Goans love making wines at home and take immense pride in serving it. Fruity homemade wines are apt for Christmas and are festive. For us Goans, it is customary to serve and enjoy wines at celebratory and festive occasions," writes Hilda Mascarenhas on her blog, Hilda's Touch of Spice. She's a winemaker by passion and not by profession and has added an interesting Pineapple Wine recipe made from the fruit's peels and eyes in her repertoire.
If that surprises you, here's what Edwin Saldanha, a noted octogenarian wine-maker from Goa, quipped when he was once asked about the different varietals of wine that he makes. "Just about everything; even soles of old shoes!"
In his book Successful Goan Home Wines, Saldanha offers an insight into the "guarded secrets by many cultures" of winemaking. Featuring about 59 recipes collected from around the country, the book is a handy-guide on unique wines such as carambola wine, carrot wine, milk wine, mead (fermented from honey), potato wine, tomato wine and even wheat wine.
Anglo-Indians' love for winemaking
Families in Bow Barracks, a locality in central Kolkata and home to many Anglo-Indians, have been known for their homemade wine brewing, a major part of which is downed at their annual Christmas-eve bash. The Christmas experience here is as local as it can get - the red-robed Santa comes riding a typical Kolkata hand-pulled rickshaw. So much that musician and film-maker Anjan Dutt was even inspired to make an English feature film, Bow Barracks Forever.
The movie is based on a middle-aged Anglo-Indian character, Emily Lobo, who bakes cakes and brews red wine. The cookbook author, food consultant and historian Bridget White Kumar, too in her book Anglo-Indian Delicacies: Vintage and Contemporary Cuisine from Colonial India dedicated an entire section on the Anglo-Indian tradition of wine brewing. From ginger wine, beetroot wine, gooseberry wine to apple wine, the book offers insights and recipes into the community's pass-me-down recipes. 
Is winemaking in Indian homes legal?
Winemaking has been an ancient tradition in India and can be traced back to the Bronze Age when Persian traders brought the practice to the region. However, Christmas winemaking is said to be a legacy that was passed on by the British and Portuguese in the Indian colonies, especially that of Goa. Since then homemade wines along with plum cakes have found their way into many Christian celebrations, not just Christmas. The easy availability of bottled wines has meant the tradition is also slowly fading away. 
"Wine is to Anglo Indian families what Avakai mango pickle is to South Indian homes," Christine Lazarus, ex-MLA and member of the Anglo-Indian community was quoted by a daily in response to the 2011 ban on home brewing of wines in Andhra Pradesh. As per the Kerala Abkari Act, brewing wine having alcohol content at home is an offence under Section 58, while selling it is punishable under Section 55 (i).
In Tamil Nadu, on the other hand, individuals can make wines at home after getting a food and beverages licence from the government. That said, be assured that making homemade wines is not prohibited by law in other Indian states of our country, apart from Bihar, Gujarat, Lakshadweep, Manipur, and Nagaland, provided you're doing so for your personal use and not commercial sale. 
What you need to make wine at home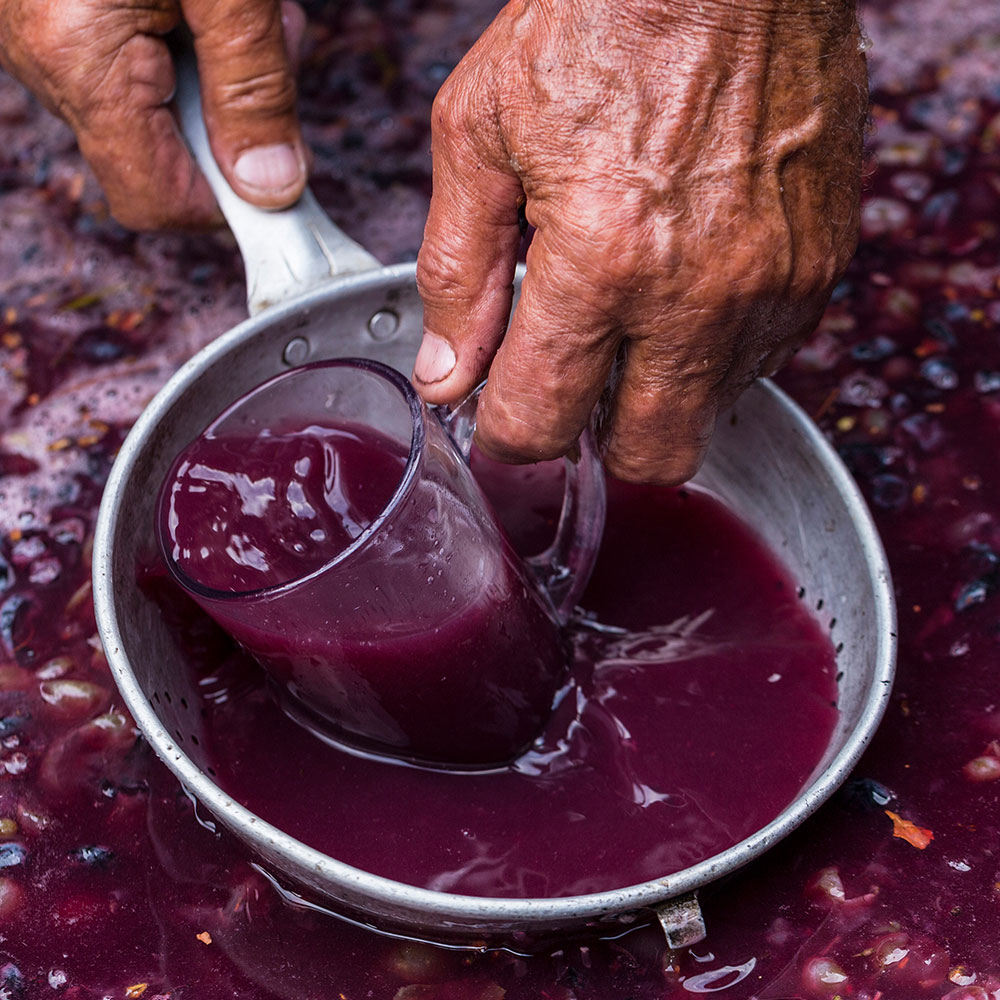 Made from fermenting the fruit/vegetable, sugar, yeast—the art of winemaking doesn't usually demand fancy equipment. You may have to look for a bottle with a wide mouth. Avoid plastic bottles and invest wisely in an earthen or glass bottle, a wooden spoon that will only be used for winemaking, a clean piece of cheese/muslin cloth and a strainer, shares Swapna.
If you plan to ferment some homemade wine, here are things to keep in mind:
Bottles that are used for making or storing wines should be sterilised, washed with hot water, wiped thoroughly and sun-dried. If your utensils or bottles are moist or damp, there's a high chance of contamination and your wine turning sour.

Always use the best fruits for making wine. Over-ripe or under-ripe fruits are a big no-no. Like your equipment, your fruits too should be washed and drained well. Wipe fruits with a clean kitchen towel.

Use good quality yeast for your wines. You can use wine yeast or regular baker's yeast. 

If a recipe asks for daily stirring, follow it. Stir at least 3-5 minutes every 24 hours to ensure all the ingredients are mixed.

Strain the wine on the exact day mentioned in the recipe. For straining, always use a clean, dry cloth. Reserve the cloth only to strain wine.

If the recipe asks you to rack the wine for a couple of weeks, do not stir, open or shake the bottle during this period. This is to clear up the wine so that it looks better and flows better when poured.

Always remember to bottle or re-strain the same day as mentioned in the recipe. When straining, do it very slowly without shaking the bottles. Invest in a siphon for transferring the wine if you plan to make more. 

If possible, use dark coloured bottles to store wine, so that your wine will not change colour due to sunlight. You could store your bottle inside a cupboard.

Never close the lid tightly.

Ageing of the wine is a personal preference. You can age it for as long as you want. Remember that aged wines will become silky smooth and strong over time.
Whole Moong Bean Wine Recipe
Ingredients
250 gms (1 cup) whole moong bean

625 gms sugar

Lime juice and zest of 1 lime

¼ tsp yeast

50 gm raisins, chopped

1½ litre water
Method
Wash green gram and keep it in a strainer to drain it completely for at least 1 hour.

Boil water and sugar and keep it aside. Add chopped raisins, lemon zest and lemon juice to the hot water and mix well.

When the mixture becomes lukewarm, add washed and well-drained green gram and stir well. Sprinkle yeast; mix well and transfer to a sterilised bharani or a bottle.

Tie the bottle with a clean cloth or close with a loosely-fitted lid.

For the next 20 days, keep stirring this mixture.

After 20 days, strain the mixture through a cheese/muslin cloth into a clean dry bottle.

Keep this again for seven days untouched. After seven days strain the wine again, pour it into clean dry bottles and use.
Recipe by Swapna Mickey's Cherupayar
Photo: Shutterstock