When you have a sibling, in most cases, you get the whole package – best friend, partner-in-crime, ATM, bodyguard – you name the role, and your brother or sister will be that for you (willing or unwillingly). Your sibling has always got your back. 
On Raksha Bandhan 2022, show some love and care to them by giving them thoughtfully curated and created food gift hampers. Why hampers, you ask? They are the most simple and effective way to show that you care and get the good times going. 
Zee Zest has compiled a list of the most thoughtfully curated and beautifully wrapped gift hampers to gift your sibling on Raksha Bandhan 2022. Look no further than our list for Rakhi gift ideas.  
Best Rakhi gift hampers for dessert lovers:
1. Le15 Patisserie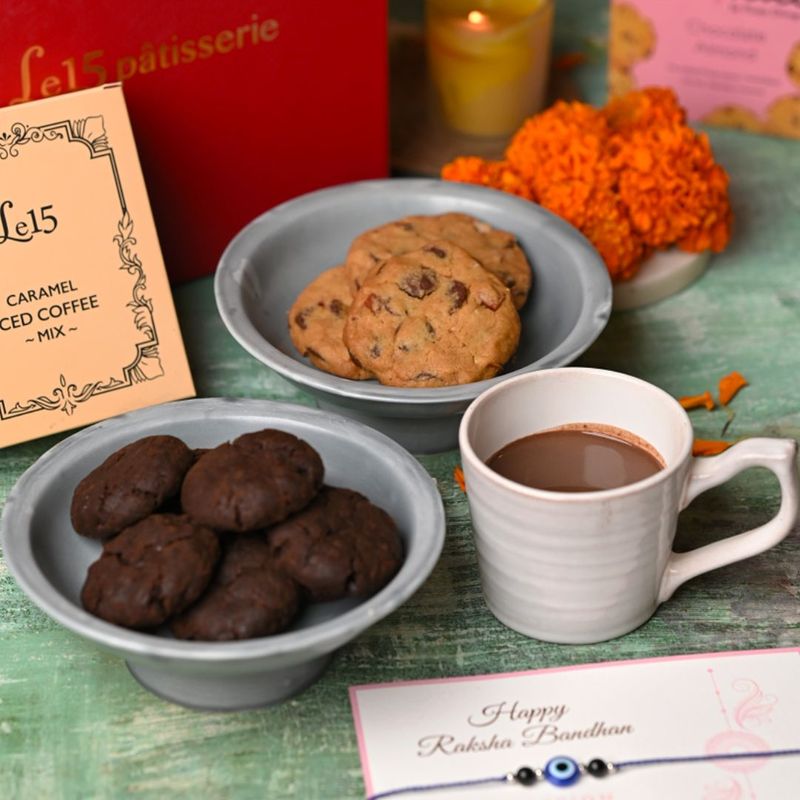 Upgrade those endless chai/coffee and charcha sessions with your sibling this Rakhi with Le15 Patisserie's 'Make Your Bond Sweeter Gift Box'. This exciting gift box features dark chocolate and jaggery dipkies, a caramel iced coffee mix and chocolate almond cookies. 
Price: Rs 1499 
How to order: Log onto le15.in or pick up from Le15 stores across Mumbai
2. Artisanté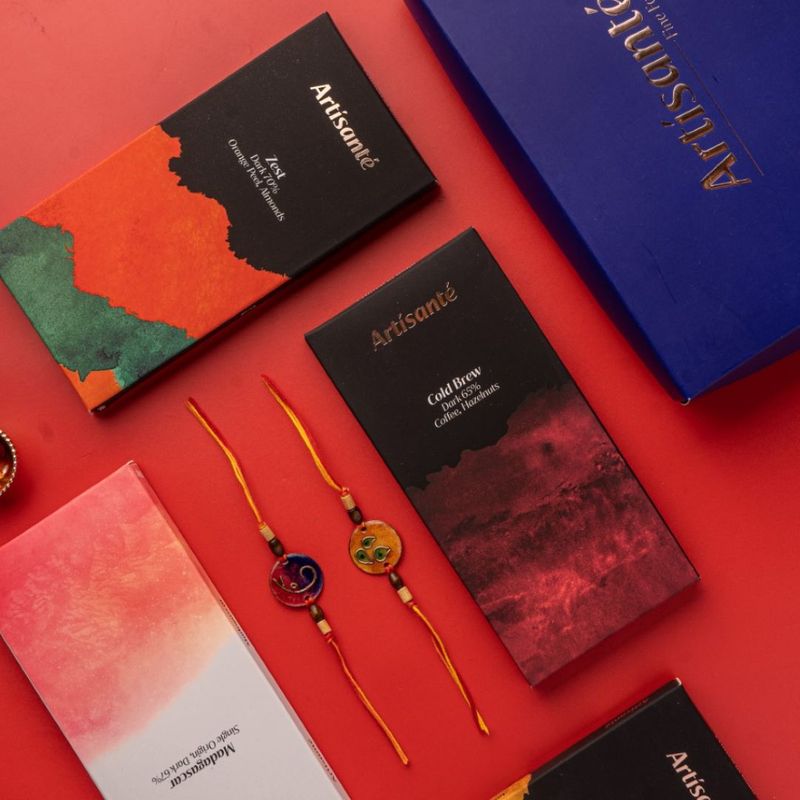 If custom gifts are what you prefer, check out Artisanté's affordable yet premium chocolate gift box. You can pick from their selection of chocolate flavours along with a rakhi, add a personalised note to convey your love to your sibling, and get it delivered. 
Price: Rs 375 onwards, plus taxes
How to order: log onto artisante.in 
3. Truffle & Co.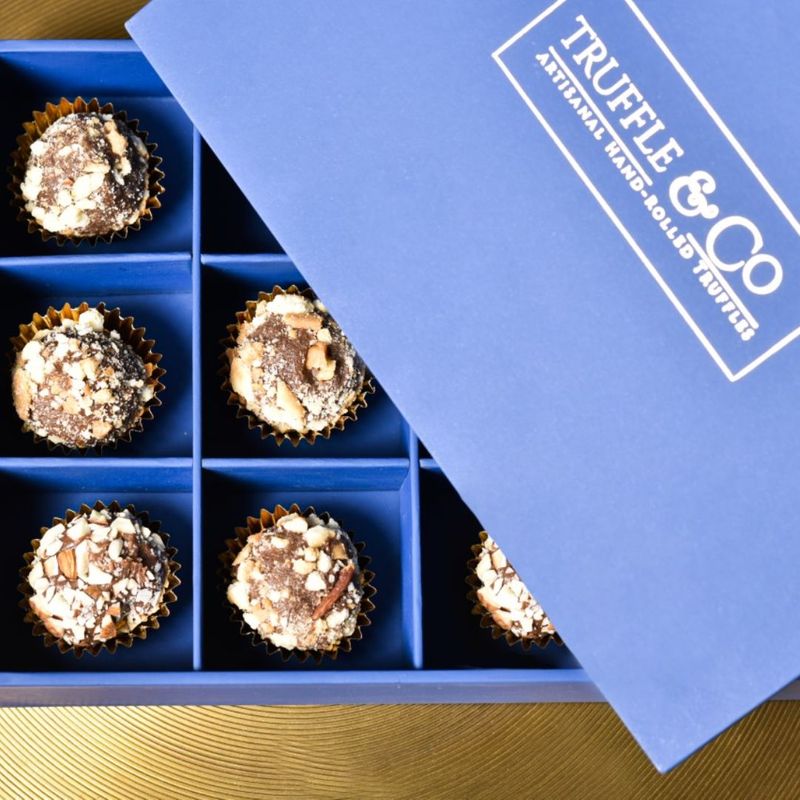 Chef Vidushi Sharma and Tanya Anand's Truffle & Co. has created a Rakhi special gift box of 12 truffles. It consists of the brand's signature truffles and two limited-edition flavours – sesame and peanut truffle (milk chocolate base) and tropical truffle (white chocolate base). 
Price: Rs 1500-2700
How to order: Call at 08287216506 or DM on Instagram/Truffleandco_
4. La Folie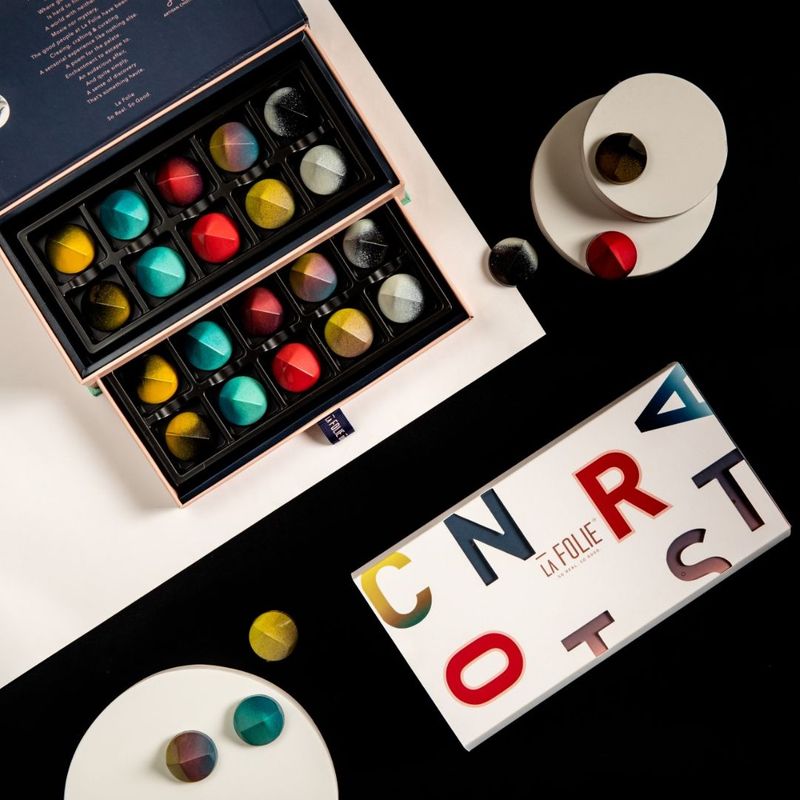 No matter what your bond is like with your sibling, La Folie has a chocolate bonbon flavour for everyone in The Contrast by their new gift hamper. Available in a box of six, 10, and 20, The Contrast by La Folie has flavoured bonbons such as 'Mom Loves Me More' (a dark chocolate bonbon with peanut butter, miso praline, and raspberry chilli gel) and 'You are my 2am person' (a coffee chocolate bonbon with coconut and blackberry lavender ganache, topped with coffee streusel).  
Price: Rs 710 onwards 
How to order: log onto lafolie.in 
5. Smoor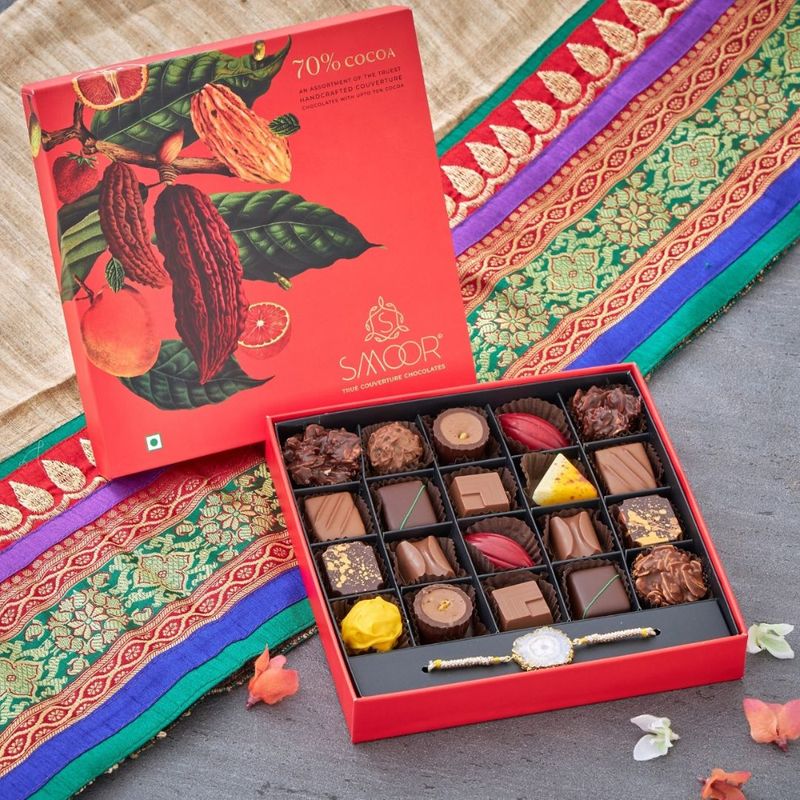 Express your love and care for your sibling this Raksha Bandhan with a box of high-quality chocolate aka couverture chocolate in a variety of flavours like vanilla, mango, and passion fruit. This comes with a rakhi made of agate. 
Price: Rs 2000
How to order: smoor.in
6. Hershey's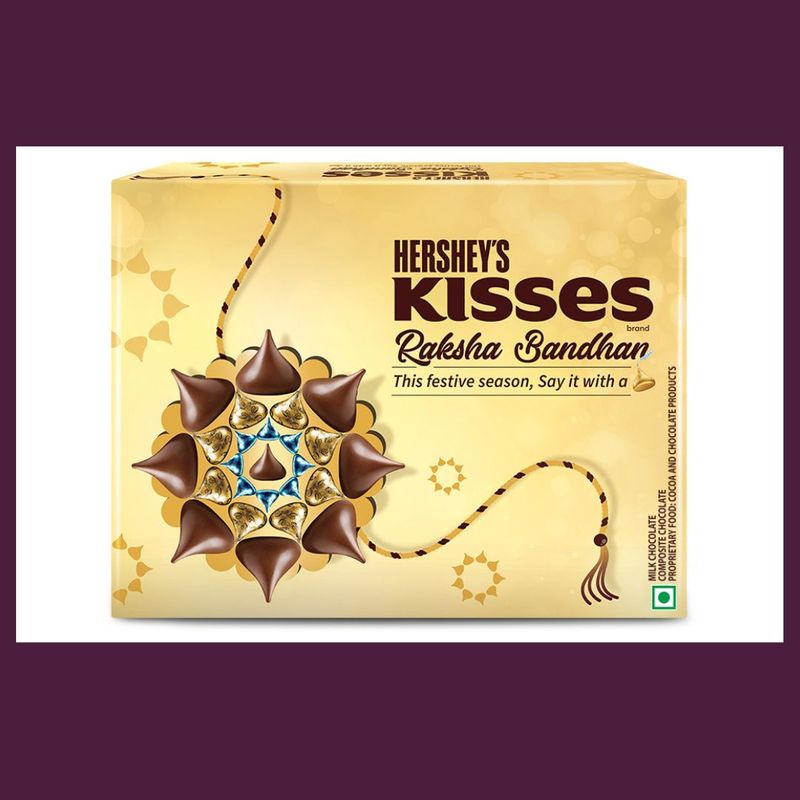 For the sweet-toothed sister or brother, Hershey's Kisses moments gift box comprising dark chocolate truffles is a great last-minute gift. Choose from flavours such as almonds, milk chocolate, and cookies-n-cream. The gift pack also includes a rakhi, on the house.  
Price: Rs 450 plus delivery charges (for a pack of 193.5gm)  
How to order: online via Amazon or Flipkart 
7. Neuhaus 
If chocolates is all your sibling has got on his or her mind, then this chocolate duets slider box by Neuhaus makes for a great choice. It contains 36 treats made in Belgium using sustainably sourced cocoa. There are six flavours in total and you can mix and match and enjoy. These treats are eggless and have a shelf life of 30 days. 
Price: Rs 5250 
How to order: Visit Tata Cliq Luxury (luxury.tataliq.com)
8. ITC Fabelle
To amp up the Raksha Bandhan 2022 celebrations, the master chocolatiers at ITC Fabelle have curated four luxurious chocolate hampers - dessert collection, continents dessert collection, the bars trilogy, and the bars quartret. The treats in each of these Rakhi gift hampers is made using single-origin cacao and an array of exotic ingredients.
Price: On request
How to order: Check out an ITC Fabelle store near you or order online via itcstore.in
Best Rakhi gift hampers for snack, dessert, and confectionary lovers
1. The Pink Rosette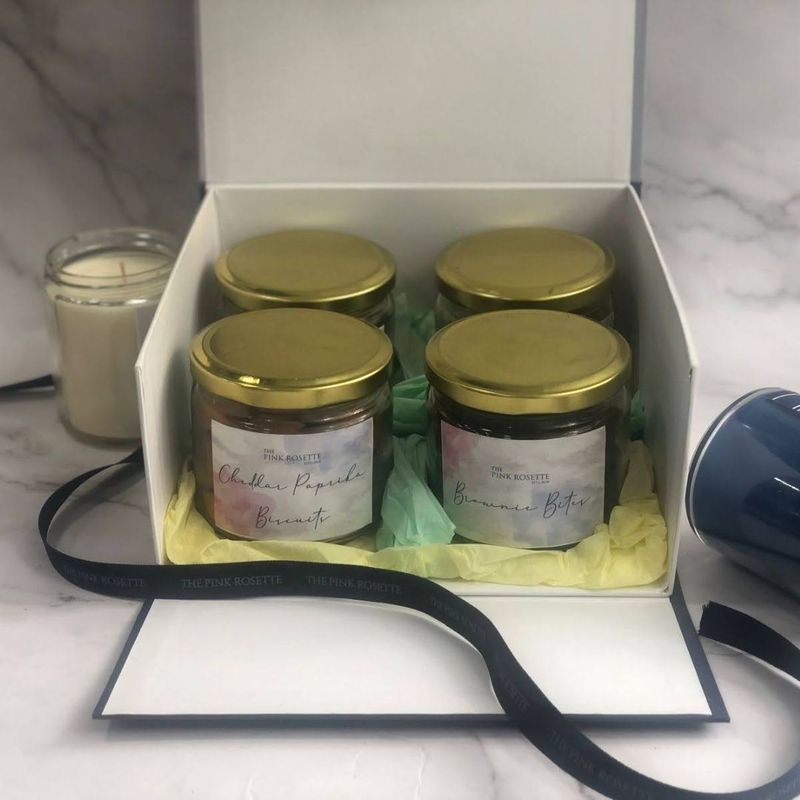 Customise and pre-order a gift hamper from The Pink Rosette in Mumbai this Raksha Bandhan, if your sister or brother loves sweet and savoury bites. Their rakhi special hamper has brownie bites, cheddar paprika biscuits, cranberry orange and almond biscotti, and checkboard cookies – all eggless. 
Price: Rs 1800
How to order: Log onto thepinkrosette.com or DM them at Instagram/thepinkrosette
2. Monèr Café bistro and dessert bar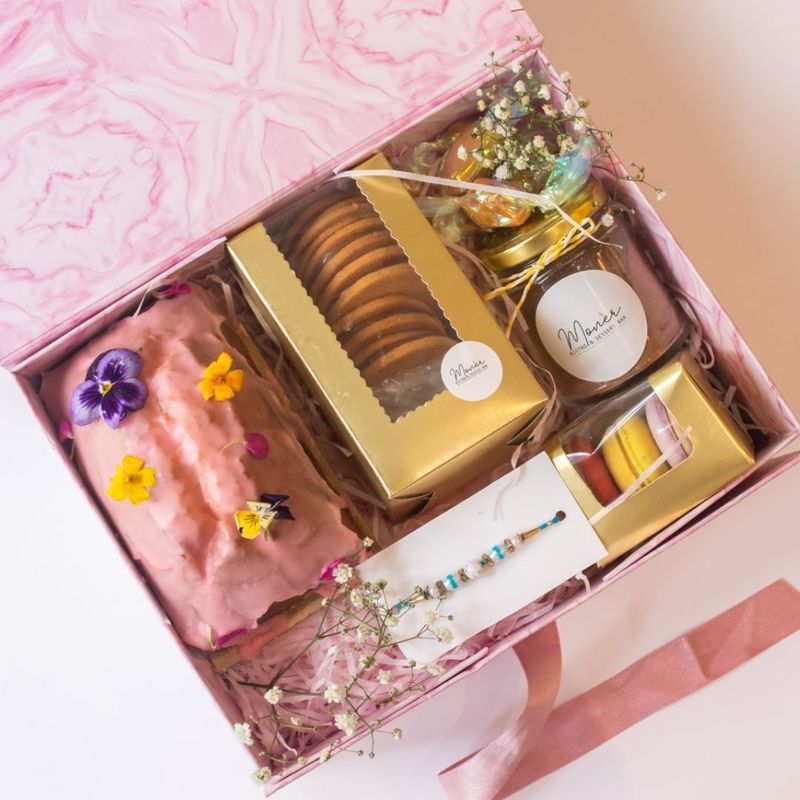 Available till August 14, 2022, Mumbai-based Monèr's limited-edition rakhi hamper includes a mix of delectable desserts. It consists of a range of eggless goodies – from a lemon pound cake to macarons, Alfajores cookies, caramel candy, and a hot chocolate mix. Chef Freny Fernandes, the mind behind the bistro and dessert bar, will also be making mini croquembouche – a tower of freshly made profiteroles filled with vanilla crème. 
Price: Rs 2500 for rakhi hamper and Rs 4500 for croquembouche (this is excluding taxes and delivery charges)
How to order: Call on 07770014123 
3. Zinque India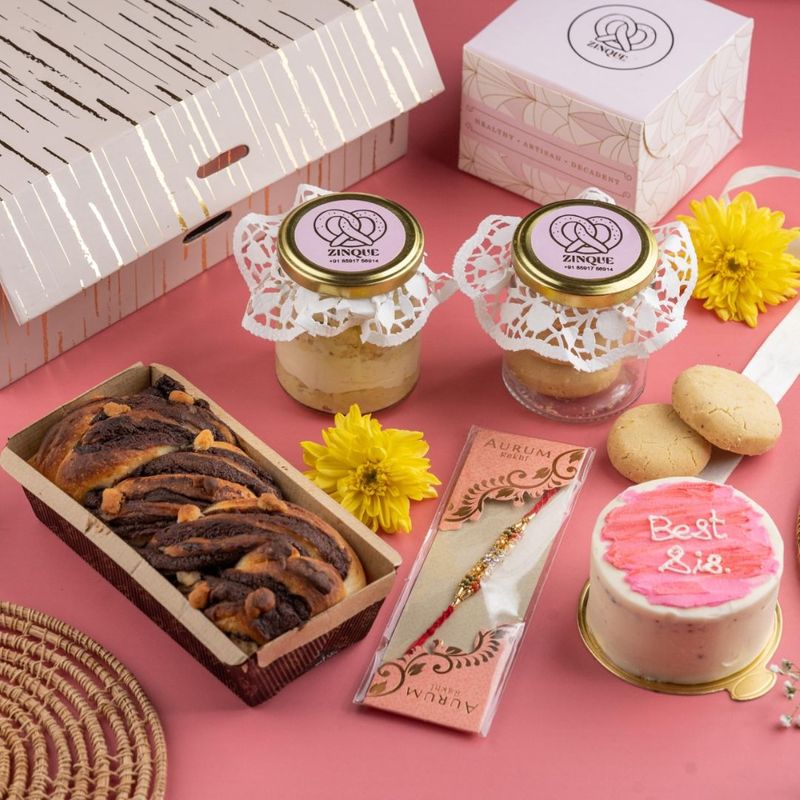 Known for their mouth-watering bakes, Zinque India's Raksha Bandhan 2022 hamper has some unique and irresistible treats. Think rasmalai cheesecake jar, nankhathai, Belgian chocolate babka, and double chocolate mini cake. 
Price: Rs 1995
How to order: pre-order by logging on to zinqueindia.com 
4. 4700BC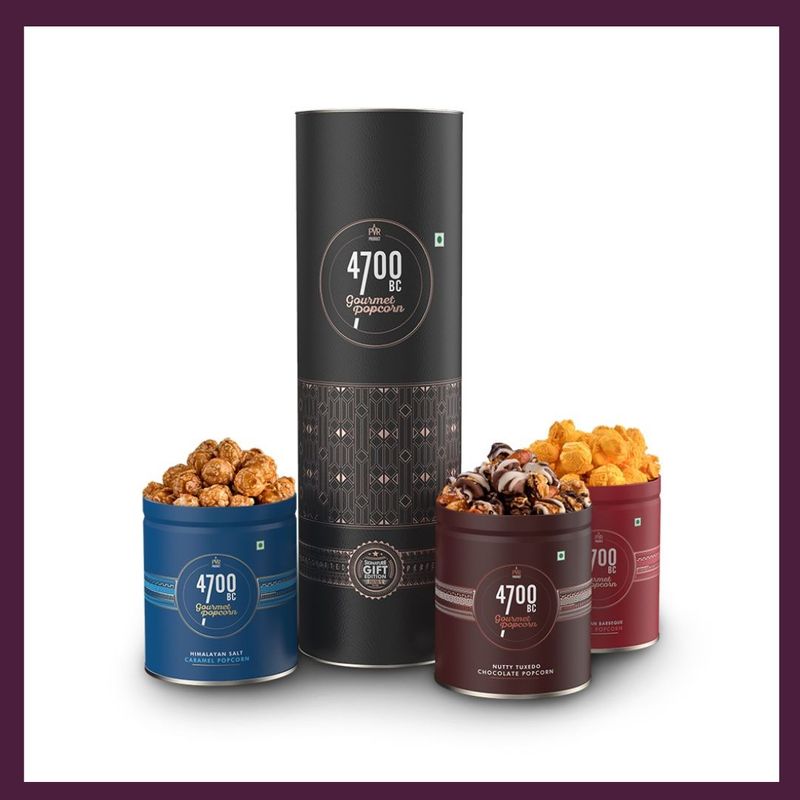 Planning a binge-watch session with your sibling post the Raksha Bandhan rituals? 4700BC got you covered with the snacks. Why binge on regular popular when you can enjoy flavoured ones from the brand. In their festive gift box of 3, there's popcorn in Hawaiian barbeque, Himalayan salt caramel, nutty tuxedo chocolate, and mocha walnut chocolate flavours. Oh, and a rakhi you can even plant, just in case. 
Price: Rs 850
How to order: Log onto 4700bc.com, check your nearest gourmet supermarket, or order via Amazon 
5. Café Noir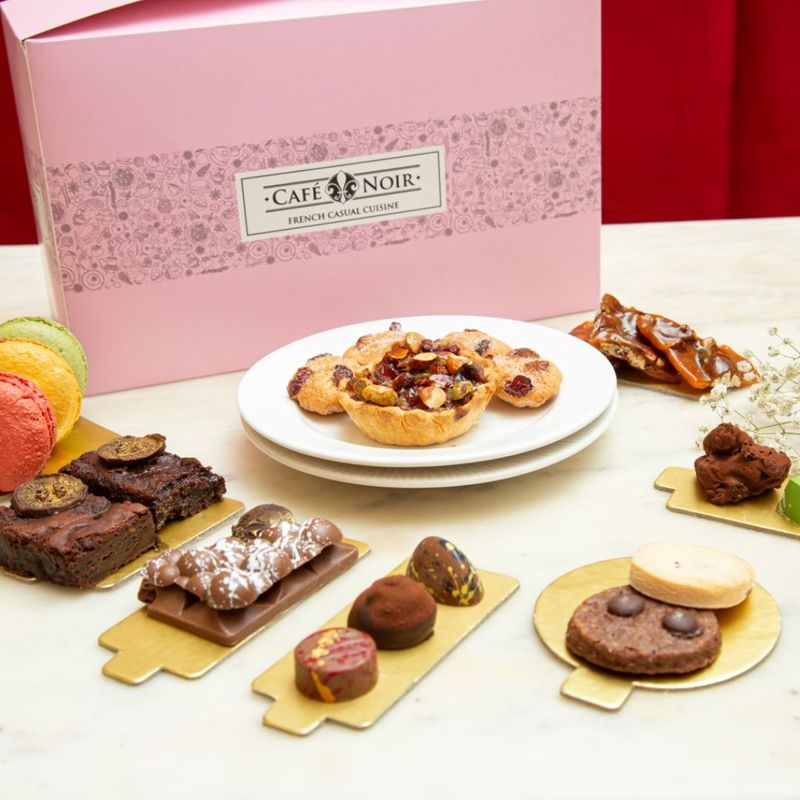 If your sibling a dessert lover, particularly one that loves chocolate, then Café Noir's festive gift box is the perfect gift. It comprises macarons, gooey brownies, chocolate bar, a variety of chocolate and cookies, pralines, Florentine tart, and berry madeline. 
Price: Rs 1600 plus taxes
How to order: Call 07400491481 and pre-book  
6. The Gift Studio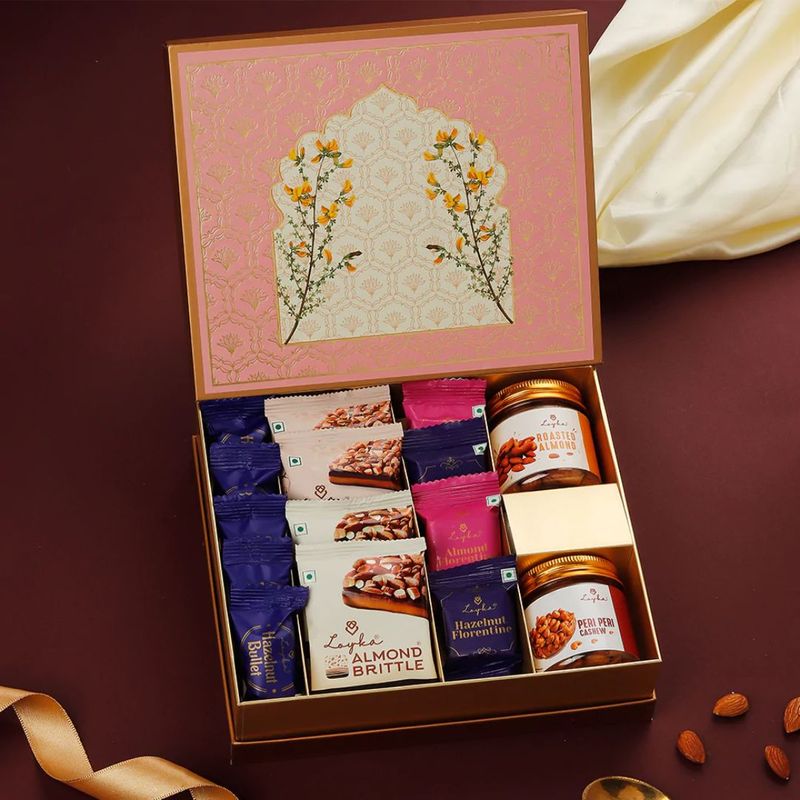 Long-distance rakhi celebrations in India can be tough, make it memorable by sending The Gift Studio's premium festive gift box containing almond brittle, almond cookies, hazelnut florentines, hazelnut bullets, almond Florentines, a jar of roasted almonds, and a jar of peri peri cashew.
Price: Rs 890
How to order: Log onto thegiftstudio.co 
7. 49 Bakers Avenue by Cafe 49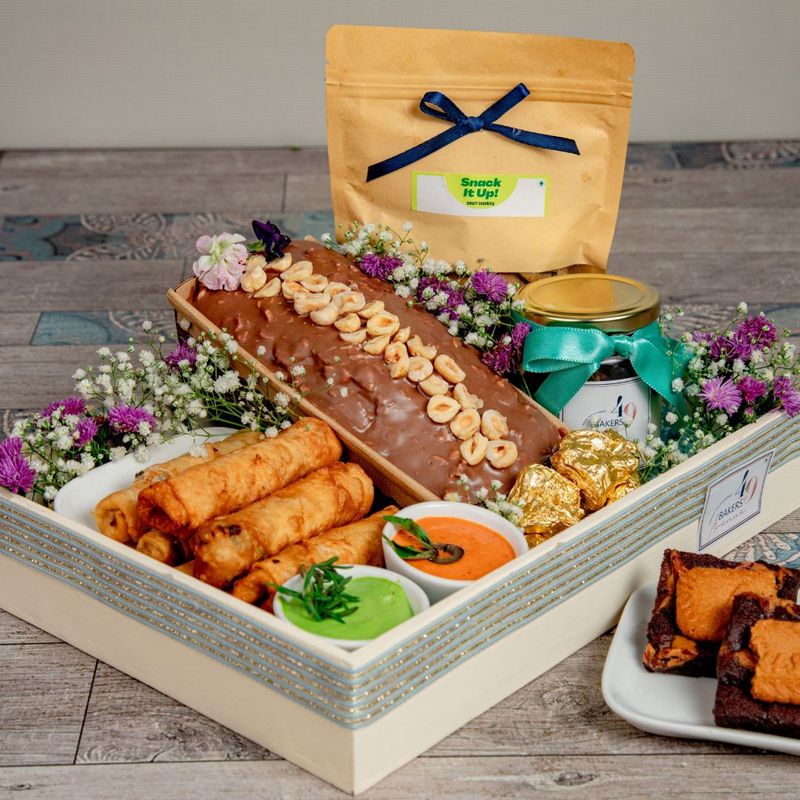 Located at the Emerald Hotel in Mumbai's Juhu area, 49 Bakers Avenue by Cafe 49 is famous for its desserts. For Raksha Bandhan 2022, they've curated a collection of gift hampers for every budget. Petite hampers, snack platters, classic hampers, and contemporary hampers - are how they've divided the offerings. They include delectable sweet and savoury goodies such as Dutch truffle cake jar, hummus, brownies, multi-grain lavash, roasted almond, and more. You can even customise a platter with them.  
Price: Rs 550 onwards  
How to order: Call on 09223379080 
8. JW Marriott Mumbai Juhu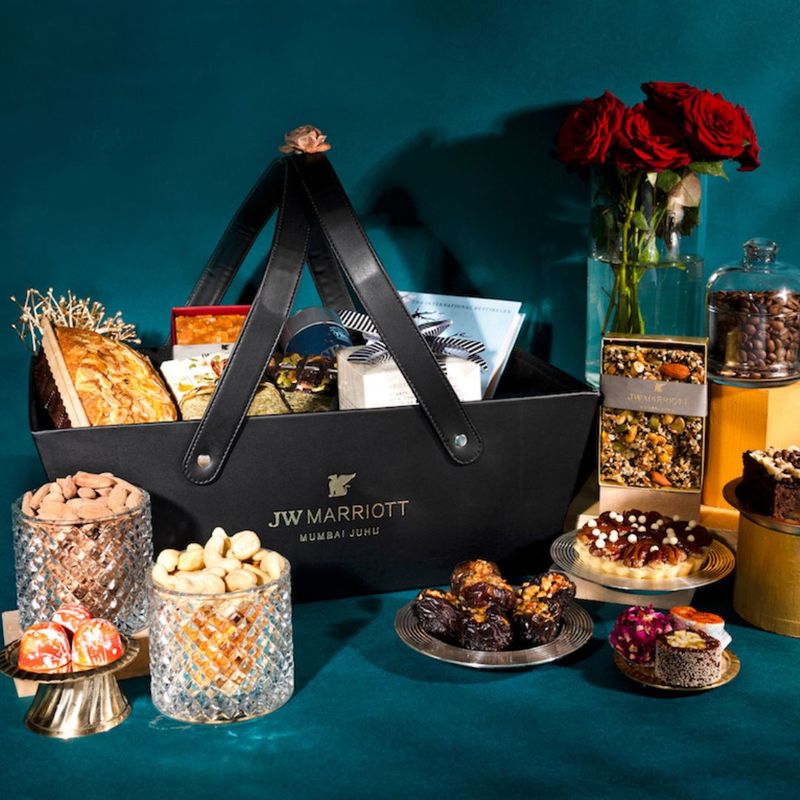 If they are about all things decadent in life, this Raksha Bandhan your siblings deserve this JW Moonstone hamper by the JW Marriott Mumbai Juhu. It comprises artisanal goodies such as nutty chocolate bar, flavoured roasted nuts, gourmet Indian mithai, stuffed dates, house-made granola bar, pralines, pecan tart, hazelnut brownie, dry fruit pound cake, almond chocolate florentine, TWG tea, premium coffee, a luxurious scented candle, an Ikigai book, and a diya or toran. 
Price: Rs 10000 (plus taxes)  
How to order: Call on 09004616506, 02266933344, 02266933000 or visit their social handles @jwmarriottjuhu across Instagram, Facebook, and Twitter
9. Nourish Organics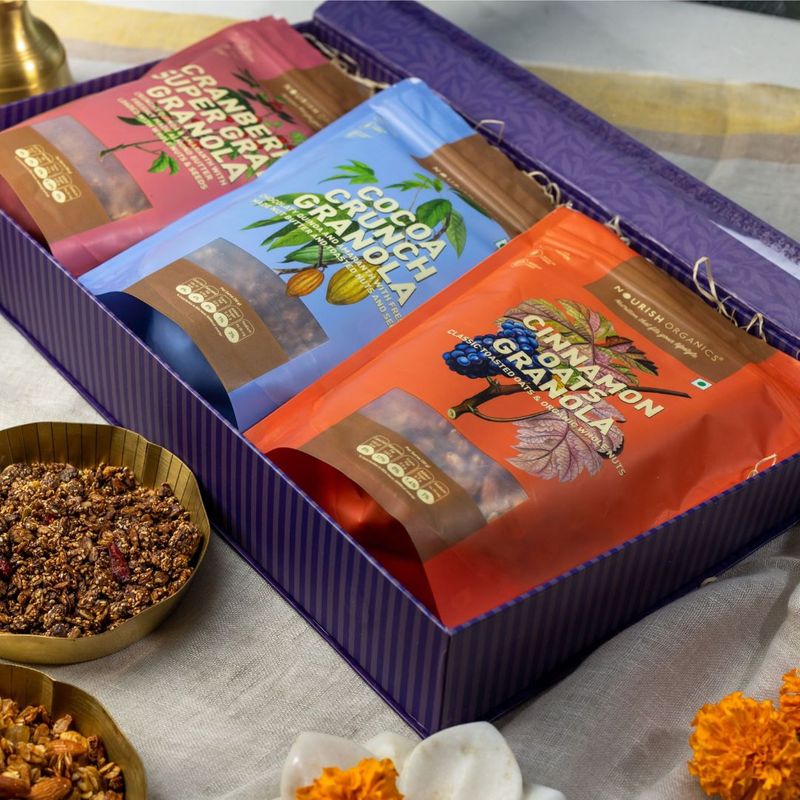 Upgrade your sibling's snack and breakfast time with a gift box full of nutritious plant-based cereals by Nourish Organics. Take, for instance, this 'sibling revelry pack' that contains cranberry super grain granola, cocoa crunch granola, and cinnamon oats granola. 
Price: Rs 1500 
How to order: Log onto nourishorganics.in 
10. Zama Organics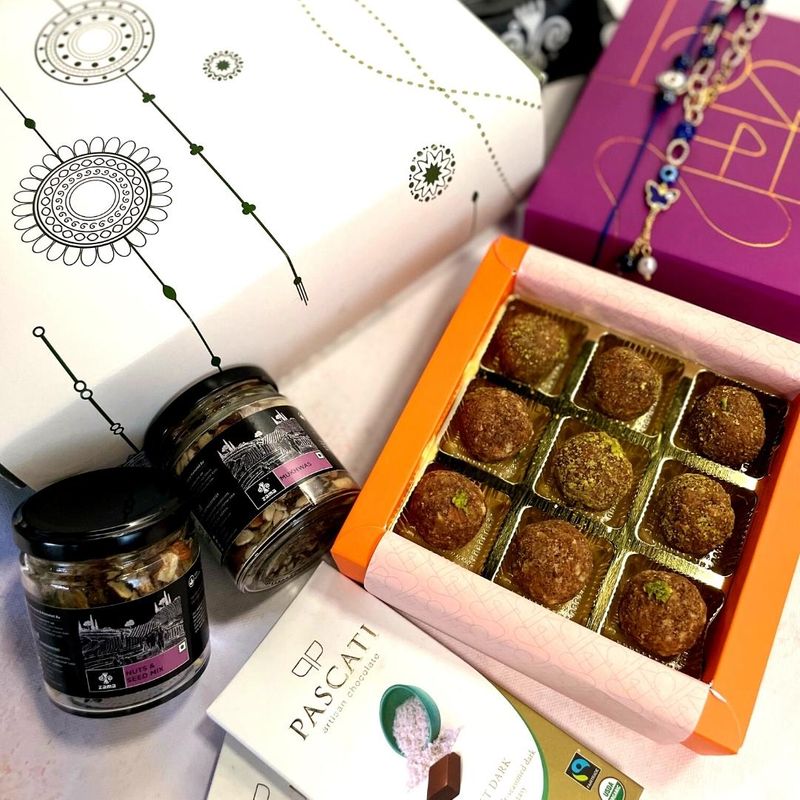 Raksha Bandhan is the perfect excuse to indulge in several pieces of sweetmeat and chocolate. With Zama Organics' gift hamper, your sibling will not only get nutritionist-approved, handmade laddus and luxury chocolate bars, but also organic crushed jaggery and a jar of house-made sugar-free mukhwas, loaded with nuts and dates. 
Price: Rs 2200 
How to order: Visit zamaorganics.com or DM on Instagram/zamaorganics
11. Jindal Cocoa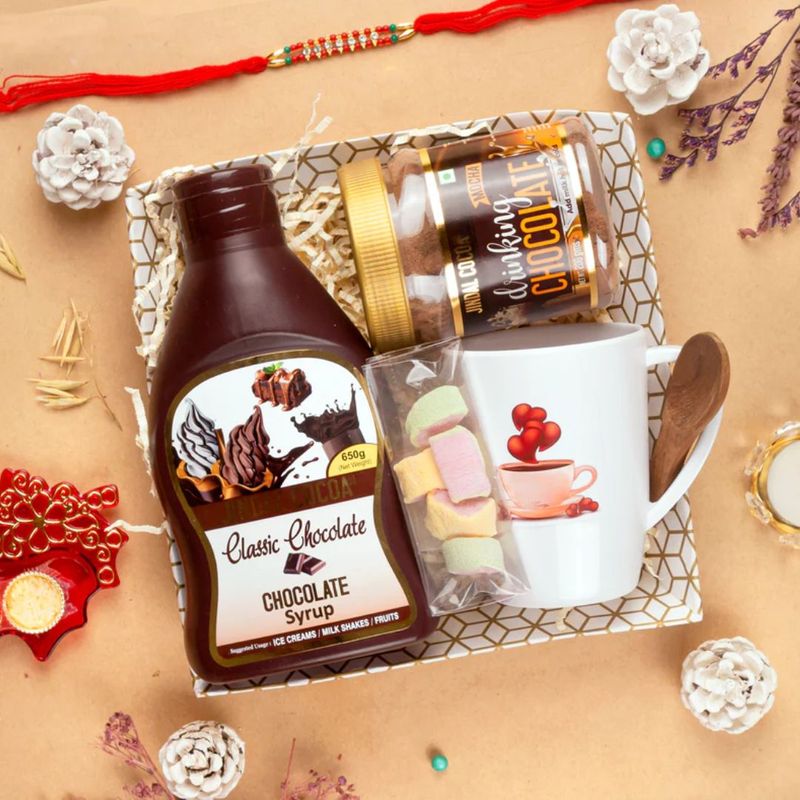 If nostalgic conversations over coffee is what you've got in mind to celebrate Raksha Bandhan with your sibling, then look no further than this rakhi special bond DIY mocha hamper by Jindal Cocoa. It comes with premium quality chocolate syrup, drinking chocolate mocha, a mug, and a small pack of marshmallows.
Price: Rs 600
How to order: Visit jindalcocoa.com
Best Rakhi gift hampers for mithai lovers
1. Yogisattva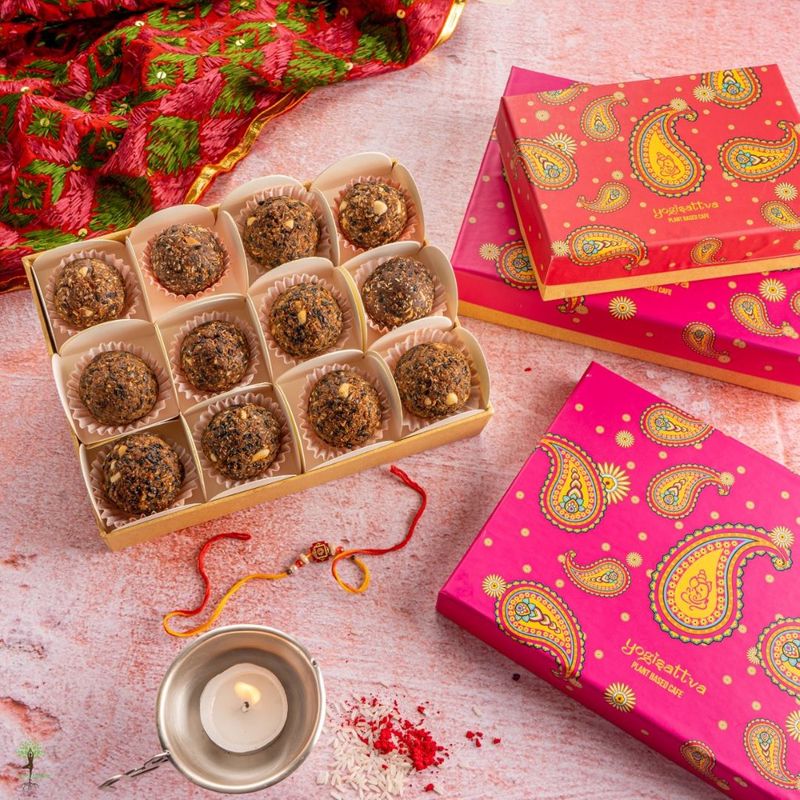 If your brother or sister has been talking about going vegan, gluten-free or avoiding refined sugar, then this healthy mithai range by Yogisattva makes for the perfect gift. Go for a box of amaranth, walnut and jaggery laddus; or pick the assorted one that also contains sesame and peanuts laddus and saffron malai laddus, in addition to the amaranth ones. These mithai boxes are available for pre-order and will be delivered on August 10 and 11, 2022. 
Price: Rs 699 onwards
How to order: Call +91 9867455009 or log onto yogisattva.com
2. Mishtaa by Suman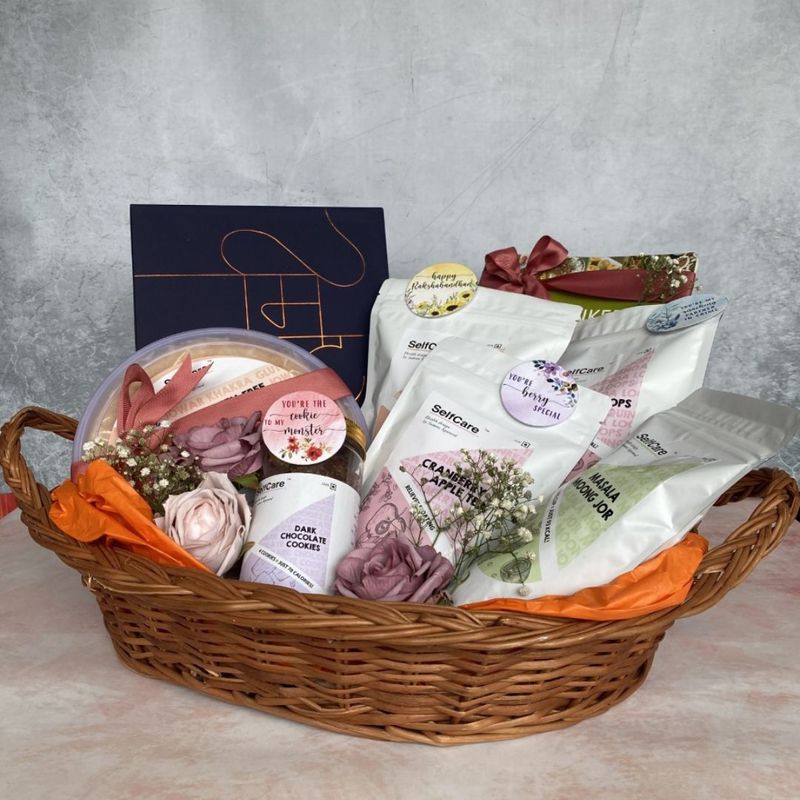 Ensure your sibling kicks off festive celebrations on a healthy note with this nutritionist-approved and curated food hamper that comes beautifully packed in a basket with floral decoration and a gift card. It will contain an assorted box of 16 laddus, gluten-free jowar khakra, roasted plantain chips, quinoa loops, masala moong jor, cranberry apple tea, dark chocolate cookies, and a book full of healthy recipes. 
Price: Rs 4650
How to order: Call 09819833775
3. Gur Chini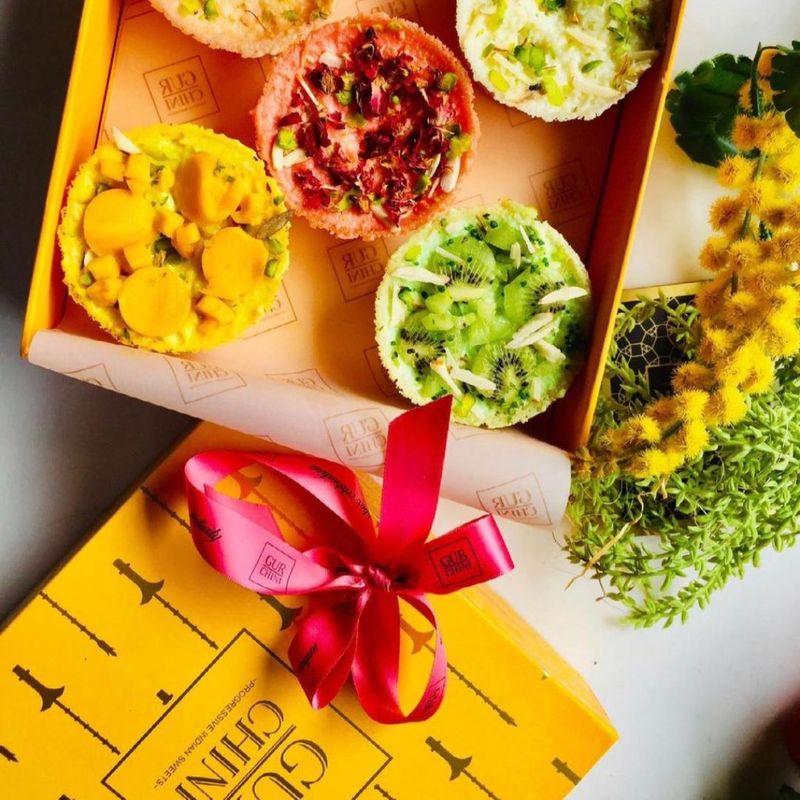 For the occasion of Raksha Bandhan 2022, premium mithai brand Gur Chini has introduced a gift box of assorted ghewars. They have several varieties of irresistible ghewar including Bikaneri malai ghewar, Bikaneri malai rabdi ghewar, ghee ghewar, chocolate chips ghewar, kesar rabdi ghewar, wild rose ghewar, Alphonso mango ghewar, and pistachio rabdi ghewar. 
Price: Rs 1800 approx. 
How to order: Visit their stores in Delhi or order via their official website gurchini.com (for pan India orders)
4. Genda phool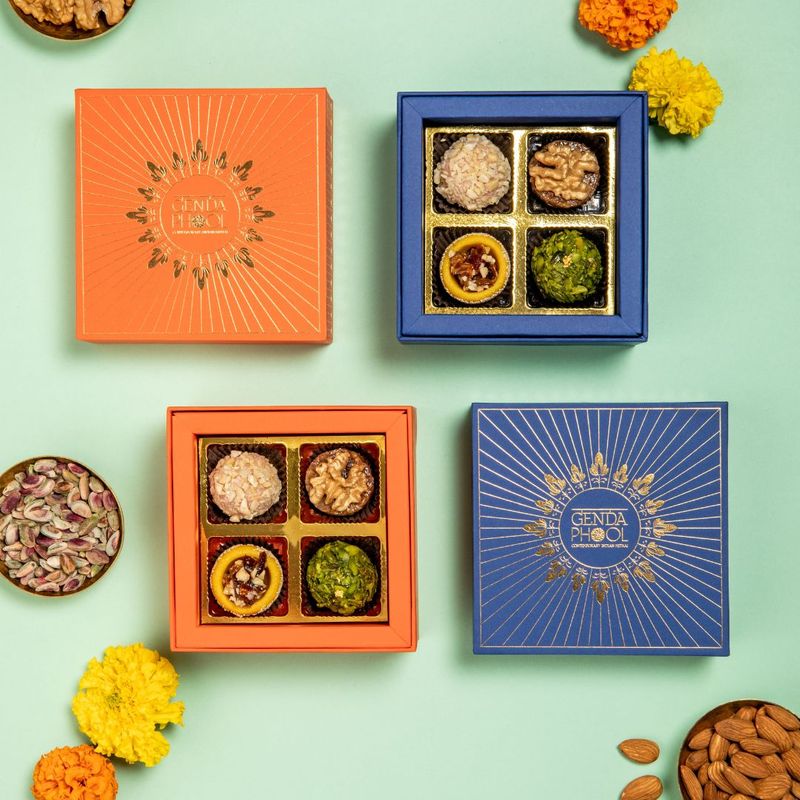 If he or she isn't a fan of traditional mithai, Genda Phool, a contemporary Indian mithai brand, has introduced an interesting array of contemporary ones. Think hazelnut pak (their version of Mysore Pak), berry laddu with strawberry chunks, rose laddu with litchi inside, and paantastic pistachio (a lovely combination of pishori pista and Kolkata paan). 
Price: On request 
How to order: Log onto gendaphool.co or call 08928258808
5. Patasa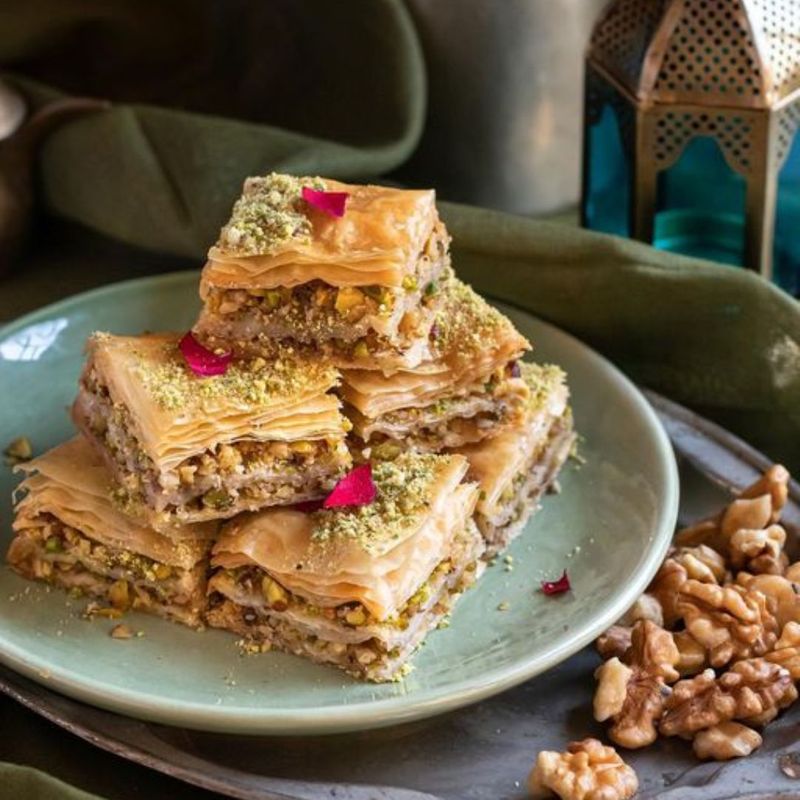 Particularly perfect for siblings that love their mithai with a twist, artisanal sweet treat brand Patasa's Raksha Bandhan 2022 special gift box offers citrus (a combination of almond barfi and orange compote), gulabi baklava (baklava with rose), and khopra paak with coconut caramel. 
Price: Rs 850
How to order: Visit Instagram/Patasa Official or call 9920787789
6. Noto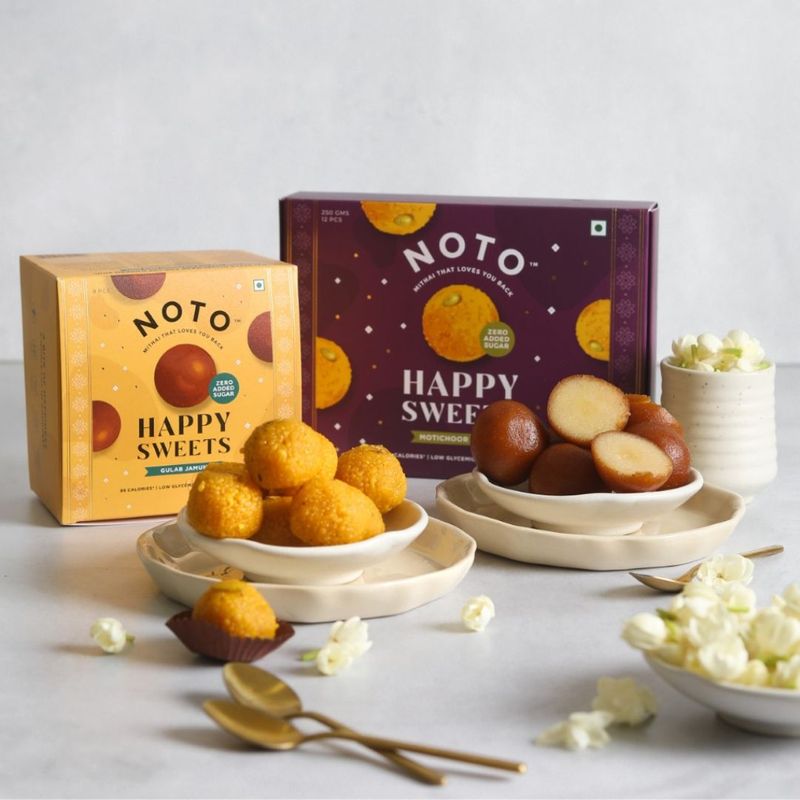 Known for their indulgent low-calorie and vegan ice creams, Noto – Healthy Ice Cream has introduced a new range of halwai-style mithai – but healthier versions. The entire range is diabetic-friendly and made using zero refined sugar. The new range offers gulab jamun, mohanthaal, motichoor laddu, and malai peda. 
Price: Rs 355 onwards
How to order: Log onto eatnoto.com or Instagram/eatnoto 
7. Bombay Sweet Shop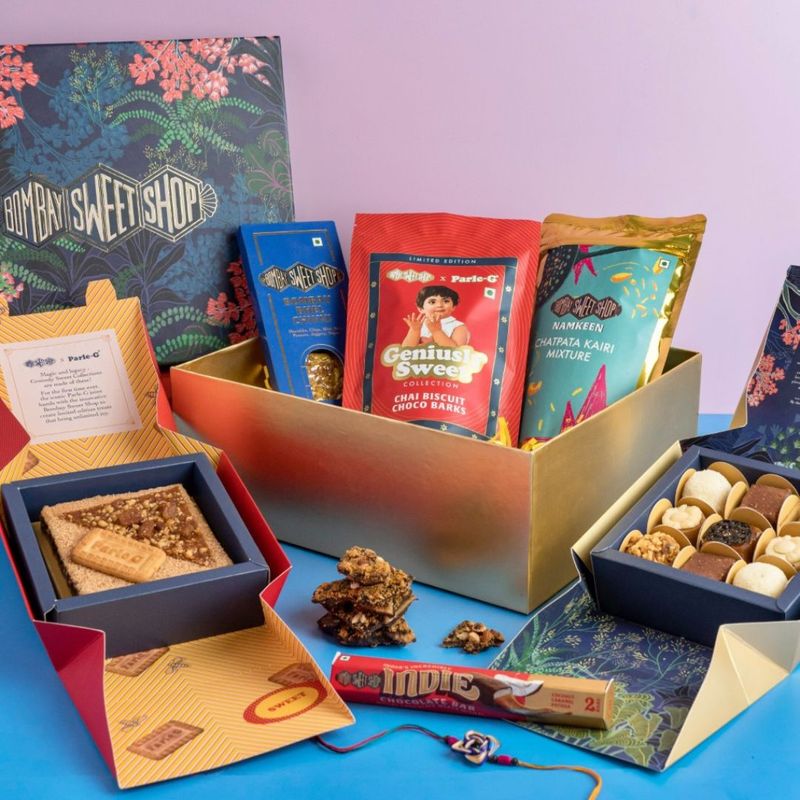 Mumbai-based Bombay Sweet Shop's Rakhi 2022 hampers include the 'best sibling hamper', which is a combination of all things sweet and spicy. This curation has a box of nine of their signature mithais, the newly introduced chai-biscuit choco barks, parle-G fudge, Bombay bhel chikki, chatpata kairi mixture, and indie bar. 
Price: Rs 2450 
How to order: Log onto bombaysweetshop.com or call 91 9136192636 (10am to 8pm) 
8. The St. Regis Mumbai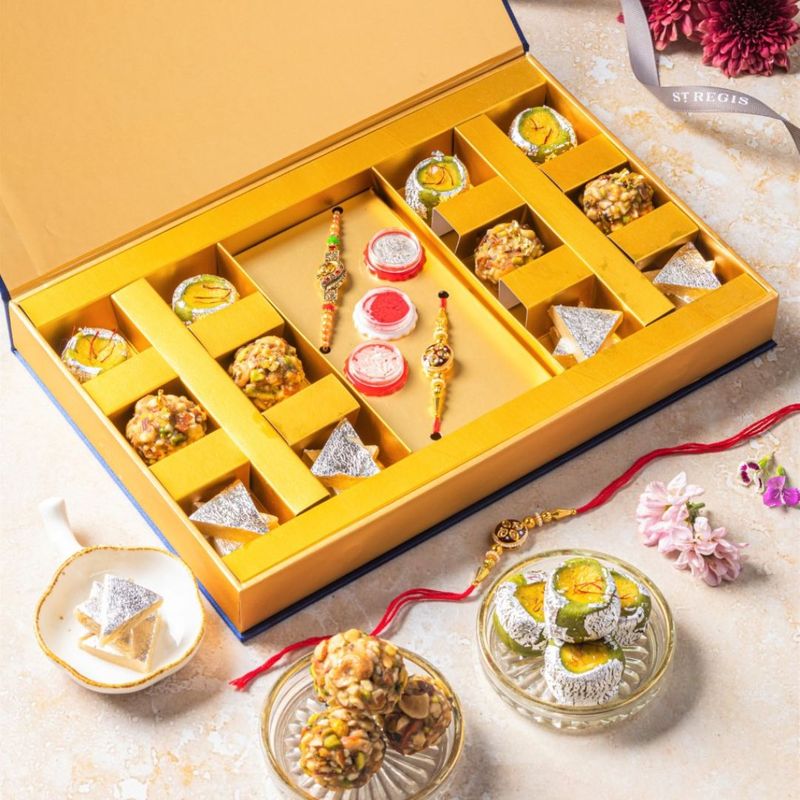 Give your sibling the gift of absolute indulgence with St. Regis Mumbai's Rakhi special gift mithai box, delivered to your doorstep via Marriott Bonvoy On Wheels. It contains three varieties of mithai including classics such as kaju katli and pistachio roll. There's also a set of tika, rice, and silver coin; and two pieces of rakhi. 
Price: Rs 1100 plus taxes
How to order: Call 086575 22956 or order via WhatsApp 
9. Khoya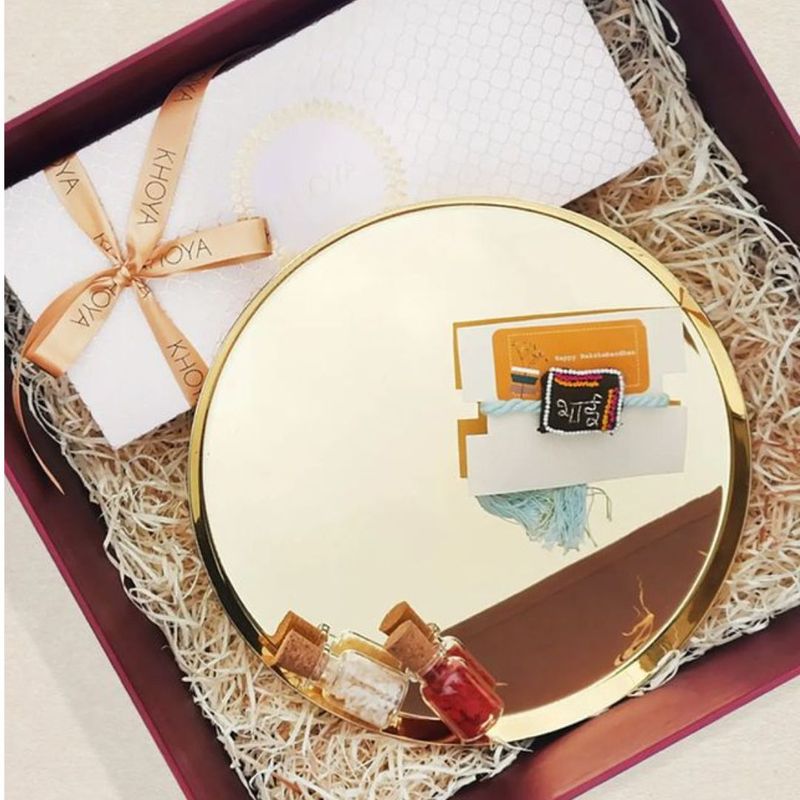 To celebrate the sibling bond this Raksha Bandhan 2022, Khoya has introduced 'The Rakhi Edit' that features three types of special gift hampers. One of which is this box that has 10 pieces of assorted mithai, a rakhi, and a set of roli and tika. The mithai is free of artificial colours and preservatives and is 100 per cent vegetarian. 
Price: Rs 1100
How to order: Call at 09910096940 or contact@khoyamithai.com 
10.  Nihira Mithai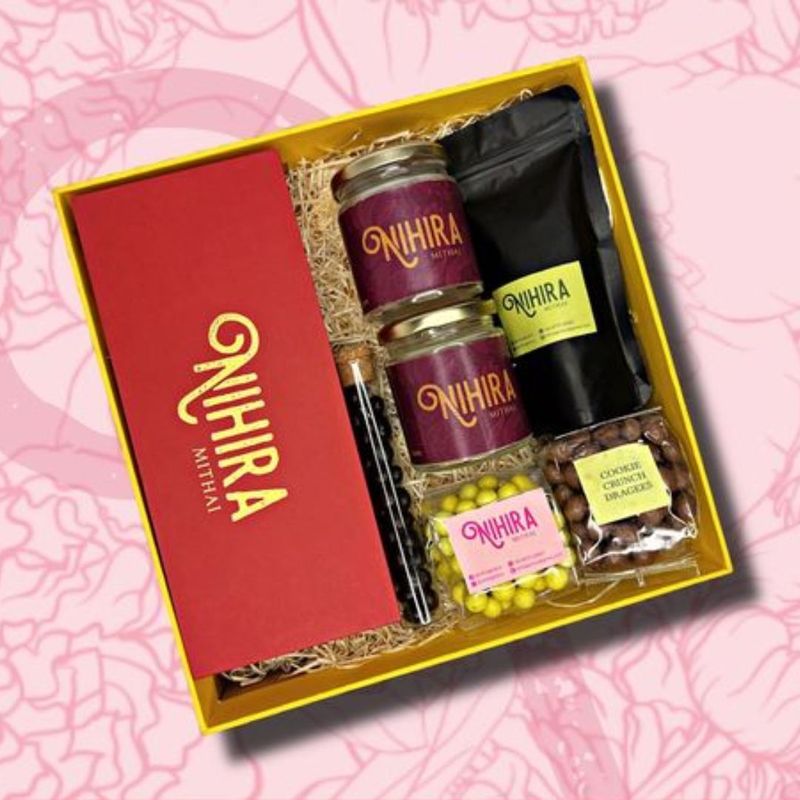 Known for their alcohol-infused laddus, mother-daughter duo Arshya and Subha Aggarwal's Nihira Mithai has seven special hampers for Rakhi celebrations. The contents of the hamper range from a box of mixed mithai in addition to bite-sized cookies coated with chocolate, snacks, flavoured dry fruits, and savoury snacks. 
Price: On request 
How to order: DM them on Instagram/Nihira & Co. or call on 09717122667 
11. Meetha by Radisson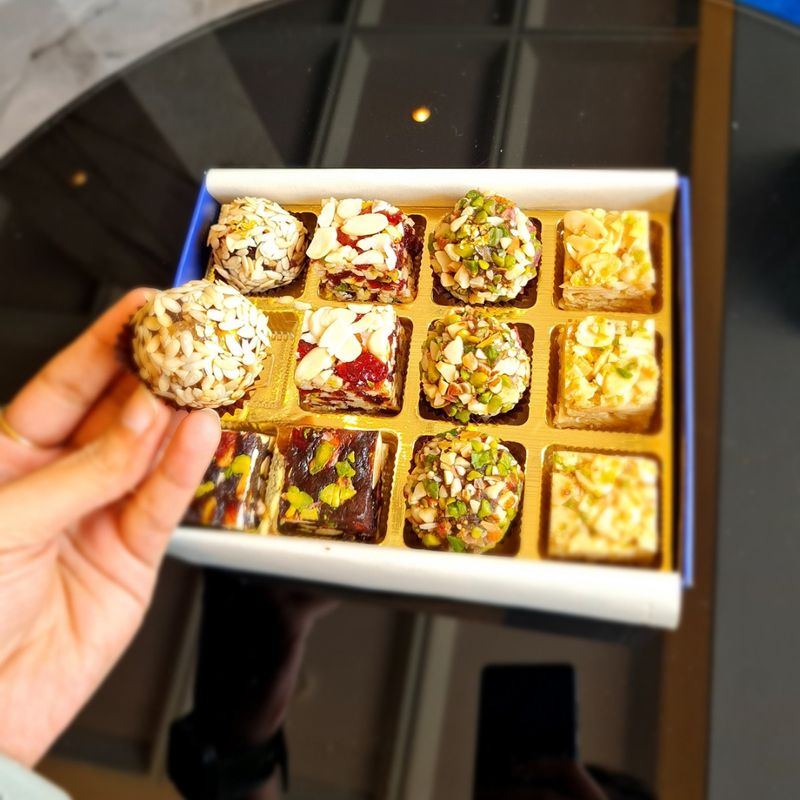 Avoiding refined sugar? Chef Navid and his team at Meetha by Radisson have created a healthy mithai hamper just for you. It features four types of sugar-free mithai including badam pak, dates dry fruit laddu, berry delight, and mewa gur laddu.
Price: Rs 820 onwards
How to order: Call on 09594971605
---
Photo: Shutterstock and Featured Brands