Mumbai's street food culture is a unique and thriving aspect of the city's culinary scene. The streets of Mumbai are filled with vendors selling an array of delicious and affordable foods, ranging from savoury chaats to sweet desserts. The city's street food has its roots in the diverse culinary traditions of India, with heavy influences from Gujarat, Maharashtra, and South India.
Mumbai's street food is not only popular among the locals, but it has also gained recognition worldwide. The city's street food is considered to be one of the best in the world, and tourists from around the globe come to experience the flavours and aromas. The street food culture is an essential part of the city's identity and has become an integral part of the urban fabric of Mumbai.
What sets Mumbai's street food apart is its affordability and accessibility. The food is not only delicious, but it is also easy on the pocket, making it a go-to option for students, office-goers, and tourists alike. Additionally, the street food scene in Mumbai is highly dynamic and ever-evolving, with vendors experimenting with new ingredients and techniques to create unique flavours and dishes. With new food stalls and vendors popping up every day, Mumbai's street food culture continues to grow and evolve, making it an exciting and dynamic aspect of the city's food scene.
Best of Mumbai's foods you must try
1. Vada Pav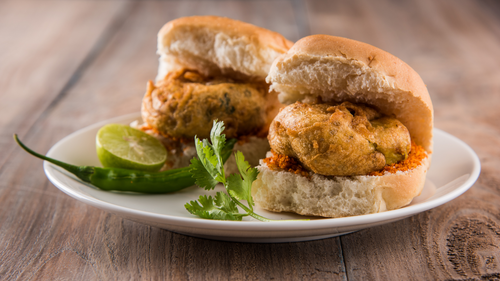 The quintessential Mumbai street food, vada pav, is a simple yet delicious snack that consists of a deep-fried potato patty sandwiched between a soft bun and served with spicy chutney. It's known as the 'poor man's burger' and is a staple food item for many Mumbaikars, making it a famous dish in Mumbai.
Best place to try: Ashok Vada Pav, outside Kriti College, Dadar
2. Misal Pav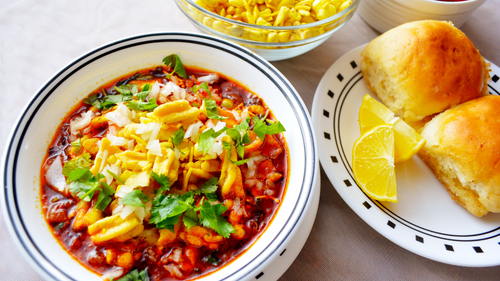 Misal Pav is a spicy, flavorful curry made with sprouted lentils, served with soft bread rolls called pav. It's a popular breakfast item in Maharashtra, and Mumbai has some of the best places to try it. This dish is an explosion of flavours in your mouth, and it's a must-try dish for spice lovers. Fun fact: In April 2023, Misal Pav was voted as one of the 10 best vegan meals in the world.   
Best place to try: Aaswaad, Dadar (West) and Suruchi Misal House, Thane (West)
3. Pav Bhaji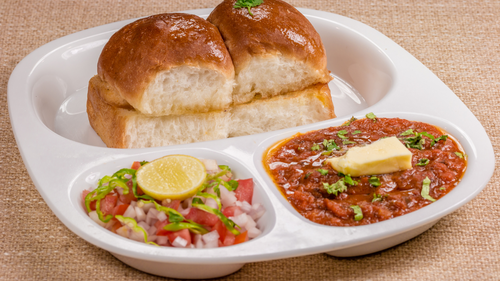 Pav Bhaji is a popular Mumbai street food that's a mix of mashed vegetables and spices, served with soft bread rolls. It's a perfect dish for those who are always on the go and want a quick meal. The best places to try this delicacy are the street-side vendors in Juhu Beach and Girgaum Chowpatty.
Best place to try: Cannon, CST or Shiv Sagar (multiple outlets)
4. Bhel Puri-Sev Puri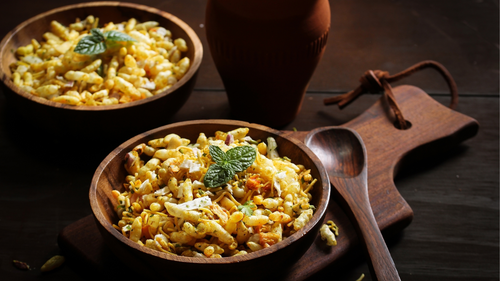 Bhel Puri and Sev Puri are chaats that are the most famous dishes of Mumbai. Bhel Puri is a mix of puffed rice, sev, chutney, and vegetables, while Sev Puri is a crispy base topped with chutney, onions, and sev. They're both delicious and affordable snacks that you can find on almost any street corner making them staple Mumbai famous foods.
Best place to try: Ram and Shyam, Santacruz W
5. Ragda Pattice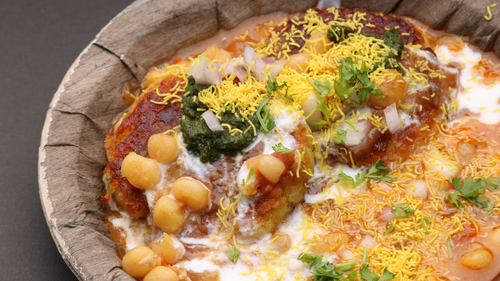 Ragda Pattice is a popular street food that consists of a crispy potato patty served with a tangy, spicy gravy made of white peas. It's a filling and delicious snack that's perfect for those who love a burst of tangy flavours.
Best place to try: Kailash Parbat (multiple outlets), Swati Snacks (multiple outlets), Gurukripa, Sion 
6. Classic Bombay sandwich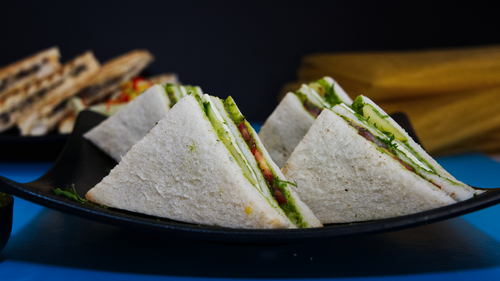 The Bombay sandwich is a famous street food in Mumbai, a delicious snack made with soft bread, veggies, and chutney. It's a favourite among Mumbaikars and is a perfect snack for any time of the day. The best places to try the Bombay sandwich are the street vendors in Charni Road and Colaba. 
Best place to try: Sandwizza, multiple outlets
7. Akuri on toast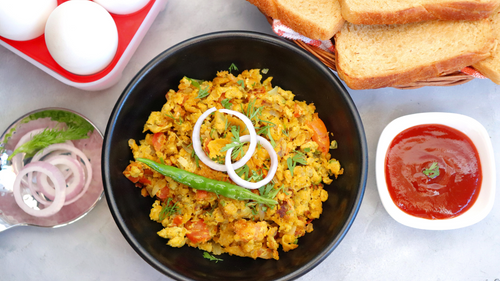 Akuri on toast is a popular Parsi dish that's made with scrambled eggs, onions, and tomatoes. It's served on toasted bread and is a delicious breakfast item. You can find some of the best akuri on toast at Parsi cafes in Dadar and Fort.
Best place to try: Jimmy Boy, Horniman Circle
8. Baida Roti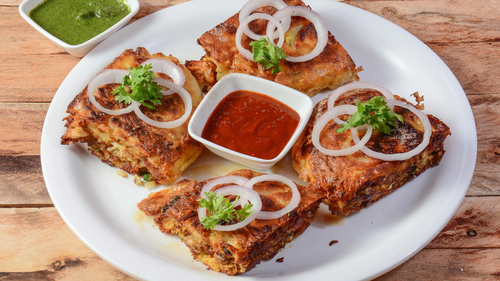 This popular street food is a square-shaped patty that is filled with minced meat and spices, wrapped in a thin layer of egg and then fried until crispy. It's often served with mint chutney and makes for a great snack on the go.
Best place to try: Bademiyan, Colaba
9. Frankie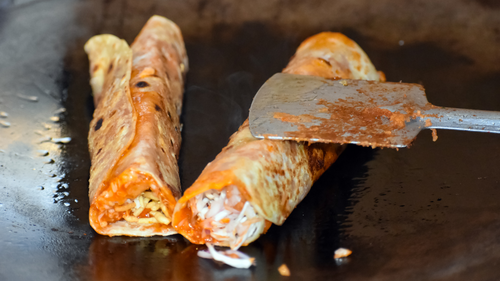 A stuffed roll that is similar to a burrito, a frankie is filled with spicy vegetables, paneer cheese or meat, and wrapped in a thin roti or paratha bread. It's a popular street food that's easy to eat while walking around the city.
Best place to try: Tibbs Frankie outlets all over Mumbai. 
10. Kanda Poha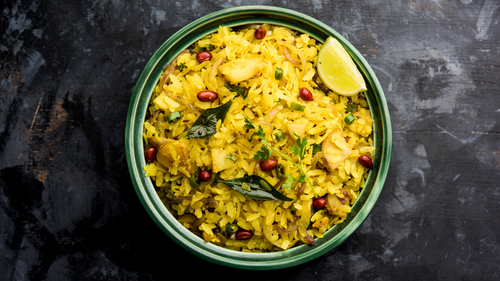 This lip-smacking breakfast dish is a classic Maharashtrian recipe and famous street food in Mumbai. It's made from flattened rice flakes that are sautéed with onions, potatoes, and a blend of spices. The dish is often garnished with fresh coriander and served with a side of lemon wedges.
Best place to try: Pohe at Mee Marathi, Vile Parle
11. Zunka Bhakar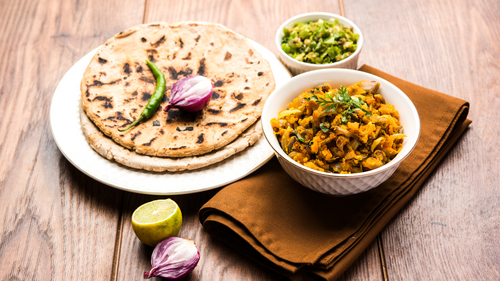 An authentic street food from Maharashtra, zunka bhakar is a mix of besan (gram flour) and spices that are cooked until thick and then served with hot bhakri (unleavened bread). It's a simple, yet delicious, satisfying Mumbai famous food.
Best place to try: Street vendors opposite CSMT
12. Falooda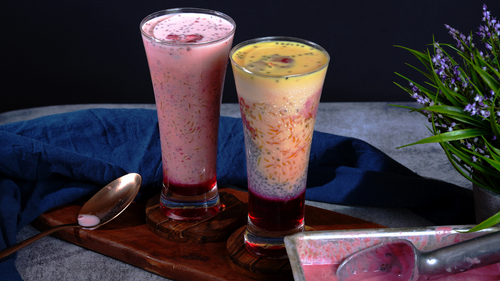 A dessert drink that originated in Persia, falooda has become a popular dessert in India, especially in Mumbai. The drink consists of sweet basil seeds, vermicelli, rose syrup, milk and ice cream, creating a refreshing and creamy treat.
Best place to try: Himalaya, Kings Circle
13. Steamed idlis and vadas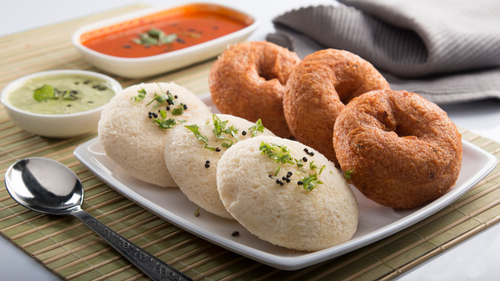 One of the most famous Mumbai snacks, these steamed batters made from rice and lentils, idlis and vadas are popular breakfast items in Mumbai. They are often served with coconut chutney and sambar, a lentil-based vegetable soup.
Best place to try: Dakshinayan, Juhu or Ram Ashray, Matunga
14. Gini or Jini dosa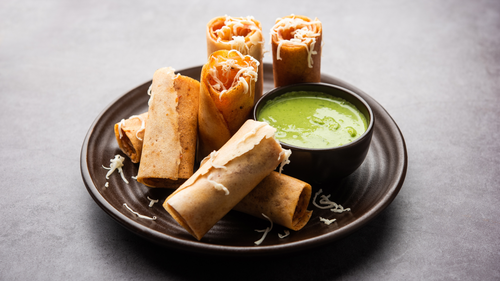 The dosa is one of the most comforting street foods, but in Mumbai it comes with a twist. With a filling of a mash of vegetables and cheese, the Gini or Jini dosa. This popular rendition is common on Mumbai's streets and is popular too. Served as cylinders on a plate, you must sample it when you can.
Best place to try: Anand Dosa Stall, opposite Mithibai College, Vile Parle
15. Dabeli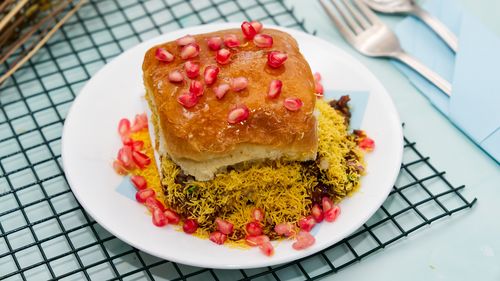 A Gujarati-influenced street food, dabeli is a small, soft bun that is filled with spiced potato filling, pomegranate seeds, roasted peanuts, and tamarind chutney. It's a popular snack food that can be found throughout the city.
Best place to try: Matunga Dabeli, Matunga
16. Keema Pav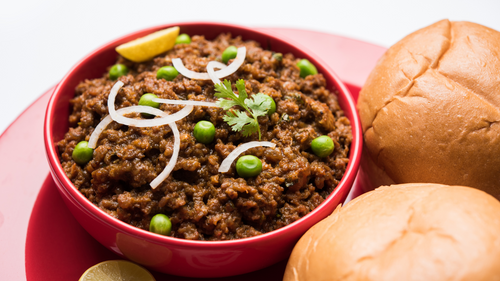 A signature Parsi dish, keema pav is a spicy, minced meat curry that is served with soft, buttery buns. It's a hearty and flavourful meal that's perfect for a quick lunch.
Best place to try: Prithvi Cafe, Juhu or Good Luck Cafe, Bandra W
17. Pani Puri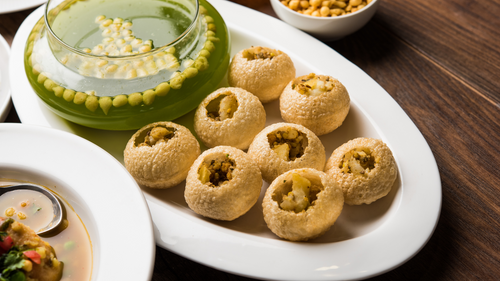 We decided to save the best Mumbai famous food for the last. Flavourful water balls that are filled with spiced potato, chickpeas, and tamarind chutney, pani puri is a popular street food in Mumbai. It's a fun and tasty way to experience the flavours and spices of Indian cuisine in this staple Mumbai fast food.
Best place to try: Elco, Bandra West
18. Bun-Maska-Chai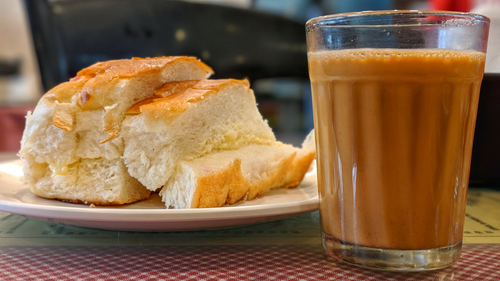 A chai time staple, Mumbai's Irani cafe's happily serve several plates of bun maska with chai. Soft buns are lathered with butter and dipped in sweet tea as a quick snack in the mornings or evenings. Although, it's always a good time to have a bun maska. 
Best place to try: Yazdani Bakery, Fort
Mumbai's food scene is as vibrant and diverse as the city itself. From spicy street foods to high-end restaurants, there is no shortage of delicious options to explore. Whether you're a local or a visitor, be sure to try out these Mumbai special foods for a truly authentic culinary experience.
---
Photo: Shutterstock