The Partition may have divided us, but a common culinary culture unites India and Pakistan. One that has stayed alive through the stories of people who had to leave their homes and friends behind, carrying only memories to last a lifetime. Nostalgia can be an overpowering emotion, tugging at heartstrings, keeping the sounds, smells and secrets alive. Conversations with friends, meals shared with neighbours, tiffin break at school.
Sherry Malhotra gathered the recipe from her grandparents, a hidden gem from their memory of life before the Partition. Meat Beli Ram is a piping hot pot that has crossed borders and survived through the generations. 
"Beli Ram was the head cook in the palace of Maharaja Ranjit Singh, the head of the Sikh Empire in the 1900s. It was a simple dish, the cook tossed all the ingredients in one pot. But it was the Maharaja's favourite. He devoured this dish and eventually decided to open a local shop that served it to the people of Lahore. The ingredients were simple—mutton cooked in green chillies, spices and yoghurt. The magic lay in how they came together, it excited the citizens and brought them closer to the king."
"My grandfather happened to live in Lahore back then and he was a regular at this shop. The gravy was rich, the mutton was fresh and the preparation was homely. I have heard stories since my childhood and he still cooks this dish from scratch in our kitchen. Even the masalas are not made using a mixer, my grandmother never brought them from the markets, she made them all herself. Partition may have created boundaries between the two countries but our plate stays undivided even today. This dish is a toast to that sentiment," says Malhotra.
The undivided plate
Meat Beli Ram is a luscious mutton curry that Malhotra learnt to prepare from watching her grandfather cook it. He not only carried the recipe back with him, but he also regaled them with his memories; of days spent visiting the king's shop to savour this dish with a group of old friends.
Her eyes light up when she shares these anecdotes. There are some other interesting bites as well, and Sherry shares her favourites. "It has to be the Multani Moth Kachori which is rice and gravy atop a kachori which is stuffed with moth beans. It's found at two shops in Delhi and was brought back by Multani migrants, it's rare, delicious and hasn't received its due. We only talk about the Gol Gappas and Aloo Chaats when we visit the streets of Delhi, this snack is something for which you really need to visit Delhi."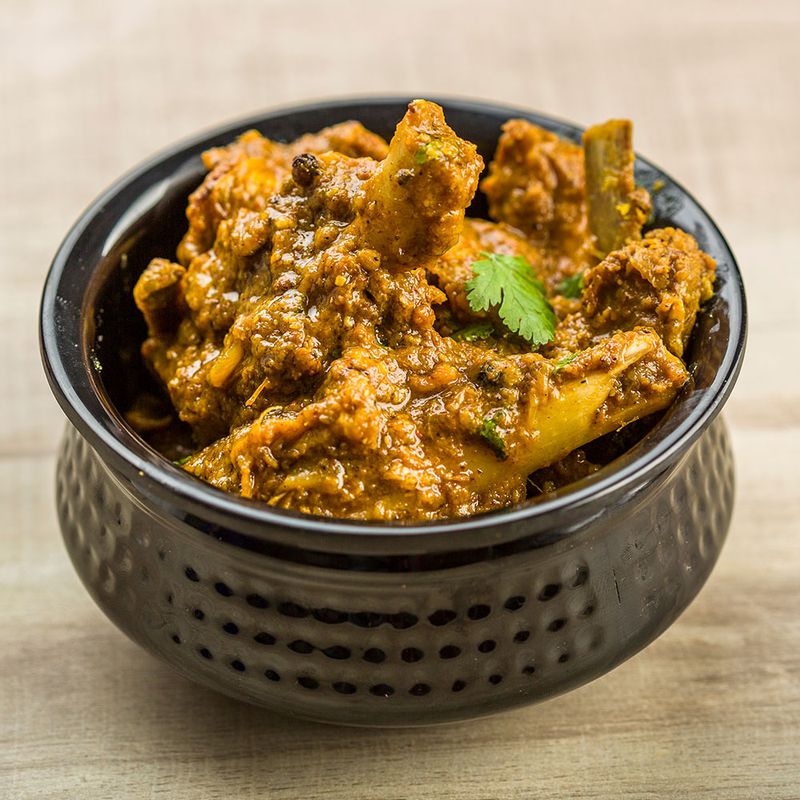 Meat Beli Ram recipe
Ingredients
1/2 kg Mutton, curry cut

3-4 Onions, thinly sliced

2-3 Green chillies, slit

250 gms Browned onions

1 tbsp Ginger-Garlic paste

2 tbsp Coriander seeds, coarsely ground

1-2 tsp Kasuri methi, roasted and ground

1 tsp Peppercorns

1 tsp Turmeric

1 tsp Red chilli powder

1 bowl Thick yoghurt

1 tbsp Mustard oil

1 tbsp Ghee

Salt for taste
Method
Peel and slice the onions. Whisk the yoghurt till it is smooth and creamy.

Place mutton in a thick bottomed handi. Add all the ingredients and mix well. Keep aside to rest for 10 mins.

Put the same handi on fire and cook till a boil comes. Now lower the heat and cover the mutton with a lid and slow cook till the meat is tender.
Serve hot with chapatti.
---
Photo: Shutterstock