Of the many desserts that India has to offer, carrot halwa, popularly known as gajar ka halwa or gajrela, is a classic. Made with grated carrots doused in ghee, milk, khoya, and sugar, the carrot halwa is a special winter treat. Every home has its own iteration which is most eagerly looked forward to.
For the uninitiated, gajar ka halwa is made using sweet and juicy red carrots aka desi gajar, which is also known to be rich in beta carotene.
You may think it's a daunting recipe but carrot halwa is anything but. Here, we have expert tips and tricks to perfect the carrot halwa recipe at home. Chef Vineet Manocha, Corporate Chef, Lite Bite Foods, helps us do so with a recipe he has inherited from his mom—so we can safely call it a mom-style carrot halwa.
Gajar ka Halwa or Carrot Halwa recipe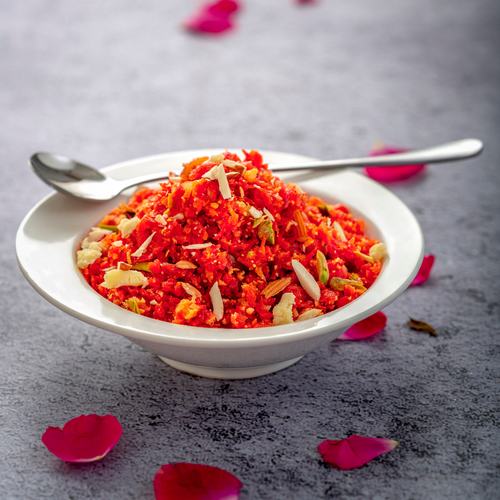 Ingredients
2 kg carrots, red and moist
4 cups full fat buffalo milk
1½ cup ghee
1¼ cup sugar
1 cup blanched almonds, slightly pounded
⅓ cup raisins washed and soaked in water for 30 minutes
6 green cardamoms (only seeds) 
Method
To begin, Chef Manocha says, "Wash the carrots and ensure they have dried thoroughly before proceeding. Once done, peel and grate them in a clean vessel." For people with kids at home, this step—washing and peeling carrots—can work as a great bonding activity. This way, even they feel like they've contributed to the carrot halwa, and it'll help you teach them a few kitchen basics.
Next, heat ½ cup ghee in a kadhai on medium heat.
Once the ghee is heated, add the cardamom seeds and grated carrots and mix well.
"Make sure to stir the carrots at regular intervals. The idea is to dry the carrots as much as possible before adding the milk," says the chef. It should take about 30 minutes for the carrots to be ready for the next step.
Add all the milk and keep the flame on high. When the milk is about to boil, reduce the heat to medium and add the raisins.
Continue to cook the milk until it evaporates. Chef Manocha says, "This may take around two hours, depending on how much moisture the carrots contain and also, on your heat."
It is very important to keep stirring the halwa as it cooks, especially during the last 30 minutes. "If you don't, then the halwa may begin to stick to the bottom of the kadhai, and you may end up with a burnt carrot halwa," he warns.
Once the liquid has evaporated, add one cup of ghee and sugar. Continue cooking on low heat, stirring often, for about half an hour. "At this stage, the carrot halwa will start to change its colour to deep red, and the ghee will begin to separate from the sides. This is a sign that we'll be able to taste a blissful carrot halwa soon!" he says.
Finish the carrot halwa by adding almonds at this stage (when ghee starts separating from the carrots) and mix well. Don't forget to save some almonds for garnish.
Your home-style carrot halwa is ready. Make sure to serve it warm. 
---
Photo: Shutterstock