If you visit Mumbai and don't try the famous vada pav, you haven't really visited Mumbai. No matter where you are in India's financial capital, you will find street vendors selling this vegetarian snack. Easy to spot, these stalls are equipped with a characteristic wok or kadhai with one person dunking batter-laden vadas in piping hot oil, while another person stuffs the freshly fried vadas between chutney-smeared pav and hands it over to salivating customers. Even if you didn't have vada pav on your mind, simply walk past one of these stalls and the aroma of frying batter will call out to you.
Boiled potatoes are mashed with a mix of spices, coated in gram flour batter and deep-fried to make the vada. This is then served sandwiched between a slice of pav along with chutney and lightly fried and salted green chillies.
Bombay's burger
The vada pav recipe may sound deceptively simple but wait till you take a bite. Vada pav had even Anthony Bourdain stumped, who said, "It doesn't sound promising in theory, but it's the best thing I've ever eaten." Bourdain called the snack 'Bombay Burger', thanks to its resemblance to the burger.
First made in the 1960s as cheap street food in Mumbai, vada pav has gained iconic status over the decades and has become a cultural symbol of the city. Convenient to consume on the go, filling and pocket-friendly, vada pav is a fitting representation of the fast-paced and bustling city. Food writer, author and television personality, Kunal Vijaykar says, "Vada pav's status as a culinary icon only happened in the 70's and 80's. It can be said that the city was looking for a dish to call its own and vada pav fit the bill." 
Vijaykar goes on to add that there are numerous origin stories about Mumbai's favourite street food. He recounts one where two street vendors, one selling omelette pav and the other batata vada, saw an opportunity--if omelette can be sandwiched in a pav then why not the besan-crusted deep-fried potato dumpling?
While nothing can compare to vada pav from the streets of Mumbai, like any other street food, it's healthier when made at home. To spice things up, Chef Ripudaman Handa recommends adding red chilli paste to the vada mixture.
Kunal Vijaykar's top 5 vada pavs in Mumbai
Ashok Vada Pav, near Kirti College, Prabhadevi
Aaram Vada Pav, opposite CSMT, Fort
Opposite his home; a lady serves them fresh
Shree Krishna Batata Vada, Dadar; they don't sell vada pavs but the batata vadas are outstanding.
BEST Canteen, near Regal Cinema, Colaba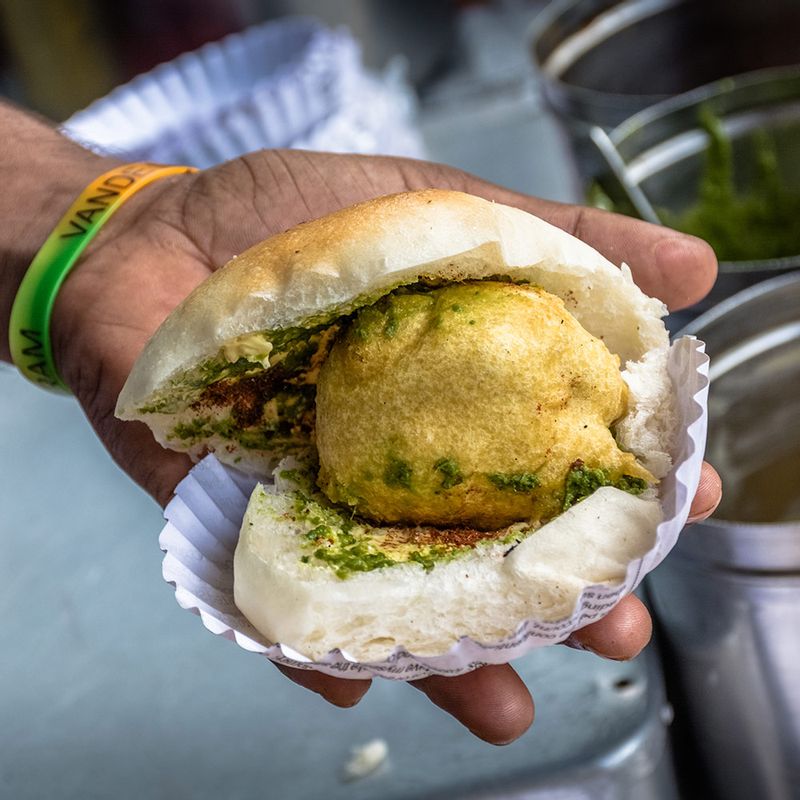 Main hero's side star
To ensure an authentic Mumbai vada pav experience, accompany it with shengdana or peanut chutney. This fiery red chutney is an integral part of Maharashtrian cuisine. When paired with vada pav, it adds a burst of flavour and spice to the snack.
Green chutney is another condiment that most commonly accompanies the vada pav. While shengdana chutney is a dry powder, the green chutney is wet and usually smeared on the inside of the pav pocket.
For Jain foodies, Chef Gautam Mehrishi suggests whipping up a Jain version of vada pav without potatoes and garlic. He suggests substituting potatoes with raw bananas.
Bollywood is a fan too
The vada pav has a fan following not just with the masses but also among Bollywood's stars. While Vidya Balan's favourite vada pav comes from Chembur, Preity Zinta swears by the vada pav near Mithibai College in Vile Parle.
---
Photo: Shutterstock