Prepare yourself to embark on a gastronomic adventure that reflects the diversity and unity of our great land. From classic favourites to modern twists, every dish is a testament to the values that define our nation. Indulge in a culinary journey that pays homage to our rich heritage, as these restaurants present their Independence Day special menus that blends tradition with innovation.
BENGALURU
1.Bengaluru Marriott Hotel Whitefield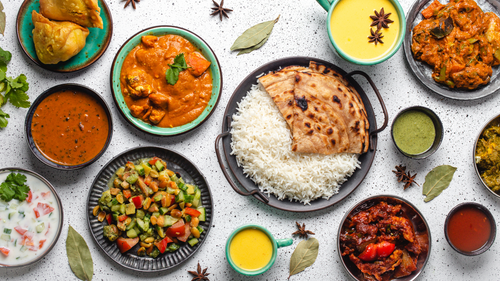 Their Independence Day menu sounds absolutely delightful and captures the rich tapestry of culinary traditions from across undivided India. The combination of dishes offers a tantalizing journey through various regions and flavours of Punjab, Maharashtra, Tripura, Tamil Nadu, and more. Excpect dishes such as aloo posto, Hyderabadi murgh biryani, meen moilee, Assamese masor tenga, and khumb ki galouti, each dish tells a beautiful story of how different communities and cultures have come together, sharing their culinary techniques and ingredients to create a diverse and unified Indian cuisine.
Address: Plot No 75, 8th Rd, Whitefield, EPIP Zone, Bengaluru, Karnataka
2. Sheraton Grand Bangalore Hotel at Brigade Gateway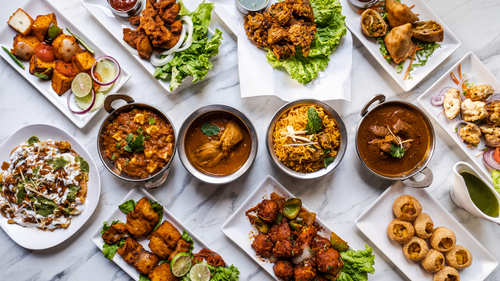 Join them for a patriotic and delicious Independence Day brunch and indulge in a delightful spread of traditional Indian delicacies like motichur ladoo, chicken tikka lal qilla and regional specialties such as Hyderabadi dum ka murgh, Awadhi biryani, jalebi and fafda and much more specially curated by our talented chefs.
Address: 26/1 Dr. Rajkumar Road Malleswaram, Rajajinagar, Bengaluru, Karnataka
3.Windmills, Bangalore
Their mixologist Neil Alexander has designed cocktails featuring native spices and ingredients. Try the peaty Old Fashioned 1947 is a whiskey-based cocktail with masala chai infusion, roasted tea bitters and agave syrup, garnished with a mini gulab jamun on a skewer. Lauding India's achievements in space research since 1969, their Space is the Place cocktail has black vodka, cold brew, raspberry syrup, berry vanilla, cardamom hydrosol and edible silver glitter, mirroring the night sky. The Cup of Life is a rum-based cocktail with pineapple juice, lemon juice and nutmeg and mace bitters, garnished with a spun sugar ball. It celebrates India's historic 1983 World Cup One Day International victory. The Last Dance applauds the Miss Universe and Miss World victories in 1994. The mauve-hued cocktail has pea flower infused Indian gin, lotus infused dry vermouth, lavender syrup and egg white, garnished with dry lavender. Additionally, Chef Mandaar Sukhtankar's a la carte menu is a culinary ode to Kashmir which features dishes such as Kashmiri kofta, stuffed moong lentil crepes with a filling of chok wangun or Kashmiri style spicy sour aubergine, cottage cheese, mint chutney and cashews, served with radish and walnut salad. For dessert, there's saffron crème brûlée with pistachio macaroon.
Address: 6th Floor, 331, Road, 5B Rd, Whitefield, EPIP Zone, Bengaluru, Karnataka
MUMBAI
1.Grand Hyatt Mumbai
Their Independence Day menu features traditional dishes infused with a modern flair. From classics such as butter chicken to the comforting tomato shorba and the aromatic masale bhaat, this curated spread offers a delectable journey across the diverse states of India. They also have a live food station that serves iconic street foods.
Address: Bandra Kurla Complex, Siddharath Nagar, Vakola, Vicinity, Mumbai 
2. The Burrow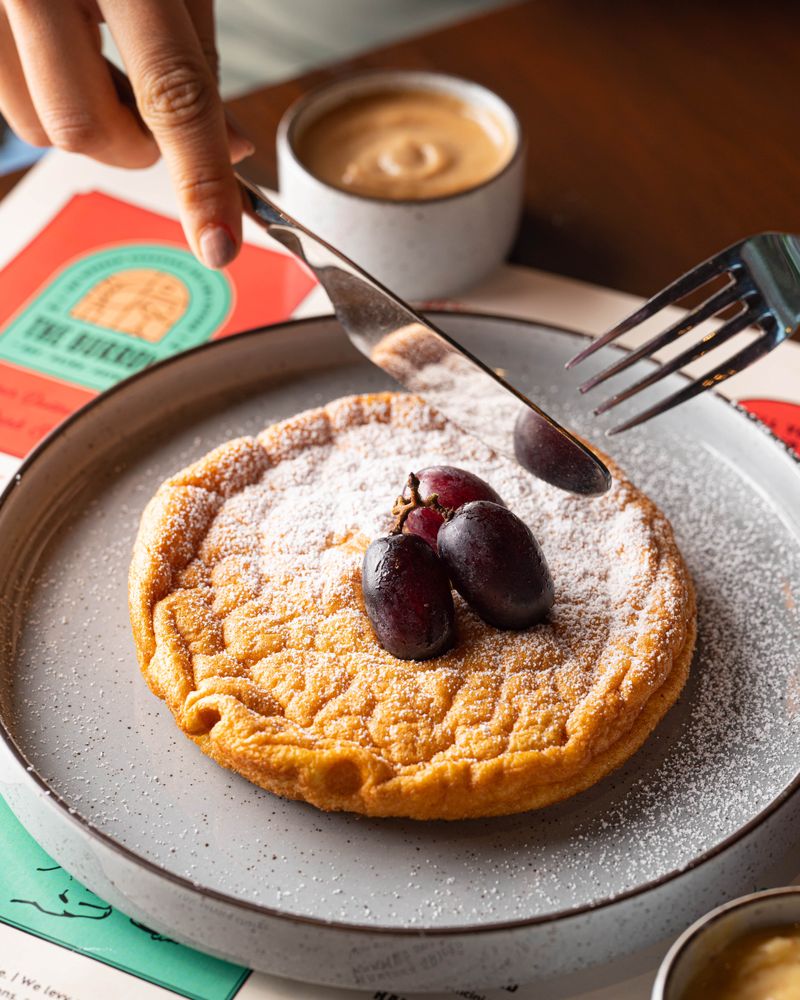 Their selection of delectable bites and desserts adds the perfect finishing touch to your diverse culinary experience. For those seeking crunch and flavour, there's chicken popcorn and zesty jalapeno poppers that awaits. For pasta lovers there's spinach and feta pierogies, or the irresistible lamb. For sweet endings, indulge in the warm, gooey embrace of the skillet cookie, a sensory symphony of chocolate and ice cream, drizzled with an exquisite brandy chocolate sauce. Or go for the Kahlua Panna Cotta, a velvety masterpiece adorned with white chocolate crumble and an enchanting basil crackle.
Address: The Burrow, Adani Inspire, G Block BKC, Patthar Nagar, Bandra Kurla Complex, Bandra East. 
3. Tresind Mumbai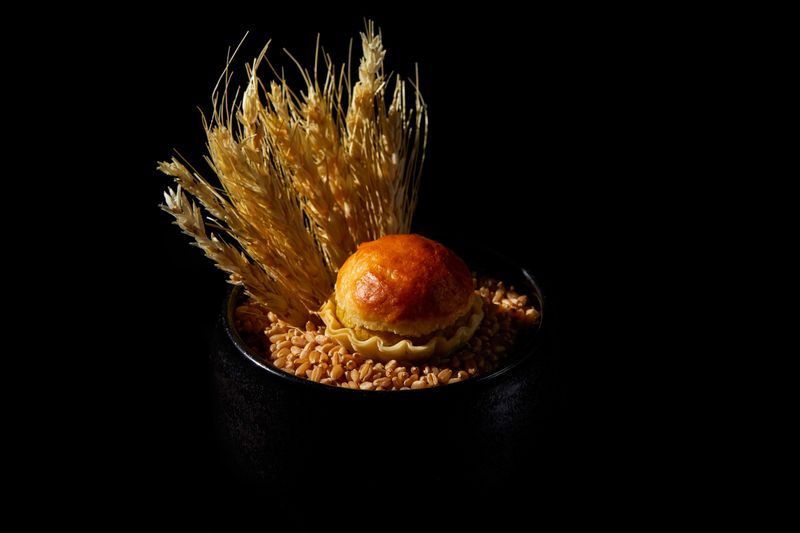 Drawing inspiration from beloved chaats, mithai, curries, and snacks from across India, Chef Sarfaraz Ahmed's menu will take you on a culinary journey across India. From Kolkata's kosha mangsho in a tartlet made with lamb for non-vegetarians and raw banana for vegetarians, topped with shami kebab and finished with a baked buns to the kachaloo from the banks of Banaras, Lucknow and Kanpur, you are in for a treat. However, the ultimate dish on the menu is the ghewar, cooked in liquid nitrogen and placed on top of the dish - break it and devour each bite of crunchy, cool and refreshing sensation. Drawing influence from the south is  Paniyaram with parmesan moilee made with semolina and chilli peppers, it awakens your palate and is balanced by a side of parmesan moilee. For desserts, there's an imarti waffle paired with mango shrikhand espuma, strawberry and chilli ice cream, which you can't miss. 
Address: Ground Floor Inspire BKC E, G Block BKC, Bandra Kurla Complex, Bandra East, Mumbai
4. Masaledar
Start off your meal with an Amritsari tikki, or the unique kaju methi roll, a mini-Punjab specialty. For authentic Pahadi flavours there's chicken pahadi tikka in starters. In main course there's murgh tariwala, inspired by Maharashtrian spices. Alternatively, you could try the Hyderabad-style mahi masala, which will go wonderfully with your choice of bread or rice. Finish your meal with their jalebi rabari or a wholesome halwa of the day.
Address: ViVi Italian Bar & Kitchen, 2nd Floor, The Thane Club, Teen Haath Naka, opp Raheja Gardens Thane West, Mumbai
---
Photo: Featured brands