Leftover food, which is slightly past its prime or has been lying in the refrigerator for a few days, usually finds its way to the trash can. It may not be your favourite thing to do but you wonder what else can be done with leftover food considering no one in the house wants to eat it anymore. With dining habits becoming more conscious of food waste, all you need are creative ways to look at leftover food to transform them into a new dish.
Naan is one of the food items that are commonly leftover in most kitchens. We often tend to order or make a few extras to ensure no one is left hungry or half-full. If you made naan and have some leftover, you may be wondering what to do with the extra once the gravy is over.
This list of naan recipes will help you with some ideas and inspiration to give your leftover naan a second (read yummier) life. You may even end up discovering a new snack you love. In fact, some of these naan recipes are best made with leftover naan than fresh ones - #justsaying!
1. Naan Bruschetta
Trust chef Ranveer Brar to come up with yummy, innovative dishes, and he'll never disappoint you. He recommends giving bruschetta an Indian twist with naan. The classic Italian appetizer is traditionally made with toasted bread which is drenched in olive oil and served with chopped fresh tomatoes and garlic toppings. For his naan recipe, all he did was, add some more veggies, cheese, and spices to the original topping and replace the bread with naan.
2. Naan Chips with Hummus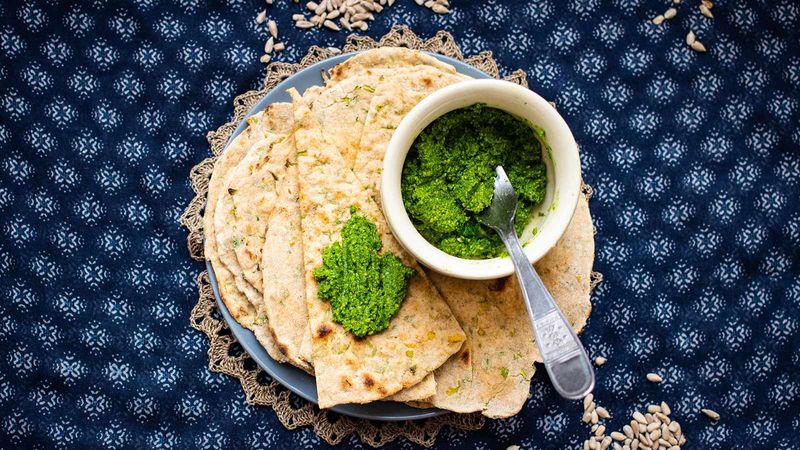 Chef Siddharth Kalyanaraman, Executive Chef, Cream Centre, Mumbai, suggests you cut the leftover naan into finger-sized pieces and bake them in the oven to make naan chips. He says that the texture of naan is similar to pita bread so it can easily work as a replacement. From now on, whenever you're craving pita bread but don't have it in your pantry, your naan recipe can come to the rescue. Like pita chips, you can pair your naan chips with a classic hummus or any other dip of your choice
3. Naan Grill Sandwich
For some more uses for your naan recipe, stuff the leftover naan pieces with vegetables, cheese or a leftover sabzi – either way you are in for a delicious treat. All you need to do is place the filling of your choice between two naans, apply some oil on either side of the flatbread, and grill it on a pan or a grill, whatever is available. To add more layers of flavour to your naan grill sandwich, spread some green chutney or sauce on the naan before placing the filling. You could even turn it into a sweet dish by stuffing chocolate between the naan. 
4. Naan Bread Pudding
In the mood for something sweet? Get creative with your naan recipe to make a bread pudding maybe? We've got it covered. You can use your leftover naan to make a creamy butter pudding. It's true. All you have to do is take any regular bread pudding recipe and simply replace the bread with the leftover naan. If you're not a fan of berries, you can sprinkle your desired toppings and whip up a fun dessert to satisfy your cravings.
5. Naan Pizza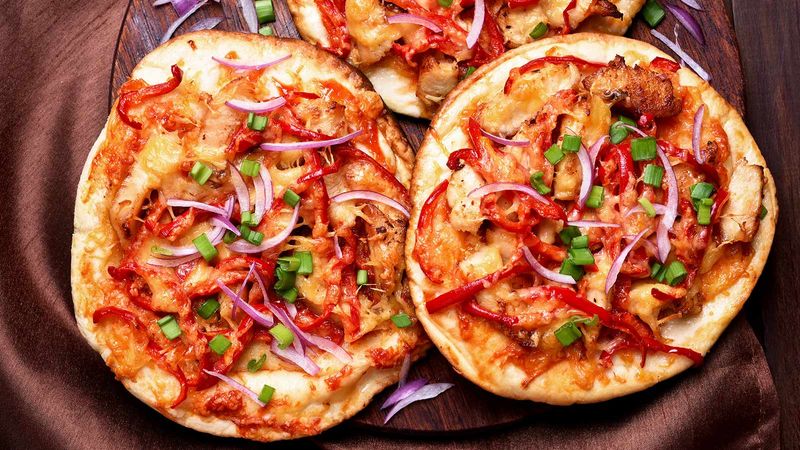 YASS! What's better than transforming the naan recipe into a yummy pizza? Open your fridge, and take a moment to look at whatever ingredients you have available that inspire pizza topping ideas. Once you've picked your favourites, bring it all out on the kitchen platform and start assembling your pizza.
Preheat the oven to 400 degrees Celsius. In case you don't have an oven around, just bring out your roti pan and you're good to go. Spread some pizza sauce or olive oil on the naan and sprinkle a handful of grated cheese. Now, sprinkle some herbs and place your toppings. Bake in the oven or cover the pan to cook the naan for 5 to 10 minutes – or until your naan is crispy – and your naan pizza is ready to serve.
6. Naan Wrap
How about wrapping the leftover naan around a filling of fresh veggies or some roasted chicken? Just place the naan in a warm oven or on a pan on the stove for a couple of minutes so it softens. Once done, bring out that leftover salad or any other ingredients available in your pantry, and get rolling!
Roll it like a tortilla and eat it as it is. If not, then heat a grilling pan, coat it with some butter and place the roll on it for a few minutes – until there are brown grill marks on it. 
---
Photo: Shutterstock