India's love story with coffee dates back to the 1600s when a Sufi saint planted seeds of the caffeine-rich beans on the hills of Karnataka, but it is a brand new chapter unfolding in the tale with new flavours, artisanal brews and newer styles making an entry. From filter kaapi of yore to the cappuccino craze in the noughties and now the international acclaim of 'phenti hui coffee' aka dalgona coffee, India has finally made coffee its muse. It is, therefore, no wonder that there has been an exponential increase in the number of homegrown coffee roasters and processors such as Blue Tokai, Koinonia, Third Wave Coffee Roasters, Araku, Subko and more, in the last five years. Go #VocalForLocal!
The latest introduction among the hip coffee lovers of India is cold brew coffee. Not to be confused with saccharine cold coffee, a childhood favourite, cold brew coffee is all about subtlety. (You can also make a stellar glass of cold coffee with cold brew coffee.) While the bold and rich flavour notes of coffee remain intact, but with a more nuanced approach to the same cuppa Joe. But is it the only reason why this coffee style has garnered such a following?
Ajai Thandi, co-founder of Sleepy Owl says, "In a tea-drinking nation like ours, coffee has been more popular as a cold beverage than a hot one. There has been a higher demand for healthier alternatives to iced coffee, which is more acidic because of its brewing process. Cold brew coffee is naturally sweet and low in acidity, and has caught the attention of millennials who may have experienced this in other countries during their travels."
Cold-brew coffee versus hot brewed coffee
Taking a page out of chemistry lessons from school, heat affects ingredients differently. In the case of coffee beans, hot water apart from extracting the natural flavours also extracts acidity, bitterness and even sourness, depending on the quality of the coffee. Cold-brew, thanks to the lack of heat, mitigates these issues and gives you smooth and naturally sweet coffee. "It is always a personal choice; some people like their coffee hot and strong, while others may prefer it cold and smooth," adds Abdul Sahid Khan, Head Trainer, Lavazza India.
Let's break down the basics of cold brew coffee:
How to make cold brew coffee?
It all boils down (pun intended) to the brewing process. Instead of traditional hot water and ground coffee, cold brew coffee uses room temperature water. Khan explains, freshly ground coarsely ground coffee beans are left to steep in the water for a minimum of eight hours. Depending on the coffee, its roast and how intense you like your coffee, the steeping time can go up to 24 hours as well.
A taste test at the eight-hour mark and every two hours thereafter will tell you how the coffee is evolving. "Strain the coffee using muslin or cheesecloth, you can then refrigerate the coffee," he adds.
"It is very simple to make good coffee at home," says Aneesh Bhasin, co-founder of Svami Drinks and a coffee aficionado, in an Instagram post on coffee tonics. He also recommends the Hario Mizudashi pot for cold brew coffees, which allows you to experiment with any coffee you like, and at different immersion times.
The proportion of coffee to water is a tricky one since it is also a question of taste and preference. It also depends on how you intend to drink your cold brew. Sleepy Owl uses approximately 27-30 gms of coffee in each sachet to make approximately one litre of ready-to-drink cold brew coffee. For a stronger decoction that you intend to use for a variety of coffee drinks, double the amount of coffee, ie: 60 gms, for a litre of water.
If you're wondering if you can use instant coffee for cold brew coffee, you can't! Instant coffee is dehydrated coffee, which when comes in contact with hot water regains its coffee-like qualities. If you leave it to soak in room temperature water, it'll be messy brown water. The coffee grind, therefore, is of great importance for a cold brew. It has to be coarse to not allow a good surface to interact with water but also to avoid cloudy coffee.
Cold Brew Coffee Recipe
Ingredients
1 litre water

60 gms coarsely ground coffee beans
Method
In a bottle or jar that can accommodate a litre of liquid, add water and coffee beans.

Stir well and let it sit in a cold dry place for eight hours. Keep it in the refrigerator for another two to six hours as per your taste.

Place a sieve with a cheesecloth in a container and drain the cold brew coffee.

Transfer in a clean bottle and refrigerate.
Add flavours to your cold brew coffee
Since the brewing process is different, "cold brew coffee can be enjoyed with different flavouring agents, just like any other mocktail or cocktail," says Khan. Even a dash of milk and some sugar can be a distinctly new experience.
He also suggests crushing some pomegranate, mint and lime into the cold brew. "We call this a Cold Brew Mojito, perfect for hot summers." Other additions include mint, vanilla, cinnamon, etc.
"The common misconception is that cold brew can only be consumed as a 'cold coffee'. However, you can heat the decoction, customise it with milk and/or sugar, and it tastes just as good. This is the best part about our cold brew, there's something in it for everyone," adds Thandi.
Here are some cold brew coffee recipes for you to try at home:
Nutella Iced Coffee Recipe
Ingredients
1 cup cold brew

¼ cup milk

2 tbsp Nutella

2 tbsp sugar
Method
Add the coffee, milk, Nutella and sugar to a blender and blend until combined and frothy.

Taste and add extra sugar if you like it sweet.

Pour over ice and enjoy.
Recipe by Abdul Sahid Khan
Vietnamese Iced Coffee Recipe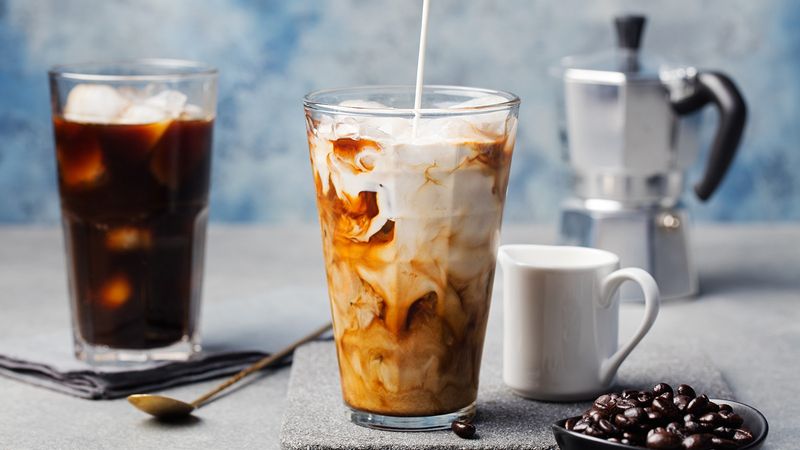 Ingredients
1 cup Cold Brew Coffee

1 tsp condensed milk
Method
Pour Cold Brew Coffee in a glass.

Add 1 tsp of condensed milk.

Stir well and add ice.
Recipe by Ajai Thandi
Cold Brew Tonic Recipe 
Ingredients
60-80 ml cold brew coffee

Ice

1 Svami Tonic bottle
Method
In a glass, add a chunk of ice. Pour in the cold brew coffee.

Top up the glass with tonic water.

Garnish with an orange peel.
Recipe by Aneesh Bhasin
---
Photo: Shutterstock