Ever connected bartending with resourceful bartending? Well, think bartender, and the image that instinctively comes to mind is that of an individual behind the bar showing off gravity-defying juggling skills to whip up a drink that promises to set the buzz for the night. Rarely do we connect practices to save the environment with a fun activity like bartending. Isn't worrying about the environment for the activist types, while aren't bartenders the fun kind? Well, it's time to change that line of thought.
For the 10th edition of the Diageo Reserve World Class competition, Diageo Reserve chose the theme of 'resourceful bartending'. Explaining the concept, Lauren Mote, Diageo Global Reserve Brand Ambassador, talks about how to be a successful bartender: "Resourceful bartending is something that affects not just bartenders, but our entire industry around the world. It's about making better choices when it comes to the ingredients that we use and how we use them. It's also about where we source things from in an effort to be a little more sustainable."
How to bartend resourcefully?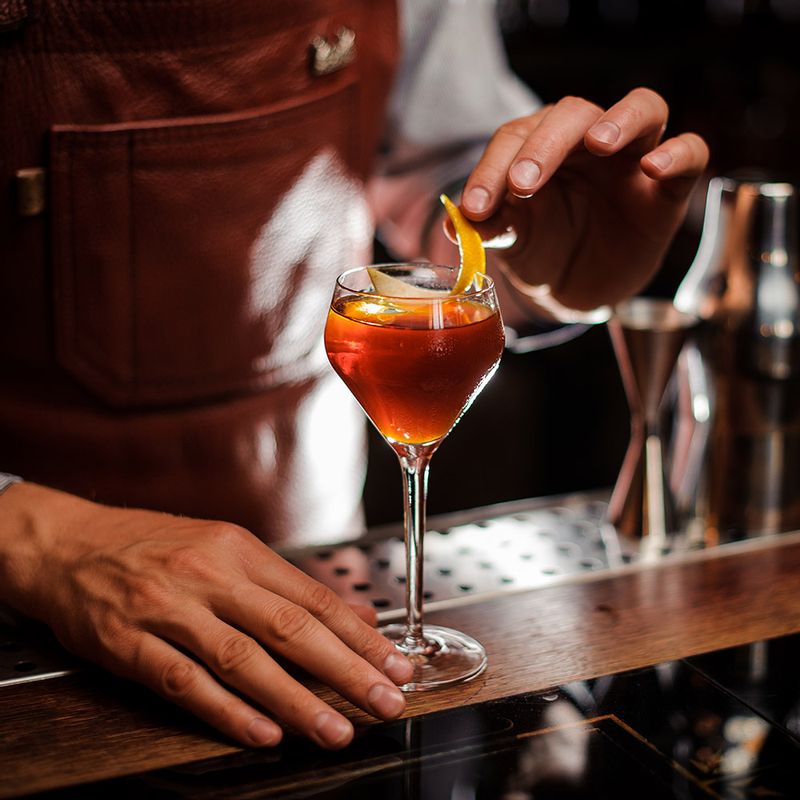 As part of the competition, the participating bartenders were trained in resourceful bartending techniques by the brand ambassadors based in India. Elaborating on the three top aspects of resourceful bartending—energy, waste and community—Lauren says, "By looking at energy, we want to make better choices in terms of how we use electricity and finding power from different sources." For instance, Ketel One Vodka has a sustainable distillery, most of the power for which is sourced from a windmill on site, informs Lauren.
"With waste, we want to look at utilising different ingredients in a more thoughtful way," she continues. "We want bartenders to think about how they can preserve the environment by learning more about what they can do with individual ingredients and give them more than one life." Using the example of one of the most commonly used ingredients in cocktails, lime, Lauren illustrates, "We'd like to use the ingredient for more than just one use rather than simply using it once and chucking it in the garbage bin. The shells can be used for something else."
Talking about community, Lauren says, "We want to make sure that bartenders are relying on each other to make group purchases." For instance, a community of bartenders could take steps to open up an apiary so they can have honey available to the whole community "or perhaps a recycling program that they can use for the whole community," she adds.
The making of a bartending community in India
Lauren was in India for the national finals that concluded in Delhi on June 26, 2018. The global bartending competition is in its sixth year in India. Of the 250 bartenders that participated in the bartending competition from across the country, Gaurav Dhyani of Perch Wine & Coffee Bar, New Delhi, bagged the title of Indian Bartender of the Year at World Class 2018.
Participating in the competition for the past five years, Gaurav believes he finally cracked it this time by shifting to flavour rather than only focusing on flashy displays. Referring to one of his winning drinks, #Indulge, he explains how it was an array of flavours on a small platter. Served in edible glassware which was made of a waffle cone lined with chocolate, the drink was accompanied by salty sea grapes to contrast the flavours.
Keeping with the theme of resourceful bartending, instead of going for a printed menu, Gaurav posted his list of cocktails on Instagram and tagged the judges. "When I started making the cocktails, I told the judges that the menu was already on their phones," says Gaurav. "Since resourceful bartending is also about using ingredients that are easily available, I used onions in the drink in the form of onion jam."
When quizzed on how he implemented the techniques he learnt from the workshops, Gaurav says, "I collected leftover peels of three or four fruits and left them overnight in an airtight bag with castor sugar. The excess oil from the peels mixes with the sugar to give Saccharum which I used in my drink Reverence the Bygone."
Gaurav, who has been bartending for eight years, will now go on to compete in the global finals scheduled to take place in September 2018 in Berlin.
---
Photo: Shutterstock