Delicious, healthy, and an easy snack to munch on—dry fruits have innumerable health benefits. Thanks to their long shelf-life and high nutritional value, dry fruits have been used in various traditional recipes in India. Boosting immunity, aiding weight gain, improving heart health, and maintaining blood sugar levels are just a few benefits of dry fruits. Here is a list of five dried fruit recipes that you can make easily at home.
1. Almond cake
Almond is likely to be on top of the list of all dry fruits. That's why we're sharing chef Ajay Chopra's almond cake recipe here. This gluten-free recipe is easily one of the best dried-fruit cake recipes.
Ingredients: 
350 gm almond powder

200 gm egg (separated)

100 gm honey

10 gm baking soda

10 gm vanilla essence 

5 gm salt 

20 gm honey

50 gm sliced almonds
Method:
Preheat the oven to 180°C. Coat a baking pan with butter and flour. Line the bottom with parchment paper.

In a large mixing bowl, beat 4 egg yolks, 100 gm honey, vanilla, baking soda, and salt with an electric mixer on medium speed until well combined.

Add the almond powder and beat on low.

Take another large bowl, beat 4 egg whites with the electric mixer on medium speed until very foamy, but not stiff enough to hold peaks.

Using a rubber spatula, gently fold the egg whites into the nut mixture. Pour it into the prepared pan.

Bake the cake until it turns golden brown. To check, insert a skewer into the centre, if it comes out clean, the cake is ready.

Let the cake cool in the pan for 10 minutes. Gently, run a knife around the edge of the pan. Remove the cake and let it cool down completely.

Transfer the cake to a serving platter. Garnish the top of the cake with honey and sprinkle with sliced almonds before serving.
Quick-tip: Before you make a powder of almonds, ensure there is no moisture in the grinder jar, it can result in lumps in the cake.
2. Mewa paag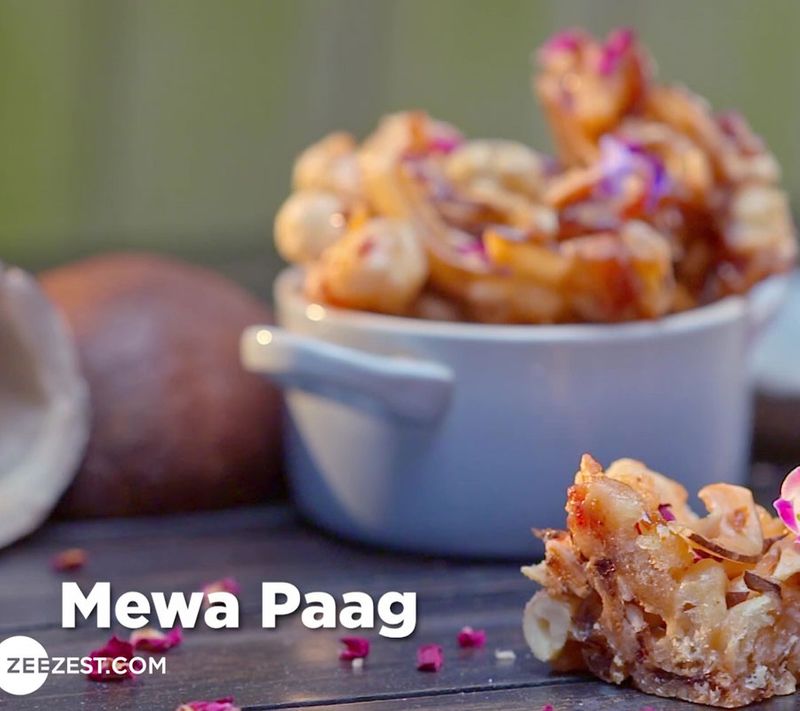 This recipe by India's first MasterChef Pankaj Bhadoria is nothing but a way to include various dry fruits and spices in one dish. This super delicious and healthy sweet can be prepared in less than an hour.
Ingredients:
4-5 tbsp ghee

¼ cup tragacanth gum

18-20 cashew nuts

1 cup dates

1 cup dried coconut slices

2 cups fox nuts

2 tsp melon seeds
For chashni
2 cups sugar

1 cup water

1 tbsp milk

Ghee for greasing
Method:
In a pan, heat 4-5 tbsp ghee and fry ¼ cup tragacanth gum, 18-20 cashew nuts, 1 cup dates, 1 cup dried coconut slices, and 2 cups fox nuts one by one.

Now, fry roast melon seeds and set them aside.

Meanwhile, in another pan, heat 2 cups sugar and 1 cup water. Bring it to a boil.

Add 1 tbsp milk to make the chashni.

Add the fried dry fruits, melon seeds, nuts and gum in chashni and cook.

Grease a plate with ghee and transfer mixture into it. Press gently into desired shape.

Once the mixture cools down, cut it into small pieces and serve.
3. Jaggery oats and mixed dry fruit bar
This bar is an absolute delight for the taste buds and is also loaded with vitamins, minerals, and protein. Get a sneak-peek into chef Harpal Singh Sokhi's healthy yet tasty recipe that can be served as a good snack when you are hungry.
Ingredients: 
1 cup jaggery, shredded

1 cup oats 

1 tsp cinnamon powder 

8-10 chopped Almonds

8-10 chopped cashew nut

8-10 chopped Pistachio

1tsp cinnamon powder

1/4th cup chocolate Sauce 

1 tbsp ghee
Method
In a pan, heat the ghee.Add nuts and sauté. Keep aside. 

Dry roast the oats and keep them aside. 

Add in the jaggery. Cook for 2 to 3 minutes or until the jaggery melts completely. 

Add cinnamon powder and keep the flame low. Add in the chocolate sauce and mix it well. 

Add in the roasted oats and dry fruits. Mix it well and cook for 2-3 minutes.

Transfer it into silicone moulds (or you can pour it into a greased tray) and spread it evenly. Place it in the refrigerator for 20 minutes.

Remove it from the silicone mould and serve.
4. Gond and dry fruits laddoo
Gond is used to prepare various kinds of sweets, especially for the winter season. Of the many recipes made with gond, we bring to you chef Kunal Kapoor's gond laddoo recipe, featuring dry fruits.
Ingredients:
For dry fruits & nuts:
5 tbsp desi Ghee

½ cup gond

½ cup almonds

½ cup cashew nuts

¼ cup peanuts

4 tbsp pumpkin seeds

3 tbsp khus khus (poppy seeds)

¼ cup til
For laddoo
½ cup desi ghee

3 tbsp besan (gram flour)

2 cups atta (wholewheat flour)

1 tsp black cardamom seeds

1 tsp cardamom powder

1 tsp black cardamom seeds

2 tsp ginger powder (optional)

1cup sugar
Method:
For dry fruits & nuts:
In a pan, heat some ghee, add gond and cook it on low to medium flame. 

Keep stirring to let it puff. 

Once puffed, strain the mixture to remove the ghee and place the gond on a platter. 

Using the back of a bowl lightly crush the gond. Make sure to keep it coarse and not powdered as it will give a good crunch to the ladoo.

Add the strained ghee back to the pan and fry almonds and cashew nuts on low heat. Fry till the almonds start to crack. 

Strain the dry fruits to remove excess ghee. Place them on a fresh plate. Repeat the same with peanuts, and pumpkin seeds. Strain them as well and keep them with almonds and cashew. 

Similarly, fry khus khus and til seeds lightly. Strain them and add them with the rest of the dried fruits.

Now add all the fried dried fruits and nuts to a mixer grinder and grind coarsely—do not powder it completely.
For the laddoo
Heat the pan, add some fresh ghee to it along with besan.

Stir on medium heat for a minute and then add the atta. 

Cook them together till the colour changes to light brown. Mix it with the coarsely crushed nuts and add the crushed gaund to it. Mix them well and let them cool till they can be handled with your hands. 

Once it is cooled, sprinkle black cardamom seeds, cardamom powder, and ginger powder over it. 

Add powdered sugar. Mix the mixture your hands till the sugar is well incorporated.

Take a handful of the mixture and press to shape them into a laddoo. 

In case the mixture is too dry and not coming together, add some melted ghee to it. Once shaped, it is ready to serve.
5. Kachori stuffed with dry fruits
Another dry fruit recipe from chef Ajay Chopra's kitchen is kachori stuffed with dry fruits. This simple yet stylish dry fruits recipe could be a game-changer for your next house party.
Ingredients:
1½ cups all-purpose flour (maida) 

¼ cup cashew Nuts, roughly chopped  

10 to 12 raisins (kishmish)

2 tbsp almonds, roughly chopped 

Salt to taste

3½ tbsp oil 

½ cup gathiya, papdi, or sev, coarsely crushed

¼ tsp asafoetida  

¼ tsp turmeric powder 

1½ tsp red chilli powder

½ tsp garam masala powder 

¼ tsp black peppercorns, crushed 

½ tsp dried mango powder (aamchur) 

1 tsp white sesame seeds  

1 tsp coriander seeds 

1 tsp fennel seeds saunf

½ tsp poppy seeds (khus khus) 

1½ tbsp date and tamarind chutney 

2 tbsp powdered sugar
Method:
For the stuffing, heat 1 tablespoon of oil on medium flame in a non-stick pan. 

Add asafoetida, turmeric powder, red chilli powder, garam masala powder, black peppercorns, dried mango powder, sesame seeds, coriander seeds, fennel seeds, poppy seeds, cashew nuts, raisins, and almonds. 

Saute the mixture on low heat for 30 seconds. 

Now, add the crushed gathiya, date tamarind chutney, sugar and salt. 

Mix properly and saute for a minute. 

Turn off heat and let it cool for 4-5 minutes. 

In a large bowl, take flour, salt and 2½ tablespoons oil. Add enough warm water to knead a soft dough.

Divide the dough into equal-sized portions. Shape them into balls. 

Roll out each ball into a thick round poori. Put the stuffing mixture in the centre of each. Gather the edges and bring them together and seal them. With the help of your palms, shape them into balls again. 

Heat sufficient oil in a kadai on medium flame. 

When the oil is medium hot, carefully slide in 5-6 stuffed balls, one at a time.

Deep fry them on a low flame till they turn light brown. Transfer them and keep them aside to cool. Serve the kachori on their own or with green chutney.
---
Photo: Shutterstock