Mumbaikars, it's that time of the year again! After two long years, we're finally celebrating Ganeshotsav with full enthusiasm and minimal restrictions, and this calls for a piece of (actually, several pieces of) your favourite sweet treat. Whether you have a weakness for the traditional mawa or barfi modak, melt-in-mouth motichoor laddu, steamed ukadiche modak, or the mithai with a videsi twist—restaurants and food brands across Mumbai have got you covered. Scroll down to check out our Ganeshotsav 2022 special list of places to order artisanal sweet treats from in Mumbai for Lord Ganesha and you. 
P.S. You're welcome! 
1. Bombay Sweet Shop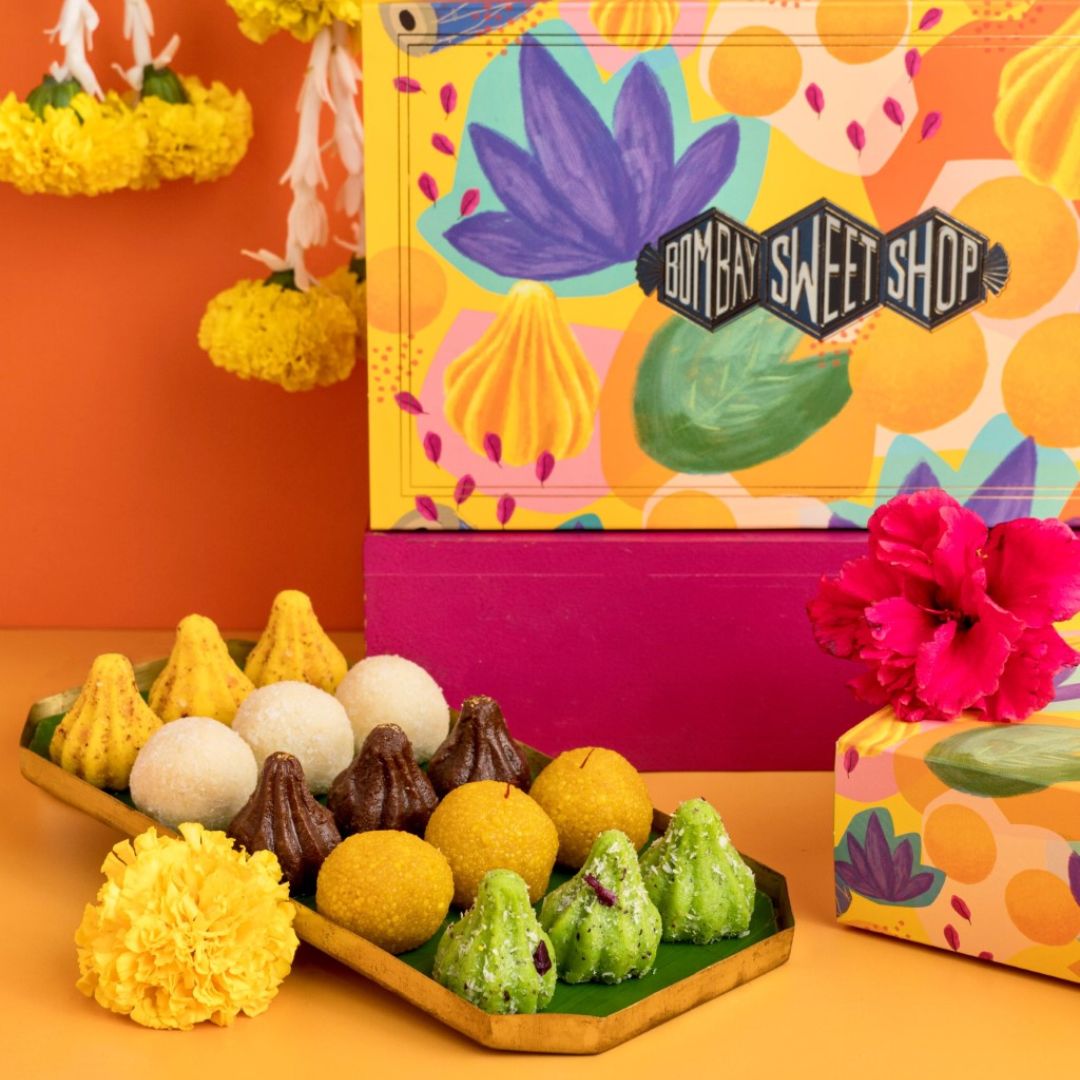 Known for putting an ingenious spin on traditional dishes, Bombay Sweet Shop has introduced a limited-edition array of modak and laddus. Their offerings include chocolate fudge modak, puran poli modak, pistakhubani modak, nolengur kheer kadam, and motichoor. With every festive order, the contemporary mithai brand is giving away a complimentary pack of incense cones made by Beyond Milk. If you're someone who loves authentic ukadiche modak, Bombay Sweet Shop has got those on the menu too. 
When: until September 9, 2022
How to order: Visit Bombay Sweet Shop in Byculla or order online via bombaysweetshop.com
2. Meetha by Radisson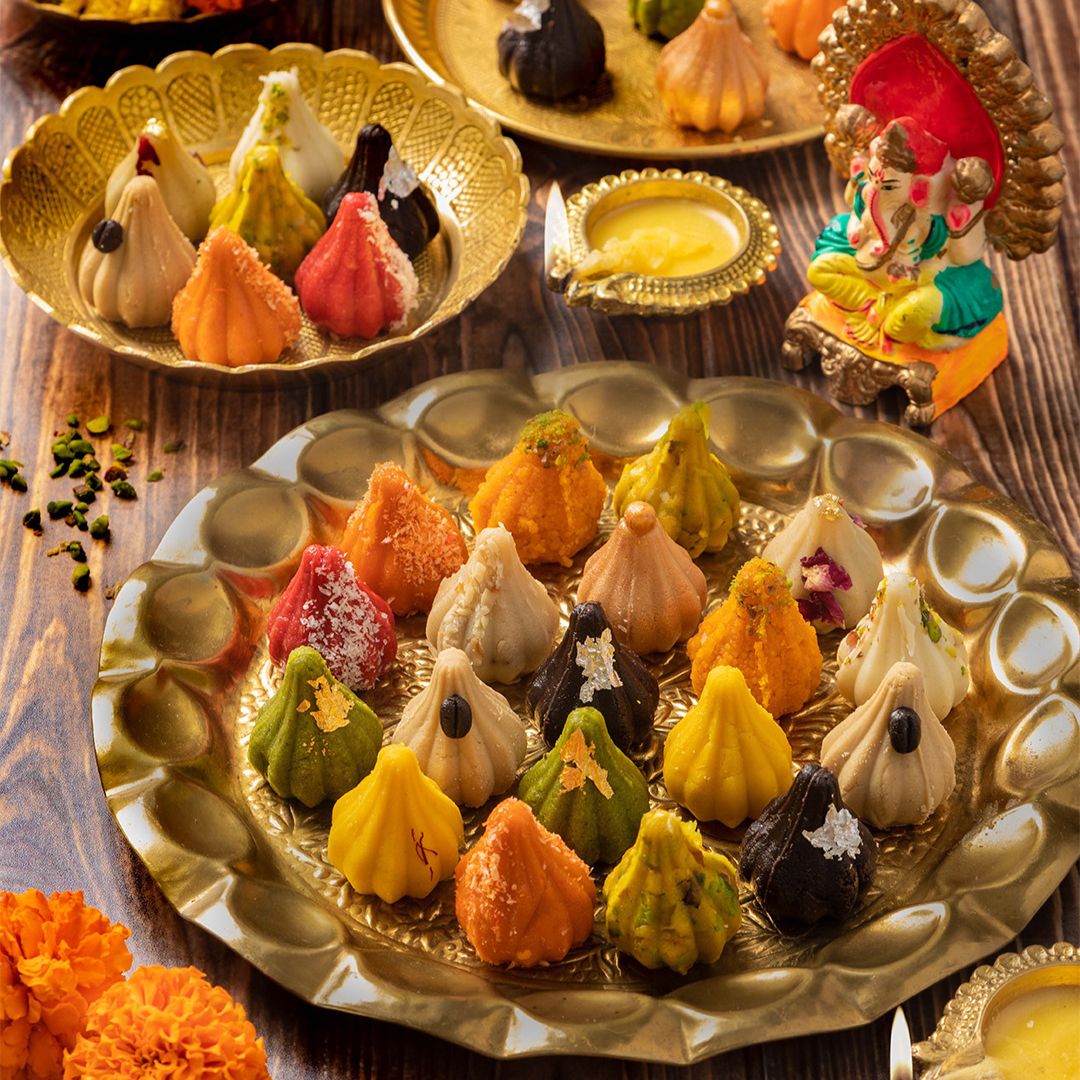 Get ready to be spoilt for choice at Meetha by Radisson in Goregaon as the luxury mithai shop has 12 varieties of modaks for Ganpati celebrations in Mumbai. Kesar, mawa, coffee, butterscotch, chocolate, kaju gulkand, pista, dry fruit orange, strawberry, nutella, and motichoor—these are the flavours available to buy. This line-up of sweetmeat has been curated by chef Naved and chef Raghavendra of Meetha based on what's popular among consumers. 
When: until September 11, 2022
How to order: Visit Meetha by Radisson in Goregaon or order online via meethamumbai.com
3. ITC Fabelle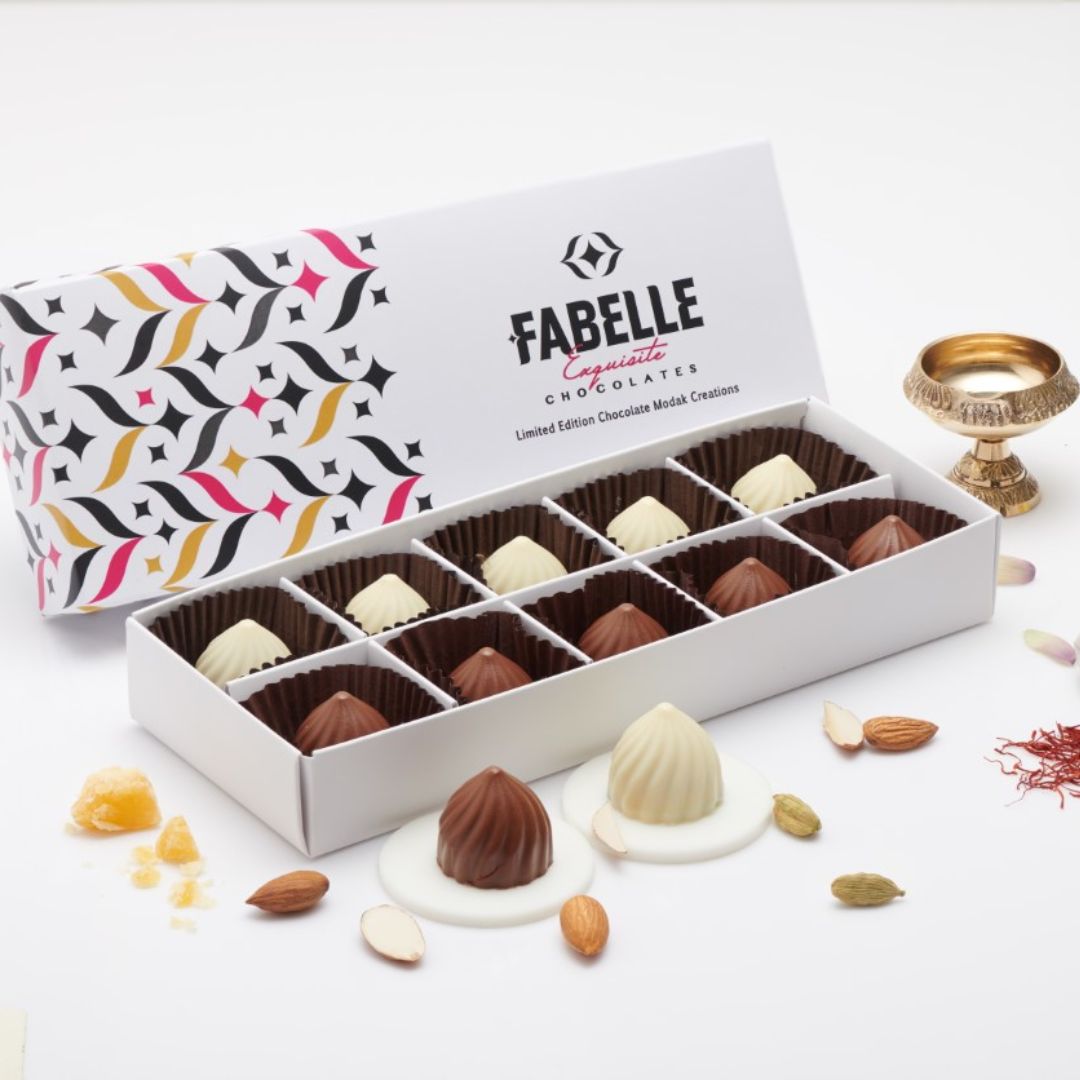 To celebrate the Ganpati festival 2022, the master chocolatiers at ITC Fabelle have created a range of artisanal modak bonbons made using milk and white chocolate. The sweet treats come filled with ingredients such as coconut, jaggery, saffron, almond, and turmeric that are traditionally used in making modak. ITC's Ganpati special offerings come in a pack of 10. 
When: until September 9, 2022
How to order: Visit the chocolate boutiques at ITC hotels across Mumbai or order online via Swiggy and Zomato
4. Yogisattva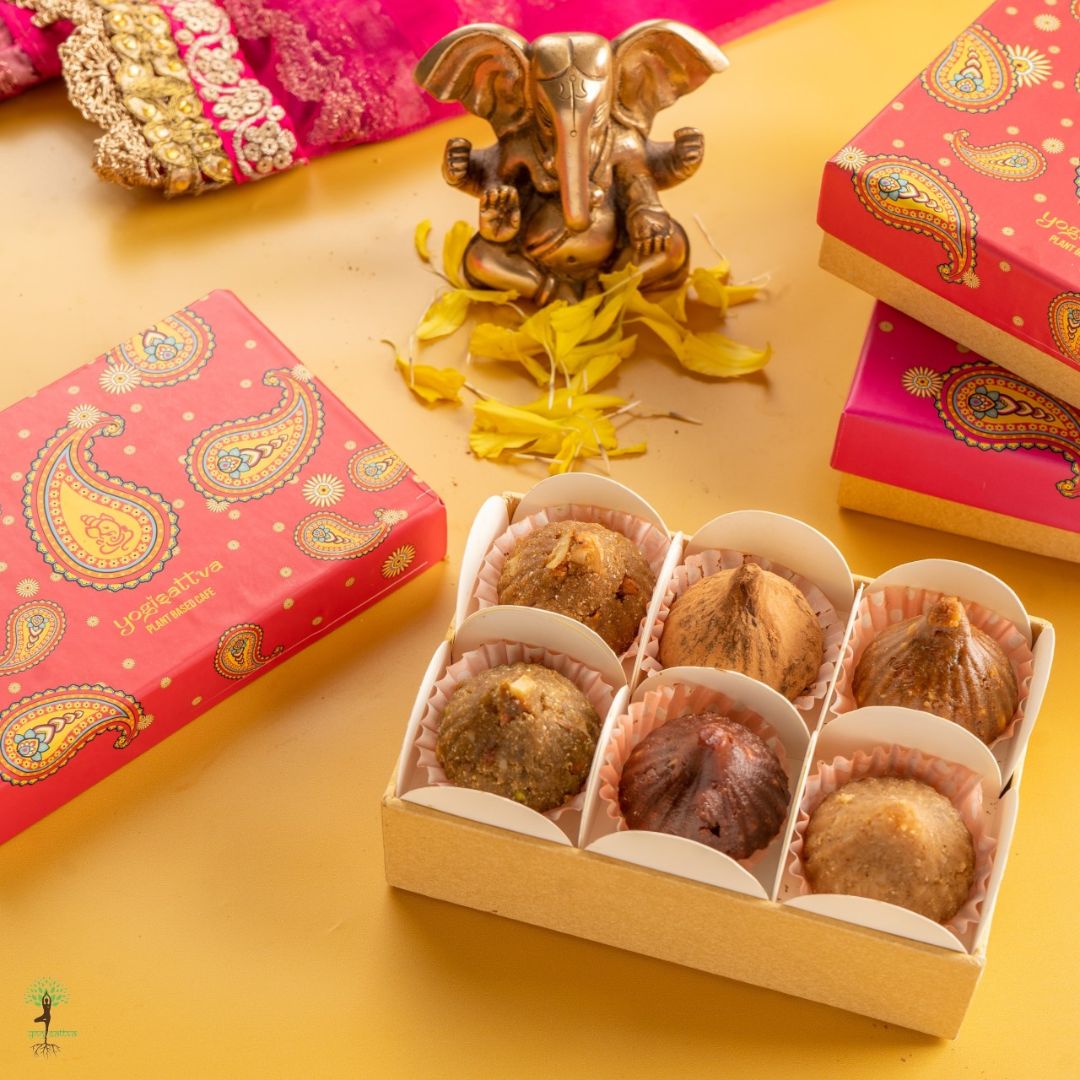 As part of Ganeshotsav 2022 celebrations, Yogisattva has introduced a limited-editio nmodak menu for those who are avoiding animal-based products, gluten, and refined sugar. Their festive assortment, curated and created by certified plant-based chef and founderRaveena Taurani, features coconut modak, besan modak, rose besan modak, mawa saffron modak, paan modak, and chocolate truffle modak. 
When: until September 9, 2022
How to order: Order online via yogisattva.com or WhatsApp or Call: +91 9867455009
5. Genda Phool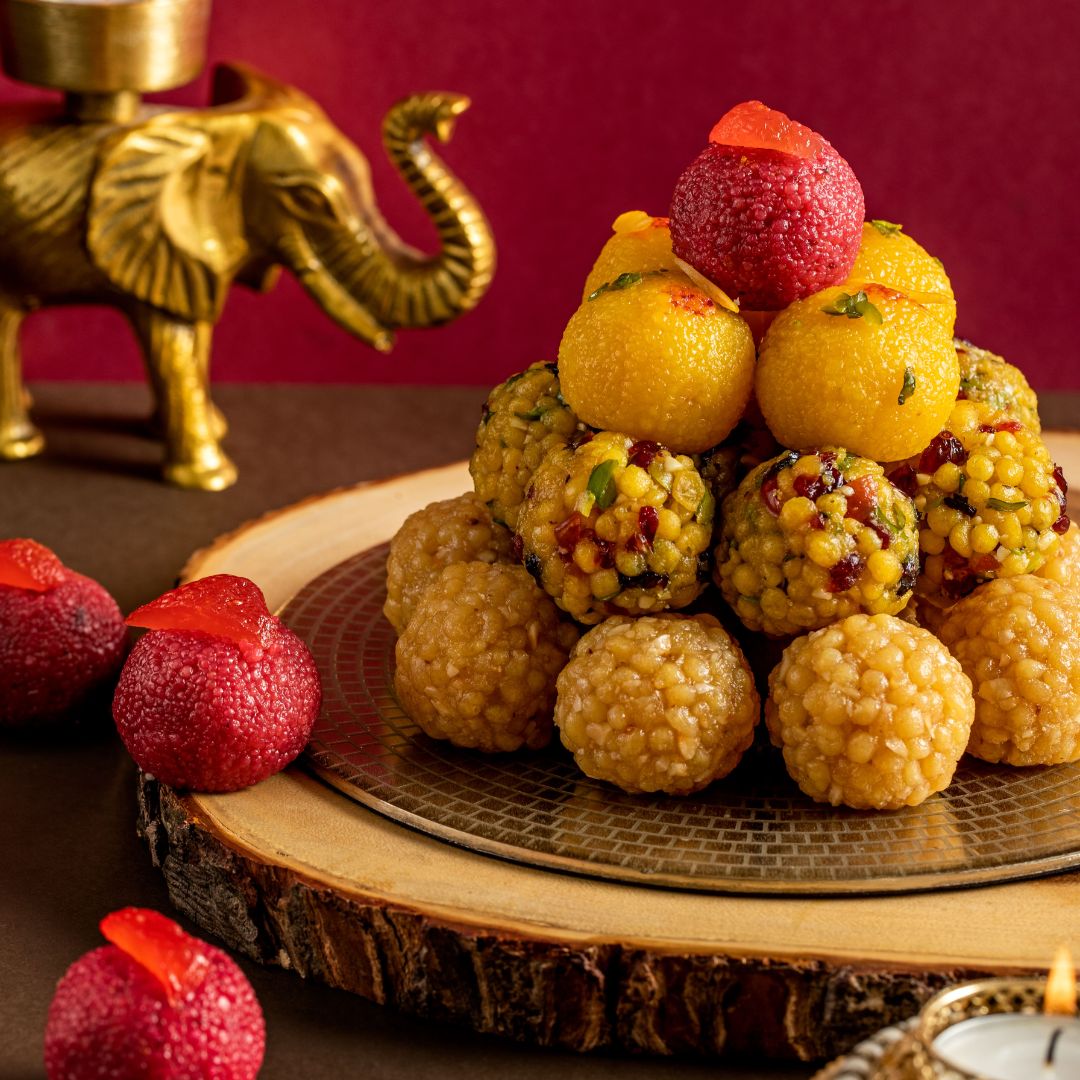 Known for their high-quality sweetmeat, Genda Phool has a delectable assortment of boondi laddus and modaks for Ganeshotsav 2022. The contemporary mithai brand is offering some unique and innovative flavours in both the varieties of Ganpati special mithai. Think boondi laddu in strawberry, kesar, Jodhpuri, and hazelnut flavours; and modak in vanilla, pista, gulkand, coconut, and passion fruit flavours.
When: until September 12, 2022
How to order: Call on 8928258808 or order online via their website Gendaphool.co
6. Sassy Teaspoon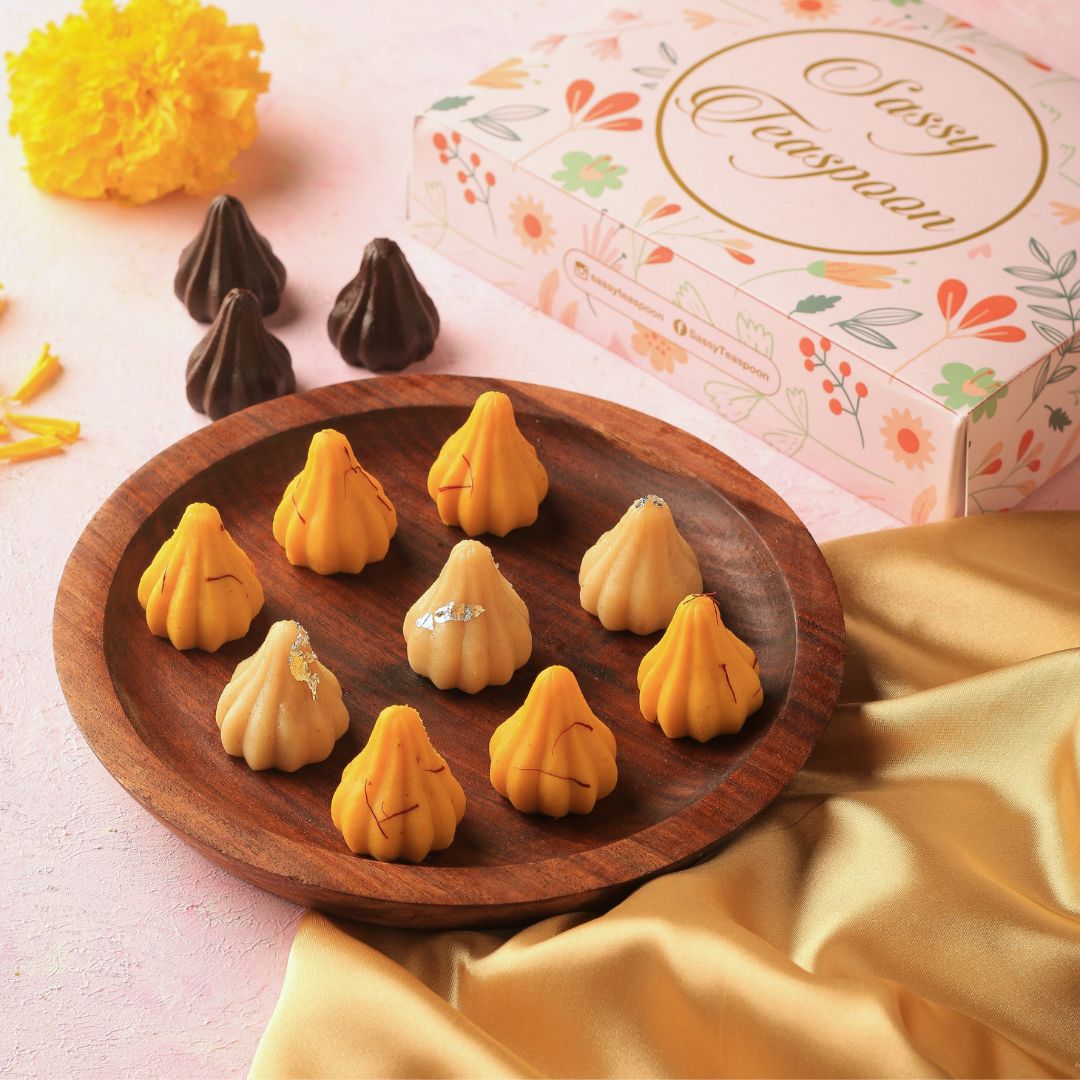 Satisfy your sweet cravings with Sassy Teaspoon's Ganpati festival special modaks—kesar peda, chocolate barfi, and kajukatli. These modaksare available in a box of six and 12 and must be pre-ordered. 
When: until September 9, 2022
How to order: Visit Sassy Teaspoon outlets across Mumbai
7. ITC Maratha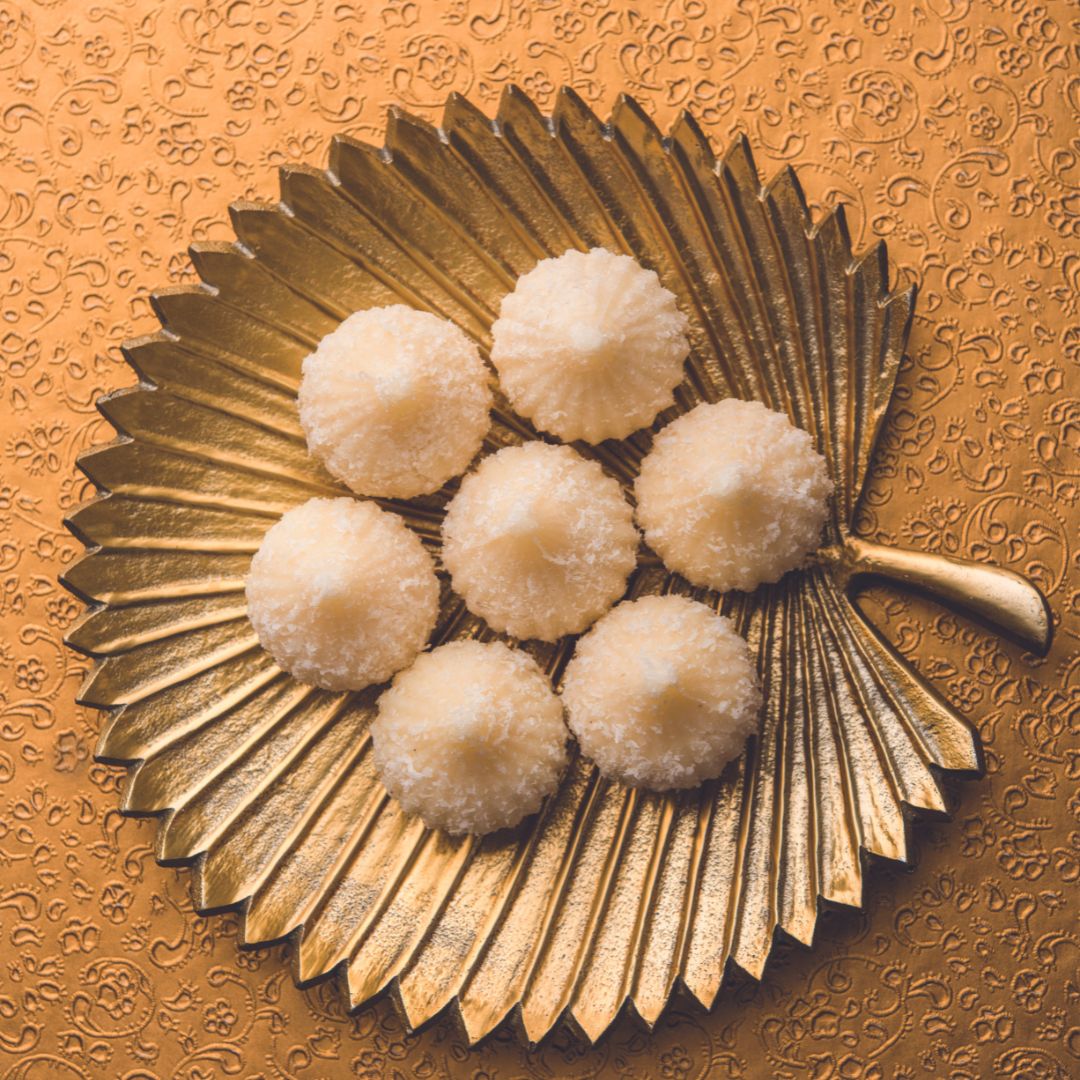 ITC Maratha's Gourmet Couch brings to you two delightful gourmet modak creations—kesar (pampore saffron) and naarangi (green coconut). Both treats promise beautiful intense flavours and are great for gifting. They come in a box of nine and 18 pieces. 
When: until September 10, 2022
How to order: Visit the Gourmet Couch on ITC Hotels app; order online via Swiggy/Zomato, or pick up a box from Peshwa Pavilion at ITC Maratha
8. The St. Regis Mumbai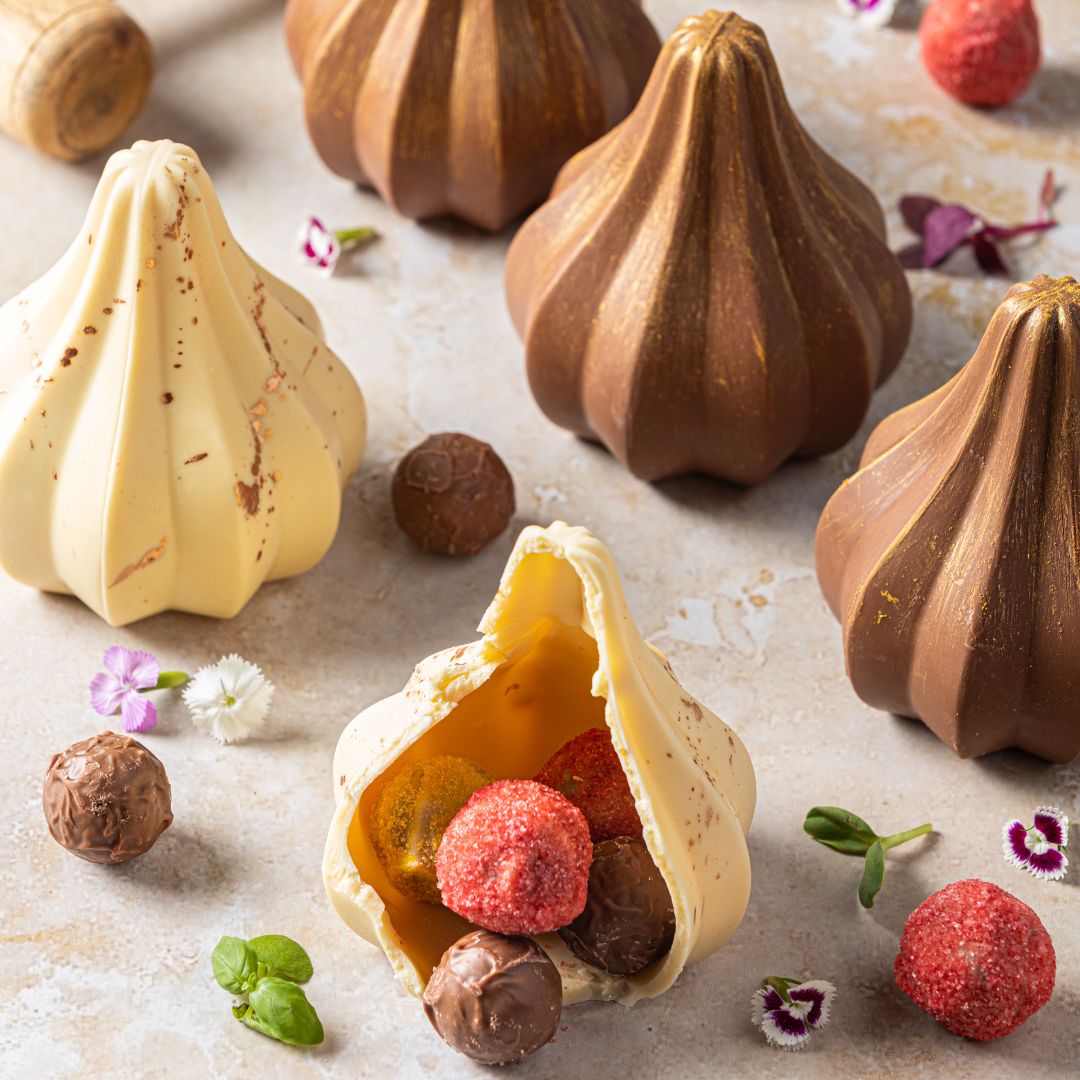 If you're not into traditional varieties of modaks, ring in the Ganeshotsav festivities with St. Regis Mumbai's unique curation of sweetmeat. You get modak in unique flavours such as slow-roasted nuts and organic jaggery with 24k gold, Iranian pistachio and Ghana milk, Madagascar vanilla with ras al hanout, Turkish coffee with cacao, Kashmiri cashew and saffron, gram fudge and caramelised hazelnuts, and praline filled chocolate modak. These treats can be ordered via Marriott Bonvoy On Wheels. 
When: until September 9, 2022
How to order: Call on +91 86575 22956 or order online via Marriott Bonvoy on Wheels
9. NOTO - Happy Sweets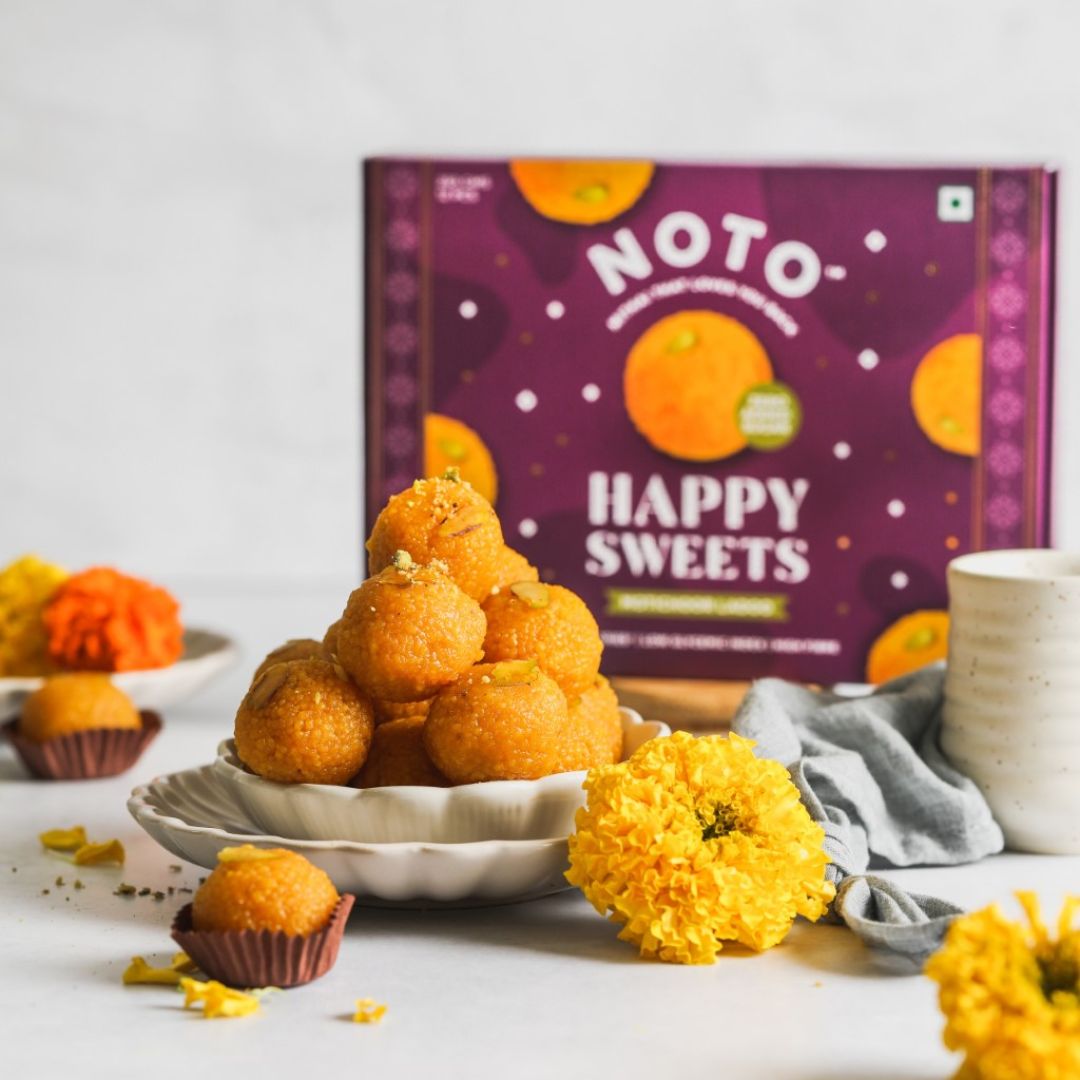 Famous for their range of low-calorie, vegan, and zero added sugar ice creams, NOTO has recently launched their collection of mithai. Called Happy Sweets, their collection includes motichoor laddu, mohanthal, peda, rasgulla, and gulab jamun. They take pride in creating sweets that are free of artificial preservatives and are low in calories. This Ganeshotsav 2022, offer Lord Ganesha some of their diabetic-friendly melt-in-mouth motichoor laddu. 
When: Ongoing
How to order: Online via eatnoto.com or via Swiggy/Zomato
10. Trayog
For those in the mood to experiment, Trayog has continued with its modak ice cream inspired by the traditional Maharashtrian ukadichemodak. It is a coconut and jaggery-flavoured ice cream served with modak petal cookies and finished off with a delicious jaggery-coconut sauce. 
When: until September 9, 2022
How to order: Call on +91 9324590822, DM them on Instagram/Trayog_celebratetradition, or order via Zomato/Swiggy
11. Vanilla Miel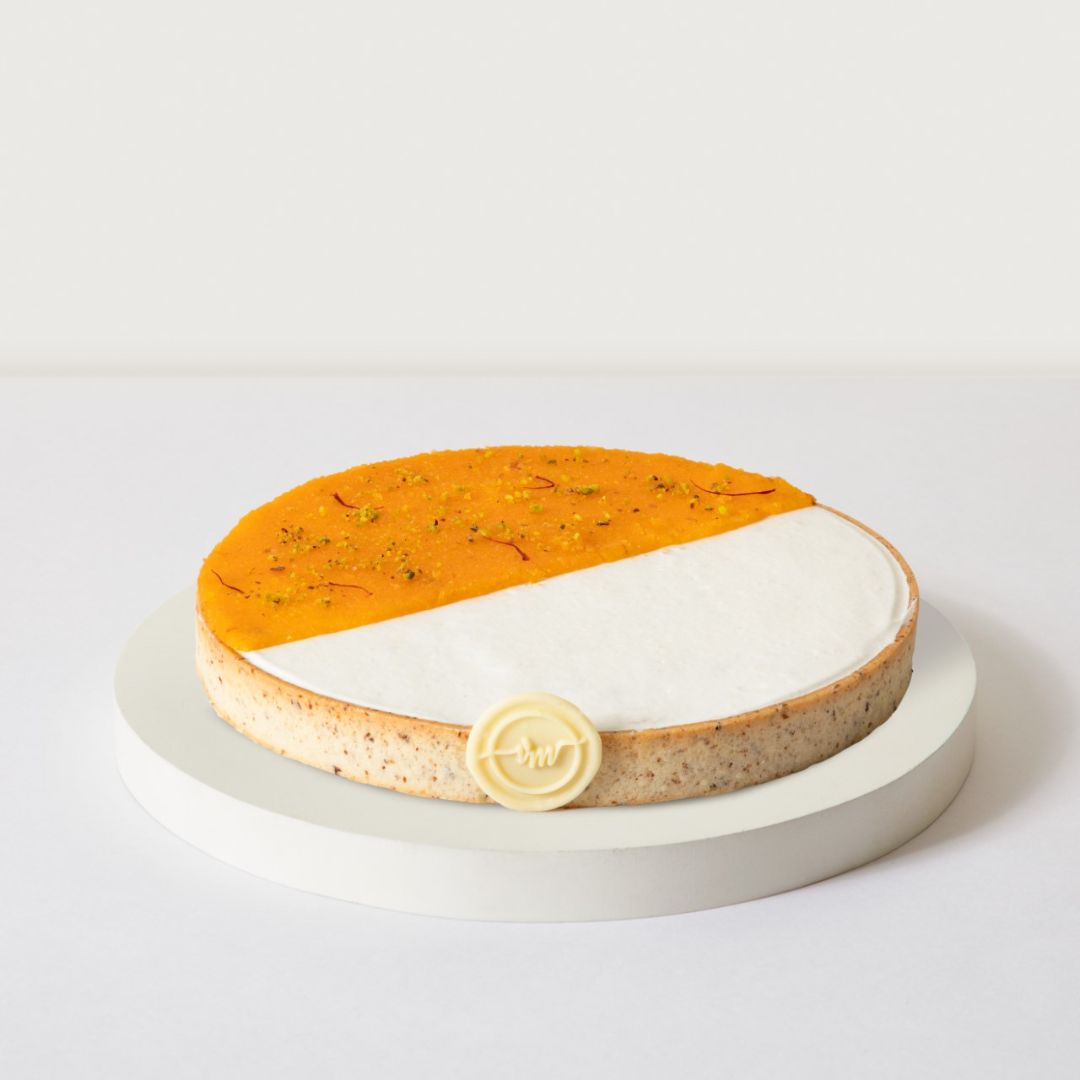 City-based patisserie Vanilla Miel has introduced a new dessert to markGaneshotsav 2022 and it is called 'kesari'. An Indo-western dessert, this is a tart that features gajar ka halwa, boondi-laced rabri mousse, motichoor topper with saffron strands and crushed pistachio. The base of this tart is almond pastry.
When: Ongoing
How to order: Visit Vanilla Miel kitchen in Andheri or order online via vanillamiel.com
12. The Chef Patissier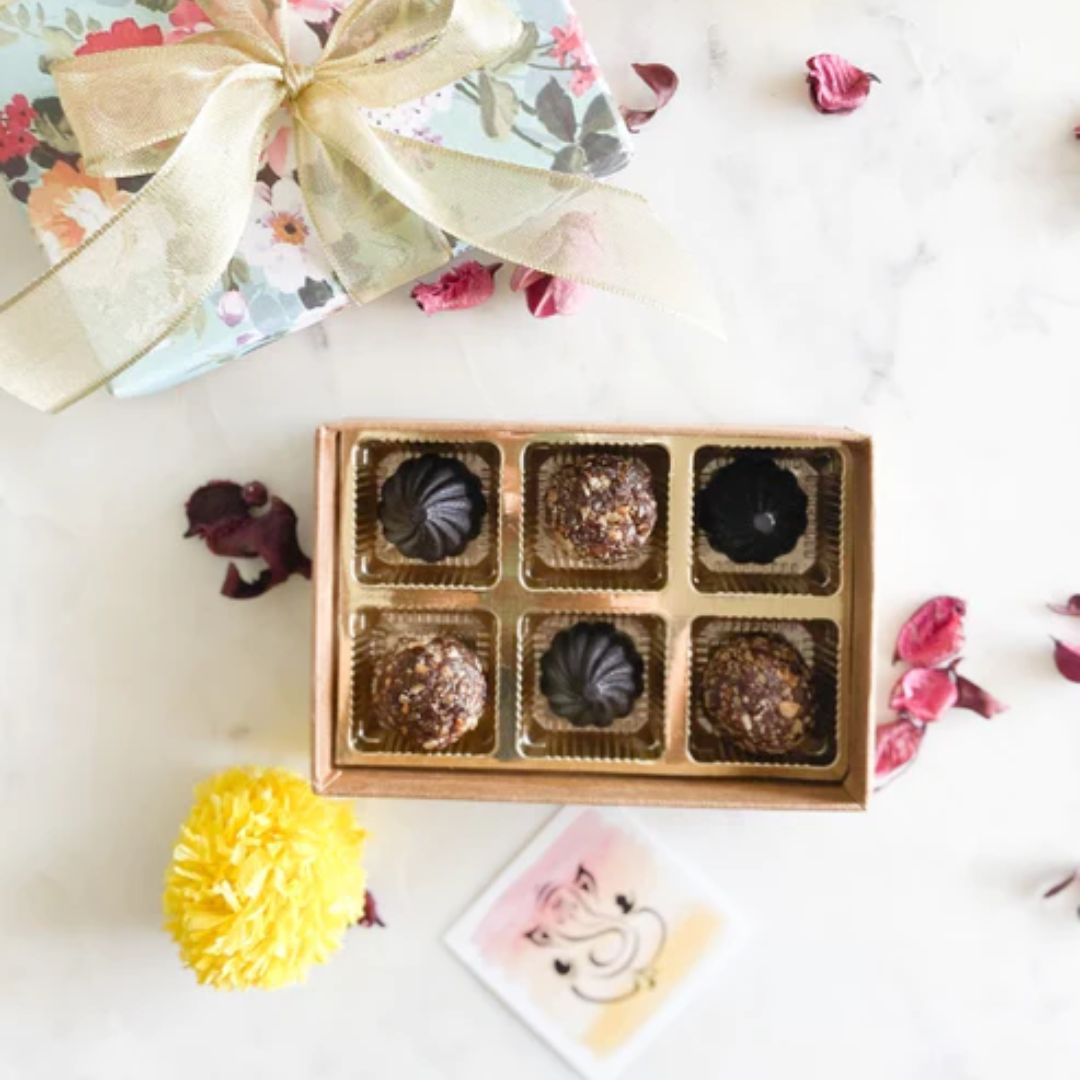 Want to work around your dietary restrictions and yet want to satisfy your sweet tooth? This is your answer. The Chef Patissier's Ganpati special prasad box contains three healthy energy laddus made using dates and three modaks made using granola and chocolate. 
When: until September 9, 2022
How to order: Call on 08591575439 or order online via thechefpatissier.com
13. Philomene Maison Du Patisserie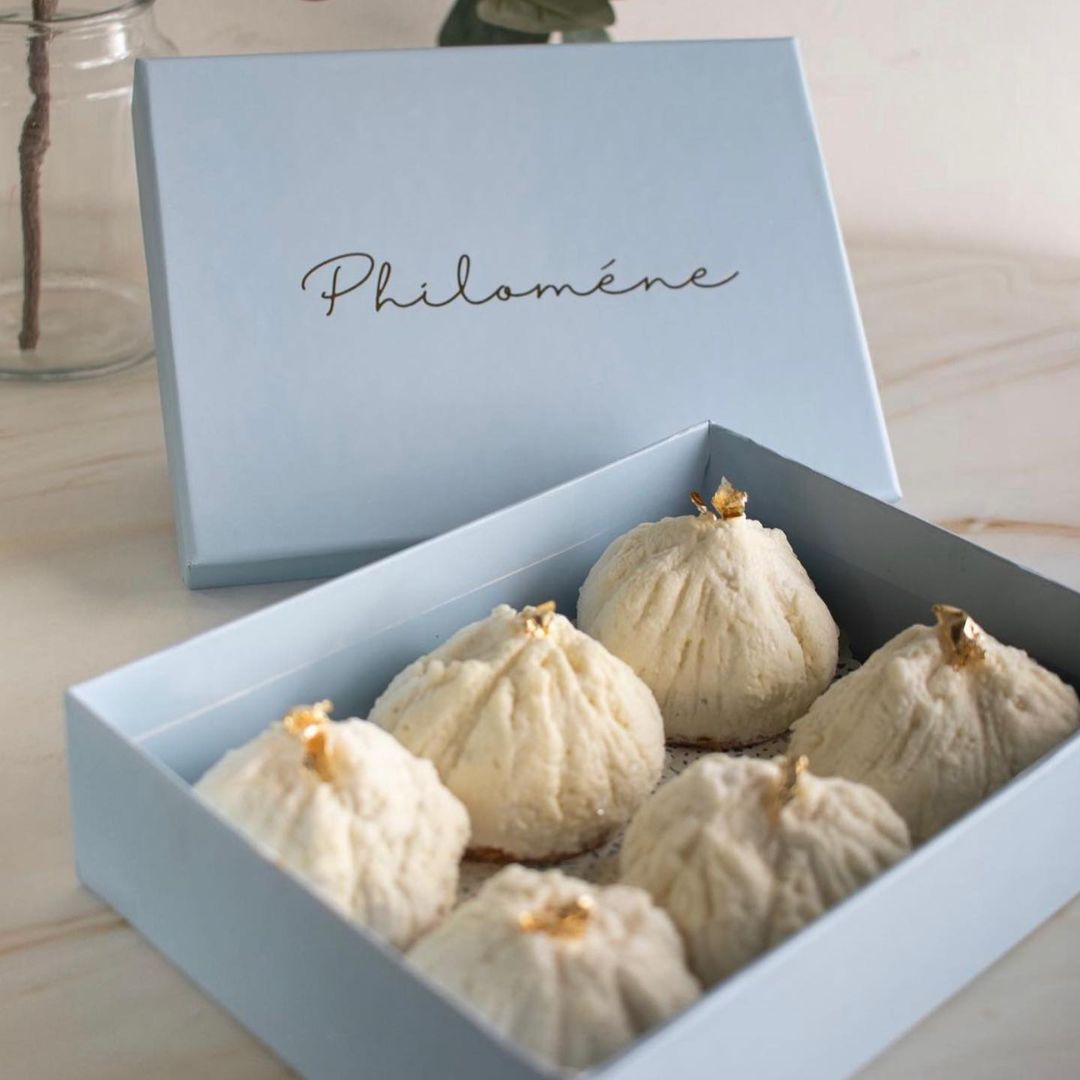 Philomene Maison Du Patisserie's modaks come with a French twist. Available in box of three and six, their Ganpati special menu has classic modak entremets (made with sable, coconut biscuit sponge, cardamom-infused coconut jaggery mousse, and hazelnut and pistachio praline) and motichoor modak entremets (made with boondi, mawa mousse, pistachio mawa insert, and sable).
When: until September 10, 2022
How to order: Order via Swiggy, Zomato, and Thrive Now
14. Courtyard Marriott Mumbai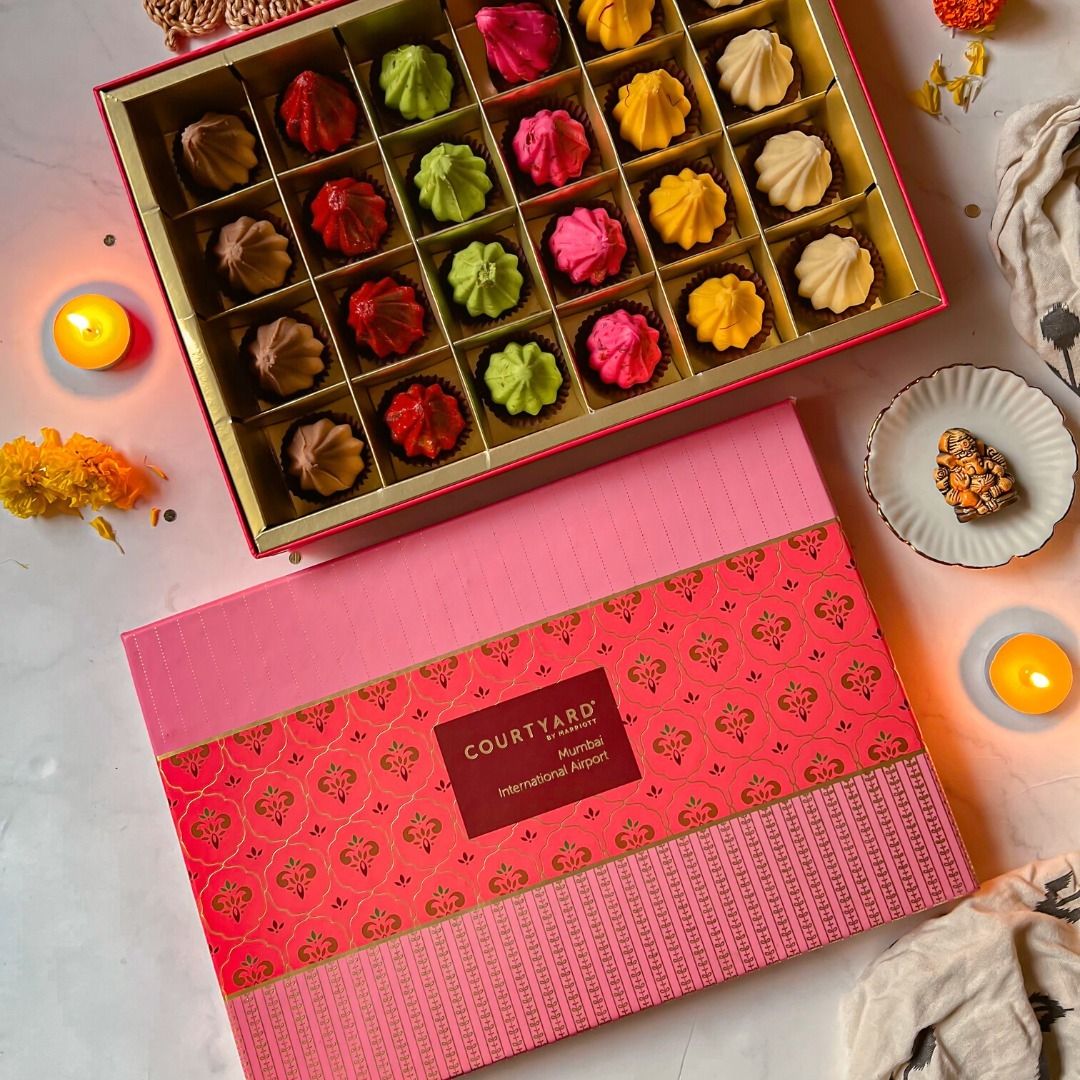 Courtyard Marriott Mumbai's Ganeshotsav 2022 special box contains handcrafted modaks in a variety of flavours—from creamy hazelnut to aromatic kesar, floral gulkand, and more. You can order either a box of 15 or 24 modaks. 
When: until September 9, 2022
How to order: DM the property on Instagram or call/WhatsApp on +91 7777067208 
15.  JW Marriott Mumbai Sahar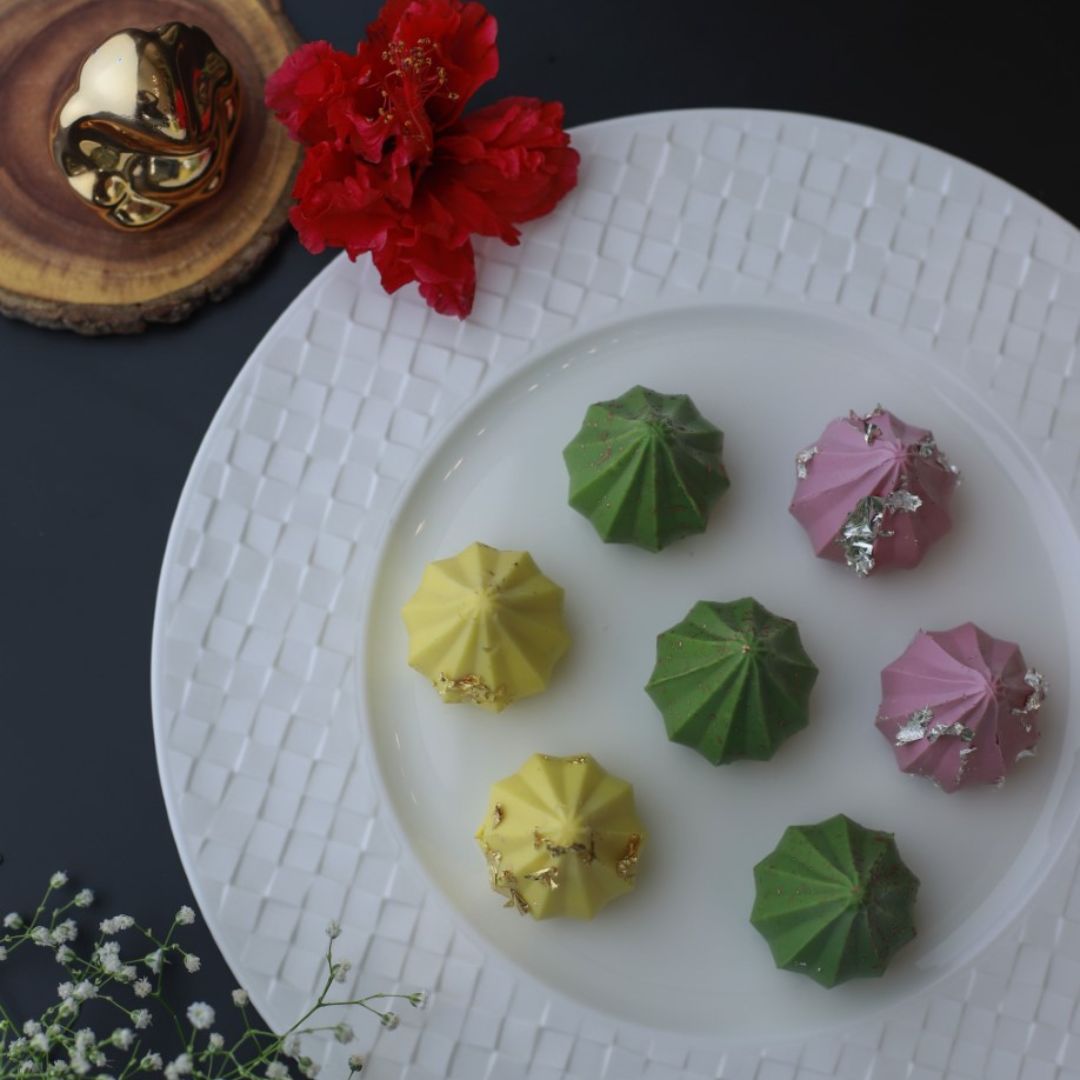 Available in box of 16 and 24, JW Marriott Mumbai Sahar's Ganpati special mithai assortment features delicious modaks in flavours such as milk chocolate pecan praline, raspberry and white chocolate, Sicilian pistachio ganache, Peshawari pistachio modak, and more.  
When: until September 9, 2022
How to order: Call on 022 68828888 or WhatsApp on +91 9136981955  
16. Patasa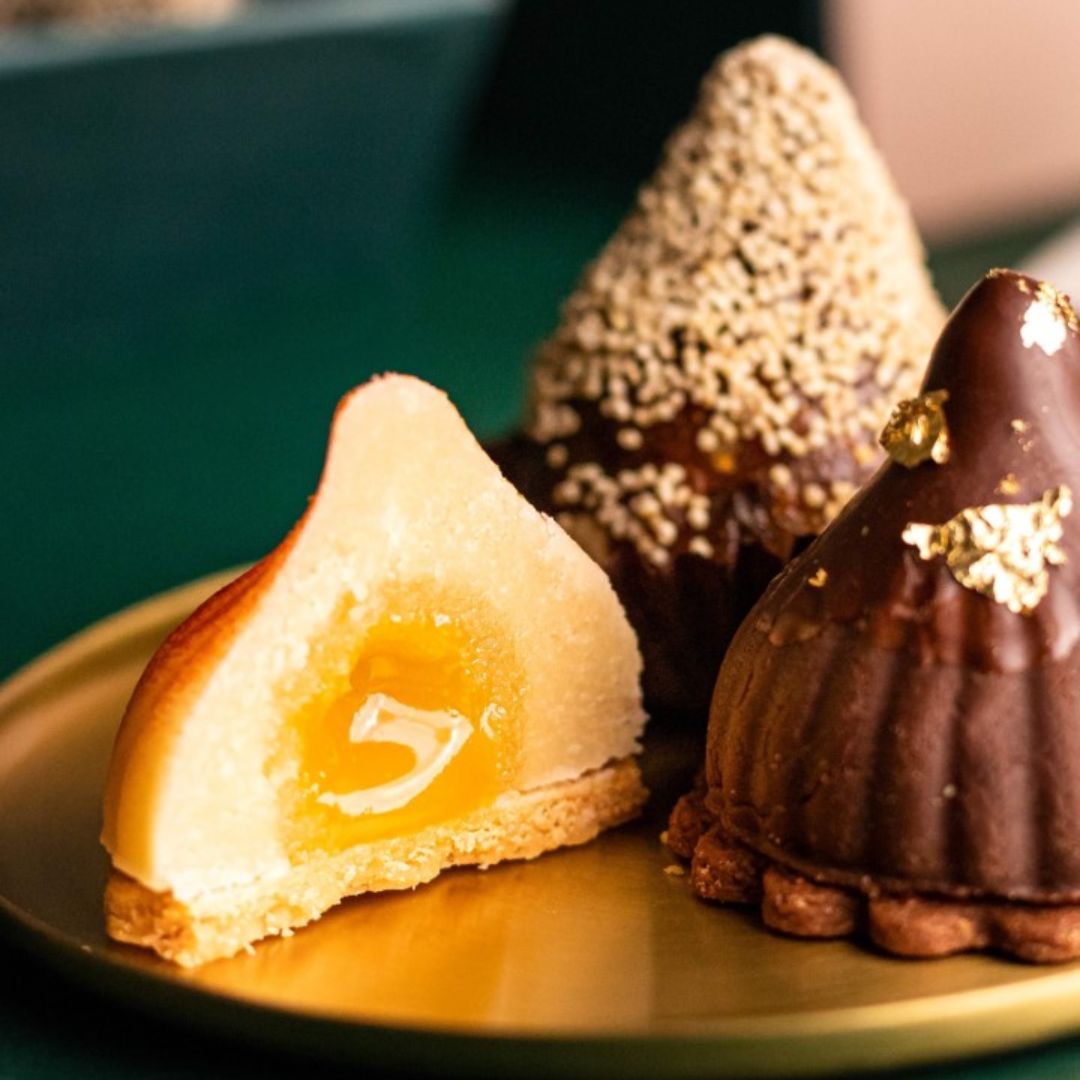 Palak Panchal's Patasa continues to impress sweet lovers with its mithai with a twist. For Ganpati celebrations, the brand has a decadent box of modak that are made using flavour-packed ingredients like dates, figs, roasted nuts, orange, and chocolate.  
When: until September 9, 2022
How to order: Visit Instagram/PatasaOfficial or call on +91 9920787789 
 
Photo: Featured Brands