While many of us simply buy a Christmas cake off the shelves, traditionally, a fruitcake was preserved, fed with alcohol over weeks and sometimes even months before it went in the oven.
For a soft, luscious fruit cake, all you need is the right proportion of alcohol-soaked nuts and fruits, and yea, plenty of love. We asked chef Anjali Pathak of Flavour Diaries, Mumbai, to guide us to the perfectly moist and juicy fruit cake.
1. Prep is key
Ensure that you prepare the nuts and fruits by letting them sit in the liquor of your choice for at least two to three days before the actual baking begins. 
2. Goodness in each bite
"To prevent your fruit and nuts from sinking to the bottom of your cake, make sure to toss them in some flour before adding to your mix," says chef Pathak. This will ensure that all your hidden treats stay where they are supposed to when it bakes, she adds.
3. Swap right
Traditionally, fruit cakes have alcohol-soaked raisins and nuts. But if you want to give it your twist, or are allergic to nuts, swap them out for treats of your choice— be it raisins, sultanas and dried apricots, or any dried fruits. You can use rum, brandy or red wine to soak the fruits. If you want to keep it alcohol-free, soak the fruits in orange juice or apple juice, says chef Pathak.
4. Spice it Up
Warm seasonings like cinnamon, ginger, and cloves spice up fruitcake. Chef Pathak prefers playing with sweet spices such as cinnamon, nutmeg, cloves and green cardamom powder. Use fresh and whole spices for the best results.
5. Bake right
Cakes often have a raising agent which reacts with heat, explains Pathak. And for your cake to rise well and evenly, it's important for it to be placed in a preheated oven so that the rising agent can start working immediately.
Apart from that, it's important that you always bake your fruitcakes at a low temperature. Pathak says, "Fruitcakes are dense and have a lot of sweet ingredients, so they should be baked at a lower temperature for longer than the usual sponge cakes." She personally bakes her fruitcakes at 140°C for 30 to 40 minutes. Fill your tins with batter only two-thirds of the way to allow the cake to rise.
6. Moist cake each time, every time
The trick lies in soaking the nuts and fruits well, so they are juicy and moist. Additionally, she says, "You can also pour some of the liquid (the alcohol or juice you've used over your baked cake) and allow it to soak in before throwing it into the oven." Another trick is to place a pan or bowl of water on the floor of the oven. This creates humidity that prevents the cake from drying out.
7. Prevent other mishaps
To prevent your fruitcake from sticking to the bottom, Pathak recommends placing them in the centre of the oven, ideally with the fan assisted function so that they can cook evenly on all sides. Besides, she also suggests turning them around halfway through, if you notice that they are burning on one side.
"If not, you could always tent your fruit cake with foil in case it is colouring a little too much," she says. And to prevent your cake from sticking make sure you line your cake tin well. "I like to line mine with two sheets of parchment paper, just in case," says chef Pathak.
8. Let it age
"Make sure to bake and cool your cake days or even a few weeks before you plan on eating it," says chef Pathak. Letting your cake mature well will make it reach its full potential by helping it taste much better, she adds.
To make sure that your baked treat ages right, after your cake is baked and cooled, carefully wrap it in some plastic wrap or foil paper, and then place it in an airtight container to prevent spoiling or rancidity. Chef Pathak recommends ageing the fruitcake for at least one whole month, to ensure that the flavours from the spices and alcohol/juice marry well.
Here's a golden fruit cake recipe, straight from chef Anjali Pathak's cookbook:
Fruit cake recipe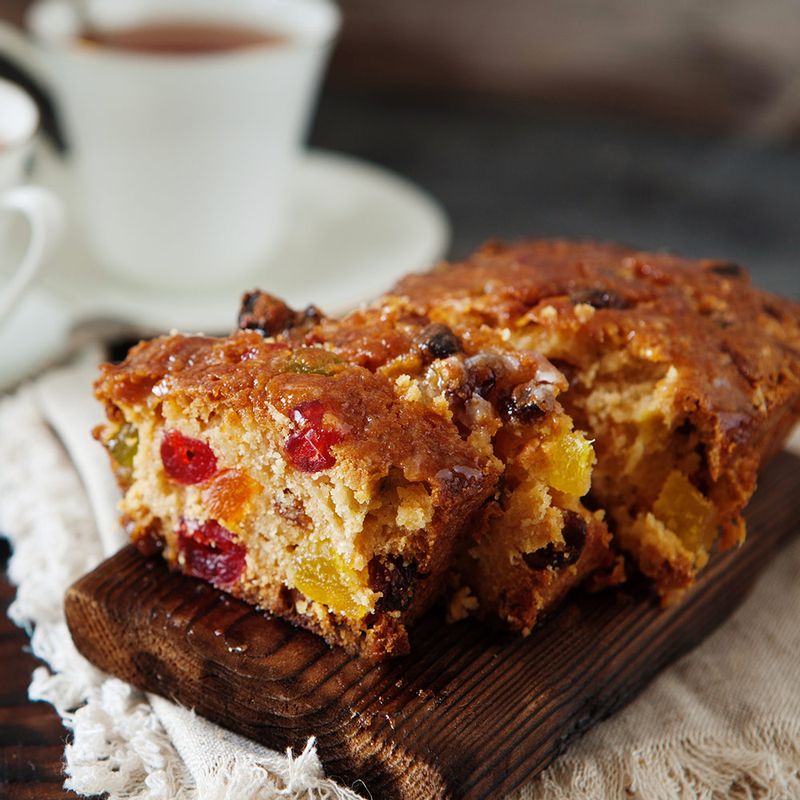 Ingredients
1kg dried fruit such as sultanas, raisins and currants (a mixture of any)

110g glace cherries

110g mixed peel

150ml alcohol such as brandy, Marsala, sherry or orange juice, plus extra for feeding

225g unsalted butter

200g light brown sugar

zest of one orange

zest of one lemon

4 large eggs

2 tablespoons marmalade

1 tablespoon black treacle

350 g plain flour

1/2 tsp cinnamon powder

A pinch of nutmeg powder

A pinch of salt

1 tsp mixed spice
Method
In a large mixing bowl, throw in the dried fruits including the cherries and mixed peel. Next, pour in the alcohol or juice, cover and let everything soak for a few days.

When ready, prep your round (23 cm) or square tin (20 cm) by lining it twice with some parchment paper so it comes at least 5 cm over the sides.

Don't forget to preheat your oven to 150°C.

In a large bowl, cream the butter and sugar together until pale and fluffy.

Next, add in the orange and lemon zest, and then crack open the eggs one at a time. Chef Pathak suggests adding the next one only when the mixture is fully combined.

Finally, stir in the marmalade and treacle.

Sift the flour, along with the salt and other spices, and then add into the wet mixture, little by little. Don't forget to keep stirring while at it.

Pour your cake mixture into the lined tin.

Bake it on the bottom shelf of the oven for at least two hours.

Don't forget to check on it from time to time.

Chef Pathak suggests covering the cake loosely with some foil in case the top appears to brown too quickly. It shouldn't take the cake more than three hours to be ready, but chef Pathak recommends inserting a skewer to check if it is cooked thoroughly – the skewer should come out clean.

The final and most crucial step – skewer lots of holes in the top of your almost-done fruit and then generously pour in some alcohol into it. Remember, the more the better.

Then don't forget to double wrap your cake in some foil and when done, allow it to cool in the tin. Chef Pathak says that the foil helps trap any steam, thereby helping keep the cake soft and moist.

Once cool, remove the tin and parchment and wrap the cake in some foil.

Chef Pathak highly recommends treating the cake with more alcohol (don't forget to be generous) once a week until the day you'll finally be digging into it. However, in case you wish to ice your cake, skip the alcohol in the final week.

When wrapped in foil and packed in an airtight container, your fruitcake can survive for up to a month.
---
Photo: Shutterstock