Chicken tikka masala, a culinary wonder featuring a tomato-based gravy with chunks of grilled chicken in it, has been one of Britain's favourite dishes for decades. In fact, it became the de facto national dish after Robin Cook the then British foreign secretary described chicken tikka masala as a symbol of modern multicultural Britain in a 2001 speech.
Disputed origins of chicken tikka masala
It has long been disputed where chicken tikka masala actually originated. Some say it's Britain's invention, others claim the recipe is an Indian export; a possible descendant of Butter Chicken. But the most common belief is that it was invented in Glasgow, Scotland, in the 1970s.
Most are convinced that the delicious chicken tikka masala recipe was the brainchild of Ali Ahmed Aslam of Shish Mahal, a curry house in Scotland. It is said the curry was made after a Scotsman complained about the chicken being too dry. The chef added tomato soup, spices and cream to the chicken chunks and served it again.
Over time, the contentious chicken tikka masala recipe has become ubiquitous on North Indian restaurant menus. Typically teamed with naan or kulcha in India, a restaurant-style chicken tikka masala is quite simple to prepare in the comfort of our own kitchen. What seems like a cumbersome and long process can easily be simplified with methodical preparation.
Chicken tikka masala, when prepared at home, will be fresher, healthier, cheaper and tastier. Chef Tilak Vel, Head R&D Chef at FreshMenu and Chef Rakhee Vaswani reveal some expert tips and tricks to make the perfect restaurant-style chicken tikka masala at home.  
Chicken Tikka Masala Recipe 
Ingredients:
For chicken tikka 
Chicken, deboned thighs and legs 
Hung curd 
Ginger-garlic paste 
Black salt 
Chaat masala 
Lime juice 
Dried fenugreek leaves 
Red chilli powder 
Turmeric powder 
Coriander powder 
Salt 
Mustard oil
For gravy 
Onions 
Green chilli 
Ginger garlic paste 
Tomato puree 
Cashew nut paste (or cream)
Method
The Marination
1. Start with marinating the chicken. While most chefs and home cooks prefer using chicken breast, Chef Vel recommends using cut, deboned chicken thighs and legs for this recipe.
2. For the marinade, take hung curd in a bowl and add ginger-garlic paste, black salt, chaat masala, lime juice, dried fenugreek leaves (kasuri methi), red chilli powder, turmeric powder, coriander powder, and salt. Chef Vaswani, in her chicken tikka masala recipe, also recommends adding a teaspoon of mustard oil to the mix. The oil not only adds flavour but also protects the meat from the high heat during cooking.
3. If you've got the time, Chef Vel suggests you marinate the chicken for at least a day. In case that's not possible, you can reduce the marination time to less than 24 hours by adding a bit of vinegar to the marinade. This will ensure the chicken stays succulent and juicy.
4. For all the last-minute cooks, you can go the Chef Vaswani way and marinate the chicken for 15-20 minutes.
The Gravy
1. While the meat is resting, you can prepare the base of the dish—the masala gravy. Ideally, it should be mildly-spiced with a hint of sweetness. But you can adjust the spices according to how pungent you want your chicken tikka masala.
2. For the gravy, saute onions, chopped green chillies, ginger-garlic paste, and tomato puree. Once the base gravy leaves oil on the edges, add cashew nut paste and water and let it simmer for 8-10 minutes. 
The Chicken Tikka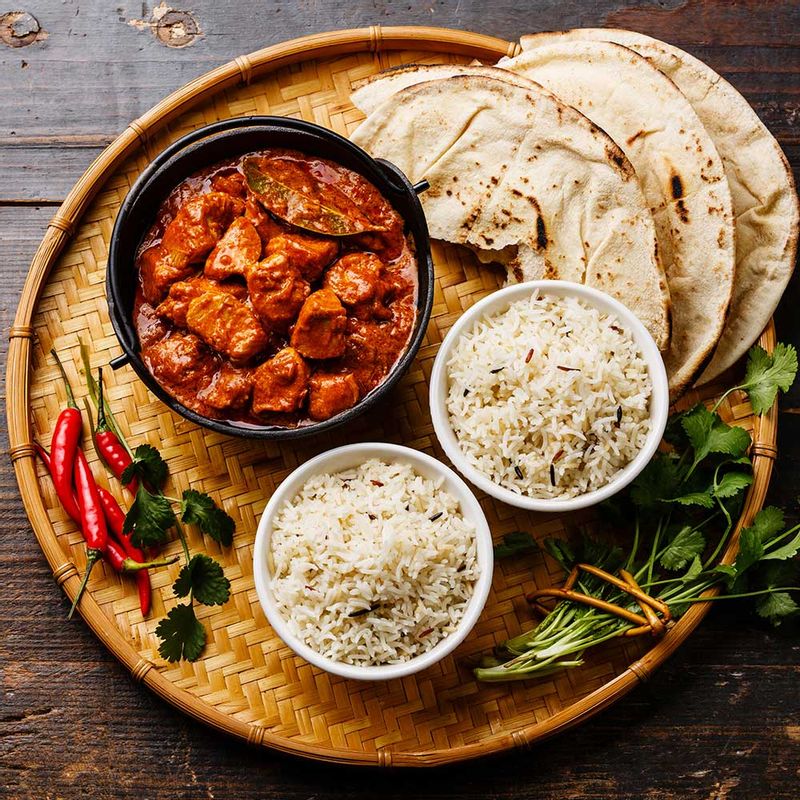 1. Meanwhile, roast the marinated chicken tikkas in an oven for about 10-12 minutes in an oven.
2. Chef Vel says, those who don't have an oven can skewer the chicken pieces and grill them on a direct flame on the stovetop.
3. Once the chicken tikkas are ready, add them to the gravy.
4. For finishing touches, add some cream and garam masala and let it simmer for another 5-10 mins.
5. Once the gravy reaches the desired consistency, switch off the flame. Your chicken tikka masala is ready to serve.
---
Photo: Shutterstock