Raksha Bandhan is a time to celebrate the unbreakable bond between siblings. This special occasion calls for heartfelt gifts that convey love and appreciation. What better way to express your feelings than with carefully curated food and drink hampers? Whether your sibling has a sweet tooth or a taste for fine tipples, these hampers are designed to add an extra layer of joy to the festivities. 
Join us on a journey through a selection of delectable options that are sure to make this Raksha Bandhan, which falls on August 30, 2023, truly memorable. 
IGP - Extravagant Family Rakhi Hamper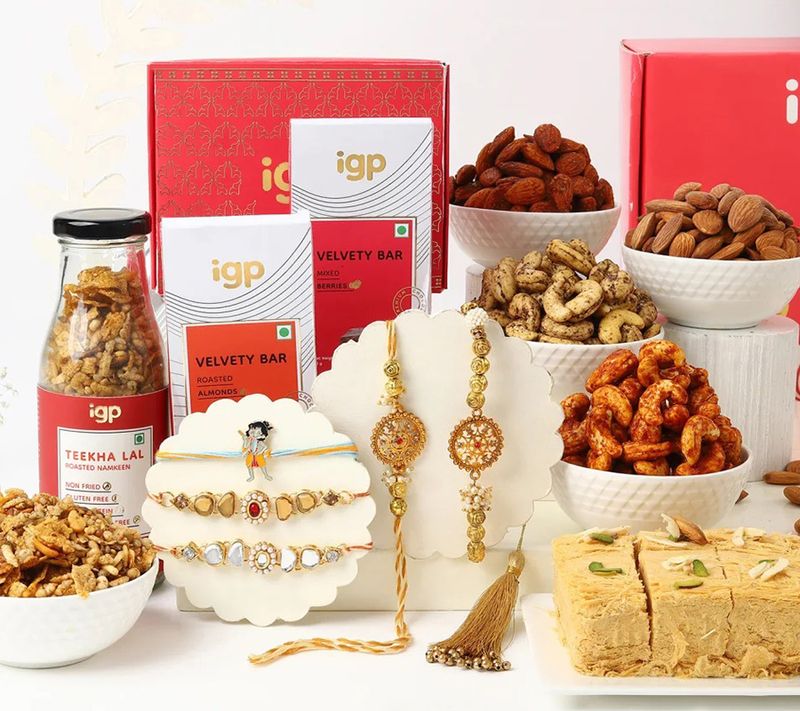 Thoughtfully curated for your family, the IGP Extravagant Family Rakhi Hamper is an eco-friendly gift box brimming with love and flavours. The hamper features a family rakhi set, a variety of velvety bar mixed berries and roasted almonds, Teekhalal namkeen, salted and roasted almonds, black pepper cashews, peri-peri almonds, Thai chili cashews, soan papdi, and roli-chawal for a seamless ceremony. With exquisite kundan stone rakhis, savoury dry fruits, and a blend of traditional and modern elements, this hamper is a perfect token of love.  
Price: Rs 2445 
Anand Sweets x GIVA Jewellery – Raksha Bandhan gift box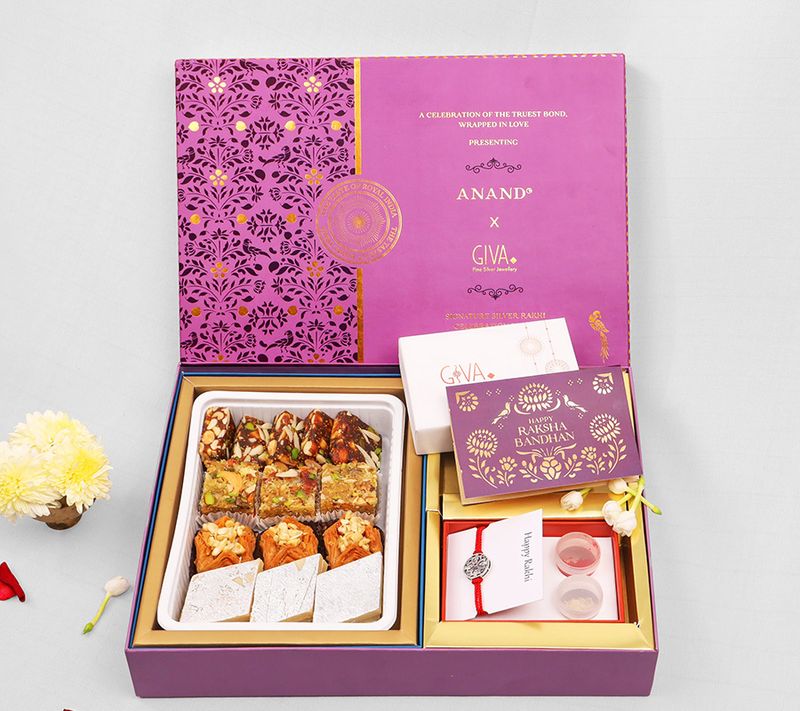 Experience the perfect blend of sweetness and elegance with the Anand Sweets and Savouries x GIVA Jewellery gift box. This exclusive collaboration combines the traditional charm of Indian sweets with the timeless beauty of silver rakhis. Indulge in an assortment of premium sweets including anjeer barfi, kaju katli, kardant, and baklava, paired with a stunning silver rakhi, greeting card, kumkum, and roli rice for a complete Raksha Bandhan celebration. 
Price: Rs 1499 
Meolaa - Rakhi Gift Hamper 
Experience the harmony of tradition and sustainability with Meolaa's Rakhi gift hamper. Each handcrafted rakhi is an eco-friendly masterpiece, complemented by various ethically sourced gourmet treats. This thoughtful collection not only celebrates the bond of siblings but also honours the planet by reducing your carbon footprint. 
Price: Rs 2399 
Sheraton Grand Bangalore Hotel at Brigade Gateway – Raksha Bandhan Hampers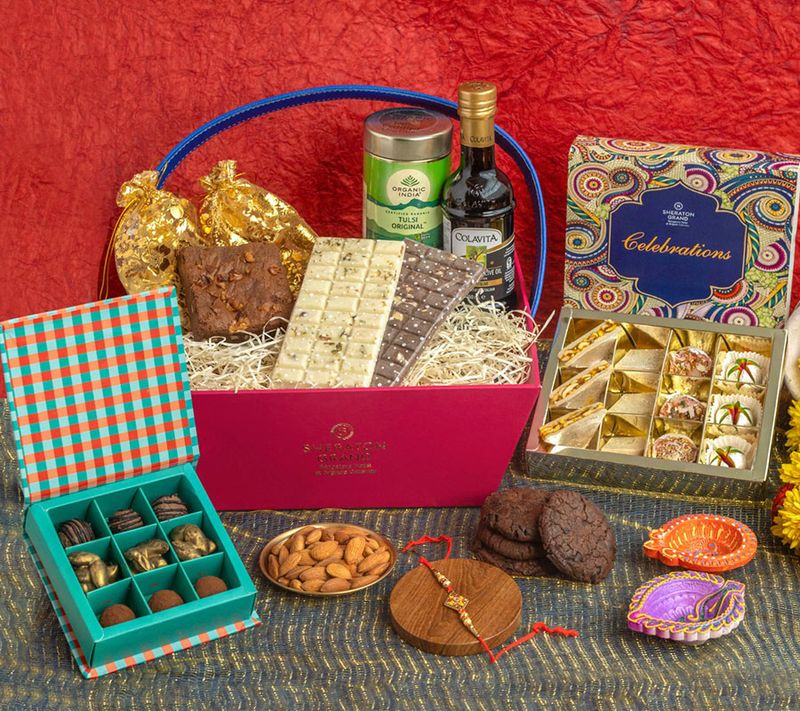 Celebrate the cherished sibling bond with Sheraton Grand Bangalore Hotel at Brigade Gateway's exciting hampers—Shubh, Bandhan, and Rishtey. Crafted by the skilled pastry and executive chef at the property, these opulent selections include a delightful assortment of handcrafted homemade Mithai, sumptuous chocolate truffles, freshly baked cookies, and more. 
Price: Rs 1500 onwards 
Buy here: Contact +91 9591996959  
Khoya Mithai - Ghevar Gift Hamper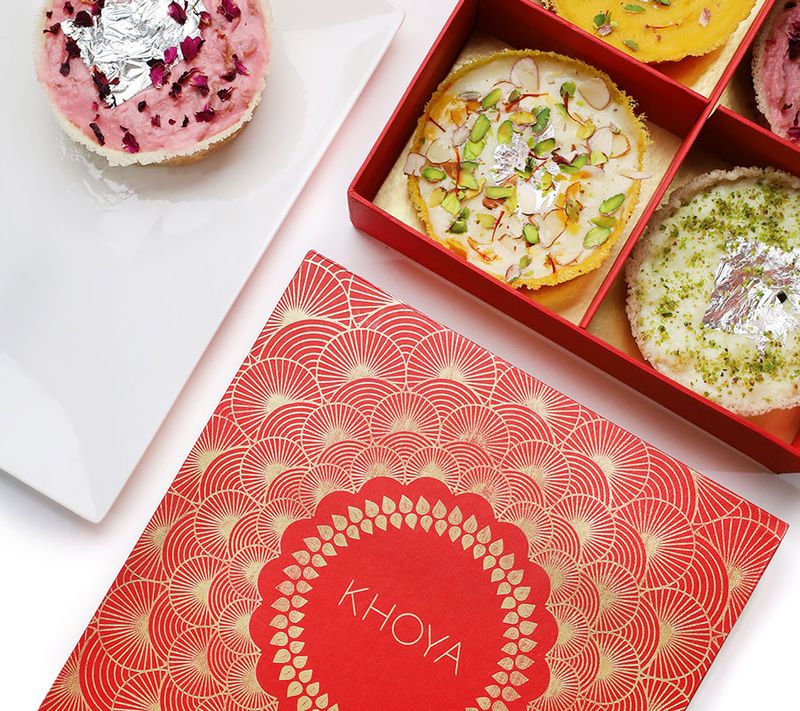 Indulge in the richness of a ghee-laden Rajasthani treat with Khoya Mithai's delightful hamper. Packed with a box of assorted ghevar, a savoury pouch, assorted nuts, kesar paan, misri saunf, paan tea, and a tea strainer, this ensemble is a fusion of flavours and textures. Complete with rakhi, roli powder, and rice, this hamper encapsulates the essence of Raksha Bandhan festivities. 
Price: Rs 4200 plus taxes  
Meetha by Radisson – Rakhi mithai hamper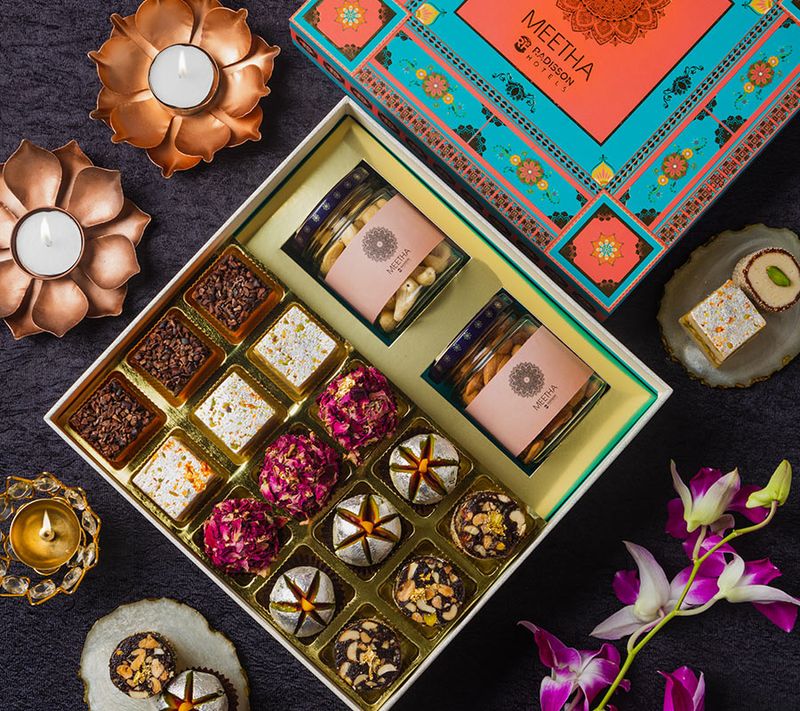 Mumbaikars, elevate your Raksha Bandhan celebrations with Meetha by Radisson's exclusive gift hamper. Crafted by Chef Raghvendra Singh, this curated ensemble combines premium dry fruits with artisanal mithai. Think chocolate motichoor laddu, rose petal gulkand laddu, coco orange, kaju coin, anjeer laddu, and more. You can also customise your hamper to make this festival truly special.  
Price: Rs 2000 onwards 
Café 49 & 49 Bakers Avenue Juhu – Exclusive festive hampers 
Celebrate the joy of Raksha Bandhan with Cafe 49 & 49 Bakers Avenue's thoughtfully curated hampers. From the dainty petite hampers to the indulgent classic hamper, there's a choice for every taste. Indulge in the rich flavours of dark Belgian cake jar, creamy hummus, four-layered Mexican bowl, Lotus Biscoff baked cheesecake, and more. These hampers are a delightful way to bring the festivities home and make cherished memories with your loved ones.  
Price: On request 
Buy here: Contact +91 9223379080 / 75   
Ladurée India - Exquisite gift hamper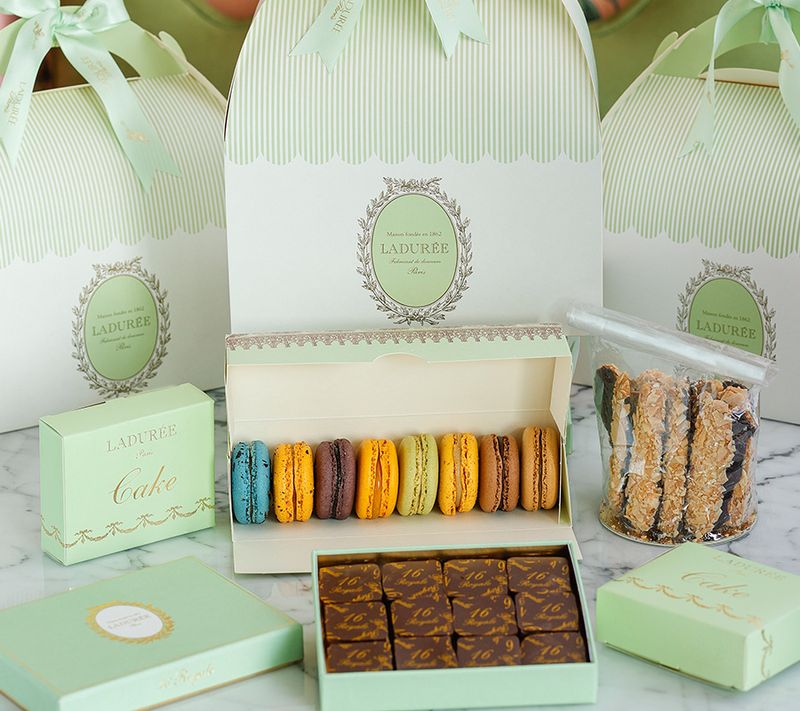 Ladurée India's rakhi special gift hampers fuse taste and sophistication effortlessly. Featuring a box of eight macarons, indulgent cookies, chocolates, and slices of the delightful rose tea cake, this hamper embodies festive indulgence. Express your affection with Ladurée's Rakhi Gift Hampers, available for order at their boutiques in Khan Market, New Delhi, Ambience Mall Gurugram, and DLF Emporio, New Delhi. 
Price: On request 
Courtyard by Marriot Bengaluru Hebbal – Handcrafted rakhi and treats hamper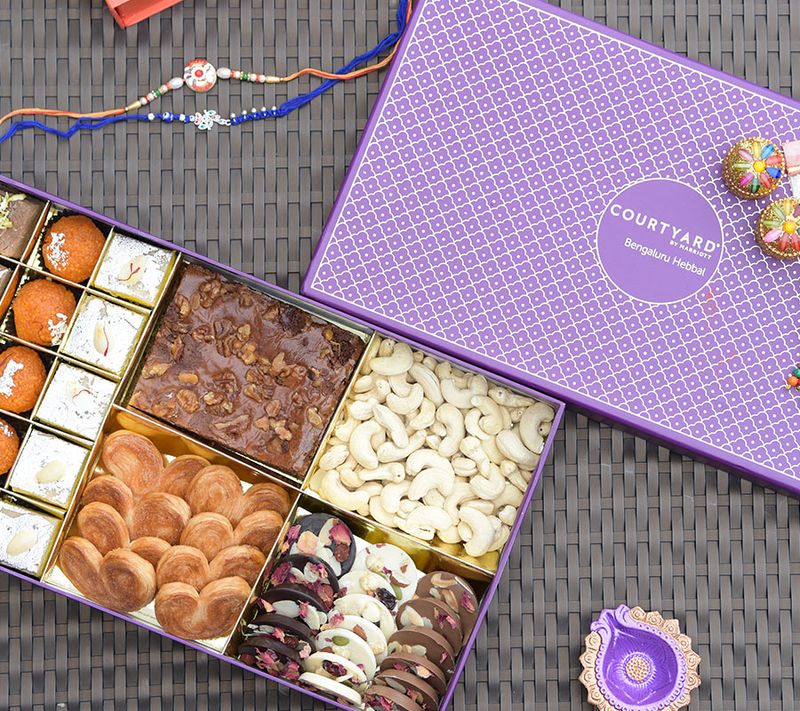 Celebrate the cherished sibling bond with Glazed's exclusive Raksha Bandhan gift hamper, available at Courtyard by Marriott Bengaluru Hebbal till August 30, 2023. Indulge in a delightful array of traditional sweets, delicious chocolates, and irresistible cakes, including milk chocolate fruit and nut barks, khoya almond cake, rakhi-topped cakes, and more. Elevate the festivities with Glazed's meticulously crafted assorted chocolate hamper, promising warmth and joy for Rakhi celebrations. 
Price: On request 
Buy here: Contact +919606482968  
Danbro by Mr Brown Bakery – Delicious treats hamper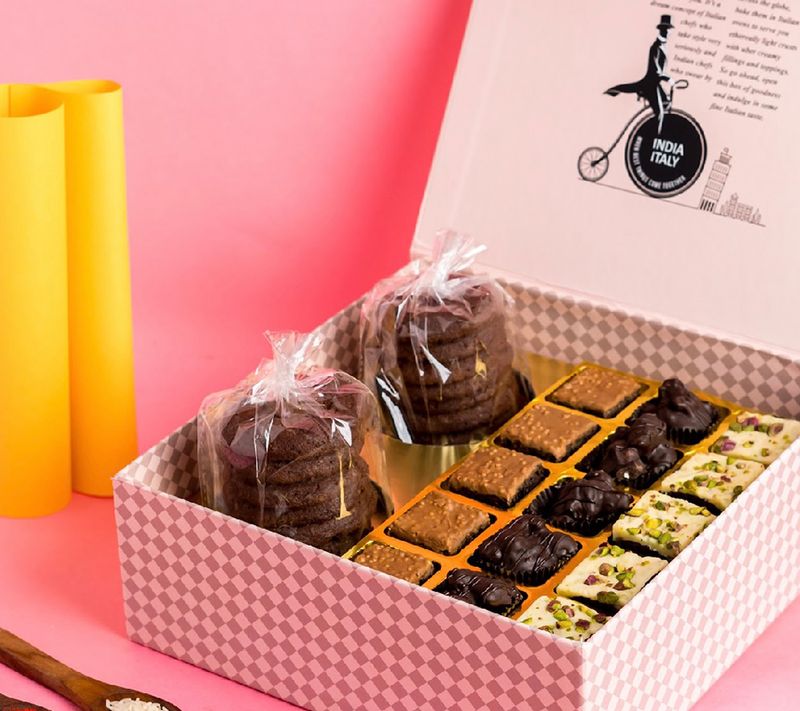 People in Lucknow, you must check out Danbro by Mr Brown, a renowned food product company that specialises in bakery items. This Raksha Bandhan, they have curated a special assortment of chocolates, brownies, cookies, and baklava from Danbro to take your Raksha Bandhan celebrations to the next level. These gift boxes are available for delivery in Aliganj, Sapru Marg, Magnum Plaza, Cyber Heights, University, Ashiyana, Airport, Lulu Mall, Husariya, and Indira Nagar.  
Price: Rs 750 onwards 
True Fit Gourmet – Artisanal cakes and chips hamper 
Gift health and taste with True Fit Gourmet Café's rakhi healthy gifting hamper. Explore the harmony of tradition and innovation, offering a delightful blend of classic Himalayan salt & pepper baked lotus root chips, zingy peri peri baked lotus root chips, gluten-free blueberry and banana cake, and gluten-free dark cacao quinoa cake. No pre-order is required for Mumbaikars - order on Zomato & Swiggy for a hassle-free experience and share the joy of well-being this Raksha Bandhan. 
Price: Rs 1299 
Harajuku – Gift box 
Folks in Gurugram and New Delhi, indulge in a delightful assortment of flavours with Harajuku's customisable hamper, featuring a tempting array including cheesecake, sundried tomato loaf, chocolate chip melon pan, nutella-filled dorayaki, and more. Take your gifting game a notch higher with this diverse selection.  
Price: Rs 1500-2850  
Sober & Co – Spike & Serve hamper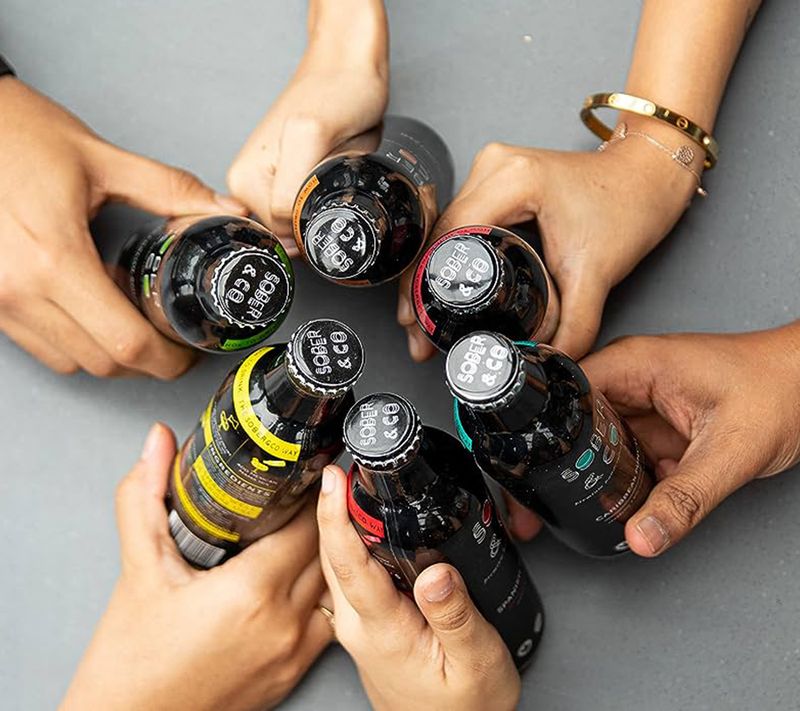 Check out Sober & Co's exclusive Spike & Serve non-alcoholic beverage hamper, if your sibling loves his or her drinks. Crafted to celebrate sibling bonds, this hamper blends tradition, flavour, and a touch of modernity, all in one sip. The thoughtfully selected flavours, such as Spanish margarita, Cuban spritzer, and Caribbean punch, offer a refreshing way to continue that long pending gossip session about you know who! 
Price: Rs 599 
La Folie – Nostalgia Dessert Box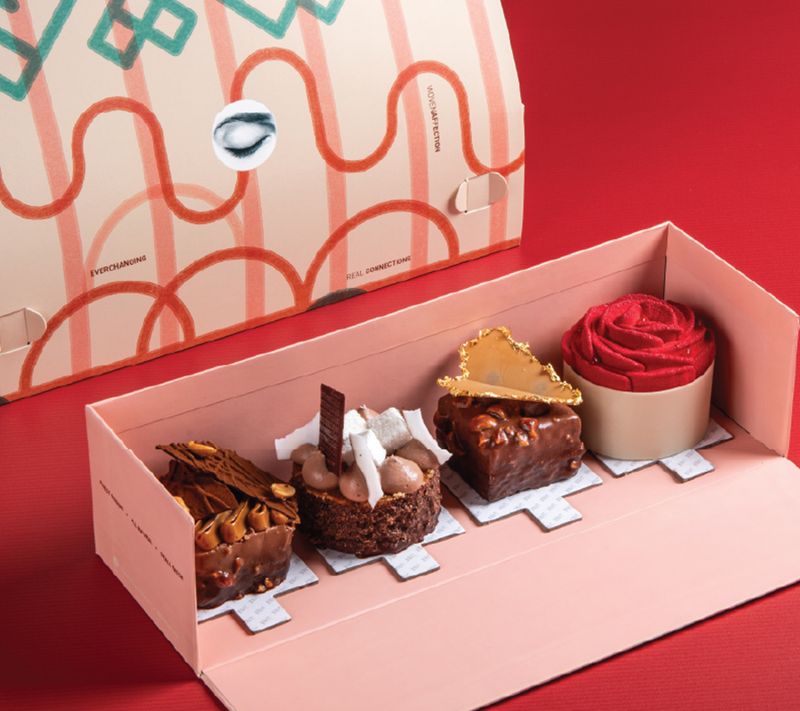 The Nostalgia Dessert Box encapsulates cherished memories through La Folie's iconic dessert flavours transformed into travel-sized tea cakes. From the luscious Rouge Velour to the nostalgic Snickers-inspired peanut butter tea cake, each creation holds a special story, making this hamper a heartwarming journey into sibling bonds. Relive those shared moments with a delightful assortment that pays homage to childhood favourites and Chef Sanjana's creative genius. 
Price: On request 
The Bombay Sweet Shop - Partner in snacking gift hamper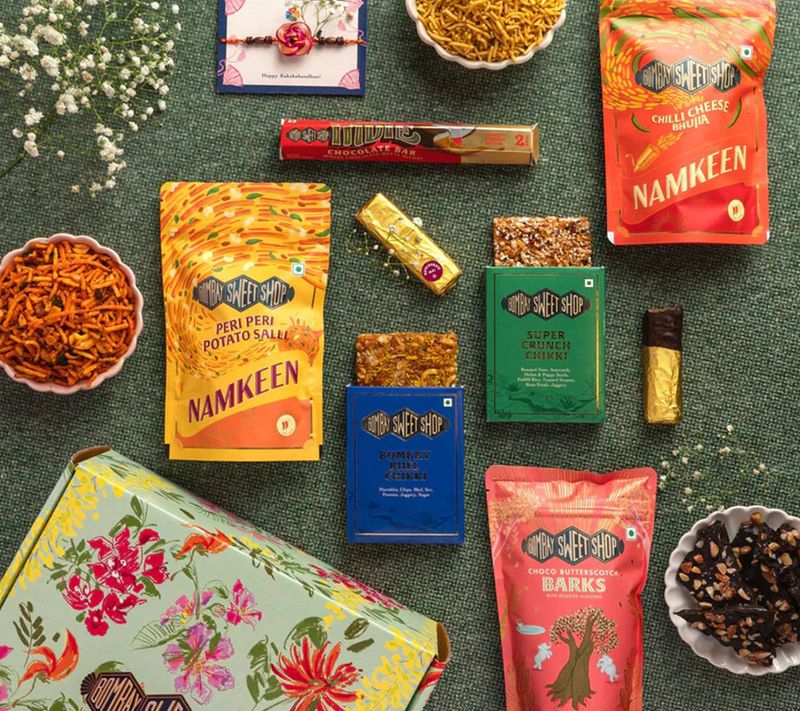 If you're in the mood for getting sugar, spice, and all things nice for the sibling who's always been your partner in both snacking and crime, then your search is over! The Bombay Sweet Shop partner in snacking hamper has it all - choco butterscotch barks, Indie bar, Bombay bhel chikki, chili cheese bhujia, and much more.  
Price: Rs 990 
Eleftheria Cheese - The Italian brunch hamper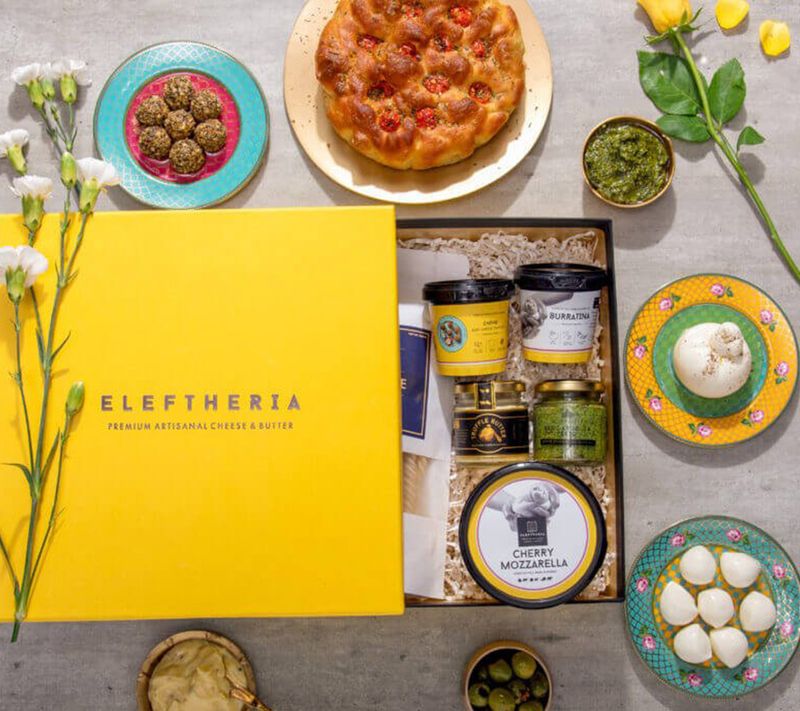 Brunch away with your sibling with The Italian brunch hamper by Eleftheria Cheese. It consists of two types of handcrafted Italian cheese (burrata and mozzarella), umami packed truffle butter, Castelvetrano olives, artisanal pasta, nutty pesto, handcrafted crackers, and house-made focaccia bread.  
Price: Rs 2850 
Sorrentina Honestly Italian - Festive snacking specials hamper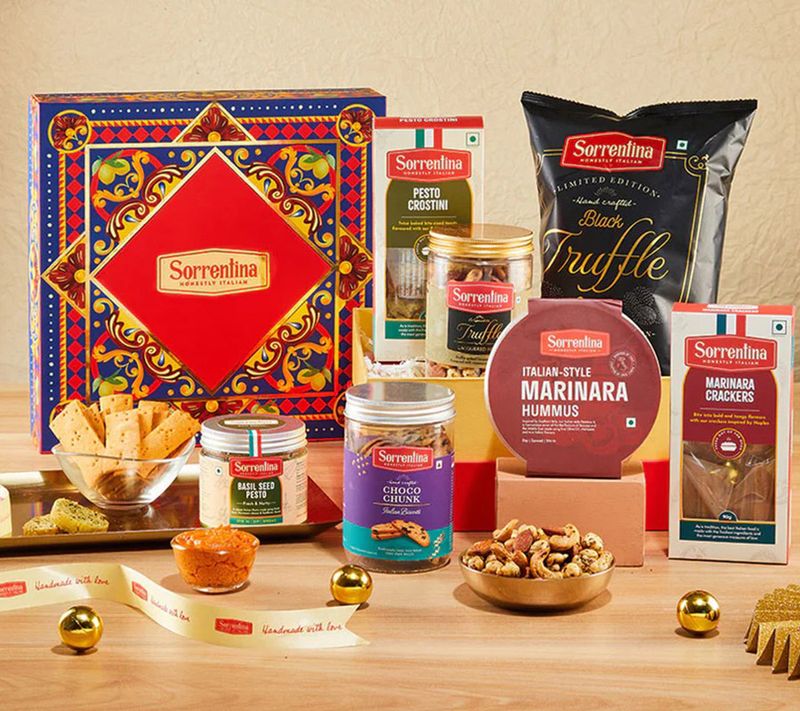 Kick off the festivities with Sorrentina Honestly Italian's festive snacking specials hamper. This gift item contains truffle chips, truffle lacquered nuts, marinara crackers, pesto crostini, basil seed pesto, marinara hummus, and choco chunks biscotti.  
Price: Rs 1850 
Sublime House of Tea - The Box of Tranquility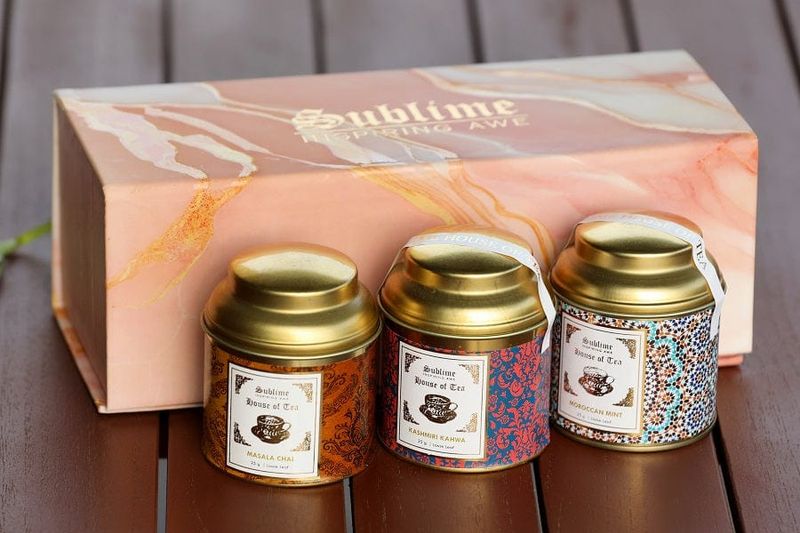 The Box of Tranquility by Sublime House of Tea offers a serene and health-focused gift option, featuring the brand's popular tea blends like Kashmiri Kahwa, Moroccan Mint, and Masala Chai. Perfect for Raksha Bandhan gifting, it blends the joy of tea with wellness, making it an ideal choice to express care and affection for loved ones. 
Price: Rs 800 
---
Photo: Featured brands