Everyone told you to shop early for gifts; you even set a reminder, but here we are anyway. Lucky for you, the easiest way to win most hearts is by satiating the stomachs, which means a Christmas-special hearty food hamper can do the magic.  
Whether your family and friends prefer some wellness tea, sugar-loaded festive treats, or a tower of cheese, there are plenty of options for everyone in this ultimate guide to food gifting that we've curated for Christmas 2021.
1. Gratitude box by Teabox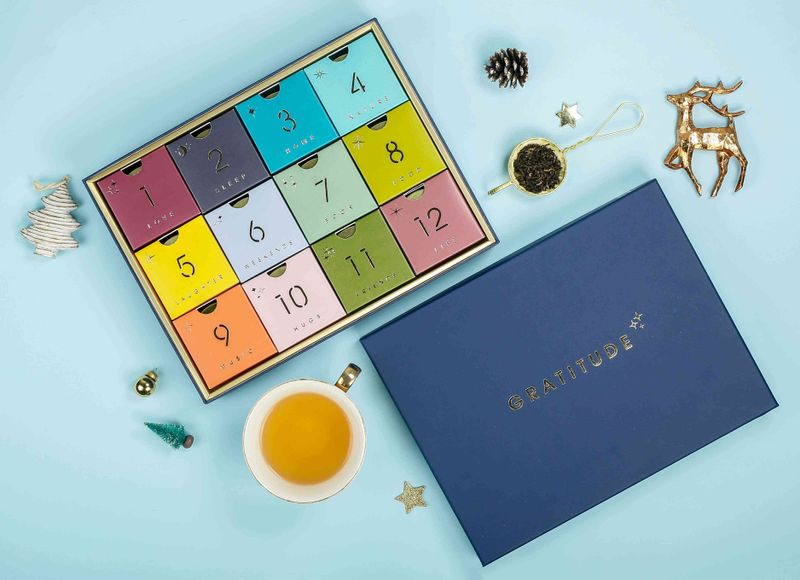 Want a break from the hot chocolate and wine? Enjoy the chilly weather and festive season with a cup (or more) of organic, herbal teas by Teabox. The Teabox has curated a limited-edition gift box titled 'Gratitude Box'. In line with the idea of 12 days of Christmas, the assorted gift box features 12 tea blends including rose green, mint green, Kashmiri kahwa saffron green, and Darjeeling green.
Price: Rs 2239
2. Hand-rolled artisanal truffles by Truffle & Co.
You'll have a hard time not keeping a box of hand-rolled truffles by Truffle & Co. for yourself. No matter what your budget, they've got a gift hamper for you. Expect limited edition flavours of truffles such as mulled wine (dark chocolate infused with spices and red wine) and gingerbread (milk chocolate infused with ginger and crushed gingerbread dust). 
Price: Rs 500-2500
3. Elixir collection tea kit by Octavius Tea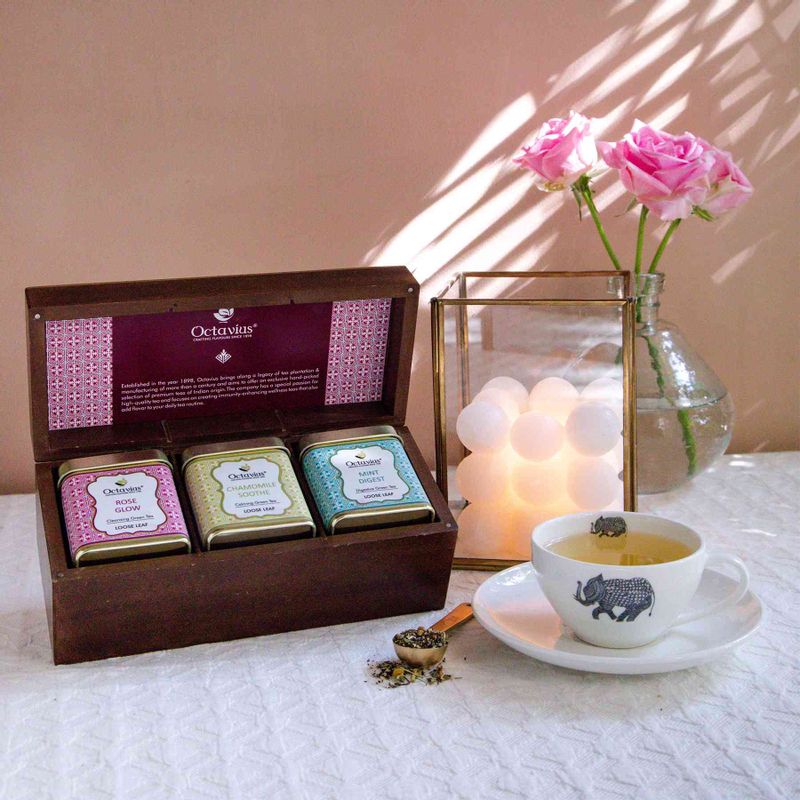 Gift the tea drinker/enthusiast in your life Octavius Tea's range of wellness loose leaf teas that are specially curated for the festive season. Titled Elixir collection, this contains 50 gms each of their rose glow, chamomile soothe, and mint digest teas. The rose glow and mint digest teas may aid detox and digestion, while chamomile soothe may have a calming effect on one's body and mind.
Price: Rs 1500
4. Christmas triad by CocoCart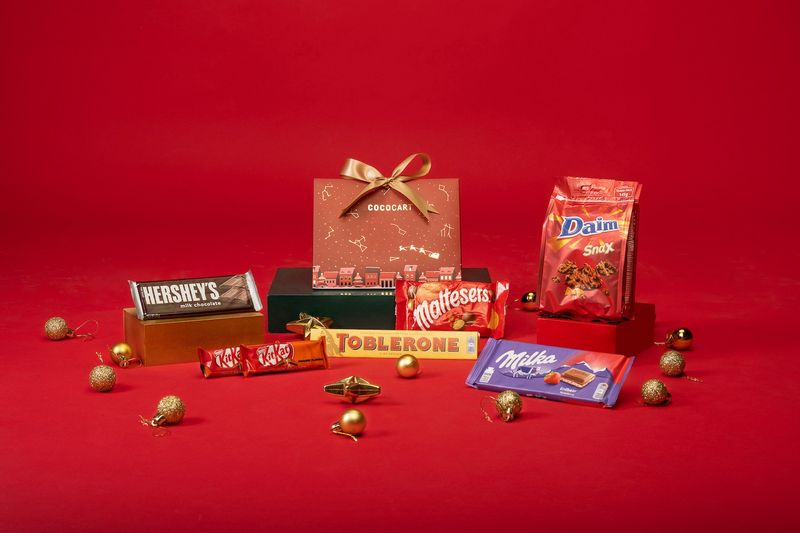 A Christmas Triad by CocoCart makes for a great gift for those away from home. A care kit of sorts, this gift hamper consists of a pouch of chocolate cornflakes and a variety of chocolate bars from premium international brands. Apart from this, at CocoCart, you can also customise your own Christmas gift hamper starting at Rs 175.
Price: Rs 1500
5. Christmas hamper by Impressions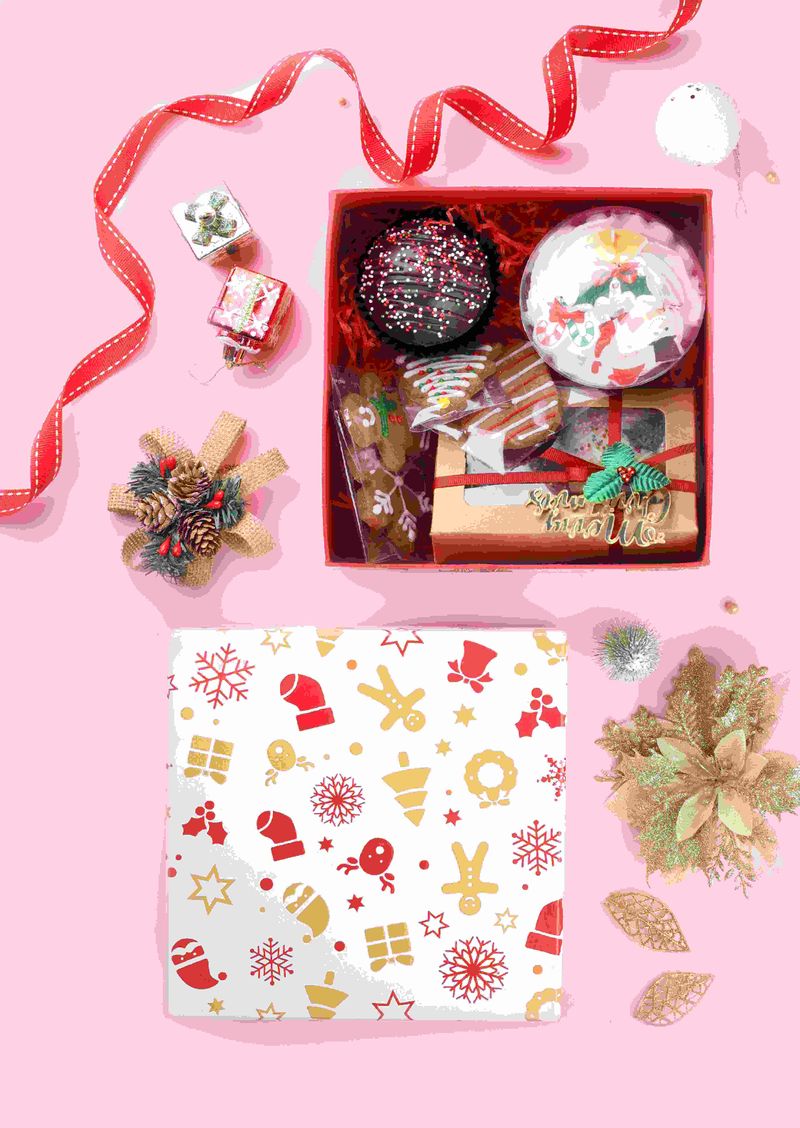 The Christmas season is for indulgent treats and happy moments, and that's exactly what the Impressions' customised gift hamper promises. You can choose from a variety of delicious treats such as chocolate barks, cakesicles, hot chocolate bombs, and several other heavenly treats.
Price: Rs 500 onwards
6. Christmas hampers by Gourmet To Go
From chips to pasta and chocolate, an interesting curation of gourmet treats is put together to create Gourmet To Go's indulgent festive hampers. These gifts are available on a pre-order basis only, so ensure you send in your order a couple of days in advance.
Price: 
7. Christmas hamper by Dole Sunshine India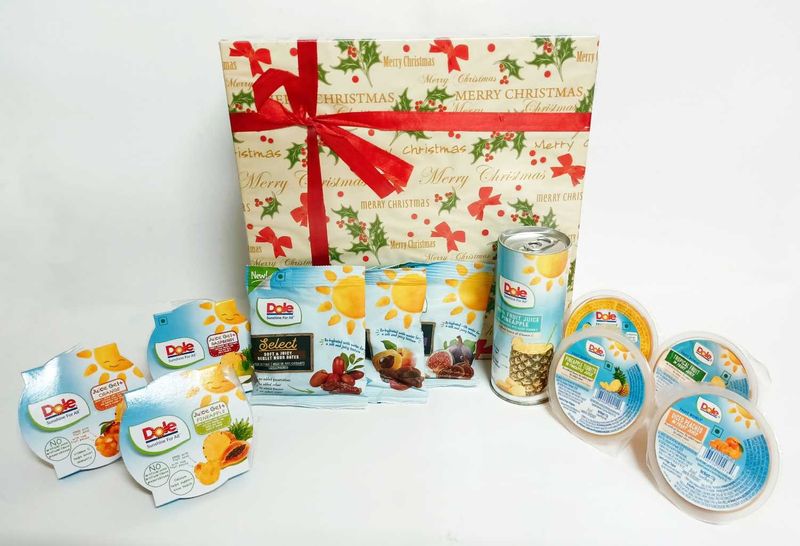 If they take snack time seriously then Dole's Christmas hamper is for them. Packed in a vibrant box with a red ribbon on top, this gift comprises four fruit bowls, three jellies, three packets of dry fruits (50 gm each), and a can of pineapple juice. All the products here contain no added sugar, colour, or preservatives.
Price: Rs 1599
8. Christmas special ice cream hamper by Icestasy
Gift artisanal ice creams to your friends and family in and around Mumbai instead of cookies and cakes this festive season. Icestasy offers a box full of seven types of chocolate ice cream. Milk chocolate with almond crunch, white chocolate with almonds, dark chocolate and orange, and dark chocolate with choco-chip cookies are a few flavours on offer.
Price: On Request
Where to buy or call 9324590822
9. Heart Of Gold collection by Fabelle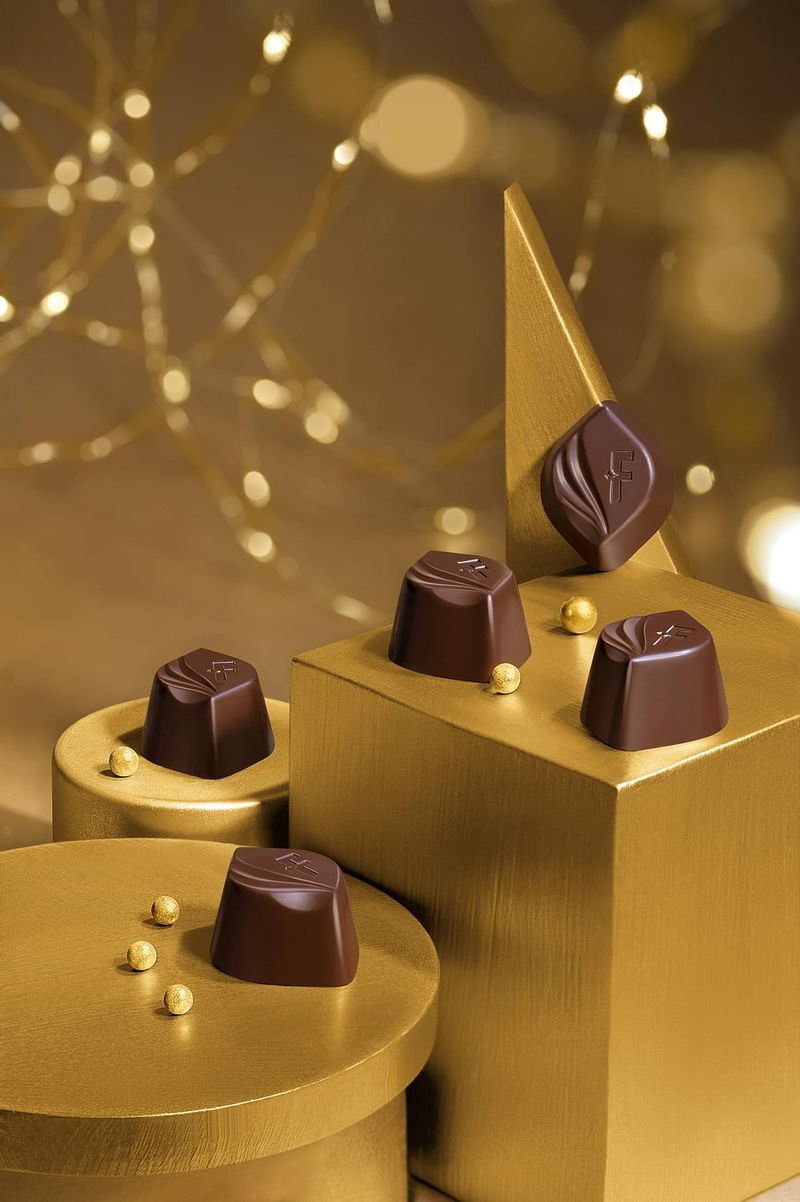 Chocolate makes everything better and the Heart of Gold collection by Fabelle does exactly that and brings joy to whoever you gift it to. It features a collection of handcrafted pralines, covered in 24k edible gold, created by the master chocolatiers at Fabelle and Michelin star chef Marco Stabile.
Price: Rs 2100
10. Hamper by Black Vanilla Gourmet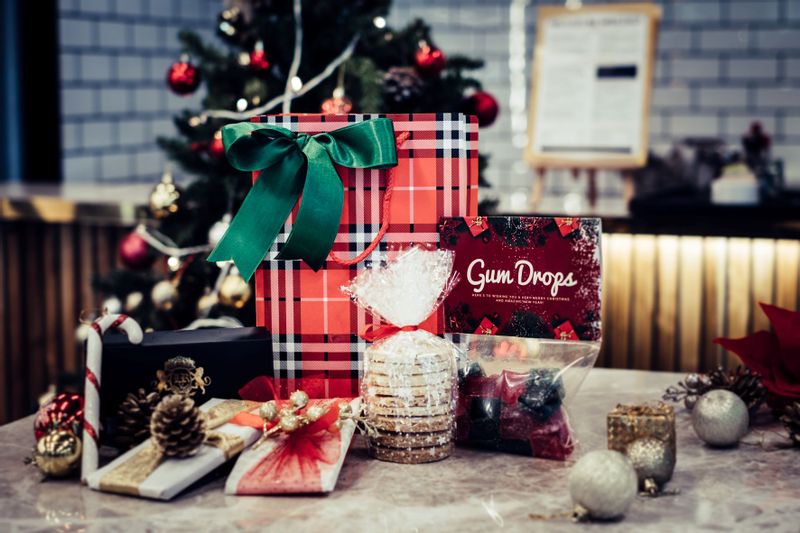 Goa-based Black Vanilla Gourmet store has curated three self-care kits for the festive season that feature scented candles, types of chocolate, cookies, macarons, and Christmas cake.
Price: Rs 1000-Rs 3000
Where to buy or call 9112299271
11. Naughty or Nice Christmas hamper by Provenance
It doesn't matter if your loved one has been nice or naughty in 2021 this Christmas hamper by Provenance is well-deserved. It comprises a Christmas mug, hot chocolate mix, marshmallow, ornaments, and candies from Provenance, Maxim's, Papabubble and Iktaara.
Price: Rs 2950
12. Gourmet Christmas cheese tower by I'M Wholesome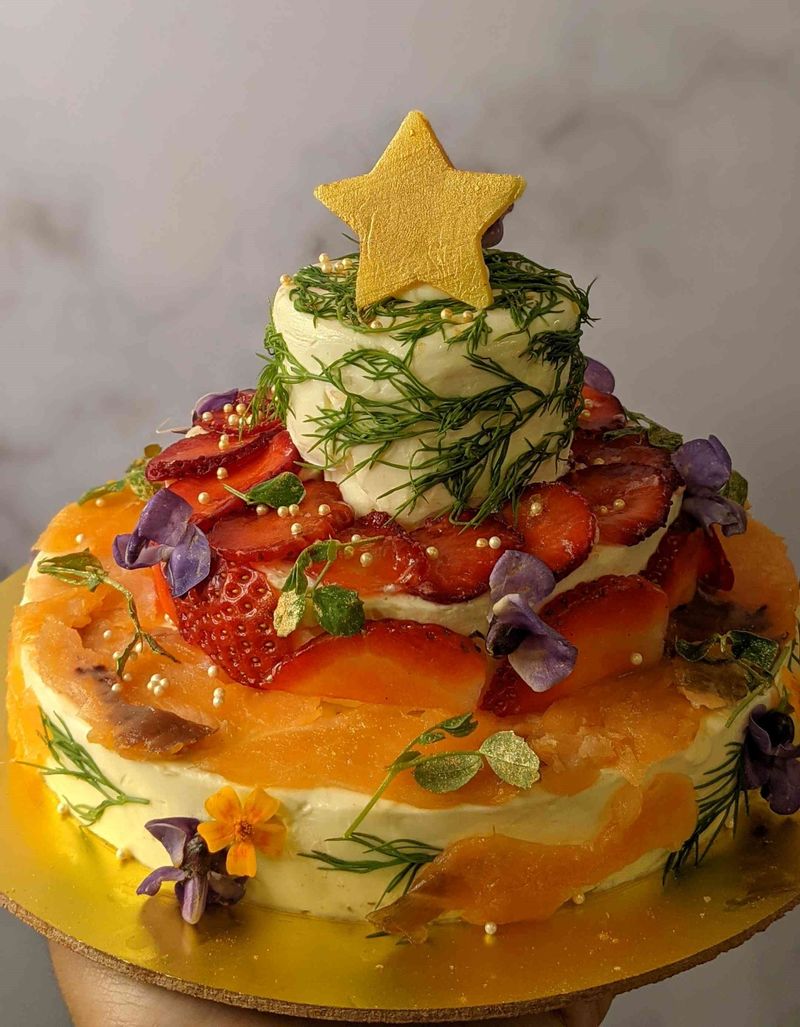 Cheese lovers will get a kick out of this cheese tree by I'M Wholesome. This grazing collection is a three-tier Christmas tree-like structure that can be customised. You must pick three from the list of delicious cheese flavours available – burnt garlic and chilli, truffle shiitake, berry balsamic floral, orange lavender thyme, and many others.
Price: Rs 4500 
13. Christmas gift collection by Royce' Chocolates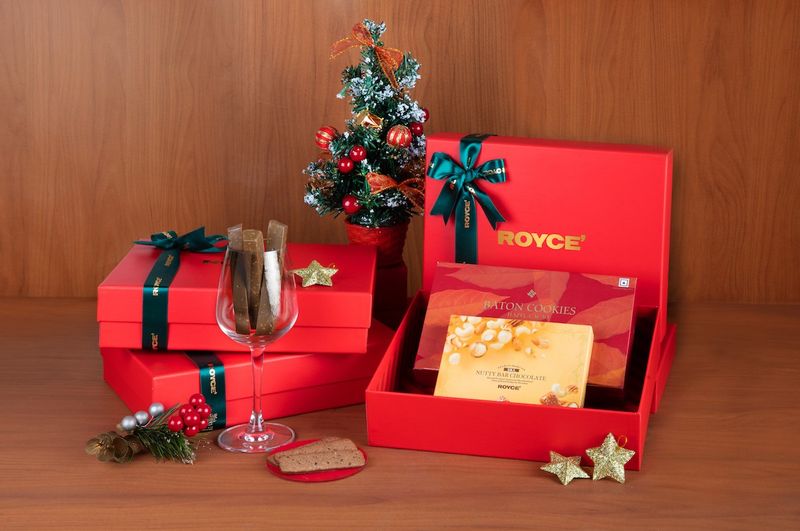 Royce' chocolates have a cult following and it's for all the good reasons. The festive hampers they've introduced have their bestselling chocolates and cookies encased in beautifully, keepsake gift boxes that resonate with the spirit of Christmas. The hampers in their Christmas gift collection are available for delivery in 12 cities across India.
Price: On request
14. Christmas croissants by Crozzo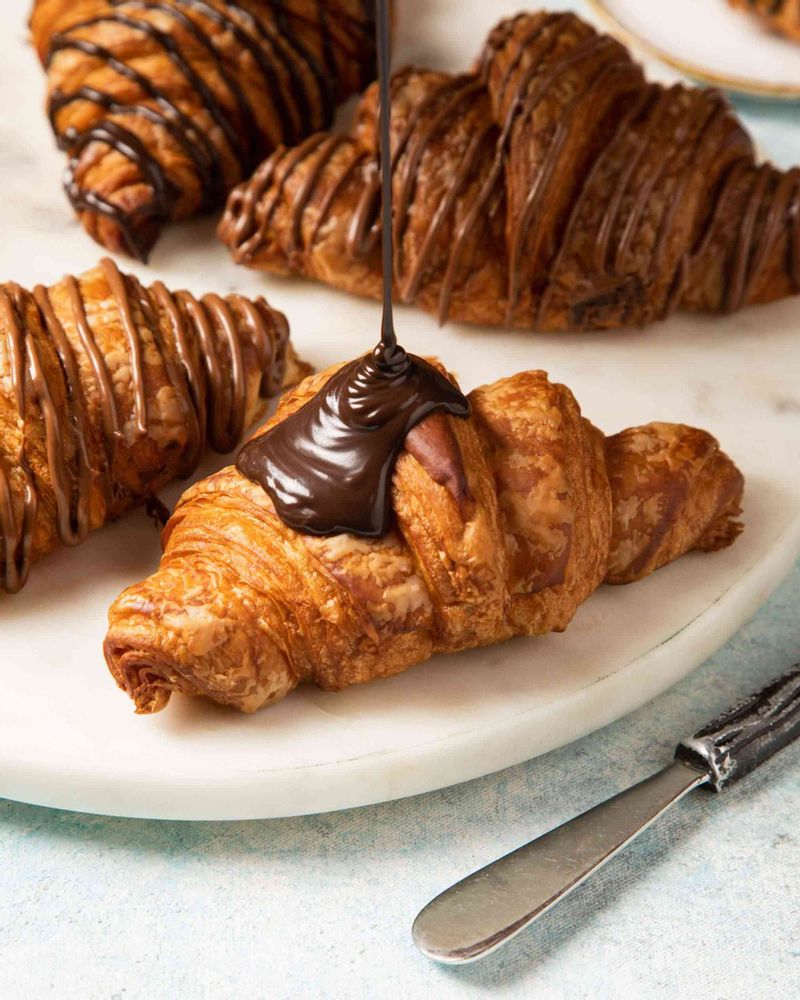 Gift a jolly good breakfast to your Santee with Crozzo. The newly launched platform known for delivering freshly baked products across India is offering a curation of three skillfully baked croissants called Christmas Croissants. They come wrapped in a net cloth, decorated with a flower arrangement and a handwritten note.
Price: Rs 399
15. Santa's treat box by The Gift Studio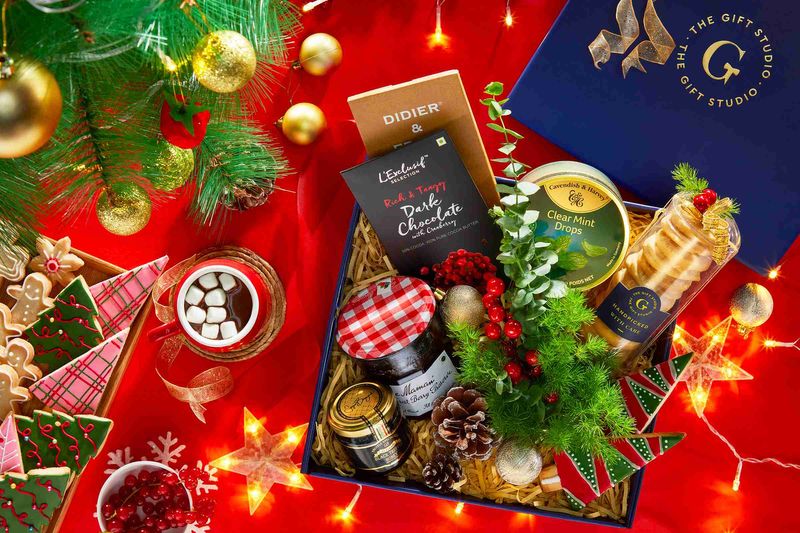 An assortment of delectable Christmas goodies packed in the Santa's treat box by The Gift Studio can help you bring a big smile to your friend's face. Available for delivery across major cities in India, this handcrafted gift box contains two types of cookies, banana walnut cake, plum cake, cranberries coated in chocolate, and more chocolates. You can select the box's design and add select from their list of custom gift cards to go with the gift on their website.
Price: Rs 2049
16. The Nut Your Regular Box by Go Nuts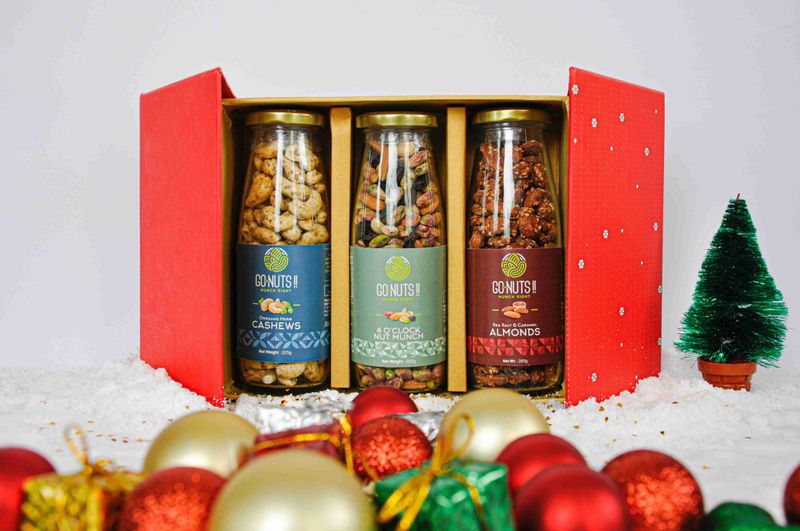 Ditch that box of plain nuts this Christmas and order The Nut Your Regular Box by Go Nuts featuring flavoured ones, which can best be described as flavour bombs. Sea salt and caramel-coated almonds, oregano flavoured cashews, and a sweet-savoury mix of almond, cashew, pistachio, black raisins and dried cranberries, is what you'll find in this box.  
Price: Rs 1650
---
Photo: Shutterstock and Featured Brands